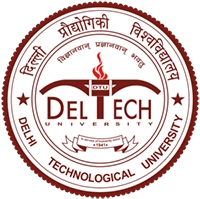 DELHI TECHNOLOGICAL UNIVERSITY, DELHI
| | |
| --- | --- |
| Institute Name | Delhi Technological University |
| Also Known As | DTU Delhi |
| Institute Type | Government |
| Established | 1941 |
| Location | New Delhi, Delhi |
DTU Delhi: Admission | Ranking | Fees
ALERT: Applications for B.Tech Admissions at Chandigarh University will be ending soon. Click here to apply.
NEW: NIIT University B.Tech. Admissions 2020 closing soon, click here to apply.
NOTE: You can Subscribe to exam updates to receive all updates on your mobile for free.
Delhi Technological University, Shahbad Daulatpur, Main Bawana Road, Delhi – 110042
Also known as Delhi College of Engineering (DCE) and DTU Delhi.
CONNECTIVITY (How To Reach)
Indira Gandhi International Airport, Delhi
33 km
New Delhi Railway Station
18.5 km
Hazrat Nizamuddin Railway Station
30 km
Anand Vihar Terminal Railway Station
31 km
Body
Category
Rank (Year)
Latest
Previous
International Ranking

THE World University Rankings
801–1000 (2021)
1001+ (2020)
THE Asia University Rankings
301–350 (2020)
--
National Ranking

NIRF Overall Rankings
62 (2020)
71 (2019)
NIRF Engineering Rankings
36 (2020)
34 (2019)

Outlook India's Best Engineering Colleges
17 (2019)
13 (2018)

The Week Top Engineering Colleges India
10 (2018)
10 (2017)

India Today Top Govt. Engineering Colleges
8 (2020)
7 (2019)
One needs to take the JEE (Main) exam.
One also needs to secure at least 60% marks (55% for OBC-NCL, 55% for Defence, 50% for SC/ST/PwD) in aggregate of Physics, Chemistry and Mathematics in Class XII.
Admissions are done on the basis of rank in JEE (Main) through JAC Delhi Counselling.
| | |
| --- | --- |
| Particulars | Amount |
| Tuition Fee (per Year) | ₹1,14,500 |
| Other Fees (per Year) | ₹75,500 |
| Total | ₹1,90,000 |
| | |
| --- | --- |
| Particulars | Amount |
| Hostel Caution Money (One Time, Refundable) | ₹3,000 |
| Mess Caution Money (One Time, Refundable) | ₹3,000 |
| Furniture Security (One Time, Refundable) | ₹3,000 |
| One Time Fees | ₹700 |
| Hostel Seat Rent (per Annum) | ₹10,500 |
| Electricity & Water Charges (per Annum) | ₹2,400 |
| Other Fees (per Annum) | ₹5,200 |
| Mess Advance (Advance for 2 months) | ₹3,000 |
| Total | ₹30,800 |
2019
Rs. 11.17 Lakhs per Annum
Highest Package Offered (International)
Rs. 1.02 Crores per Annum offered by Facebook
Highest Package Offered (Domestic)
Rs. 39.00 Lakhs per Annum offered by Microsoft
Highest Package Offered (Branchwise)
| | |
| --- | --- |
| Branch | Max CTC (in LPA) |
| Automotive Engineering | 16.50 |
| Bio-Technology | 13.00 |
| Civil Engineering | 17.30 |
| Computer Engineering | 40.63 |
| Electrical and Electronics Engineering | 20.33 |
| Electrical Engineering | 24.00 |
| Electronics and Communication Engineering | 39.00 |
| Engineering Physics | 16.00 |
| Environment Engineering | 16.00 |
| Information Technology | 40.63 |
| Mathematics and Computing | 39.00 |
| Mechanical Engineering | 23.00 |
| Polymer Science and Chemical Technology | 14.00 |
| Production and Industrial Engineering | 18.00 |
| Software Engineering | 102.00 |
Adobe
Amazon
Bain
Bajaj
Barclays
BCG
CBRE
Codenation
Deloitte
Directi
Ernst & Young
Escorts
EXL
Expedia
Facebook (London)
Flipkart
Future First
Goldman Sachs
Google (Munich)
Hyundai Engineering
KPMG
L&T
Landmark Group (Dubai)
Maruti
Microsoft IDC
Nestle
Paytm
Philips
Qualcomm
Samsung R&D
SAP Labs
Schlumberger
Tata Communications
Tata Motors
Texas Instruments
Tower Watson
Turner
Uber
UHG
Uniqlo (Tokyo)
Western Digital
ZS Associates
2018
Highest Package Offered (International)
Rs. 52.22 Lakhs per Annum
Highest Package Offered (Domestic)
Rs. 39.12 Lakhs per Annum
2017
Highest Package Offered (International)
Rs. 1.27 Crores per Annum offered by Uber ($1,10,000 Basic + Other benefits)
Highest Package Offered (Domestic)
Rs. 38.50 Lakhs per Annum
2016
Highest Package Offered (International)
Rs. 1.07 crores per Annum
Highest Package Offered (Domestic)
Rs. 30.00 Lakhs per Annum