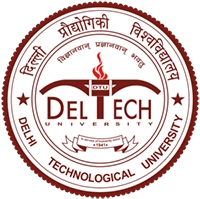 DELHI TECHNOLOGICAL UNIVERSITY, DELHI
Delhi Technological University, Shahbad Daulatpur, Main Bawana Road, Delhi – 110042
Also known as Delhi College of Engineering (DCE) and DTU Delhi.
CONNECTIVITY (How To Reach)
Airport
Railway Station
Metro
Nearest Airport: Indira Gandhi International Airport, Delhi
Distance from Airport: 26km
Nearest Railway Station: New Delhi Railway Station
Distance from Railway Station: 20km
Next Nearest Railway Station: Hazrat Nizamuddin Railway Station
Distance from Railway Station: 32km
Nearest Metro Station : Rithala Metro Station
Take 'Grameen Seva'/Autorickshaw from Rithala Metro Station to DTU.
By NIRF in 2019 : 34
By NIRF in 2018 : 41
By India Today under Top Government Universities in 2018 : 5
By NIRF in 2017 : 39
By Outlook India in 2017 : 14
By Outlook India in 2016 : 13
By India Today in 2016 : 5
By The Week in 2016 : 9
One needs to take the JEE (Main) exam.
One also needs to secure at least 60% marks (55% for OBC-NCL, 55% for Defence, 50% for SC/ST/PwD) in aggregate of Physics, Chemistry and Mathematics in Class XII.
Admissions are done on the basis of rank in JEE (Main) through JAC Delhi Counselling.
| | |
| --- | --- |
| Particulars | Amount |
| Tuition Fee (per Year) | ₹1,14,500 |
| Other Fees (per Year) | ₹75,500 |
| Total | ₹1,90,000 |
| | |
| --- | --- |
| Particulars | Amount |
| Hostel Caution Money (One Time, Refundable) | ₹3,000 |
| Mess Caution Money (One Time, Refundable) | ₹3,000 |
| Furniture Security (One Time, Refundable) | ₹3,000 |
| One Time Fees | ₹700 |
| Hostel Seat Rent (per Annum) | ₹10,500 |
| Electricity & Water Charges (per Annum) | ₹2,400 |
| Other Fees (per Annum) | ₹5,200 |
| Mess Advance (Advance for 2 months) | ₹3,000 |
| Total | ₹30,800 |
Highest Package Offered (International)
Rs. 52.22 Lakhs per Annum
Highest Package Offered (Domestic)
Rs. 39.20 Lakhs per Annum
2017
Highest Package Offered (International)
Rs. 1.25 crores per Annum offered by Uber ($1,10,000 Basic + Other benefits)
Highest Package Offered (Domestic)
Rs. 38.50 Lakhs per Annum
2016
Highest Package Offered (International)
Rs. 1.27 crores per Annum
Highest Package Offered (Domestic)
Rs. 30.00 Lakhs per Annum
2015
Accenture
Adobe
Axtria
Citibank
Cvent
Deloitte
Expedia
Google
Infosys
KPMG
Microsoft
Sapient
Schlumberger
TCS
Thorogood
TransOrg
ZS
2014
Rs. 93 lakhs per annum offered by Google, USA
Rs. 70 lakhs per annum to 11 students by EPIC
Rs. 28 lakhs per annum by Goldman Sachs
Rs. 19 lakhs per annum to 8 students by Amazon
Rs. 93 lakhs per annum by Google, USA
Highest Package Offered (Domestic)
Sectorwise Distribution of Students Placed
EPIC
Google
Samsung
Cisco
Microsoft
Texas Instruments
Walmart Labs
Goldman Sachs
Samsung Research
Amazon
Adobe
Directi
C-Dot
Infibeam
Qualcomm
Futures First
HT Media
RBS