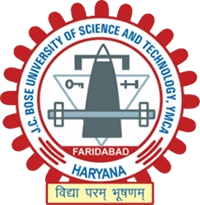 J.C. BOSE UNIVERSITY OF SCIENCE AND TECHNOLOGY, YMCA, FARIDABAD
| | |
| --- | --- |
| Institute Name | J.C. Bose University of Science and Technology, YMCA, Faridabad |
| Also Known As | JCBUST YMCA |
| Institute Type | Government |
| Established | 1969 |
| Location | Faridabad, Haryana |
JCB UST YMCA Faridabad: Admission | Ranking | Fees
ALERT: Applications for B.Tech Admissions at Chandigarh University will be ending soon. Click here to apply.
NEW: NIIT University B.Tech. Admissions 2020 closing soon, click here to apply.
NOTE: You can Subscribe to exam updates to receive all updates on your mobile for free.
J.C. Bose University of Science and Technology, YMCA, NH-2, Sector 6, Mathura Road, Opp. Sanjay Memorial Industrial Estate, Faridabad, Haryana – 121006
Also known as J.C. Bose University of Science and Technology YMCA, YMCA University of Science and Technology, YMCA UST Faridabad, YMCAUST Faridabad, JCBUST YMCA, JCB UST YMCA Faridabad, YMCA Institute of Engineering Faridabad and YMCAIE Faridabad.
CONNECTIVITY (How To Reach)
Indira Gandhi International Airport, Delhi
46.5 km
Faridabad Railway Station
6 km
Hazrat Nizamuddin Railway Station
28.5 km
New Delhi Railway Station
35 km
Body
Category
Rank (Year)
Latest
Previous
National Ranking

NIRF Engineering Rankings
120 (2020)
144 (2019)
One needs to take the JEE (Main) examination.
One also needs to pass the class 12th examination with Physics and Mathematics as compulsory subjects along with one of the Chemistry/ Biotechnology/ Biology/ Technical Vocational subject. One must additionally obtain at least 45% marks (40% for reserved category candidates) in the above subjects taken together.
Admissions are done on the basis of rank in JEE (Main) through DTE Haryana Counselling.
| | |
| --- | --- |
| Particulars | Amount |
| Caution Money (One Time, Refundable) | ₹7,000 |
| One Time Fees | ₹2,665 |
| Tuition Fee (per Semester) | ₹27,895 |
| Other Fees (per Semester) | ₹7,500 |
| Annual Fees | ₹3,170 |
| Total | ₹48,230 |
Particulars
Amount
Hostel Caution Money (One Time, Refundable)
₹800
Mess Caution Money (One Time, Refundable)
₹1,000
Hostel Seat Rent (per Year)
₹8,500
Electricity & Water Charges (per Year)
₹1,500
Other Fees (per Semester)
₹3,175
Annual Fees
₹1,500
Mess Advance (per Month)
₹3,906 (Boys),
₹2,767 (Girls)
Rs. 28.75 Lakhs per Annum offered by Amazon
Adobe
Amazon
Gemini Solutions
Jindal Stainless
Josh Technology
Libsys
Maruti Suzuki
Pay-U
Samsung
Sirion Labs
2018
| | |
| --- | --- |
| Company | No. of Offers |
| 1MG | 2 |
| Acezd | 1 |
| Adobe | 2 |
| Ador welding | 2 |
| Advisior Logic | 5 |
| Amazon | 1 |
| BEMCO | 4 |
| Bosch | 4 |
| Dabur | 2 |
| Daikin AirConditing | 1 |
| Danfoss | 2 |
| Escorts | 2 |
| ETA General | 3 |
| Falcon | 1 |
| Gemini Solutions Pvt. Ltd. | 3 |
| Globus | 2 |
| Havells | 5 |
| HCL | 22 |
| Hero Motocorp | 2 |
| HITACHI | 10 |
| HMCMM | 1 |
| ISGEC | 3 |
| Jacobs | 3 |
| Jastech | 4 |
| Jindal Steel | 5 |
| Josh Tech. Pvt. Ltd. | 2 |
| JTG | 2 |
| Just Dial | 8 |
| Koiwai | 5 |
| KPMG | 5 |
| Libsys | 1 |
| Maruti Suzuki | 7 |
| Mediatek | 3 |
| MPHRX | 2 |
| NBC Bearing Jaipur | 2 |
| Newgen | 4 |
| Opera Solutions | 1 |
| Panasonic | 2 |
| ROPOSO | 1 |
| Samsung | 29 |
| Sona BLW | 3 |
| Squadrum | 1 |
| STMicroelectronics | 1 |
| TCS | 77 |
| Trident | 1 |
| Wipro (Pool Campus) | 3 |
| Yamaha | 1 |
| | |
| --- | --- |
| Company | CTC (in LPA) |
| 1MG | 7.00 – 8.00 |
| Acezd | 3.00 |
| Adobe | 10.00 |
| Ador welding | 4.50 – 6.00 |
| Advisior Logic | 3.40 – 4.00 |
| Amazon | 27.00 |
| BEMCO | 10.00 |
| Bosch | 4.00 |
| Dabur | 7.25 |
| Daikin AirConditing | 4.00 |
| Danfoss | 4.30 |
| Escorts | 3.75 |
| ETA General | 3.00 – 4.00 |
| Falcon | 3.50 |
| Gemini Solutions Pvt. Ltd. | 4.80 – 6.00 |
| Globus | 2.20 |
| Havells | 3.00 |
| HCL | 4.75 |
| Hero Motocorp | 5.50 – 6.50 |
| HITACHI | 5.00 |
| HMCMM | 3.00 |
| ISGEC | 4.40 |
| Jacobs | 3.12 |
| Jastech | 2.20 – 3.00 |
| Jindal Steel | 6.00 |
| Josh Tech. Pvt. Ltd. | 6.75 |
| JTG | 6.75 |
| Just Dial | 2.59 |
| Koiwai | 3.60 |
| KPMG | 4.60 – 5.00 |
| Libsys | 6.00 – 8.00 |
| Maruti Suzuki | 6.40 |
| Mediatek | 7.70 |
| MPHRX | 2.21 |
| NBC Bearing Jaipur | 5.80 |
| Newgen | 4.25 |
| Opera Solutions | 6.00 |
| Panasonic | 5.00 |
| ROPOSO | 3.85 |
| Samsung | 8.88 |
| Sona BLW | 3.20 |
| Squadrum | 16.00 – 19.00 |
| STMicroelectronics | 7.60 |
| TCS | 3.50 |
| Trident | 3.50 – 4.00 |
| Wipro (Pool Campus) | 3.20 |
| Yamaha | 5.00 |
2017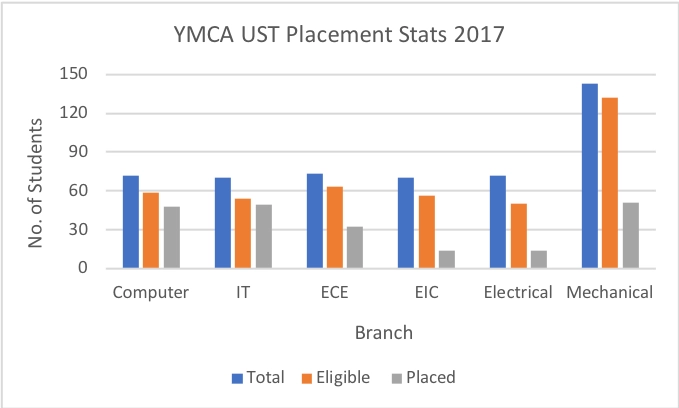 | | |
| --- | --- |
| Branch | Placed (%) |
| Computer Engineering | 81.36% |
| Information Technology | 90.74% |
| Electronics & Communication Engineering | 50.79% |
| Electronics Instrumentation & Control Engineering | 25.00% |
| Electrical Engineering | 28.00% |
| Mechanical Engineering | 38.64% |
Highest Package Offered (Branchwise)
| | |
| --- | --- |
| Branch | CTC (in LPA) |
| Computer Engineering | 27.00 |
| Information Technology | 27.00 |
| Electronics & Communication Engineering | 8.21 |
| Electronics Instrumentation & Control Engineering | 4.90 |
| Electrical Engineering | 5.25 |
| Mechanical Engineering | 12.00 |
Average Package Offered (Branchwise)
| | |
| --- | --- |
| Branch | CTC (in LPA) |
| Computer Engineering | 5.06 |
| Information Technology | 5.68 |
| Electronics & Communication Engineering | 4.46 |
| Electronics Instrumentation & Control Engineering | 3.51 |
| Electrical Engineering | 3.80 |
| Mechanical Engineering | 5.60 |
Aatapaha
Acezd
Adobe
Advisor Logic
Amazon (Off Campus)
ARAI-Automotive Resreach
ARTech (Off Campus)
ATC
Blue Star
Capgemini
Carrier Midea (China)
Code Brew Lab
Connect 2
Daffodils
Daikin Airconditioning
E-Care Solutions
Escort Railway
Falcon Autotech
Gemalto
Gemini Solutions
GKN Driveline
Hero MotoCorp
Himalayan Solar Company
Hitachi Consultation
Jacobs
Jindal Steel
JK Technosoft
Johnson Controls – Hitachi Air Conditioning
KPMG
LAVA
LIBSYS
Lybrate
Mahindra & Mahindra
Maruti Suzuki India
MediaTek India
MphRx
NBC Bearings
Newgen
Opera Solutions
Panasonic
PayU
Reliance Communication
Samsung
Samsung Research institute
Sapient Global Markets
Satyam Auto
Smart Prix
Spirotech
Sprinklr
STMicroelectronics
Tata Consultancy Service (TCS)
Vikas Group
Visionary Health
Voltas
Wipro
Yamaha Motor Solutions
Zia Semiconductor
2016
Rs. 20.00 lakhs per annum offered by Daikin Mcquay
Rs. 9.34 lakhs per annum offered by Adobe
Rs. 8.50 lakhs per annum offered by PAYU Payments
Rs. 20 Lakhs per Annum offered by Daikin Mcquay
| | |
| --- | --- |
| Company | No. of Offers |
| Adobe | 1 |
| Andtriz Hydro | 2 |
| Bluestar Ltd | 3 |
| BookmyShow | 1 |
| Cadence System Design | 3 |
| Codebrew Labs | 5 |
| Daffodil Software Pvt Ltd | 6 |
| Daikin Airconditioning India Pvt Ltd | 3 |
| Daikin Mcquay | 4 |
| EasyLearning.Guru | 3 |
| EMC Corporation | 5 |
| Enuke softwares Pvt. Ltd | 1 |
| Escorts Railway Division Pvt. Ltd | 1 |
| ETA Engineering | 4 |
| Frick India Pvt. Ltd | 6 |
| GKN Drivelines Pvt Ltd | 4 |
| Green Apple It Solutions | 4 |
| Honda Cars Pvt Ltd | 2 |
| Idea Cellular | 2 |
| Igate (off Campus) | 1 |
| Indian Army | 1 |
| Indus Towers | 2 |
| Internaltional Centre for Automotive Technology | 21 |
| Jindal Steels Hissar | 7 |
| JK Technosoft Pvt Ltd | 6 |
| Johnshon Controls India Ltd. | 2 |
| Johnson-Hitachi Aircondtioning Pvt Ltd | 22 |
| Josh Technolgies Pvt. Ltd (Off campus) | 1 |
| LG Electronics | 3 |
| LIBSYS Ltd | 3 |
| Mahindra Susten (EPC) (Off campus) | 1 |
| Maruti Suzuki India Ltd | 9 |
| Mindlance Technologies | 4 |
| Mittal Processors Pvt. Ltd | 2 |
| Naggaro Softwares | 1 |
| NBC Bearing | 5 |
| Newgen Software Technologies Ltd | 10 |
| Oxane Partner | 1 |
| Paytm (Off campus) | 1 |
| PAYU Payments Pvt Ltd | 3 |
| Posist Technologies | 1 |
| Puresoftware Pvt. Ltd | 12 |
| Samsung Research Institute | 9 |
| Sapient Global Markets | 7 |
| Sonar Technologies | 3 |
| Tata steel | 4 |
| TCS | 136 |
| Think & Learn (off Campus) | 2 |
| United Health Group | 11 |
| Whirlpool India Pvt Ltd. | 2 |
| Wipro Technologies (On/off Campus) | 15 |
| Yamaha Motors Pvt Ltd | 5 |
| Yugasa Software Lab Pvt Ltd | 5 |
| | |
| --- | --- |
| Company | CTC (in LPA) |
| Adobe | 9.34 |
| Andtriz Hydro | 4 |
| Bluestar Ltd | 5 |
| BookmyShow | 4.5 |
| Cadence System Design | 9.96 |
| Codebrew Labs | 3.0-5.0 |
| Daffodil Software Pvt Ltd | 3 |
| Daikin Airconditioning India Pvt Ltd | 4.0-5.0 |
| Daikin Mcquay | 20 |
| EasyLearning.Guru | 1.8-6.5 |
| EMC Corporation | 6.35 |
| Enuke softwares Pvt. Ltd | 2.5 |
| Escorts Railway Division Pvt. Ltd | 3.25 |
| ETA Engineering | 2.5 |
| Fidelity International | 4.25 |
| Frick India Pvt. Ltd | 2.5 |
| GKN Drivelines Pvt Ltd | 3.6 |
| Green Apple It Solutions | 3 |
| Honda Cars Pvt Ltd | 4.8 |
| Idea Cellular | 3.55 |
| Igate (off Campus) | 3.21 |
| Indian Army | Salary not disclosed |
| Indus Towers | 2.5 |
| Internaltional Centre for Automotive Technology | 2.4 |
| Jindal Steels Hissar | 5 |
| JK Technosoft Pvt Ltd | 3 |
| Johnshon Controls India Ltd. | 3.55 |
| Johnson-Hitachi Aircondtioning Pvt Ltd | 4 |
| Josh Technolgies Pvt. Ltd (Off campus) | 6.5 |
| LG Electronics | 5.4 |
| LIBSYS Ltd | 5.0-6.0 |
| Mahindra Susten (EPC) (Off campus) | 4.5 |
| Maruti Suzuki India Ltd | 6 |
| Mindlance Technologies | 3 |
| Mittal Processors Pvt. Ltd | 2.37 |
| Naggaro Softwares | 3.4 |
| NBC Bearing | 5.8 |
| Newgen Software Technologies Ltd | 3.75 |
| Oxane Partner | 3.0-5.0 |
| Paytm (Off campus) | 4.5 |
| PAYU Payments Pvt Ltd | 8.5 |
| Posist Technologies | 3.0-5.0 |
| Puresoftware Pvt. Ltd | 3 |
| Samsung Research Institute | 7.75 |
| Sapient Global Markets | 4.5 |
| Sonar Technologies | 3 |
| Tata steel | 4 |
| TCS | 3.3-3.5 |
| Think & Learn (off Campus) | 6 |
| United Health Group | 3.5 |
| Voith Hydro Pvt Ltd | 3 |
| Whirlpool India Pvt Ltd. | 1.8 |
| Wipro Technologies (On/off Campus) | 3.2-3.3 |
| Yamaha Motors Pvt Ltd | 3.2 |
| Yugasa Software Lab Pvt Ltd | 3.0-5.0 |