YMCA UNIVERSITY OF SCIENCE AND TECHNOLOGY, FARIDABAD
YMCA University of Science and Technology, NH-2, Sector 6, Mathura Road, Opp. Sanjay Memorial Industrial Estate, Faridabad, Haryana – 121006
Also known as YMCA University of Science and Technology, YMCA UST Faridabad, YMCAUST Faridabad, YMCA Institute of Engineering Faridabad and YMCA IE Faridabad.
CONNECTIVITY (How To Reach)
Nearest Airport :Indira Gandhi International Airport, Delhi
Distance from Airport : 40.5km
Nearest Railway Station : Faridabad Railway Station
Distance from Railway Station : 6.5km
By NIRF in 2018 : 151-200
By NIRF in 2017 : 101-150
By Edu Rand in 2015 : 122
One needs to take the JEE (Main) examination.
Admissions are done on the basis of rank in JEE (Main) through DTE Haryana Counselling.
CUTOFF RANKS (OPENING & CLOSING RANKS)
| | |
| --- | --- |
| Particulars | Amount |
| Caution Money (One Time, Refundable) | ₹7,000 |
| One Time Fees | ₹5,180 |
| Tuition Fee (per Semester) | ₹26,565 |
| Other Fees (per Semester) | ₹6,000 |
| Total | ₹44,745 |
Particulars
Amount
Hostel Caution Money (One Time, Refundable)
₹800
Mess Caution Money (One Time, Refundable)
₹1,000
Hostel Seat Rent (per Annum)
₹3,000
Electricity & Water Charges (per Annum)
₹1,500
Annual Fees
₹7,875
Mess Advance (per Month)
₹3,581 (Boys)
₹2,507 (Girls)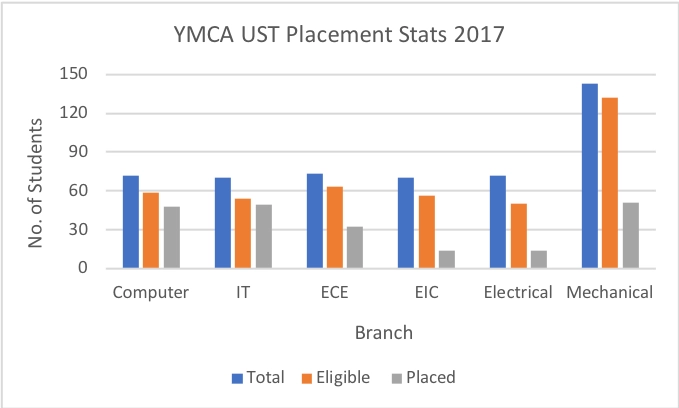 | | |
| --- | --- |
| Branch | Placed (%) |
| Computer Engineering | 81.36% |
| Information Technology | 90.74% |
| Electronics & Communication Engineering | 50.79% |
| Electronics Instrumentation & Control Engineering | 25.00% |
| Electrical Engineering | 28.00% |
| Mechanical Engineering | 38.64% |
Rs. 27 Lakhs per Annum offered by Amazon (Off-Campus)
Highest Package Offered (Branchwise)
| | |
| --- | --- |
| Branch | CTC (in LPA) |
| Computer Engineering | 27.00 |
| Information Technology | 27.00 |
| Electronics & Communication Engineering | 8.21 |
| Electronics Instrumentation & Control Engineering | 4.90 |
| Electrical Engineering | 5.25 |
| Mechanical Engineering | 12.00 |
Average Package Offered (Branchwise)
| | |
| --- | --- |
| Branch | CTC (in LPA) |
| Computer Engineering | 5.06 |
| Information Technology | 5.68 |
| Electronics & Communication Engineering | 4.46 |
| Electronics Instrumentation & Control Engineering | 3.51 |
| Electrical Engineering | 3.80 |
| Mechanical Engineering | 5.60 |
Aatapaha
Acezd
Adobe
Advisor Logic
Amazon (Off Campus)
ARAI-Automotive Resreach
ARTech (Off Campus)
ATC
Blue Star
Capgemini
Carrier Midea (China)
Code Brew Lab
Connect 2
Daffodils
Daikin Airconditioning
E-Care Solutions
Escort Railway
Falcon Autotech
Gemalto
Gemini Solutions
GKN Driveline
Hero MotoCorp
Himalayan Solar Company
Hitachi Consultation
Jacobs
Jindal Steel
JK Technosoft
Johnson Controls – Hitachi Air Conditioning
KPMG
LAVA
LIBSYS
Lybrate
Mahindra & Mahindra
Maruti Suzuki India
MediaTek India
MphRx
NBC Bearings
Newgen
Opera Solutions
Panasonic
PayU
Reliance Communication
Samsung
Samsung Research institute
Sapient Global Markets
Satyam Auto
Smart Prix
Spirotech
Sprinklr
STMicroelectronics
Tata Consultancy Service (TCS)
Vikas Group
Visionary Health
Voltas
Wipro
Yamaha Motor Solutions
Zia Semiconductor
2016
2016
Rs. 20.00 lakhs per annum offered by Daikin Mcquay
Rs. 9.34 lakhs per annum offered by Adobe
Rs. 8.50 lakhs per annum offered by PAYU Payments
Rs. 20 Lakhs per Annum offered by Daikin Mcquay
| | |
| --- | --- |
| Company | No. of Offers |
| Adobe | 1 |
| Andtriz Hydro | 2 |
| Bluestar Ltd | 3 |
| BookmyShow | 1 |
| Cadence System Design | 3 |
| Codebrew Labs | 5 |
| Daffodil Software Pvt Ltd | 6 |
| Daikin Airconditioning India Pvt Ltd | 3 |
| Daikin Mcquay | 4 |
| EasyLearning.Guru | 3 |
| EMC Corporation | 5 |
| Enuke softwares Pvt. Ltd | 1 |
| Escorts Railway Division Pvt. Ltd | 1 |
| ETA Engineering | 4 |
| Frick India Pvt. Ltd | 6 |
| GKN Drivelines Pvt Ltd | 4 |
| Green Apple It Solutions | 4 |
| Honda Cars Pvt Ltd | 2 |
| Idea Cellular | 2 |
| Igate (off Campus) | 1 |
| Indian Army | 1 |
| Indus Towers | 2 |
| Internaltional Centre for Automotive Technology | 21 |
| Jindal Steels Hissar | 7 |
| JK Technosoft Pvt Ltd | 6 |
| Johnshon Controls India Ltd. | 2 |
| Johnson-Hitachi Aircondtioning Pvt Ltd | 22 |
| Josh Technolgies Pvt. Ltd (Off campus) | 1 |
| LG Electronics | 3 |
| LIBSYS Ltd | 3 |
| Mahindra Susten (EPC) (Off campus) | 1 |
| Maruti Suzuki India Ltd | 9 |
| Mindlance Technologies | 4 |
| Mittal Processors Pvt. Ltd | 2 |
| Naggaro Softwares | 1 |
| NBC Bearing | 5 |
| Newgen Software Technologies Ltd | 10 |
| Oxane Partner | 1 |
| Paytm (Off campus) | 1 |
| PAYU Payments Pvt Ltd | 3 |
| Posist Technologies | 1 |
| Puresoftware Pvt. Ltd | 12 |
| Samsung Research Institute | 9 |
| Sapient Global Markets | 7 |
| Sonar Technologies | 3 |
| Tata steel | 4 |
| TCS | 136 |
| Think & Learn (off Campus) | 2 |
| United Health Group | 11 |
| Whirlpool India Pvt Ltd. | 2 |
| Wipro Technologies (On/off Campus) | 15 |
| Yamaha Motors Pvt Ltd | 5 |
| Yugasa Software Lab Pvt Ltd | 5 |
| | |
| --- | --- |
| Company | CTC (in LPA) |
| Adobe | 9.34 |
| Andtriz Hydro | 4 |
| Bluestar Ltd | 5 |
| BookmyShow | 4.5 |
| Cadence System Design | 9.96 |
| Codebrew Labs | 3.0-5.0 |
| Daffodil Software Pvt Ltd | 3 |
| Daikin Airconditioning India Pvt Ltd | 4.0-5.0 |
| Daikin Mcquay | 20 |
| EasyLearning.Guru | 1.8-6.5 |
| EMC Corporation | 6.35 |
| Enuke softwares Pvt. Ltd | 2.5 |
| Escorts Railway Division Pvt. Ltd | 3.25 |
| ETA Engineering | 2.5 |
| Fidelity International | 4.25 |
| Frick India Pvt. Ltd | 2.5 |
| GKN Drivelines Pvt Ltd | 3.6 |
| Green Apple It Solutions | 3 |
| Honda Cars Pvt Ltd | 4.8 |
| Idea Cellular | 3.55 |
| Igate (off Campus) | 3.21 |
| Indian Army | Salary not disclosed |
| Indus Towers | 2.5 |
| Internaltional Centre for Automotive Technology | 2.4 |
| Jindal Steels Hissar | 5 |
| JK Technosoft Pvt Ltd | 3 |
| Johnshon Controls India Ltd. | 3.55 |
| Johnson-Hitachi Aircondtioning Pvt Ltd | 4 |
| Josh Technolgies Pvt. Ltd (Off campus) | 6.5 |
| LG Electronics | 5.4 |
| LIBSYS Ltd | 5.0-6.0 |
| Mahindra Susten (EPC) (Off campus) | 4.5 |
| Maruti Suzuki India Ltd | 6 |
| Mindlance Technologies | 3 |
| Mittal Processors Pvt. Ltd | 2.37 |
| Naggaro Softwares | 3.4 |
| NBC Bearing | 5.8 |
| Newgen Software Technologies Ltd | 3.75 |
| Oxane Partner | 3.0-5.0 |
| Paytm (Off campus) | 4.5 |
| PAYU Payments Pvt Ltd | 8.5 |
| Posist Technologies | 3.0-5.0 |
| Puresoftware Pvt. Ltd | 3 |
| Samsung Research Institute | 7.75 |
| Sapient Global Markets | 4.5 |
| Sonar Technologies | 3 |
| Tata steel | 4 |
| TCS | 3.3-3.5 |
| Think & Learn (off Campus) | 6 |
| United Health Group | 3.5 |
| Voith Hydro Pvt Ltd | 3 |
| Whirlpool India Pvt Ltd. | 1.8 |
| Wipro Technologies (On/off Campus) | 3.2-3.3 |
| Yamaha Motors Pvt Ltd | 3.2 |
| Yugasa Software Lab Pvt Ltd | 3.0-5.0 |
2015
2015
Rs. 7.8 Lakhs per Annum offered by Adobe
| | |
| --- | --- |
| Company | No. of Offers |
| Absolute Surveyors and Insurance Pvt ltd | 2 |
| Adobe | 3 |
| Advisor Logic | 1 |
| Ambit Switchgear Pvt. Ltd | 2 |
| Andritz Hydro Pvt Ltd | 3 |
| Assu Soft Ltd | 1 |
| Avant Grade Clean Room & Engineering Solution Pvt Ltd | 5 |
| Beryl Systems Pvt Ltd | 11 |
| Bits Bridge Ltd | 3 |
| Blue Star Pvt Ltd | 6 |
| Bony Polymers Pvt Ltd | 2 |
| CERATIZIT India Pvt Ltd | 4 |
| Compro Technologies Pvt Ltd | 2 |
| Daffodil Software Pvt Ltd | 9 |
| Danfoss India Pvt Ltd | 0 |
| Delphi Automotive Systems Pvt Ltd | 1 |
| Denso Haryana Pvt Ltd | 1 |
| EMC Corporation | 4 |
| Ericssion (off campus) | 1 |
| ETA Engg Pvt Ltd | 3 |
| Eximat Consultancy | 2 |
| Falcon Auto Tech Pvt Ltd | 7 |
| GKN Drivlelines Pvt Ltd | 0 |
| Grapecity India Pvt Ltd | 1 |
| Green Apple Solutions Pvt Ltd | 5 |
| HCL Ltd | 21 |
| Hitachi Home & Life Solutions Pvt Ltd | 11 |
| HLS Asia LTD (off Campus) | 0 |
| Honda Cars Pvt Ltd, Noida | 5 |
| IBM (Off campus) | 7 |
| ICF International (off Campus) | 2 |
| IndiaForge & DropStamping Ltd | 1 |
| Indian Air Force | 1 |
| Indian Navy | 1 |
| Jacobs Engineering Pvt Ltd | 1 |
| JK Technosoft Pvt Ltd | 5 |
| Johnson Controls Pvt. Ltd | 4 |
| Laxmi Machine works | 1 |
| LG Electronics | 6 |
| LIBSYS | 2 |
| Lloyds Electric & Engg Ltd | 7 |
| Lutron GL Sales & Services Pvt Ltd | 0 |
| Mahindra Defence & Telephonics Pvt Ltd | 4 |
| Mahindra EPC Services Pvt Ltd (Mahindra Susten) off campus | 1 |
| Mahle Behr India Private Limited | 0 |
| Maruti Suzuki India Ltd | 6 |
| NBC Bearings | 5 |
| NCR Corporation | 2 |
| Newgen Software Technologies Ltd | 11 |
| Novelvox | 2 |
| Oxyent Technologies | 1 |
| PAYU Payments Pvt Ltd | 1 |
| PICL Motors Pvt Ltd | 2 |
| Plastic Omnium India Pvt Ltd | 2 |
| Pure Software Pvt Ltd | 6 |
| Samsung Research Institute | 13 |
| SAP Labs | 0 |
| Sapient Global Markets | 13 |
| Schneider Electric | 0 |
| Smartway Technologies Pvt Ltd | 1 |
| SnapDeal | 1 |
| SNP Capital IQ | 1 |
| Steria India Pvt Ltd | 1 |
| Swaryantra Technologies Pvt Ltd | 3 |
| Tata Steel Processing & Distribution Ltd | 4 |
| TCS | 145 |
| TechPerspect Software Pvt Ltd | 4 |
| ThoughtWorks Technologies (India) Pvt Ltd | 2 |
| Voith Paper Fabrics Pvt Ltd | 1 |
| Voltas Ltd | 3 |
| Yamaha Motors Pvt Ltd | 2 |
| | |
| --- | --- |
| Company | CPC (in LPA) |
| Absolute Surveyors and Insurance Pvt ltd | 1.8-3.5 |
| Adobe | 7.8 |
| Advisor Logic | 3 |
| Ambit Switchgear Pvt. Ltd | 2.16 |
| Andritz Hydro Pvt Ltd | 3-4 |
| Assu Soft Ltd | 1.8 |
| Avant Grade Clean Room & Engineering Solution Pvt Ltd | 2.5 |
| Beryl Systems Pvt Ltd | 2.4-5.00 |
| Bits Bridge Ltd | 3.75 |
| Blue Star Pvt Ltd | 4.7 |
| Bony Polymers Pvt Ltd | 1.5 |
| CERATIZIT India Pvt Ltd | 3.5 |
| Compro Technologies Pvt Ltd | 5 |
| Daffodil Software Pvt Ltd | 3 |
| Danfoss India Pvt Ltd | 4.30-7.50 |
| Delphi Automotive Systems Pvt Ltd | 3 |
| Denso Haryana Pvt Ltd | 3 |
| EMC Corporation | 6.35 |
| Ericssion (off campus) | 2.75 |
| ETA Engg Pvt Ltd | 2.4 |
| Eximat Consultancy | 3 |
| Falcon Auto Tech Pvt Ltd | 4.5 |
| GKN Drivlelines Pvt Ltd | 3.6 |
| Grapecity India Pvt Ltd | 5 |
| Green Apple Solutions Pvt Ltd | 2.9 |
| HCL Ltd | 3.25 |
| Hitachi Home & Life Solutions Pvt Ltd | 4 |
| HLS Asia LTD (off Campus) | 5.0-8.0 |
| Honda Cars Pvt Ltd, Noida | 4.8 |
| IBM (Off campus) | 3.15-3.47 |
| ICF International (off Campus) | 5.5 |
| IndiaForge & DropStamping Ltd | 1.8 |
| Indian Air Force | Salary not disclosed |
| Indian Navy | Salary not disclosed |
| Jacobs Engineering Pvt Ltd | 1.8 |
| JK Technosoft Pvt Ltd | 3 |
| Johnson Controls Pvt. Ltd | 3.25 |
| Laxmi Machine works | 2.62 |
| LG Electronics | 4.7 |
| LIBSYS | 4 |
| Lloyds Electric & Engg Ltd | 2.4 |
| Lutron GL Sales & Services Pvt Ltd | 2.5 |
| Mahindra Defence & Telephonics Pvt Ltd | 3.5 |
| Mahindra EPC Services Pvt Ltd (Mahindra Susten) off campus | 4.5 |
| Mahle Behr India Private Limited | 3 |
| Maruti Suzuki India Ltd | 5.4 |
| NBC Bearings | 5.5 |
| NCR Corporation | 3.25 |
| Newgen Software Technologies Ltd | 3.75 |
| Novelvox | 2.4-3.6 |
| Oxyent Technologies | 4.0-8.0 |
| PAYU Payments Pvt Ltd | 4.5 |
| PICL Motors Pvt Ltd | 1.8 |
| Plastic Omnium India Pvt Ltd | 3 |
| Pure Software Pvt Ltd | 2.75 |
| Samsung Research Institute | 7.75 |
| SAP Labs | 7 |
| Sapient Global Markets | 4.5 |
| Schneider Electric | 3.0-5.0 |
| Smartway Technologies Pvt Ltd | 3 |
| SnapDeal | 6.75 |
| SNP Capital IQ | 6 |
| Steria India Pvt Ltd | 3 |
| Swaryantra Technologies Pvt Ltd | 3.2 |
| Tata Steel Processing & Distribution Ltd | 4 |
| TCS | 3.16 |
| TechPerspect Software Pvt Ltd | 1.8-4.2 |
| ThoughtWorks Technologies (India) Pvt Ltd | 6.23 |
| Voith Paper Fabrics Pvt Ltd | 4 |
| Voltas Ltd | 3.25 |
| Yamaha Motors Pvt Ltd | 3.2 |