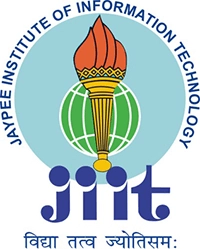 JAYPEE INSTITUTE OF INFORMATION TECHNOLOGY, NOIDA (Sector-62 Campus)
| | |
| --- | --- |
| Institute Name | Jaypee Institute of Information Technology (Sector-62 Campus), Noida |
| Also Known As | JIIT Noida |
| Institute Type | Private |
| Established | 2001 |
| Location | Noida, Uttar Pradesh |
JIIT Noida (Sec-62): Admission | Ranking | Fees
ALERT: Applications for final phase of B.Tech Admissions at Amrita Vishwa Vidyapeetham close on July 5. Ranked 4th best University by NIRF 2020. Click here to apply.
NEW: NIIT University B.Tech. Early Admission round has been extended, click here to apply.
NEW: Chandigarh University Phase-I applications (Maximum Scholarship) for B.Tech Admissions will close on July 29. Click here to apply.
NOTE: You can Subscribe to exam updates to receive all updates on your mobile for free.
Jaypee Institute of Information Technology, A-10, Sector-62, Noida, Uttar Pradesh – 201309
Also known as JIIT Noida.
CONNECTIVITY (How To Reach)
Indira Gandhi International Airport, Delhi
37 km
Ghaziabad Junction Railway Station
8.5 km
Hazrat Nizamuddin Railway Station
14 km
New Delhi Railway Station
18.5 km
Body
Category
Rank (Year)
Latest
Previous
National Ranking

NIRF Overall Rankings
151-200 (2020)
151-200 (2019)
NIRF Engineering Rankings
96 (2020)
80 (2019)

The Week Best Technical Universities India
33 (2020)
--
The Week Top Engineering Colleges India
48 (2020)
70 (2018)

Outlook India's Top Pvt. Engineering Colleges
20 (2020)
--

India Today Top Pvt. Engineering Colleges
32 (2020)
--
One needs to take the JEE (Main) exam and separately apply for JIIT counselling.
Admissions are on the basis of rank in JEE (Main) OR on the basis of class 12th marks.
For BioTechnology, 50% of the seats are filled on the basis of 10+2 marks merit.
Read more about JIIT Noida Admissions

here

.
Particulars
Amount
Caution Money (One Time, Refundable)
₹10,000
Tuition Fee (per Semester)
₹92,500
Development Fee (per Semester)
₹30,000
Total
₹1,32,500
Note: For academic session 2021-22, a one-time reduction of 50% in Development Fee has been granted.
Year
Amount
1st year
₹2,45,000 (TF: 1,85,000, DF: 60,000)
2nd year
₹2,54,200 (TF: 1,94,200, DF: 60,000)
3rd year
₹2,73,900 (TF: 2,03,900, DF: 70,000)
4th year
₹2,94,100 (TF: 2,14,100, DF: 80,000)
5th year (for iMTech)
₹3,04,800 (TF: 2,24,800, DF: 80,000)
Note: For academic session 2021-22, a one-time reduction of 50% in Development Fee has been granted.
TF: Tuition Fee, DF: Development Fee
| | |
| --- | --- |
| Particulars | Amount |
| Hostel Charges (incl. Food & Laundry) (per Semester) | ₹74,400 |
| Total | ₹74,400 |
Rs. 30.00 lakhs per annum offered to 10 students by Amazon
Rs. 25.00 lakhs per annum offered to 5 students by Morgan Stanley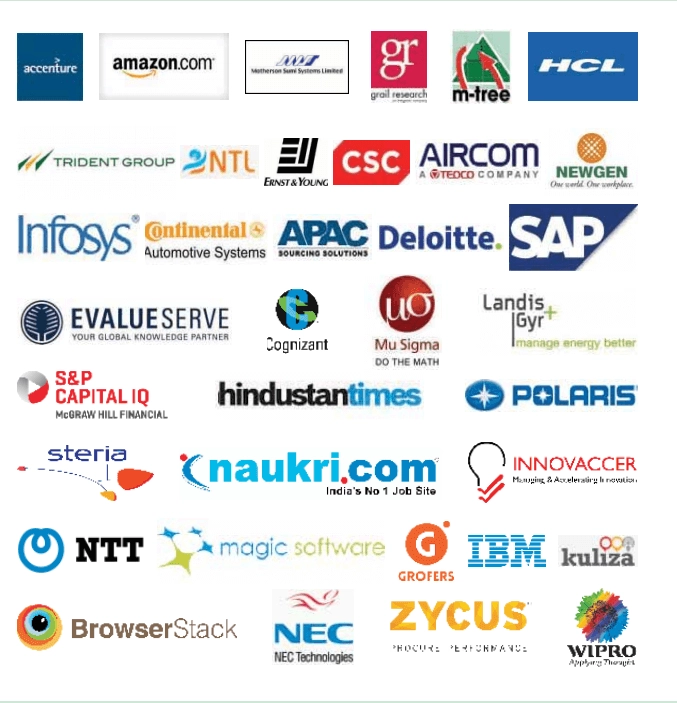 2020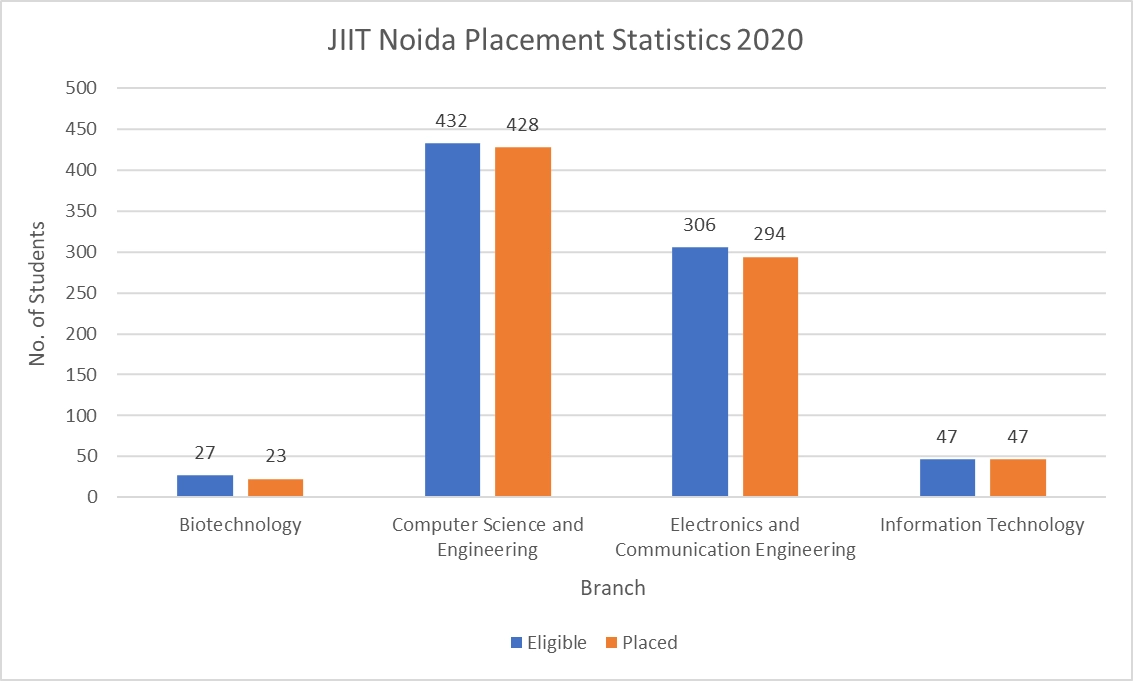 | | |
| --- | --- |
| Branch | Placed (%) |
| Biotechnology | 85.19% |
| Computer Science and Engineering | 99.07% |
| Electronics and Communication Engineering | 96.08% |
| Information Technology | 100.00% |
| Overall | 97.54% |
Rs. 43.17 lakhs per Annum offered by Adobe
2019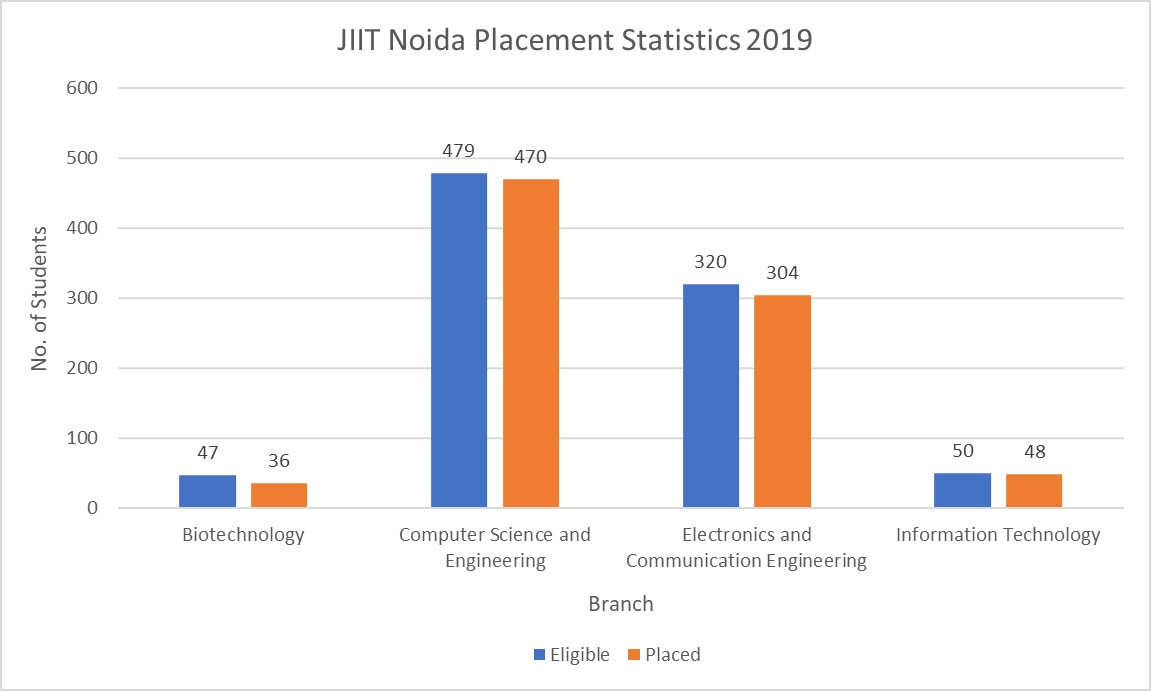 | | |
| --- | --- |
| Branch | Placed (%) |
| Biotechnology | 76.60% |
| Computer Science and Engineering | 98.12% |
| Electronics and Communication Engineering | 95.00% |
| Information Technology | 96.00% |
| Overall | 95.76% |
Rs. 40.63 lakhs per Annum offered by Adobe
| | |
| --- | --- |
| Range of CTC Offered (in LPA) | No. of Companies |
| Greater than 18 | 9 |
| Between 10 to 14.17 | 8 |
| Between 6 to 9.12 | 49 |
| Between 3 to 5.4 | 80 |
2018
| | |
| --- | --- |
| Branch | Placed (%) |
| Biotechnology | 65.63% |
| Computer Science and Engineering | 97.26% |
| Electronics and Communication Engineering | 82.67% |
| Information Technology | 95.24% |
| Overall | 91.01% |
Rs. 39.12 lakhs per Annum offered by Adobe
Abyeti Technologies
Adobe
Amazon
Amazon Web Services
Argil DX
Axtria
Blue Stacks
Byjus
Cadence
Carnot Technologies
Classplus
Cognizant
Delhivery
Deloitte
Directi
Edoofa
FICO
Freyr Solutions
Gemalto
Grail Research
Grofers
Hashedin
HCL
HSBC
Incedo
India Mart
Infosys
Kuliza Technologies
LiveLike
Magnitude Software
Mentor Graphics
Microsoft
Minjar Cloud Solutions
Morgan Stanley
Mtree Software
Naukri
Newgen
Nirvana Solutions
NTT Data
Octro
Ola Cabs
PatchUs
Paytm
Phronesis Partners
PlaySimple Games
Posist
Protiviti
RTDS
SAP Labs
SetuServ
Shuttl
Smarter Codes
Smartprix
Sopra Steria
Splashmath
SquadRun
STMicroelectronics
SumoLogic
TheSmartcube
Vehant Tech
Velankani Software
Wipro
XL Catlin
Xseed Education
Yamaha Motor Solutions
Zunroof
Zycus
2017
Abyeti Technologies
AccunitySoft
Amazon India
Amazon Web Services
APAC
Axtria
Belzabar Software
BlackStone
Click Software
CodeBrew Labs
Coffee Day Beverages
Cognizant
Continental Automotives
Convegenius
Deloitte U.S. India
Effectual Knowledge Services Pvt Ltd
Ericsson
Ernst & Young
FICO
Freyr Solutions
FutureFirst
Gemalto
GoPaisa.com
Grail Research
Grapecity
Grofers
Hashedin Technologies
HPE
HSBC Technology
IBM
Incedo
Infosys
Innovaccer
J Mitra and Company Private Limited
Ksolves India
Kuliza Technologies
Lean Apps
Minjar Cloud Solutions
Morgan Stanley
Mtree Software
Naggaro
Naukri.com
NEC Technologies
Newgen Software
NTT Data
Ola Cabs
Oxyent
Phronesis Partners
Quess Corporation
Rivigo
RNA Life Sciences
Rohde & Schwarz
Samsung R&D
SAP Labs
Smartcube
SP Global
Sumo Logic
Tectura
Tolexo
Uflex Limited
Vehant Technologies
Voylla Fashion
Wipro
Wrig Nanosystems
XL Catlin
Yamaha Motor Solutions
Zeon Life Science Ltd
Zycus Infotech