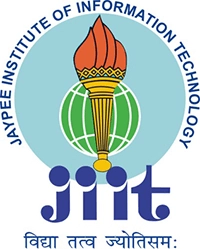 JAYPEE INSTITUTE OF INFORMATION TECHNOLOGY, NOIDA (Sector-62 Campus)
Jaypee Institute of Information Technology, A-10, Sector-62, Noida, Uttar Pradesh – 201309
Also known as JIIT Noida.
CONNECTIVITY (How To Reach)
Indira Gandhi International Airport, Delhi
37 km
Ghaziabad Junction Railway Station
8.5 km
Hazrat Nizamuddin Railway Station
14 km
New Delhi Railway Station
18.5 km
Body
Category
Rank (Year)
Latest
Previous
National Ranking

NIRF Overall Rankings
151-200 (2021)
151-200 (2020)
NIRF Engineering Rankings
94 (2021)
96 (2020)

The Week Best Technical Universities India
32 (2021)
33 (2020)
The Week Top Engineering Colleges India
43 (2021)
48 (2020)

Outlook India's Top Pvt. Engineering Colleges
22 (2021)
20 (2020)

India Today Top Pvt. Engineering Colleges
32 (2021)
32 (2020)
One needs to take the JEE (Main) exam and separately apply for JIIT counselling.
Admissions are on the basis of rank in JEE (Main) OR on the basis of class 12th marks.
For BioTechnology, 50% of the seats are filled on the basis of 10+2 marks merit.
Read more about JIIT Noida Admissions

here

.
CUTOFF RANKS (OPENING & CLOSING RANKS)
Particulars
Amount
Caution Money (One Time, Refundable)
₹10,000
Tuition Fee (per Semester)
₹92,500
Development Fee (per Semester)
₹30,000
Total
₹1,32,500
Note: For academic session 2021-22, a one-time reduction of 50% in Development Fee has been granted.
Year
Amount
1st year
₹2,45,000 (TF: 1,85,000, DF: 60,000)
2nd year
₹2,54,200 (TF: 1,94,200, DF: 60,000)
3rd year
₹2,73,900 (TF: 2,03,900, DF: 70,000)
4th year
₹2,94,100 (TF: 2,14,100, DF: 80,000)
5th year (for iMTech)
₹3,04,800 (TF: 2,24,800, DF: 80,000)
Note: For academic session 2021-22, a one-time reduction of 50% in Development Fee has been granted.
TF: Tuition Fee, DF: Development Fee
| | |
| --- | --- |
| Particulars | Amount |
| Hostel Charges (incl. Food & Laundry) (per Semester) | ₹74,400 |
| Total | ₹74,400 |
Rs. 43.88 lakhs per annum offered to 2 students by Adobe
Rs. 35.00 lakhs per annum offered to 1 student by D.E. Shaw
Rs. 30.00 lakhs per annum offered by Amazon
Rs. 30.00 lakhs per annum offered by Cisco
Rs. 25.00 lakhs per annum offered by Morgan Stanley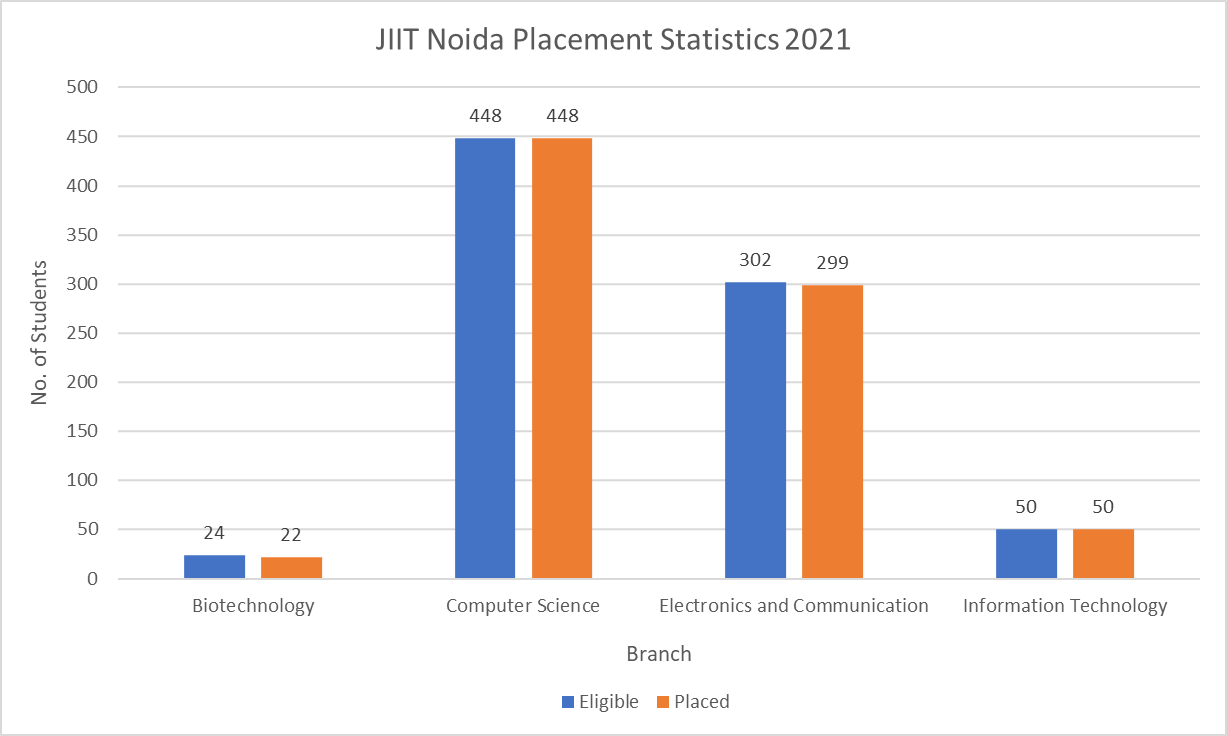 | | |
| --- | --- |
| Branch | Placed (%) |
| Biotechnology | 91.67% |
| Computer Science and Engineering | 100.00% |
| Electronics and Communication Engineering | 99.01% |
| Information Technology | 100.00% |
| Overall | 99.39% |
Accolite
Adecco
Adobe (Technical Consultant)
Adobe Systems
Amazon (Non-Tech Role)
Amazon (Process Assistant)
Amazon (SDE)
Amazon (WoW)
Amdocs
American Express
Antino Labs
Apelo Consulting 
ApplicateAI
ArgilDX
Avalara Tech
Avizva
Axa XL
Bartleby Technologies
Biz2credit
BNY Mellon Bank
Buyhatke
Byjus
Cavisson Systems 
Chapter Vitamins
Cisco
ClearTrail Technologies
Coforge
Cognizant
Cognizant GenC Next
Conduent 
Convegenius
Cryenx Labs 
Cube Highways
D. E. Shaw
Dare2Compete
Delhivery
Deloitte USI
Digilytics
Digital Democracy
Digital Jalebi
DXC
Ecom Express
ELitmus
Ericsson
Estee Advisors
Evalueserve
Expertlancing
EY
Ezylegal
FarziEngineer
Fundwave
Fusionstak
Futures First
Galytix
Genpact
Genpact Digital
Goldman Sachs
Grapecity
Grazitti Interactive
GreyB
Hanu Software
Hashedin
HCL Technologies
Hevo Data
Hitachi Consulting 
HYPD Store
Hyperverge
Icertis
IDS InfoTech
IndiaMart
Infoedge
Infogain India
Infosys
Infosys (Hackwithinfy – PP)
Infosys (Hackwithinfy – SE)
Infosys (Hackwithinfy – SES)
Infosys (InfyTQ)
Innovaccer
Intellect Design Arena
Interview Bit
Intuit
ION Group
IT Convergence
Jaro Education
JSP Project
JTG
Keyideas Infotech
Kickdrum
Kritikal Vision
Kuliza
Leadsquared
Legistify 
Lucideus
Lumiq
Mathrithms
Medhasvi
Morgan Stanley
Mtree
Nagarro
Navatar Group
Nestle India
New Age Techsci Research
Nference 
NTT Data
Octro
Optum (United Health Group)
ORI Serve
P&S Intelligence
Paytm (DevOps)
Paytm (QA)
Pentair
Planet Spark
Play Simple
PoSist
Procol
Qualitest
Quokka Labs
Red Hat
RockWell
Rohde & Schwarz
RSK Business Solutions
RxLogix
Samsung R&D
SAP Labs
Scaler Academy
Seclore Technology
Sendinblue
Servetel Communication
SIMSIM
SmartServ
Sopra Steria
SOTI
Splitsub
SquadIQ
ST Microelectronics
Tata Power
TCS Digital
TCS Ninja
Tenovia
TestBook
Thales Group
Thriwe
Unimrkt Research
upGrad
Valued Epistemics
VectoScalar Technologies
Vehant Technologies
Verzeo Edutech
VEST
Vinsol
Virtusa
Voith
WatchGuard Technologies
Wipro
Wipro Infrastructure
Wisteli Informatics
WSP
Xenon
Yellow Messenger
Zomentum
ZopSmart Technology
ZS Associates
Zuora India
Zycus
Zyla Healthcare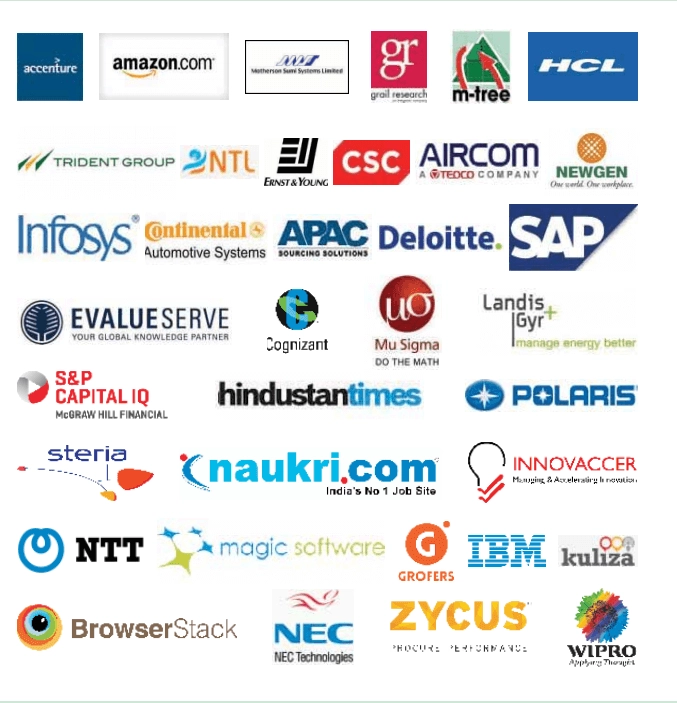 2020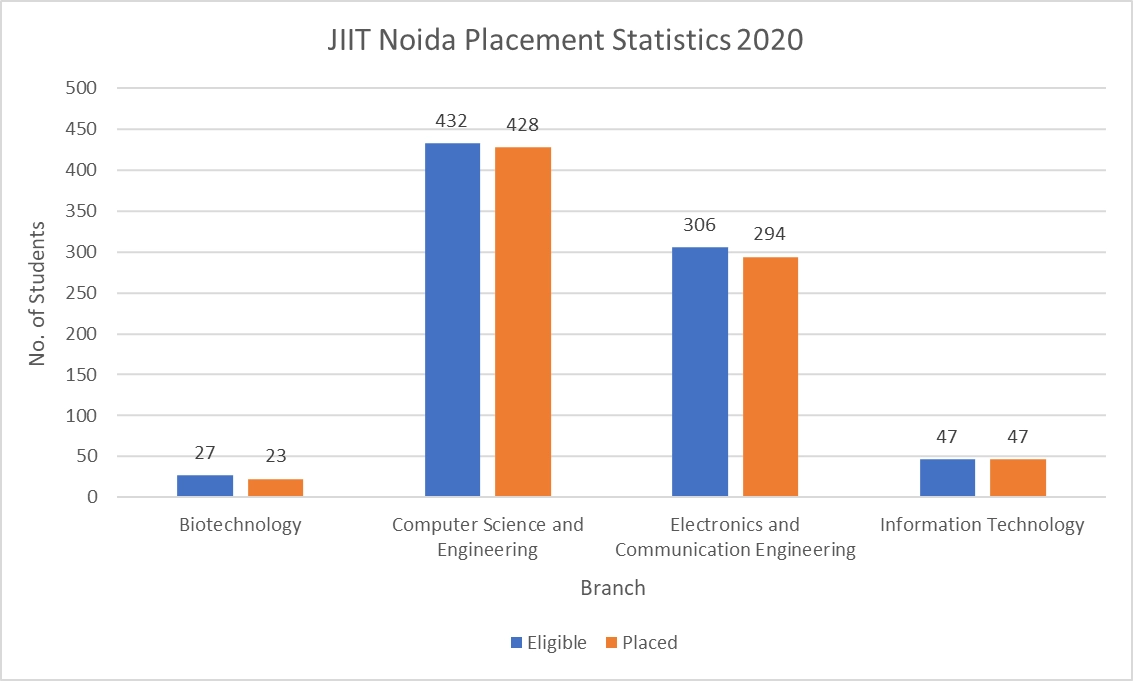 | | |
| --- | --- |
| Branch | Placed (%) |
| Biotechnology | 85.19% |
| Computer Science and Engineering | 99.07% |
| Electronics and Communication Engineering | 96.08% |
| Information Technology | 100.00% |
| Overall | 97.54% |
Rs. 43.17 lakhs per Annum offered by Adobe
2019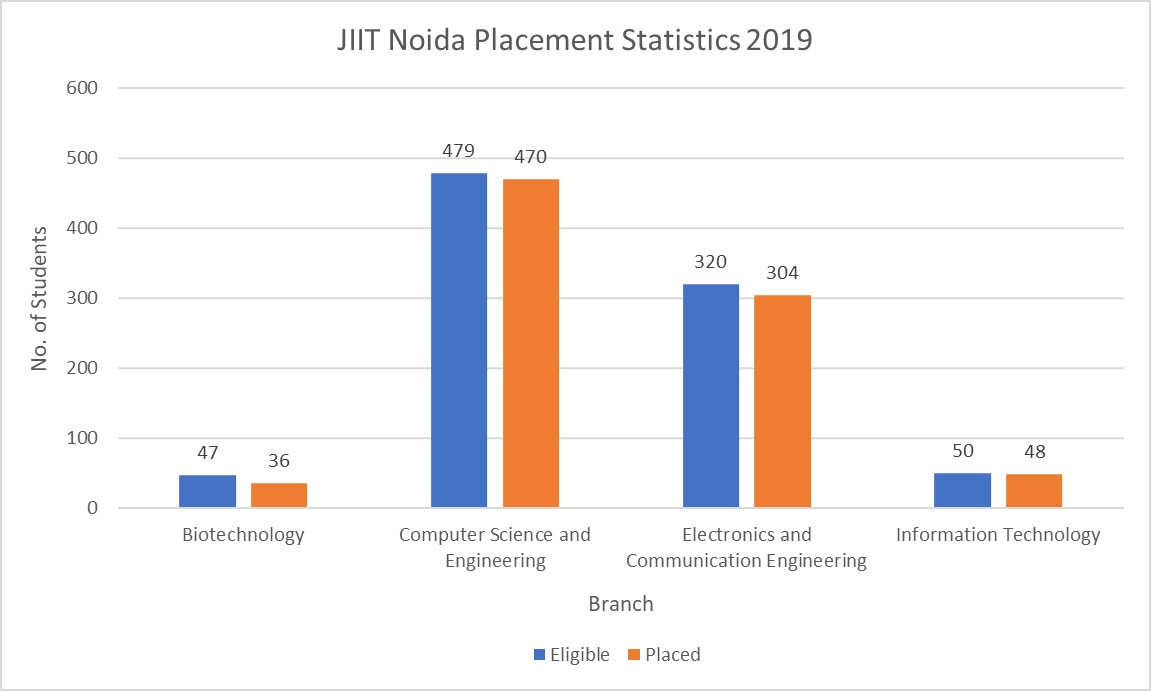 | | |
| --- | --- |
| Branch | Placed (%) |
| Biotechnology | 76.60% |
| Computer Science and Engineering | 98.12% |
| Electronics and Communication Engineering | 95.00% |
| Information Technology | 96.00% |
| Overall | 95.76% |
Rs. 40.63 lakhs per Annum offered by Adobe
| | |
| --- | --- |
| Range of CTC Offered (in LPA) | No. of Companies |
| Greater than 18 | 9 |
| Between 10 to 14.17 | 8 |
| Between 6 to 9.12 | 49 |
| Between 3 to 5.4 | 80 |
2018
| | |
| --- | --- |
| Branch | Placed (%) |
| Biotechnology | 65.63% |
| Computer Science and Engineering | 97.26% |
| Electronics and Communication Engineering | 82.67% |
| Information Technology | 95.24% |
| Overall | 91.01% |
Rs. 39.12 lakhs per Annum offered by Adobe
Abyeti Technologies
Adobe
Amazon
Amazon Web Services
Argil DX
Axtria
Blue Stacks
Byjus
Cadence
Carnot Technologies
Classplus
Cognizant
Delhivery
Deloitte
Directi
Edoofa
FICO
Freyr Solutions
Gemalto
Grail Research
Grofers
Hashedin
HCL
HSBC
Incedo
India Mart
Infosys
Kuliza Technologies
LiveLike
Magnitude Software
Mentor Graphics
Microsoft
Minjar Cloud Solutions
Morgan Stanley
Mtree Software
Naukri
Newgen
Nirvana Solutions
NTT Data
Octro
Ola Cabs
PatchUs
Paytm
Phronesis Partners
PlaySimple Games
Posist
Protiviti
RTDS
SAP Labs
SetuServ
Shuttl
Smarter Codes
Smartprix
Sopra Steria
Splashmath
SquadRun
STMicroelectronics
SumoLogic
TheSmartcube
Vehant Tech
Velankani Software
Wipro
XL Catlin
Xseed Education
Yamaha Motor Solutions
Zunroof
Zycus
2017
Abyeti Technologies
AccunitySoft
Amazon India
Amazon Web Services
APAC
Axtria
Belzabar Software
BlackStone
Click Software
CodeBrew Labs
Coffee Day Beverages
Cognizant
Continental Automotives
Convegenius
Deloitte U.S. India
Effectual Knowledge Services Pvt Ltd
Ericsson
Ernst & Young
FICO
Freyr Solutions
FutureFirst
Gemalto
GoPaisa.com
Grail Research
Grapecity
Grofers
Hashedin Technologies
HPE
HSBC Technology
IBM
Incedo
Infosys
Innovaccer
J Mitra and Company Private Limited
Ksolves India
Kuliza Technologies
Lean Apps
Minjar Cloud Solutions
Morgan Stanley
Mtree Software
Naggaro
Naukri.com
NEC Technologies
Newgen Software
NTT Data
Ola Cabs
Oxyent
Phronesis Partners
Quess Corporation
Rivigo
RNA Life Sciences
Rohde & Schwarz
Samsung R&D
SAP Labs
Smartcube
SP Global
Sumo Logic
Tectura
Tolexo
Uflex Limited
Vehant Technologies
Voylla Fashion
Wipro
Wrig Nanosystems
XL Catlin
Yamaha Motor Solutions
Zeon Life Science Ltd
Zycus Infotech