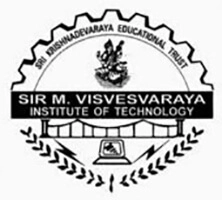 SIR M VISVESVARAYA INSTITUTE OF TECHNOLOGY, BANGALORE
Sir Mokshagundam Visvesvaraya Institute of Technology, Krishnadeveraya Nagar, International Airport Road, Yelahanka, Hunasamaranahalli, Bengaluru, Karnataka – 562157
Also known as SMVIT Bengaluru, Sir MVIT Bangalore, Sir M Visvesvaraya Institute of Technology and Sir Mokshagundam Visvesvaraya Institute of Technology.
CONNECTIVITY (How To Reach)
Nearest Airport : Kempegowda International Airport, Bengaluru
Distance from Airport : 17km
Next Nearest Railway Station : Bangalore City Railway Station
Distance from Railway Station : 23.5km
By Outlook India in 2017 : 57
By Outlook India in 2016 : 60
By The Week in 2016 : 71
Affiliated to Visvesvaraya Technological University, Belagavi.
Particulars
Amount
Tuition Fee (per Year)
₹58,806 (KCET seat)
₹2,01,960 (COMEDK seat)
College Fees (per Year)
₹19,705 (Karnataka Candidates)
₹21,205 (Outside Karnataka Candidates)
Information currently unavailable.
Past Recruiters
Accenture
Accord Software
Aditi Technologies
Akamai
Amazon.com
Aricent
Avtec India Ltd
Aztec Software
Bally Tech
Birlasoft
BMA Wealth Creators
Bristlecone
Capgemini
CareerNet
Caterpillar
Cerner Health Care
Cleartrip
Cognizant
Concorde Motors
Crompton Greaves
CSC India
Cummins
D S Constructions
D. E. Shaw
Dell IT International
Digibee Microsystems
Embrace Global
Ernst & Young
ETV
Exeter India
eZeeCloud
Fidelity
Financial World
GCI Solutions
General Motors India
HealthAsyst
Hewlett-Packard
Ibiz Consultancy
ICICI Prudential
Infosys
Intense Technologies
ITC Infotech
Jaro Education
Jaypee Cements
Jost's Engineering Company
juwi Renewable Energies
Keane
KMG Infotech
Kotak Mahindra Bank
L&T Infotech
Lifetree Convergence
Mahindra & Mahindra
Manhattan Associates
Max New York
MEIL
Microland
Microsoft
Mindtree
Mu Sigma
NIIT Technologies
Novellus Systems
Nvidia
Oracle Financial Services Software
Polaris
Prestige Group
QuEST Global
Readiminds
Sapient
Sasken Technologies
Schneider Electric India
Silver Soft Technologies
Snapdeal
Societe Generale
Sonata Software
Starent Network
Subex
Sundaram Fasteners
Tata Elxsi
TCS
Tesco
Thomson Reuters
Torry Harris
Voith
Volvo
Wipro
Zenith Software
Zensar
2018
Rs. 30 Lakhs per Annum offered by Media.Net
Rs. 10 Lakhs per Annum offered by Blu Optima
Rs. 8.50 Lakhs per Annum offered by Target
Rs. 8.50 Lakhs per Annum offered by VMware
Accenture
Aricent
Cyient
EY
HP
Infosys
Mindtree
Mu Sigma
Robert Bosch
Samsung R&D
Wipro
2017
Accenture
Allstate India
Amazon
Aryaka
CGI
Danske IT
Ernst & Young
Global Soft
Kirusa
L&T Infotech
Mindtree
Moonraft
Mu Sigma
Societe Generale
TCS
Wipro
2016
Rs. 16 Lakhs per Annum offered by Amazon
32,000 Euro per Annum offered by Unitech Transfer to 4 students
Rs. 12 Lakhs per Annum offered by Thorogood
Rs. 11 Lakhs per Annum offered by Sprinklr to 13 students
Rs. 7.5 Lakhs per Annum offered by Tesco
Rs. 7 Lakhs per Annum offered by Kirusa
TCS selected 265 students
Accenture selected 300 students
Wipro selected 84 students
Rs. 16 Lakhs per Annum offered by Amazon
Accenture
Amazon
Anite Telecom
Aryaka
Continental Automotives
Dell
Global Logic
Hewlett Packard
Ims Health
Kirusa
Moon Raft
Musigma
Orbitz
Sprinklr
TCS
Tesco
Thorogood
Unitech Transfer
Wipro
2015
Rs. 14.98 Lakhs per Annum offered by Amazon
Rs. 13.5 Lakhs per Annum offered by Thorogood
Rs. 10.5 Lakhs per Annum offered by Sprinklr
TCS selected 246 students
Accenture selected 272 students
Wipro selected 38 students
Robert Bosch selected 38 students