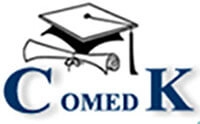 COMEDK is the "Consortium of Medical, Engineering and Dental Colleges of Karnataka" to determine the merit of students in an effective, fair, transparent and non-exploitative testing procedure. Presently there are around 190 Engineering colleges which are affiliated to COMEDK and utilize its testing mechanism for taking admission to UG Programme.
| | |
| --- | --- |
| Exam Name | Consortium of Medical, Engineering and Dental Colleges of Karnataka |
| Also Known As | COMEDK |
| Exam Category | Undergraduate |
| Exam Level | State |
| Exam Mode | Online (Computer based test) |
| Conducted by | COMEDK |
It will be an online computer based test.
The medium of the examination will be English Only.
There will be 3 sections (Physics, Chemistry, Mathematics) of objective (MCQ) type questions.
Each section carries 60 questions.
Each correct answer will be awarded 1 mark.
There will be no negative marking.
Eligibility for Admission
For Engineering courses
For Engineering courses
Second PUC OR
10+2 Higher Secondary OR
Equivalent examination recognized by State / Central Govt.
Marks in Qualifying Examination
Minimum aggregate of 45% marks (40% in respect of SC, ST and OBC candidates of Karnataka State) in Physics, Chemistry and Mathematics
Should have passed these subjects (Physics, Chemistry and Mathematics) individually with English as a compulsory subject.
Physics and Mathematics are compulsory subjects along with Chemistry or Bio Technology or Biology or any other technical vocational courses as one of the optional subjects.
Candidate must take COMEDK UGET exam.
Diploma candidates are not eligible to take COMEDK UGET exam as there are no lateral entry admissions.
For Architecture courses
For Architecture courses
Second PUC OR
10+2 Higher Secondary OR
Equivalent examination with Mathematics as one of the subjects OR
10+3 Diploma recognized by State / Central Govt.
Marks in Qualifying Examination
Minimum aggregate of 50% marks (45% in respect of SC, ST and OBC candidates of Karnataka State)
Candidate should have appeared for NATA and obtained a minimum score of 80 out of 200 marks. There shall be no other entrance test for candidates seeking admission to B.Arch. course.
Candidates seeking B.Arch. course need to apply separately for participation in counselling.
The entrance test is based on the existing syllabus of 10 + 2 / 12th STD / 2nd PUC.
The official mock test is made available to the candidates appearing for COMEDK UGET.
Candidates can take the Mock Test to understand the pattern of the computer based test and make themselves familiar with the interface.
Mock test is for practice purpose only.
The prescribed fee for COMEDK UGET 2018 is ₹1300 + GST (₹2100 + GST for both COMEDK UGET and Uni-GAUGE).
The registration for COMEDK UGET 2018 will begin on January 16, 2018.
UPDATE: COMEDK UGET 2018 Registrations have started, read more

here

.
Candidates must fill-up the online application form through COMEDK website.
Upload relevant documents (Photograph, Signature, Signature of Father/Guardian and unique ID proof).
Pay the application fee through Online Payment (Credit Card/ Debit Card/ Internet banking).
Save application summary page for future reference.
The Online Test Admission Ticket (Online TAT) can be downloaded from the COMEDK website from May 4, 2018.
Please note that no Test Admission Ticket (TAT) will be dispatched either by email or post or courier or in person to the candidates under any circumstances.
The hall ticket will contain the name, photograph, address of the candidate, ID proof details, address of the Test Centre allotted and test schedule.
Candidates are required to produce the Test Admission Ticket and the original ID as mentioned in Application/TAT.
The facility for printing Online Test Admission Ticket will be disabled on May 12, 2018 midnight.
The Test Admission Ticket is an important document and it must be preserved and produced at the time of Counseling/Admission.
Test Cities
Test Cities
Agartala
Agra
Ahmedabad
Aligarh
Allahabad
Ambala
Amravati
Amritsar
Ananthpur
Arrah
Aurangabad
Aurangabad
Bagalkot
Ballari (Bellary)
Bareilly
Belagavi (Belgaum)
Bengaluru
Bhagalpur
Bhilai And Durg
Bhopal
Bhubaneswar
Bidar
Bihar Sharif
Bikaner
Bilaspur
Bokaro Steel City
Chandigarh
Chapra
Chennai
Chikballapur
Chikkamagaluru
Chittoor
Coimbatore
Darbhanga
Davanagere
Dehradun
Dhanbad
Dharwad
Durgapur
Ernakulam
Faridabad
Gadag
Gandhinagar
Gangtok
Gaya
Ghaziabad
Greater Noida
Guna
Guntur
Gurgaon
Guwahati
Gwalior
Hajipur
Hassan
Haveri
Hazaribagh
Hisar
Hubballi (Hubli)
Hyderabad
Imphal
Indore
Itanagar
Jabalpur
Jaipur
Jalandhar
Jammu
Jamshedpur
Jodhpur
Jorhat
Kakinada
Kalaburagi (Gulbarga)
Kanchipuram
Kannur
Kanpur
Karnal
Kasaragod
Khammam
Kolar
Kolhapur
Kolkata
Kota
Kottayam
Kozhikode
Kurnool
Lucknow
Madgaon
Madurai
Malappuram
Mandya
Mangaluru (Mangalore)
Meerut
Moradabad
Mumbai/Navi/Thane
Muzaffarnagar
Muzaffarpur
Mysuru (Mysore)
Nagpur
Nanded
Nashik
Nellore
New Delhi
Nizamabad
Palakkad
Panaji
Patiala
Patna
Port Blair
Pune
Purnea
Raichur
Raipur
Rajahmundry
Rajkot
Ranchi
Rourkela
Sagar
Salem
Samastipur
Satna
Shillong
Shimla
Shivamogga (Shimoga)
Siliguri
Siwan
Srinagar
Surat
Thanjavur
Thiruvananthapuram
Thrissur
Tirupathi
Tumakuru (Tumkur)
Udaipur
Udupi
Ujjain
Uttara Kannada
Vadodara
Varanasi
Vijayapura (Bijapur)
Vijayawada
Visakhapatnam
Note
Note
A candidate can choose and select 3 cities in order of preference at the time of applying for the exam.
The option of city chosen by the candidate cannot be changed subsequently under any circumstance.
The answer keys of Computer based examination will be made available on COMEDK UGET website.
If a candidate is unsatisfied with any answer, he/she can challenge the answer keys with all necessary enclosures.
The candidate has to pay a fee of Rs.500 per clarification which will be refunded if the clarification is accepted.
A merit list will be prepared based on the candidate's score in COMEDK UGET exam.
The examination result and counselling details will be published on the COMEDK website.
The result of the exam will be declared on May 28, 2018.
Online Rank Card can be downloaded from COMEDK website after the declaration of result.
The admission to COMEDK Member Institutions will be done on merit rank.
The counselling details will be available on the COMEDK website after result declaration.
Candidates need to bring the Online Test Admission Ticket, 2 Recent passport size photograph & Unique original photo ID on the day of exam.
Candidates must not carry any textual material, printed or written bits of papers or any electronic gadget.
| | |
| --- | --- |
| Event | Date |
| Start date for registration | January 16, 2018 |
| Mock Test made available online | February 5, 2018 |
| Last date for online payment | April 19, 2018 |
| Last date for Submission of completed application online | April 19, 2018 |
| Start date for download of Test Admission Ticket | May 4, 2018 |
| Last date for downloading of Online Test Admission Ticket (TAT) | May 12, 2018 |
| COMEDK UGET Exam | May 13, 2018 |
| Publishing of Provisional Answer Keys | May 17, 2018 |
| Start date for online submission of objections/challenge of Provisional Answer keys | May 17, 2018 |
| Last date for receiving challenges/objections pertaining to Provisional Answer Keys | May 21, 2018 |
| Publishing of Final Answer keys | May 25, 2018 |
| Test Score cards made available online to the candidates | May 28, 2018 |