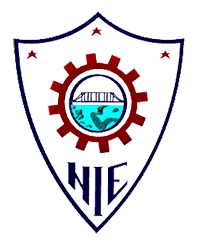 THE NATIONAL INSTITUTE OF ENGINEERING, MYSORE
The National Institute of Engineering, Mananthavadi Rd, Vidayaranya Puram, Mysuru, Karnataka – 570008
Also known as NIE Mysore, NIE Mysuru and The National Institute of Engineering.
CONNECTIVITY (How To Reach)
Nearest Airport:Kempegowda International Airport, Bengaluru
Distance from Airport: 186km
Next Nearest Railway Station : Mysore Railway Station
Distance from Railway Station : 4.5km
By NIRF in 2018 : 151-200
By NIRF in 2017 : 101-150
By Outlook India in 2017 : 22
By Outlook India in 2016 : 25
By The Week in 2016 : 67
Affiliated to Visvesvaraya Technological University, Belagavi.
Particulars
Amount
Tuition Fee
₹19,090 (KCET Aided seat)
₹53,460 (KCET Unaided seat)
₹1,83,600 (COMEDK seat)
College Fees
₹14,230 (Karnataka Candidates)
₹15,730 (Outside Karnataka Candidates)
Particulars
Amount
Girls Hostel
₹105000 (Single sharing), ₹95000 (Double sharing), ₹80000 (Triple sharing), ₹70000 (Four sharing)
Boys Hostel
₹75000 (Triple sharing)
Fee includes mess charges, room rent, administration charges, caution deposit, maintenance, etc.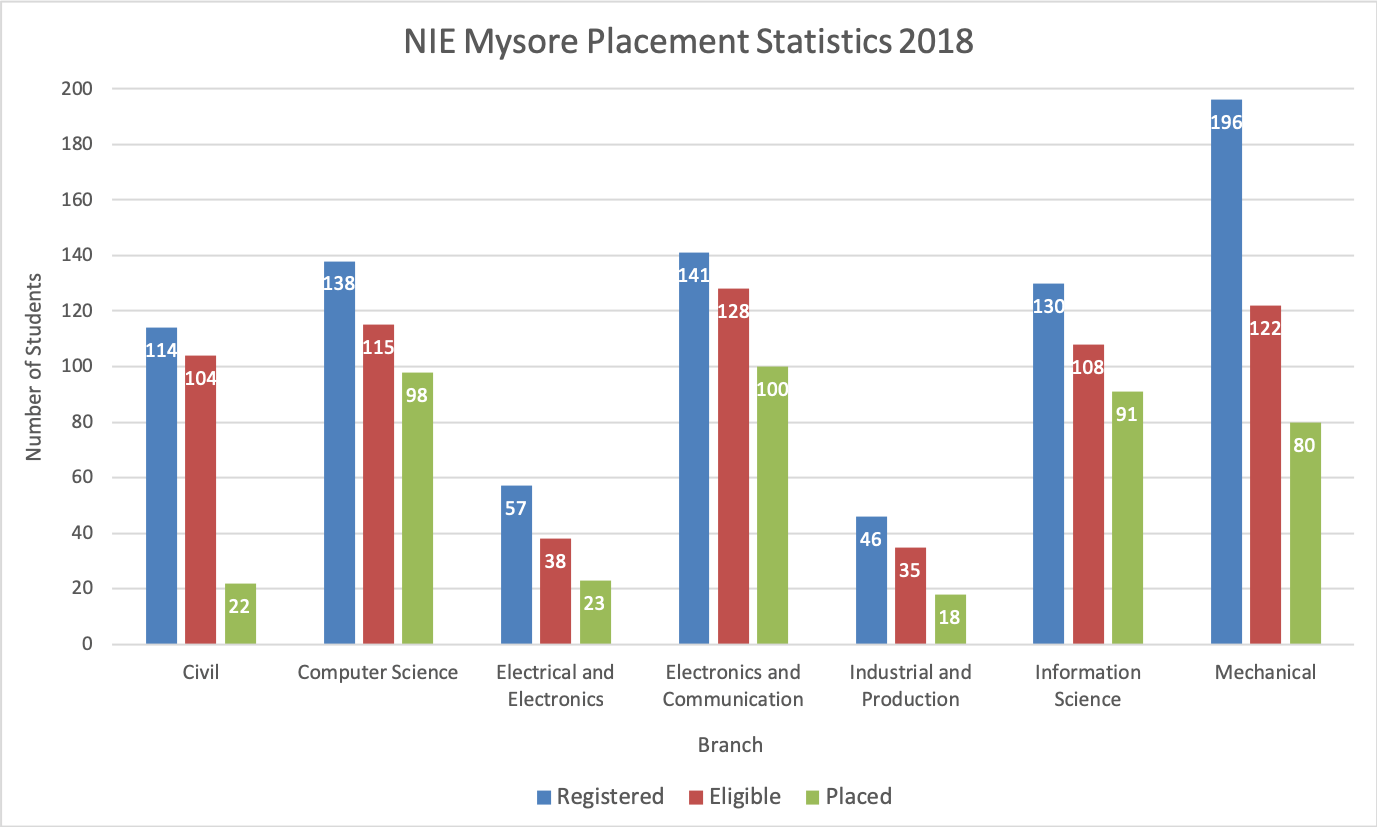 | | |
| --- | --- |
| Branch | Placed (%) |
| Civil Engineering | 21.15% |
| Computer Science and Engineering | 85.22% |
| Electrical and Electronics Engineering | 60.53% |
| Electronics and Communication Engineering | 78.13% |
| Industrial and Production Engineering | 51.43% |
| Information Science and Engineering | 84.26% |
| Mechanical Engineering | 65.57% |
Accenture
Accolite
Accord Software & Systems
Amazon
Apollo Tyres
B L Kashyap and Sons
BEL
Betsol
Brigade Group
Cisco Systems
Colimetrics Software
Continental AG
Coreel Technologies
Dassault Systèmes (3DPLM Software)
Deloitte
DXCorr
EASi Technologies
Ernst & Young
Eveready Industries India
Evobi Automations
Gokaldas Exports
Hewlett-Packard R&D
Imagine Technology
Infosys
Inszoom
Intimetec Visionsoft
Intuit
J P Morgan
KPIT Technologies
L&T
L&T Technology Services
Lowe's India
Mando Softtech
Manhattan Associates
Mckinsey
Mercedes Benz
Micro Focus
Mindtree
N R Group
Nokia India
One Trust
Optum Global
Rishi FIBC
Robert Bosch India
SAP Labs
Shahi Exports
Siemens
Sobha Developers
Tata Elxsi
Tayana Software
TCS
Tektronix
Temenos
Terex India
ThoughtWorks
Toyota Kirloskar Motor
TVS Motor Company
Vedanta
VMware AirWatch
Walmart
Weir EnSci
WEP Solutions
2017
2017
Rs. 28.75 Lakhs per Annum (PPO) offered by Arcesium (India)
3D PLM Software Ltd
Accenture Services Ltd
Akamai Technologies Ltd
Amazon Ltd
Amdocs
Applied Materials
Atos India Ltd
Betsol Ltd
Cerner Corporation
Cisco Systems Ltd
Coreel Technologies Ltd
Cybage Technologies
D.E.Shaw & Co.
Deloitte US
Epicor Spftware Corporation
Epsilon Ltd
Ernst & Young Ltd
Fidelity Investments
G E Digital
Hewlett-Packard Enterprises
Hewlett-Packard R & D
Huawei Technologies Ltd
IBM India Ltd
India Army
Indian Navy
Infinera Ltd
Inszoom Technologeis Ltd
Intimetec
Intuit
J P Morgan
Lam Research India Ltd
Larsen & Toubro Ecc Ltd
Mercedes Benz Ltd
Mistral Solutjions Ltd
Nokia India Ltd
Oracle GSD
Oracle India Ltd
PathPartner Technology
Robert Bosch India Ltd
Sahaj Software Solutions
Samsung R & D Ltd
SAP Labs Ltd
Shell India Ltd
Siemens Ltd
Sony India Ltd
Subex Ltd
TCS Consultancy Services Ltd
Temenos Ltd
Thorogood Associates
Thought Works
Tismo Technologies Ltd
VMware AirWatch
Walmart Labs
WeP Solutions Ltd
Yodlee Ltd
ABB Ltd
Ace Designers
Applied Materials Ltd
Arcadis Design & Consulting
Atkins Ltd
Atlas Copco Ltd
Aurigo Software
Bharat Electronics Ltd
Bosch Ltd
Caterpillar
Chainalytics
Easi Technologies Ltd
Eveready Ltd
J K Tyre & Industries Ltd
L & T Technology Services Ltd
Larsen & Toubro Ltd
Mercedes Benz Ltd
PRDC Ltd
R R Donnelley
Tech Mahindra
Techjini
Toyota Kirloskar Motor Co. Ltd
TVS Motor Co. Pvt Ltd
Vedanta Ltd
2016
2016
Accenture
Bharat Electronics Ltd
Brigade Group
Cisco
Ford Automotive
Grofers
Hewlett-Packard R&D
Intuit
J K Tyres & Industries
Larsen & Toubro
Mercedes Benz
Microsoft
Motorola Mobility
Oracle
SAP Labs
TCS
Toyota Kirloskar
TVS Motor Co.
Walmart
Rs. 19.84 Lakhs per Annum offered by Intuit
2015
2015
Accenture
CISCO
HP
IBM
L&T
Mercedes Benz
Microsoft
Motorola Mobility
Oracle
TCS
Titan
Toyota Kirloskar
TVS Motor