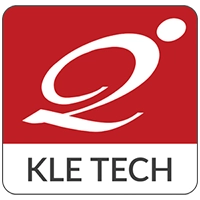 KLE TECHNOLOGICAL UNIVERSITY, HUBLI
KLE Technological University (Formerly BVBCET), B.V. Bhoomaraddi Campus, Vidyanagar, Hubballi, Karnataka – 580031
Also known as KLE Tech University Hubli, KLE Technological University Hubballi, B.V. Bhoomaraddi College of Engineering and Technology Hubli, BVB CET Hubli and BVBCET Dharwad.
CONNECTIVITY (How To Reach)
Nearest Airport: Hubballi Airport
Distance from Airport: 6.5km
Next Nearest Railway Station: Hubballi Junction
Distance from Railway Station: 5.5km
By NIRF in 2019 : 159
By NIRF in 2018 : 151-200
CUTOFF RANKS (OPENING & CLOSING RANKS)
Particulars
Amount
Tuition Fee (per Year)
₹19,090 (KCET Aided seat)
₹58,806 (KCET Unaided seat)
₹2,01,960 (COMEDK seat)
Information currently unavailable.
Rs. 29 Lakhs per Annum offered by Amazon Software Development Center to 1 student
Rs. 17 Lakhs per Annum offered by SAP Labs to 3 students
142 students got offers from Robert Bosch
Akamai
Applied Materials
Microsoft
SAP Labs
Walmart Labs
Bharat Electronics Ltd
Exeter
HP R&D
INSZoom
Informatica
L&T
Lam Research
Mercedes Benz R&D
Nokia
Sony
Tally
Tata Hitachi
Tata Motors
Tejas Networks
Toshiba
Past Recruiters
Accenture
ADM Agro
Akamai
Alcatel Lucent
Alstom
Anand Group
Applied Materials
BEL
Cognizant
CoreEl Tech
Cypress Semiconductors
Dalmia Cements
Delphi
EASi Engg
Exeter
Fanuc
FleetGuard Filters
FlowServe
HP
Huawei Tech
IBM
iGate Patni
Indo MIM
Informatica
Infosys
INS Zoom
Intime Tech Vision
JMC Projects
JSW(Jindal Steel)
Kirloskar Group of Companies
Kooki
KPIT Cummins
L&T
Lam Research
Mahindra 2-wheelers
Mercedes Benz R&D
Microsoft
MindTree
Mistral
Nokia
PathPartner
Persistent Systems
Quest Global
RichCore
Robert Bosch
Sankalp
SAP Lab
Shapoorji Pallonji
Siemens Healthcare
SLK
SONY
Span Infotech
Subex
TaeguTec
TAFE
TAL Mfg Solns
Tata Advanced Materials
Tata Elxsi
Tata Motors
TCS
TechMahindra
Tejas Networks
Telcon
TESCO
Toshiba
Total Environment
Toyota Kirloskar Motors
Ultratec Cement
Walmart Labs
2017
Rs. 14 Lakhs per Annum offered by Walmart Labs to 9 students.
27 students got offers from Mercedes Benz R&D India.
372 students got offers from Accenture.
207 students got offers from Infosys.