SCHOOL OF ENGINEERING, COCHIN UNIVERSITY OF SCIENCE AND TECHNOLOGY
| | |
| --- | --- |
| Institute Name | Cochin University of Science and Technology, Kochi |
| Also Known As | CUSAT Cochin |
| Institute Type | Government |
| Established | 1979 |
| Location | Cochin, Kerala |
CUSAT Kochi: Admission | Ranking | Fees
NEW: NIIT University B.Tech. Admissions 2021 have started, click here to apply.
NOTE: You can Subscribe to exam updates to receive all updates on your mobile for free.
Cochin University of Science and Technology, Pipeline Road, Thrikkakara, South Kalamassery, Ernakulam, Kerala – 682022
Also known as School of Engineering Thrikkakara, Department of Ship Technology Thrikkakara, International School of Photonics Thrikkakara, Center for Integrated Studies Thrikkakara, Department of Instrumentation Thrikkakara, SOE CUSAT, and CUSAT Kochi.
CONNECTIVITY (How To Reach)
Cochin International Airport
19.5 km
Aluva Railway Station
10 km
Ernakulam Junction railway station
13 km
Body
Category
Rank (Year)
Latest
Previous
International Ranking

QS Asia University Rankings
401-450 (2021)
351-400 (2020)

THE World University Rankings
1001+ (2021)
1001+ (2020)
THE Asia University Rankings
401+ (2020)
351–400 (2019)
National Ranking

NIRF Overall Rankings
89 (2020)
94 (2019)
NIRF Engineering Rankings
178 (2020)
116 (2019)

The Week Best Multidisciplinary Universities India
27 (2020)
--
The Week Top Engineering Colleges India
44 (2020)
54 (2019)

Outlook India's Top Multidisciplinary Universities
59 (2020)
--
Outlook India's Top Govt. Engineering Colleges
26 (2020)
--

India Today Top Govt. Engineering Colleges
30 (2020)
--
One needs to take the CUSAT CAT exam.
One also needs to secure at least 50% marks in Mathematics and 50% marks in Mathematics, Physics and Chemistry put together in Class XII board examination. Additional criteria of 60% marks in aggregate for Naval Architecture & Ship Building.
Admissions are done on the basis of rank in CUSAT CAT through CUSAT Counselling.
Particulars
Amount
Course fees (per Semester)
₹26,510 (SOE Courses – General State Merit),
₹47,020 (SOE Courses – General All India Merit),
₹19,330 (Instrumentation – General),
₹14,230 (Polymer Science – General),
₹15,965 (Naval Architecture – General),
₹23,170 (Int. MSc Photonics – General),
₹9,120 (Int. MSc Science – General),
₹1,285 (All Courses – SC/ST)
Information currently unavailable.
Kerala OEC, Kerala SC and Kerala ST candidates need to pay only the caution deposit, PTA fee and Co-curricular fee.
50% tuition fee waiver for Differently Abled Candidates (DAC) (Physically Challenged).
Rs. 17.00 Lakhs per Annum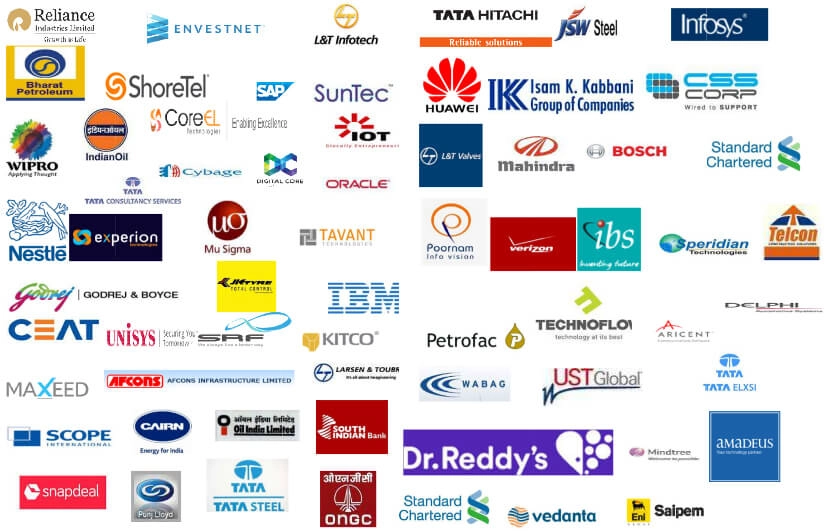 Past Recruiters
ACC Ltd
Accenture
Accenture Technology Solutions
AFCON Ltd
Apollo Tyres
British Safety Council
Cairn Energy
CG Core EL Programmable sol. Pvt Ltd
Cognizant Technology Solutions British Safety Council
Computer Science Corporation
Convergys
Defence research and development Organization
HCL info systems
Hewlett Packard
Hexaware technologies
IBM
IBS Softwares
iGate Global Solutions Ltd
Infosys
Infosys Technologies Ltd
Jindal Vijaya Nagar Steel Ltd
Larson And Turbo
Mahindra and Mahindra Ltd
Manglore Reinaries and Petrochemical Ltd
Mu Sigma
Murugappa Group
Nest Group of companies
Net Asset management
Nuclear Power Corporation project
ONGC
Oracle
Patni Computer Systems
Pricol Technologies
Reliance Industries Ltd
Reliance Infocom
Reliance Petroleuum Ltd
SCOPE
Simplex Constructions
Snapdeal
Sonata Software
Standard Chartered
Tata Chemicals
Tata Consultancy Service
Tata Projects
Triune Technology
US Technology
Verizon Communications
Wipro Technologies
2020
Rs. 24.00 Lakhs per Annum
Rs. 10.30 Lakhs per Annum offered to 1 student by Garden Reach Shipbuilders & Engineers
Rs. 7.50 Lakhs per Annum offered to 2 students by Indian Register of Shipping
2019
Rs. 24.00 Lakhs per Annum offered by Oshima Shipyard (Japan)
Rs. 18.00 Lakhs per Annum offered by ONGC
Amazon
CEAT
Cisco
Godrej
IBM
Indraprastha Gas
Infosys
L&T
ONGC
Reliance
TCS
Vedanta
Verizon
2018
Abasoft
Absys Software
Aditya Birla Fashions
Adobe Systems
Afcons Infrastructure Ltd
Amazon India
BCPL
Berger Paints
Bharat Benz
BPCL
Bramma IT Solutions
Broadcom
Catholic Syrian Bank
CEAT
Cerium Systems
CoreEl Technologies
Cybage Software
Cypress Semiconductor
Dexlock
Directi
Envestnet
ESAF
ESKO
Experion Technologies
EY DnA
Federal Bank
Financial
Gail
GES Infotek
Godrej & Boyce
HDFC Bank
IBM
IBS
ICICI Bank
ICICI Prudential
ICICI Securities
Indian Oil Adani
Inginim
Innovature Softwrae Labs
IOCL
ITC Limited
IVTL
Kitco
KPIT Technologies
L&T
Mahindra
Maruti
Mathrubhumi
Meridian IT Solutions
Naukri.com
Neudesic
Ola Cabs
Ola Search
ONGC
OYO Rooms
Pragmatix
Ramco Cements
Rapid Value
Reliance Industries
SAP Labs
Spandana Sphoorthy
SRF
Sterlite Copper
Suntec Business Solutions
Sutherland Global
Tata Communication
Tata Consultancy Services
Tata Consulting Engineers
Technicolor
TVS Tyres
Unisys
UVJ Technology
Valued Systems
Veda IIT
Verizon
VIMTA Labs
VKC
VVDN
Wipro
Zifo
2016
| | |
| --- | --- |
| Company | No. of Offers |
| Afcons Infrastructure Ltd | 2 |
| Amadeus Software Labs India Pvt Ltd | 1 |
| BPCL | 2 |
| CEAT | 0 |
| Corel Technologies | 5 |
| CSS Corp | 0 |
| Cybage Software Pvt Ltd | 14 |
| Ernst & Young | 0 |
| Experion Technologies | 0 |
| GICE | 1 |
| Godrej & Boyce Mfg Co.Ltd | 0 |
| HUAWEI | 0 |
| IBM | 0 |
| Indian Navy | 0 |
| Indian Oil Corporation Limited | 7 |
| Infosys | 1 |
| IOT Infrastructure & Energy Services Ltd | 3 |
| JK Tyre | 2 |
| JRA Pvt ltd | 3 |
| JSW Steel Ltd | 3 |
| Kitco | 0 |
| L & T Valves Ltd | 1 |
| M-Phasis | 0 |
| Maxeed Telecom and Utility Services | 1 |
| Mindtree | 0 |
| Mu Sigma Business Solutions | 5 |
| Nestle India Pvt Ltd | 0 |
| Oil India | 2 |
| Poornam Infovision | 1 |
| Procys | 0 |
| Reliance Industries Limited | 3 |
| Sap Labs India | 1 |
| Scope International Pvt Ltd | 0 |
| ShoreTel Communication Pvt Ltd | 1 |
| Soctronics | 2 |
| Speridian Technologies | 2 |
| SRF Ltd | 0 |
| Sutherland Global Services | 13 |
| Tata Consultancy Services | 111 |
| Tavant Technologies | 6 |
| TCS-Digital Enterprise Services and Solutions | 0 |
| TCS-EIS | 3 |
| Think & Learn | 1 |
| Unisys India Pvt Ltd | 8 |
| Va Tech Wabag Ltd | 2 |
| Verizon | 5 |
| Wipro Ltd | 10 |