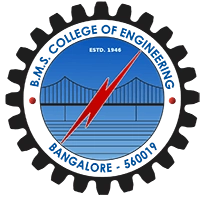 BMS COLLEGE OF ENGINEERING, BANGALORE
Businayana Mukundadas Sreenivasaiah College of Engineering, Bull Temple Rd, Basavanagudi, Bengaluru, Karnataka – 560019
Also known as BMSCE Bengaluru, BMSCE Bangalore, BMS College of Engineering Bangalore and Businayana Mukundadas Sreenivasaiah College of Engineering.
CONNECTIVITY (How To Reach)
Kempegowda International Airport, Bengaluru
41 km
Bangalore City Railway Station
6 km
Body
Category
Rank (Year)
Latest
Previous
National Ranking

NIRF Overall Rankings
151-200 (2022)
--
NIRF Engineering Rankings
101-150 (2023)
83 (2022)

NIRF Innovation Rankings
151-300 (2023)
--

The Week Top Engineering Colleges India
27 (2023)
28 (2022)

Outlook India's Top Pvt. Engineering Colleges
13 (2020)
--

India Today Top Engineering Colleges
24 (2023)
--
India Today Top Pvt. Engineering Colleges
5 (2022)
5 (2021)
Affiliated to Visvesvaraya Technological University, Belagavi.
CUTOFF RANKS (OPENING & CLOSING RANKS)
Particulars
Amount
Fee (per Year)
₹43,810 (KCET Aided seat)
₹83,526 (KCET Unaided seat)
₹2,21,960 (COMEDK seat)
Information currently unavailable.
42 Gears
ABB India
Accenture
Accolite Software
Adani Energy
Adapt Ready
Aditya Birla Group
Adobe Systems
Adventz
Aegon Life (The Times Group)
Aerologiks
Affirmed Networks
AirAsia
Akamai
Akzonobel
All Blue Solutions
Almug Technologies
Alstom
Altimetrik
Amadeus
Amadocs
Amazon
Amberroot Systems
Ametek
Ampere Computing
Analog Devices
Anritsu
Ansys
App Dynamics
Arris
Ather Energy
Atlassian
Attra Infotech
Axiscades
Betterplace
Bigbasket
Bounce
Bravoventure
Bridgei2I
Buyhatke
Cactus Communications
Capgemini
Capillary Technologies
Caterpillar
Centilytics
Century Link
Cermati
Cerner
Cipla
Cisco
Clumio India
Cobot
Cognizant
Cohesity
Collins Aerospace
Commscope
Commvault
Conflux Technologies
Continental Corporation
CSG India
Cummins India
Cyclops MedTech
Cypress Semiconductor
Dailyhunt
Danske IT
Dassault Systèmes
Dell EMC
Dell Technologies
Deloitte
Delphi
Deltax
Dhimahi Technologies
Digit Insurance
Doodhwala
Dover India
DSP Technologies
Dvara Solutions
DXC Technology
EdgeVerve
Elexes Medical Consulting
eLitmus
Ellucian
Endurance
Enquero Global
EY India
Faurecia
Finastra
Flexiple
Flock
GE Appliances
GE Digital
GE Global Research
GE Healthcare
Genisys Group
Get My Parking
GigSky
Gmetri
Gnani
Goldman Sachs
Havells
Hevo Data
Hexaware
Hikal
Honeywell
HPE
Huawei
Hudl
HUL
Hyundai
IBM
Icertis
IG Infotech
Ignitarium
Indegene
Indian Navy
Infobip
Infoblox
Informatica
Infosys
Intel
Inteva Products
iQuanti India
Itron
Jiva Science
Kaleyra
Kickdrum
KPMG
L&T Contruction
L&T Technology
Lam Research
Lendingkart
LG Soft
Linkedin
Log 9 Materials
LogMeIn
Lohia Group
LTI
Magnitude
Mahindra Comviva
Mangalore Chemicals & Fertilizers
Maruti Suzuki
Mast Global
Mathworks
Maveric Systems
Mcafee
Mckinsey Digital Labs
Medtronic
Mercedes Benz
Microchip
MoveInSync
MTR Foods
My Gate
Myntra
National Instruments
NCR Corporation
Netapp
NetraDyne
Netskope
NI (R&D)
NI (SALES)
Noesys Software
Nokia
NTRO
NTT
Nutanix
NXP
Open My Book
Open Text University
Optum (UnitedHealth Group)
Oracle
PathPartner
Paytm
PFSweb
Philips
Philips India
Play Simple
Plezmo
Powertech Development
Practo Technologies
Praxair
PRDC
Primenumbers Technologies
Pulse Secure
Q2Ebanking
Qualcomm
Quantiphi
QuEST Global
Quicken Software
Rakuten Data
Refinitiv
Robert Bosch
Rockwell
Rystad Energy
Sabre Technology
Sahaj Software
Sandvine
Schindler
Schneider Electric
Shell India
Siemens
Sigmoid
Signal Chip
SiliConch
Sixt R&D
Sling Media
Softway Solutions
Sonata Software
Sony India
Sprinklr
Subex
Synamedia
Synopsys
Talerang
Tally Solutions
Target Corporation
Tata Consultancy
Tavant
TCS (Digital)
TCS (Ninja)
TE Connectivity
Tektronix
Temenos
Texas Instruments
Textron
Tiny Steps
Titan
Total Environment
Toyota Kirloskar
Trelleborg
Udaan
Unisys
UnitedLex
Vedantu Innovations
Veoneer
Verzeo
VMware
Volvo
Whatfix
Wibmo
Wiley
Wissen Technology
Worley
WSP Global
Xylem
Yantriks
Yokogawa
Zebra Technologies
Zscaler
Zwayam
2020
Rs. 46.00 lakhs per Annum offered by Cohesity
2019
| | |
| --- | --- |
| Branch | Placed (%) |
| Bio Technology | 35.29% |
| Chemical Engineering | 38.89% |
| Civil Engineering | 9.15% |
| Computer Science and Engineering | 75.90% |
| Electrical and Electronics Engineering | 56.94% |
| Electronics and Communication Engineering | 76.25% |
| Electronics and Instrumentation Engineering | 53.13% |
| Industrial Engineering and Management | 51.61% |
| Information Science and Engineering | 71.19% |
| Mechanical Engineering | 36.97% |
| Medical Electronics | 61.54% |
| Telecommunication Engineering | 55.38% |
3Dplm
ABB
Accenture
Accolite
Adobe Systems
Akamai Technology
Alpha 9 Marine Services
Amazon
Atkins
Axiom
Azul Systems
BEL
Betsol
Bharti Airtel
Big Basket
Blowhorn
Blue Danio Sea Services
Bosch
Brigade Enterprises Groups
Brita
Broadridge
Career Net
Caterpillar India
Cerner
Chaipoint
Cothas
Cypress Semiconductor
Daily Hunt
Datagres
Deloitte
Delta X
Directi
Directi (Zeta)
ECI Telecom
Elanic
Elgi
Endurance
Epicor
Epsilon Technology
EY India
Faurecia
Finecare
Fintellix
Flipkart
Fractal Analytics
GE Appliances
GE Healthcare
Genisys Group
Godigit
Goldman Sachs
Great West Global
Grindwell Norton (Saint Gobin)
Hashedln Technology
HFFC
Hikal
HPE CMS
Hyundai
IG Infotech
Impact Analytics
Indian Navy
Infinera India
Informatica
Intuit
ITC Foods
IvoryEdge
J.P. Morgan
Jaro
John Distilleries
Kotak Mahindra Bank
KPMG (Risk Consulting)
KPMG GDC (D&A)
Kyocera
L&T Construction
L&T Infotech
L&T Technology Services
Lendingkart Technologies
Lowes India
Magnitude
Mahindra Comviva
Mathworks
MBRDI
Mcafee
Mckinsey
Microchip
Mojhi
MTR Foods
Mu Sigma
Neutrinos
Nutanix
Ola Cabs
Openstream
Oracle
Oracle GSD
Oracle MySQL
OYO Rooms
P3
PathPartner
PayPal
PhonePe
PRDC
Quest Global
Quintiles
RP
Rubrik India
Sabre
Sahaj Software
Salesforce
SAP
Schneider Electric India GSC
Shapoorji Pallonji
Siemens
Siemens Technology
SiliConch
Societe Generale
Software AG
Sony
Spinco
Sprinklr
TAAL
Talend Data Integration
Tally Solutions
Target Corporation
Tata Consultancy Services
Tata Consulting Engineers
Tejas Networks
The Math Company
Titan Company
TKAP
Tricon Infotech
TTK Prestige
Union Bank
Unisys
Vantage Agora
Verizon
Vmware
Volvo Truck Division
Wafer Space
Walmart Labs
Wells Fargo
Wenger Watson
Westline
Wipro
Zscaler
2018
Information currently unavailable.
2017
BMSCE Placement Stats 2017
Students Registered
782
Students Placed
676
Placement Percentage
86.44%