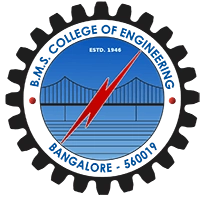 BMS COLLEGE OF ENGINEERING, BANGALORE
Businayana Mukundadas Sreenivasaiah College of Engineering, Bull Temple Rd, Basavanagudi, Bengaluru, Karnataka – 560019
Also known as BMSCE Bengaluru, BMSCE Bangalore, BMS College of Engineering Bangalore and Businayana Mukundadas Sreenivasaiah College of Engineering.
CONNECTIVITY (How To Reach)
Nearest Airport:Kempegowda International Airport, Bengaluru
Distance from Airport: 39.7km
Next Nearest Railway Station : Bangalore City Railway Station
Distance from Railway Station : 5km
By NIRF in 2019 : 69
By NIRF in 2018 : 67
By NIRF in 2017 : 52
By Outlook India in 2017 : 44
By India Today in 2017 : 18
By Outlook India in 2016 : 45
By The Week in 2016 : 44
Affiliated to Visvesvaraya Technological University, Belagavi.
Particulars
Amount
Tuition Fee (per Year)
₹19,090 (KCET Aided seat)
₹58,806 (KCET Unaided seat)
₹2,01,960 (COMEDK seat)
College Fees (per Year)
₹17,930
University Fees (per Year)
₹7,720 (Karnataka Candidates)
₹9,220 (Outside Karnataka Candidates)
Information currently unavailable.
3Dplm
ABB
Accenture
Accolite
Adobe Systems
Akamai Technology
Alpha 9 Marine Services
Amazon
Atkins
Axiom
Azul Systems
BEL
Betsol
Bharti Airtel
Big Basket
Blowhorn
Blue Danio Sea Services
Bosch
Brigade Enterprises Groups
Brita
Broadridge
Career Net
Caterpillar India
Cerner
Chaipoint
Cothas
Cypress Semiconductor
Daily Hunt
Datagres
Deloitte
Delta X
Directi
Directi (Zeta)
ECI Telecom
Elanic
Elgi
Endurance
Epicor
Epsilon Technology
EY India
Faurecia
Finecare
Fintellix
Flipkart
Fractal Analytics
GE Appliances
GE Healthcare
Genisys Group
Godigit
Goldman Sachs
Great West Global
Grindwell Norton (Saint Gobin)
Hashedln Technology
HFFC
Hikal
HPE CMS
Hyundai
IG Infotech
Impact Analytics
Indian Navy
Infinera India
Informatica
Intuit
ITC Foods
IvoryEdge
J.P. Morgan
Jaro
John Distilleries
Kotak Mahindra Bank
KPMG (Risk Consulting)
KPMG GDC (D&A)
Kyocera
L&T Construction
L&T Infotech
L&T Technology Services
Lendingkart Technologies
Lowes India
Magnitude
Mahindra Comviva
Mathworks
MBRDI
Mcafee
Mckinsey
Microchip
Mojhi
MTR Foods
Mu Sigma
Neutrinos
Nutanix
Ola Cabs
Openstream
Oracle
Oracle GSD
Oracle MySQL
OYO Rooms
P3
PathPartner
PayPal
PhonePe
PRDC
Quest Global
Quintiles
RP
Rubrik India
Sabre
Sahaj Software
Salesforce
SAP
Schneider Electric India GSC
Shapoorji Pallonji
Siemens
Siemens Technology
SiliConch
Societe Generale
Software AG
Sony
Spinco
Sprinklr
TAAL
Talend Data Integration
Tally Solutions
Target Corporation
Tata Consultancy Services
Tata Consulting Engineers
Tejas Networks
The Math Company
Titan Company
TKAP
Tricon Infotech
TTK Prestige
Union Bank
Unisys
Vantage Agora
Verizon
Vmware
Volvo Truck Division
Wafer Space
Walmart Labs
Wells Fargo
Wenger Watson
Westline
Wipro
Zscaler
2018
Information currently unavailable.
2017
BMSCE Placement Stats 2017
Students Registered
782
Students Placed
676
Placement Percentage
86.44%
2016
| | |
| --- | --- |
| Company | No. of Offers |
| 3DPLM Software | 1 |
| 3×3 CONECT | 12 |
| Accenture | 108 |
| Aco Technologies | 1 |
| Adani Udupi Power Corporation Ltd. | 4 |
| Akamai (Professional Services) | 3 |
| Akamai (Qa Engineer / Software Development Engineer) | 3 |
| Akamai (Software Engineer / Performance Engineer) | 5 |
| Alcatel Lucent | 3 |
| Amadeus Labs | 6 |
| Amazon | 3 |
| Arcadis | 8 |
| Aryaka | 1 |
| Atkins (A) | 1 |
| Atos (A) | 2 |
| Atotech | 1 |
| Avaya | 3 |
| Azul Systems | 1 |
| Bidgely | 1 |
| Brocade | 2 |
| Cigital | 1 |
| Cleartrip – Development | 7 |
| Cleartrip – Infrastructure | 1 |
| Dell | 1 |
| Deloitte | 22 |
| Epsilon | 19 |
| Ericsson | 19 |
| Expicient | 4 |
| EY | 9 |
| Faurecia | 5 |
| Fidelity | 22 |
| Ford | 6 |
| GE | 3 |
| Great West Global Business Services India Pvt.Ltd. | 1 |
| Grofers – Operations | 3 |
| Grofers (Customer Relations) | 7 |
| Hashedin | 1 |
| Hikal Pharma | 3 |
| HP (R & D) | 11 |
| Huawei | 1 |
| Hul | 1 |
| Hycom | 1 |
| Hyundai | 2 |
| Igate | 2 |
| Incture Technologies | 2 |
| Indian Navy | 1 |
| Informatica | 2 |
| Ipinfusion | 2 |
| Jp Morgan (A) | 1 |
| Jp Morgan (B) | 6 |
| Juniper | 3 |
| Kirusa Inc. | 1 |
| L & T Ts | 6 |
| Mahindra Comviva | 1 |
| Maxim Integrated | 1 |
| Mcfadyen | 8 |
| Mercedes Benz | 9 |
| Microchip | 3 |
| Microfocus (Novell) | 4 |
| Microland | 1 |
| Mindtree | 2 |
| Morgan Stanley | 3 |
| Musigma | 8 |
| National Instruments | 2 |
| Ncccl | 8 |
| Nestaway | 1 |
| Netapp | 2 |
| Netapp (Professional Services) | 1 |
| Netcracker | 5 |
| Ninjacart | 2 |
| Ntt Data | 9 |
| Nutanix | 2 |
| Onmobile | 1 |
| Oracle (Server Technology Group) | 6 |
| Oracle Finance | 21 |
| Oracle Gsd | 1 |
| Orbitz | 1 |
| Perfios | 1 |
| Persistent | 1 |
| Piddly Box | 4 |
| Quest Global | 1 |
| Robert Bosch | 49 |
| Robertbosch (Ml) | 3 |
| Samsung R D | 1 |
| SAP | 5 |
| Sasken | 1 |
| Schneider Electric | 4 |
| Shapoorji | 9 |
| Siemens | 3 |
| Simeio Solutions | 2 |
| Sling Media | 6 |
| Software Ag | 1 |
| Sonata | 6 |
| Sprinklr | 6 |
| Stellium (A) | 2 |
| Stellium (Second Round Recruitment) (B) | 2 |
| Sunrise Biztech Systems Pvt.Ltd. | 2 |
| Target | 1 |
| Tata Consulting Engineers | 4 |
| Tata Elxsi | 15 |
| TCS | 280 |
| Tek Systems | 4 |
| Tesco Hsc | 1 |
| Textron | 5 |
| Thorogood | 5 |
| Thought Works | 1 |
| Torry Harris | 1 |
| Toyota Kirloskar Motor Pvt Ltd | 4 |
| Unisys | 3 |
| United Health Group | 6 |
| Urban Ladder | 1 |
| Volvo | 1 |
| Walmart | 2 |
| Wipro | 29 |
| Yokogawa | 2 |
| Zscaler | 1 |
| | |
| --- | --- |
| Company | CTC (in LPA) |
| 3DPLM Software | 4.00 |
| 3×3 CONECT | 3.50 |
| Accenture | 3.50 |
| Aco Technologies | 3.25 |
| Adani Udupi Power Corporation Ltd. | 4.10 |
| Akamai (Professional Services) | 9.90 |
| Akamai (Qa Engineer / Software Development Engineer) | 11.60 |
| Akamai (Software Engineer / Performance Engineer) | 13.16 |
| Alcatel Lucent | 4.50 |
| Amadeus Labs | 8.02 |
| Amazon | 14.00 |
| Arcadis | 4.00 |
| Aryaka | 4.50 |
| Atkins (A) | 4.04 |
| Atos (A) | 3.00 |
| Atotech | 3.00 |
| Avaya | 11.37 |
| Azul Systems | 6.25 |
| Bidgely | 8.10 |
| Brocade | 3.60 |
| Cigital | 3.80 |
| Cleartrip – Development | 6.54 |
| Cleartrip – Infrastructure | 6.54 |
| Dell | 7.50 |
| Deloitte | 6.20 |
| Epsilon | 4.25 |
| Ericsson | 3.45 |
| Expicient | 5.25 |
| EY | 3.80 |
| Faurecia | 3.00 |
| Fidelity | 5.02 |
| Ford | 5.50 |
| GE | 5.75 |
| Great West Global Business Services India Pvt.Ltd. | 4.50 |
| Grofers – Operations | 8.00 |
| Grofers (Customer Relations) | 2.80 |
| Hashedin | 2.28 |
| Hikal Pharma | 4.00 |
| HP (R & D) | 7.50 |
| Huawei | 7.50 |
| Hul | 7.00 |
| Hycom | 4.50 |
| Hyundai | 6.00 |
| Igate | 3.00 |
| Incture Technologies | 4.00 |
| Indian Navy | 8.00 |
| Informatica | 6.50 |
| Ipinfusion | 5.50 |
| Jp Morgan (A) | 6.30 |
| Jp Morgan (B) | 6.30 |
| Juniper | 4.00 |
| Kirusa Inc. | 1.80 |
| L & T Ts | 3.60 |
| Mahindra Comviva | 3.75 |
| Maxim Integrated | 4.50 |
| Mcfadyen | 7.50 |
| Mercedes Benz | 6.00 |
| Microchip | 6.00 |
| Microfocus (Novell) | 11.90 |
| Microland | 3.00 |
| Mindtree | 7.00 |
| Morgan Stanley | 3.60 |
| Musigma | 4.50 |
| National Instruments | 2.40 |
| Ncccl | 2.40 |
| Nestaway | 2.40 |
| Netapp | 11.07 |
| Netapp (Professional Services) | 4.90 |
| Netcracker | 4.50 |
| Ninjacart | 3.00 |
| Ntt Data | 4.00 |
| Nutanix | 19.50 |
| Onmobile | 4.50 |
| Oracle (Server Technology Group) | 7.50 |
| Oracle Finance | 5.63 |
| Oracle Gsd | 5.58 |
| Orbitz | 7.21 |
| Perfios | 7.00 |
| Persistent | 3.58 |
| Piddly Box | 1.80 |
| Quest Global | 4.25 |
| Robert Bosch | 4.00 |
| Robertbosch (Ml) | 4.00 |
| Samsung R D | 7.50 |
| SAP | 9.00 |
| Sasken | 3.20 |
| Schneider Electric | 4.75 |
| Shapoorji | 3.50 |
| Siemens | 5.00 |
| Simeio Solutions | 3.00 |
| Sling Media | 9.00 |
| Software Ag | 5.00 |
| Sonata | 4.00 |
| Sprinklr | 7.00 |
| Stellium (A) | 5.70 |
| Stellium (Second Round Recruitment) (B) | 5.70 |
| Sunrise Biztech Systems Pvt.Ltd. | 2.00 |
| Target | 7.40 |
| Tata Consulting Engineers | 4.50 |
| Tata Elxsi | 3.50 |
| TCS | 3.33 |
| Tek Systems | 6.00 |
| Tesco Hsc | 8.25 |
| Textron | 1.80 |
| Thorogood | 11.00 |
| Thought Works | 6.23 |
| Torry Harris | 4.50 |
| Toyota Kirloskar Motor Pvt Ltd | 2.89 |
| Unisys | 6.30 |
| United Health Group | 5.35 |
| Urban Ladder | 14.00 |
| Volvo | 5.00 |
| Walmart | 13.70 |
| Wipro | 3.00 |
| Yokogawa | 3.50 |
| Zscaler | 1.80 |