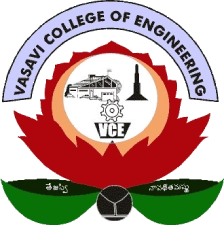 VASAVI COLLEGE OF ENGINEERING, HYDERABAD
Vasavi College of Engineering, Ibrahimbagh, Hyderabad, Telangana – 500031
Also known as Vasavi College of Engineering and VCE Hyderabad.
CONNECTIVITY (How To Reach)
Rajiv Gandhi International Airport, Hyderabad
26.5 km
Hyderabad Deccan Railway Station
14 km
Secunderabad Junction Railway Station
19 km
Body
Category
Rank (Year)
Latest
Previous
National Ranking

NIRF Engineering Rankings
251-300 (2022)
201-250 (2021)

The Week Top Engineering Colleges India
78 (2020)
--
One needs to take the TS-EAMCET examination.
Admissions for EAMCET seats (70% seats) are done on the basis of rank in TS-EAMCET through TS-EAMCET Counselling.
Affiliated to Osmania University, Hyderabad (OU).
CUTOFF RANKS (OPENING & CLOSING RANKS)
| | |
| --- | --- |
| Particulars | Amount |
| Tuition Fee (per Year) | ₹1,40,000 |
| Other Fees | ₹10,595 |
| Total | ₹1,50,595 |
Rs. 28.50 lakhs per annum offered to 2 students by Visa
Rs. 26.00 lakhs per annum offered to 2 students by ServiceNow
Average Package Offered (Branchwise)
| | |
| --- | --- |
| Branch | Avg CTC (in LPA) |
| Civil Engineering | 4.00 |
| Computer Science and Engineering | 9.65 |
| Electrical and Electronics Engineering | 5.10 |
| Electronics and Communication Engineering | 7.30 |
| Information Technology | 9.65 |
| Mechanical Engineering | 5.10 |
| Overall | 8.13 |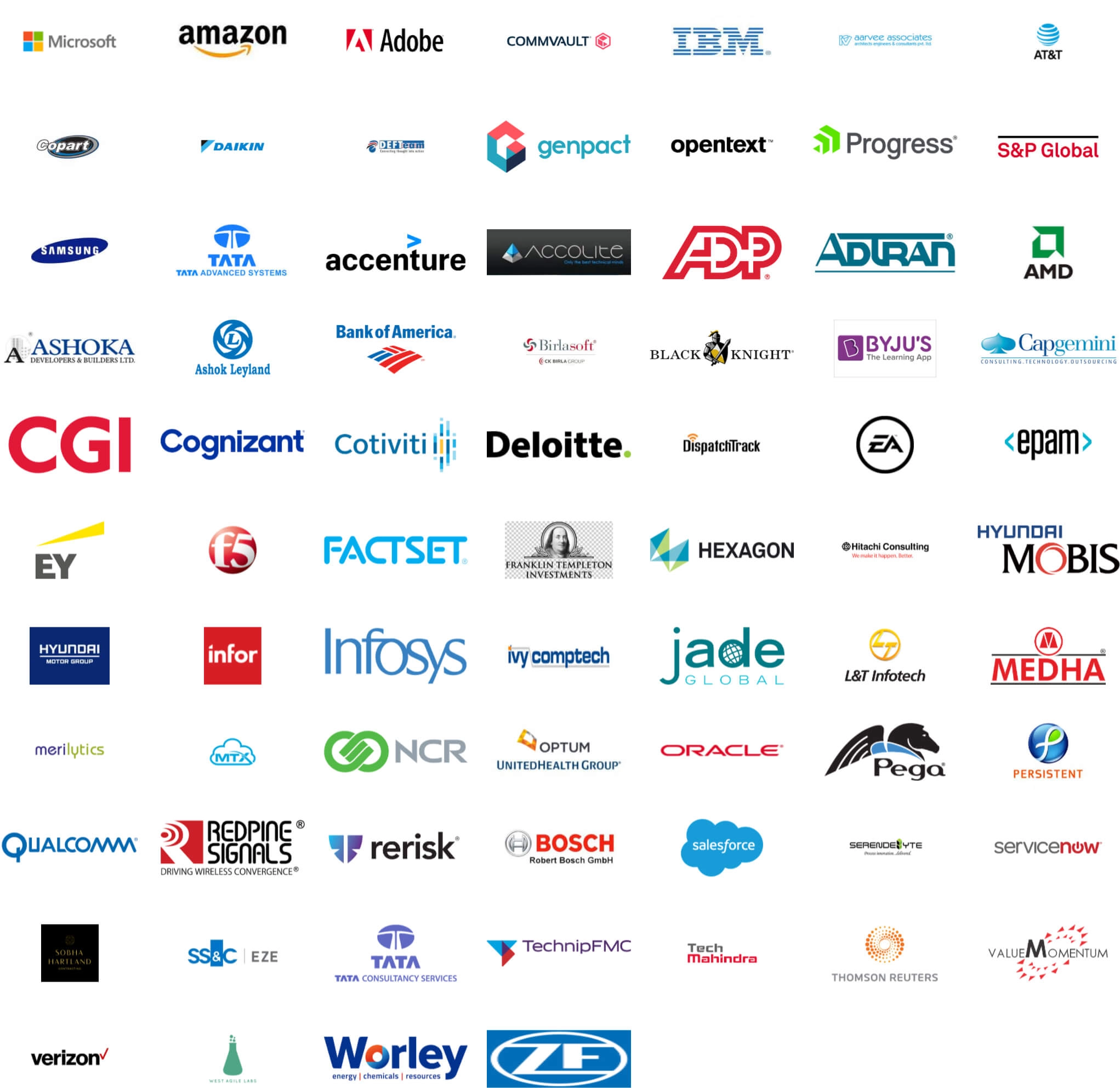 2022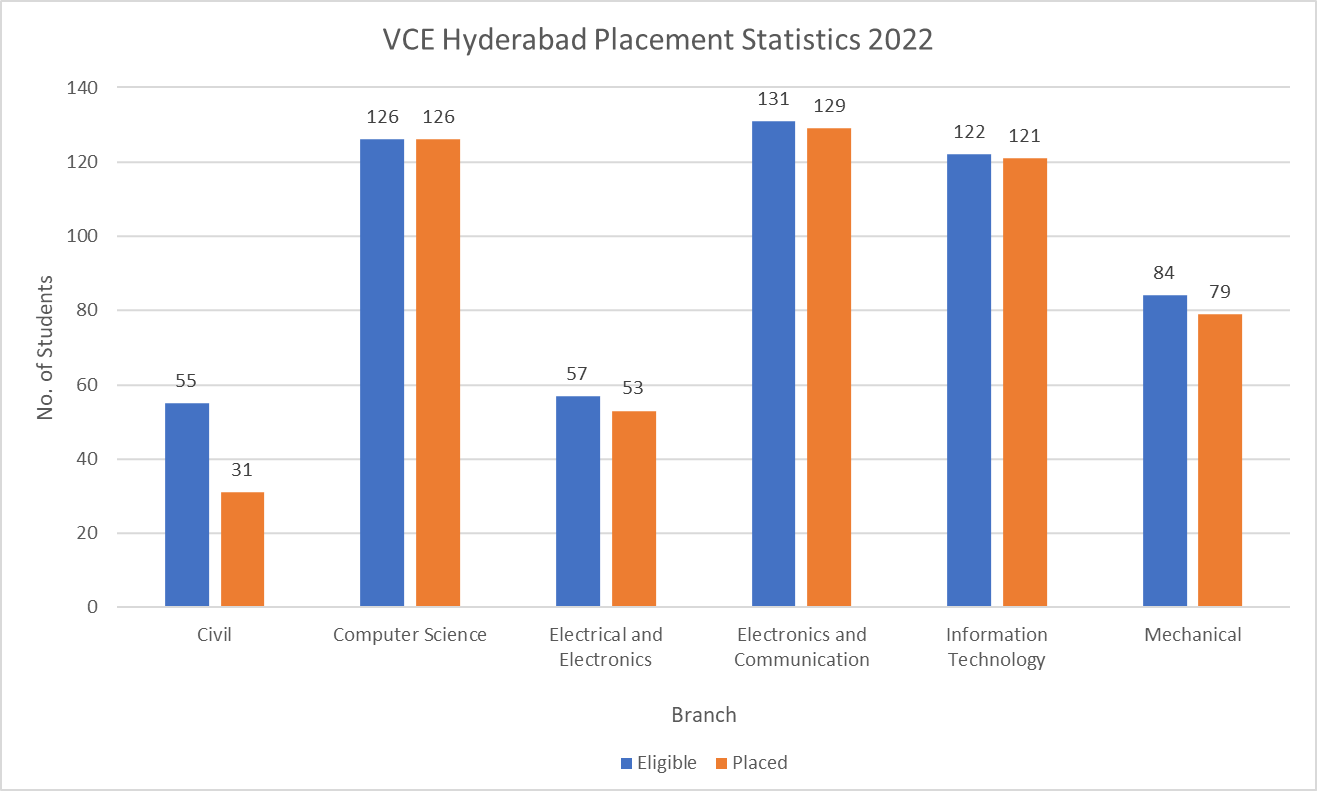 | | |
| --- | --- |
| Branch | Placed (%) |
| Civil Engineering | 56.36% |
| Computer Science and Engineering | 100.00% |
| Electrical and Electronics Engineering | 92.98% |
| Electronics and Communication Engineering | 98.47% |
| Information Technology | 99.18% |
| Mechanical Engineering | 94.05% |
| Overall | 93.74% |
Rs. 43.00 lakhs per annum offered to 1 student by Amazon
Rs. 23.45 lakhs per annum offered to 7 students by Walmart Global Tech India
Rs. 22.80 lakhs per annum offered to 4 students by Visa Inc Technology Center
2021
| | |
| --- | --- |
| Company | CTC Offered (in LPA) |
| Abjayon Consultancy | 5.00 |
| Accenture | 4.50 – 6.50 |
| Accolite (Accolite Hiring Challenge) | 9.00 |
| Accolite Software | 9.00 |
| Aggne Global IT Services | 3.60 |
| Amazon (ACMS) | 21.00 |
| Cognizant | 4.00 |
| Cognizant Next | 6.75 |
| Copart India | 5.00 – 6.50 |
| CtrlS Cloud4C | 4.00 |
| Darwin Box | 3.60 |
| Deloitte | 7.60 |
| Electronic Arts | 13.24 |
| Epam | 6.00 |
| Ernst & Young | 4.50 |
| FactSet | 9.00 |
| Hexaware Technologies | 3.50 |
| Hitachi Consulting Software Services | 6.25 |
| IHS Markit | 6.00 |
| Infosys | 3.60 |
| Infosys (HackwithInfy) | 8.00 |
| Inncircles | 7.00 |
| Invesco India | 9.00 |
| Kodem Legal Technologies | 6.00 |
| Loyalty Juggernaut | 7.00 |
| LTI | 5.00 – 6.50 |
| Magnitude Software | 8.00 |
| Merilytics | 5.00 |
| Modak Analytics | 4.00 |
| Model N Software | 7.28 |
| MTX Group | 6.50 |
| NCR Corporation | 7.00 |
| Oracle India | 11.00 |
| Phenom People | 4.50 – 5.05 |
| Prokarma Softech | 3.00 |
| Reliance Retail | 4.40 |
| RMSI Private | 3.46 |
| Service Now | 21.00 |
| TA Digital | 4.64 |
| TaknevIT Services | 6.00 |
| TCS Digital | 7.00 |
| TCS Ninja | 3.50 |
| TechnipFMC | 6.00 |
| Thoughtworks | 8.32 |
| United Online | 3.00 |
| Vassar Labs | 4.00 |
| VeriPark Software | 3.50 |
| Verisk Analytics | 6.00 |
| Visa | 15.40 |
| WhiteBlue Cloud Services | 4.50 |
| Zemoso Technologies | 6.89 |
2020
Abjayon
Accenture (Off-campus)
Accolite Software
ACT Fibernet
Amazon (SDE)
Ashoka Builders
Ayyanna Infra
Birlasoft
BlackKnight
CGI
CISCO
Cognizant
Cognizant (Infrastructure Services)
Commvault
Cotiviti India
Daikin India
Deloitte Consulting
Electronic Arts (EA) Games
Energy Tech Global
Epam
Ernst & Young (EY)
Eze Software
FactSet Systems
Hexagon Capability Center
Hitachi Consulting
Huddl Enterprise Communication
Infor India
Infosys
Infosys (HackWithInfy)
Larsen & Toubro Infotech
Medha Servo Drives
Medplus India
Mentor Graphics
Merilytics
Mouktik Consulting Services
MTX
NCR Corporation
Netcracker Technology Solutions
Oracle India (Applications Development)
Oracle India (Netsuite Business)
Oracle India (UGBU)
Pega Systems
Persistent
Phenom People
ProKarma
Redpine Signals
Rexnord India
S & P Global
Serendebyte
Service Now
Sobha Hartland Contracting Limited (Dubai)
Tata Consultancy Services (Digital)
Tata Consultancy Services (Ninja)
Thomson Reuters
Value Momentum
Verisk Analytics
Verizon India (Pega Drive)
West Agile Labs
Zomoso Technology