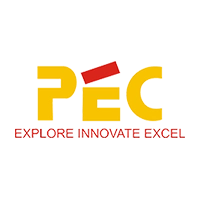 PUNJAB ENGINEERING COLLEGE, CHANDIGARH
Punjab Engineering College, Sector-12, Chandigarh – 160012
Also known as Punjab Engineering College Chandigarh, PEC University of Technology Chandigarh and PEC Chandigarh.
CONNECTIVITY (How To Reach)
Chandigarh International Airport
26 km
Chandigarh Junction Railway Station
9.5 km
Body
Category
Rank (Year)
Latest
Previous
National Ranking

NIRF Engineering Rankings
87 (2022)
70 (2021)
CUTOFF RANKS (OPENING & CLOSING RANKS)
| | |
| --- | --- |
| Particulars | Amount |
| Caution Money (One Time, Refundable) | ₹8,000 |
| One Time Fees | ₹11,000 |
| Academic Fee (per Semester) | ₹88,000 |
| Other Fees (per Semester) | ₹6,000 |
| Total | ₹1,13,000 |
Particulars
Amount
Hostel Caution Money (One Time, Refundable)
₹6,000
Hostel Charges (per Year)
₹62,000
Maintenance Charges (per Year)
₹10,000
Mess Advance (per Year)
₹3,500
Total
₹81,500
Note: No Hostel accommodation will be provided to the students admitted under Chandigarh Quota.
Rs. 64.50 Lakhs per Annum offered to 7 students by Apple
Rs. 46.00 Lakhs per Annum offered to 16 students by Microsoft
Rs. 13.50 Lakhs per Annum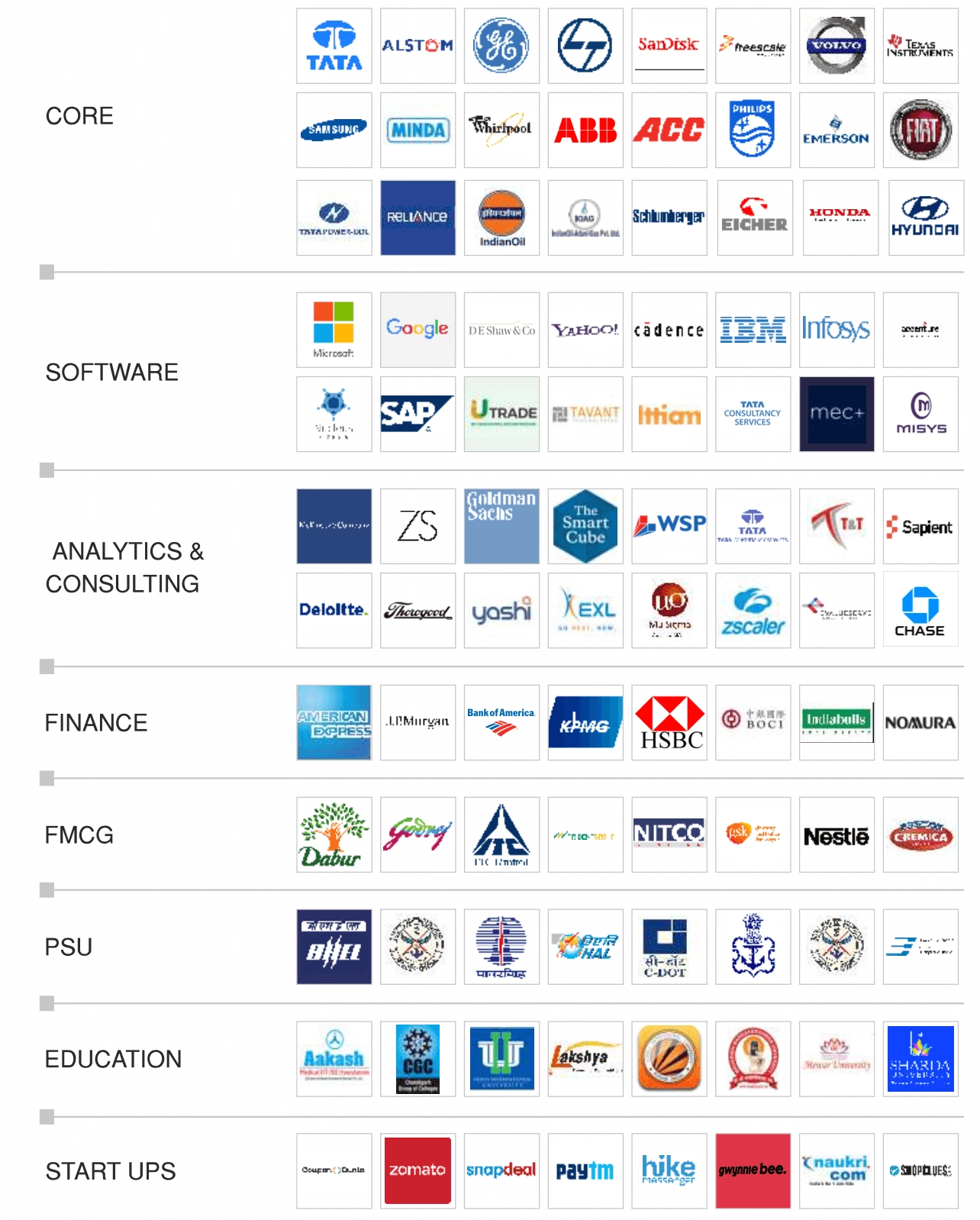 Past Recruiters
ABB
ABSOLUT DATA
ACC
ACCENTURE
ACCOLITE
ADA/DRDO
ADOBE
AKASH INSTIUTE
ALSTOM PROJECTS
AMADEUS
AMAZON
AMERICAN EXPRESS
AMTEK
ANSAL API
ARICENT
ARISTA NETWORK
ASCENT MEDIA PTE LTD, SINGAPORE
ASHOK LEYLAND
ATKINS
ATLAS COPCO
ATRENTA
BAHRA UNIVERSITY
BANK OF AMERICA
BECHTEL INDIA
BHARAT ELECTRONICS LTD.
BHARAT PETROLEUM CORPORATION LTD
BHEL
BHUSHAN STEEL
BL KASHYAP
BLUE STAR
BOCI
BOMBADIAR
BROADCOM
CADENCE
CATERPILLAR
C-DOT
CENTURY LINK
CGC, LANDRAN
CISCO
CLICK LABS
COMPRO TECH
COMVIVA
CURATION THE
CVENT
CYPRESS
D.E.SHAW
DABUR
DELOITTE
DIRECTI
DRDO
E.CONSTRUCT
EDIFECS
EMAAR MGF
EMERSON
ENGINEERS INDIA LTD
ERICSSON
EVALUE SERVE
EXICOM
EXL (INDUCTIS
FISERV
FREESCALE
FUTURES FIRST
GAMMON INDIA
GE AVIATION
GE ELECTRICAL
GEIPER
GEMINI
GMR
GODREJ
GOLDMAN SACHS
GOOGLE
GRAIL RESEARCH
GREY B
GWYNNIEBEE
HAL
HATCH
HAVELLS INDIA
HCL INFOSYSTEMS
HCL TECH
HEADS STRONG
HERO HONDA
HERO MOTOCORP LTD.
HINDUSTAN AERONAUTICS LTD (HAL)
HMEL
HONDA MOTORCYCLE & SCOOTER LTD
HONDA MOTORCYCLE & SCOOTER LTD (R&D DIVN)
HONDA SIEL
HP INDIA
HYUNDAI
IBM INDIA PVT LTD
IDEA CELLULAR
IDS INFOTECH
INDIA BULLS
INDIA YAMAHA MOTORS PVT LTD
INDIAN NAVY
INDUS INTERNATIONAL UNVIERSITY, UNA (HP)
INDUS VALLEY
INFOSYS
INTERRA SYSTEM
IOCL
ISGEC
ITC
IVP
JINDAL CONST.
JOHN DEERE
JSL STAINLESS LTD
JSPL
JSW
KPMG
KRITIKAL SOLUTION
L&T (ECC DIVN.)
L&T (POWAI)
LAFARGE
LAKSHAYA
LAXMI PRECISION SCREW
LG ELECTRONICS
LNJ BHILWARA GROUP
LOVELY PROFESSIONAL INSTITUTE
MAHARISHI MARKANDESHWAR UNIVERSITY, MULLANA
MAHINDRA & MAHINDRA
MARUTI
MARUTI SUZUKI INDIA LTD
MEC INTELLIGENCE
MEWAR UNIVERSITY
MICROSOFT
MOTHERSON SUMI INFOTECH & DESIGN
MURUGAPPA
MUSIGMA
MYSIS
NAGAROO SOFTWARE
NATIONAL INSTR.
NAUKRI.COM
NAVYUG
NBC BEARING
NITCO
NOMURA
NUCLEAR SOFTWARE
OPEN SOLUTION
ORIENT
PANASONIC
PHILIPS
POWER GRID`
PRATAP UNIVERSITY
PUNJLLOYD
QA INFOTECH
RANCORE (RELIANCE INDUSTRIES LTD)
RECKITT BENCKISER
ROYAL ENFIELD
S&P
SAB MILLER
SAFRAN
SAMSUNG CONST. ENGINEERING
SAMSUNG ENGINEERING LAB
SAMSUNG HEAVY INDUSTRIES
SAMSUNG INDIA ELECTRONICS PVT LTD
SAMSUNG RESEARCH LAB
SANDISK
SANKLAP SEMI CONDUCTOR
SAP LAB
SAPIENT
SCHNEIDER ELECTRIC
SHAPOORJI
SHARDA UNIVERSITY
SHOP CLUES
SIEMENS LTD
SIMPLEX INFRASTRUCTURE
SMART CUBE
SNAPDEAL
SOCIAL APP HQ
SOFTWARE AG
SPML INFRA LIMITED
STEEL STRIPS
ST-ERICSSON
STRYKER
SUCCESS FACTOR
TATA CONSUTLANCY SERVICES (TCS)
TATA MOTORS
TATA POWER DELHI DISTRIBUTION LTD
TAVANT
TCIL
TCS
TECHNIP
TEXAS INSTRUMENTS
THOROGOOD
TRIDENT
TT CONSULTANT
USHA INTERNATIONAL
UTRADE
VARDHMAN STEEL
VOLVO EICHER
WAPCOS
WHIRLPOOL
WINSHUTTLE
YAHOO
YASHI CONSULTANCY
Z SCALER
ZOMATO
ZS ASSOCIATES
2021
Rs. 42.00 Lakhs per Annum
Rs. 10.83 Lakhs per Annum
2020
Rs. 42.00 Lakhs per Annum offered to 8 students by Microsoft
Rs. 10.20 Lakhs per Annum
Highest Package Offered (Branchwise)
Branch
Max CTC (in LPA)
Civil Engineering
17.50
Computer Science and Engineering
42.00
Electronics and Communication Engineering
42.00
Mechanical Engineering
17.50
Production and Industrial Engineering
14.00
Note: Information available for limited branches.
Airbus
Amazon
American Express
Arcesium
Goldman Sachs
JP Morgan
Mastercard
Microsoft
Sales Force
Texas Instruments
2019
Rs. 42.00 Lakhs per Annum
ABB
AgNext Technologies
Airtel
Alstom
Amadeus
Amdocs
American Express
Anand Group
Ank aha Private Limited
Apollo Munich
Arcesium
Ascentx
Atkins
Aye Finance
Bajaj Auto
Bechtel
Bombardier
Carrier Midea
CPA Global
Cummins
Cypress
Deloitte India
Deutsche Bank
DMI Finance
Ecom Express
Edurev
Egnify Technologies
ElectroWave
Emmbros
Evalueserve
Exicom
EXL Analytics
Exxonmobil
Fab Hotels
Federal Mogul
Fiat
Fundwave
Geeks For Geeks
Gemini Solutions
General Electric
Glenmark Pharma
Goldman Sachs
Grail Insights
GreyB
Gwynnie Bee
Gyandhan
Havells
HCL
Hero
HFCL
Hilti
Hyperdart
ICF
Icuerious
IDS
IndiaMART
Indian Navy
Infosys
Infosys – Digital
IOLCP
ITC
Johnson Matthey Group
JP Morgan (Automation)
JP Morgan (CRG)
JP Morgan (Technical Profile)
JP Morgan Chase & Co. (Fintech role in Python)
JP Operations
Jugnoo
Kraftshala
L & T
Lithion Power
Loreal
Maruti
Master Card
McDermott (CB&I)
Mckinsey
Mediatek
Meerut Institute of Engineering and Technology
Microsoft
MuSigma
MyHQ
Nagarro
Nestle R&D
NewSpace Research and Technologies
Nokia
Nova Net
NXP Semiconductors
O9 Solutions
OneAssist
OYO Rooms
Padmini VNA Mechatronics
Publicis.Sapient
Ramboll
RateGain Travel Technologies
Rays Power Infra
Royal Bank of Scotland (RBS)
Salesforce
Samsung R&D Noida
Samsung Research Bangalore
Shell IT
Shriram Pistons
Siemens
Skillate
Smart Cube
SML Isuzu
ST Microelectronics
TAFE Motors (Eicher)
Tata Consultancy Services (TCS)
Tata Motors
Texas Instruments
Tork Motors
Trident Group
Turiya Innovations Pvt. Ltd.
Uber
Udaan
United Airlines
United Lex
VECV
Vedanta
Velmenni
WDC (SanDisk)
Wheelseye
Wipro
Yodlee
ZS Associates
2018
Highest Package Offered (Branchwise)
| | |
| --- | --- |
| Branch | Max CTC (in LPA) |
| Aerospace Engineering | 8.88 |
| Civil Engineering | 17.50 |
| Computer Science and Engineering | 34.00 |
| Electrical Engineering | 17.50 |
| Electronics and Communication Engineering | 27.00 |
| Mechanical Engineering | 17.50 |
| Metallurgical and Materials Engineering | 17.50 |
| Production and Industrial Engineering | 7.00 |