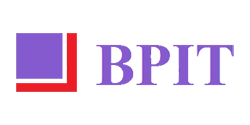 BHAGWAN PARSHURAM INSTITUTE OF TECHNOLOGY, DELHI
| | |
| --- | --- |
| Institute Name | Bhagwan Parshuram Institute of Technology, Delhi |
| Also Known As | BPIT Delhi |
| Institute Type | Private |
| Established | 2005 |
| Location | New Delhi, Delhi |
BPIT Delhi: Admission | Ranking | Fees
NEW: Applications for Phase I of B.Tech Admissions at Amrita Vishwa Vidyapeetham close on April 15. Ranked 4th best University by NIRF 2020. Click here to apply.
NEW: Last Date for Shiv Nadar University B.Tech. Admissions 2021 extended to April 25. Click here to apply.
NOTE: You can Subscribe to exam updates to receive all updates on your mobile for free.
Bhagwan Parshuram Institute of Technology, PSP-4, Dr. K.N. Katju Marg, Sector-17, Rohini, New Delhi – 110089
Also known as BPIT Delhi.
CONNECTIVITY (How To Reach)
Indira Gandhi International Airport, Delhi
32 km
New Delhi Railway Station
18 km
Hazrat Nizamuddin Railway Station
29.5 km
Anand Vihar Terminal Railway Station
31.5 km
Body
Category
Rank (Year)
Latest
Previous
National Ranking

NIRF Engineering Rankings
251-300 (2020)
--
One needs to take the JEE (Main) exam and secure at least 55% marks in Physics, Chemistry and Mathematics in Class XII provided the candidate has passed in each subject separately.
Candidate must additionally have passed English as a subject of study in the qualifying examination.
Admissions are done on the basis of rank in JEE (Main) through GGSIPU Counselling.
Affiliated to Guru Gobind Singh Indraprastha University (GGSIPU), Delhi.
| | |
| --- | --- |
| Particulars | Amount |
| Caution Money (One Time, Refundable) | ₹5,000 |
| Tuition Fee (per Year) | ₹97,800 |
| University Fees (per Year) | ₹15,000 |
| Other Fees (per Year) | ₹6,000 |
| Total | ₹1,23,800 |
Rs. 30.00 lakhs per annum offered to 5 students by Amazon SDE
Rs. 19.00 lakhs per annum offered to 4 students by AWS
Rs. 8.00 lakhs per annum offered to 1 student by Infosys
Rs. 8.00 lakhs per annum offered to 6 students by Josh Technology SDE
2020
| | | |
| --- | --- | --- |
| Company Name | No. of Offers | CTC Offered (in LPA) |
| Airbus | 1 | 9.00 |
| Airtel X labs | 1 | 5.00 |
| Ajath Infotech | 1 | 2.40 – 4.00 |
| Amazon (SDE) | 2 | 30.00 |
| Amazon AWS | 3 | 19.00 |
| Aspiring Minds | 1 | 6.50 |
| BITCS | 4 | 6.50 |
| Bravura Solutions | 15 | 4.50 |
| Capgemini | 16 | 3.80 |
| Classplus | 1 | 5.00 |
| Coding Blocks | 1 | 8.00 |
| Cognizant | 7 | 4.00 |
| Colt Technology Services | 1 | 4.00 |
| Cyber Group | 4 | 4.50 |
| Delta X | 1 | 5.00 |
| Elucidata | 1 | 7.50 |
| Embee Software | 1 | 4.00 |
| Entrance Zone | 1 | 2.40 |
| EPAM Systems | 3 | 6.00 |
| Fareportal | 4 | 4.50 |
| Flickzee | 1 | 4.80 |
| Geekyants | 1 | 6.00 |
| Gemini Solutions | 3 | 4.80 |
| Global Technology & Operations | 4 | 4.50 |
| Harman | 1 | 5.00 |
| Homeplanify | 1 | 3.00 |
| HSBC | 3 | 7.00 |
| IBM | 2 | 4.25 |
| IHS Markit | 3 | 6.00 |
| Infosys | 45 | 3.50 |
| Infosys | 7 | 3.60 |
| Infosys | 3 | 5.00 |
| Knowcross | 1 | 3.50 |
| Ksolves | 2 | 3.50 |
| Libsys | 2 | 5.00 |
| Lido Learning | 4 | 10.00 |
| Mobikwik | 2 | 4.20 |
| Motherson Sumi | 2 | 3.50 |
| Newgen | 26 | 4.25 |
| NIIT | 1 | 3.50 |
| Nirvana | 1 | 5.00 |
| Oppo Mobiles | 1 | 4.41 |
| Polestar | 8 | 4.70 |
| Posterity | 1 | 3.00 |
| Provar | 3 | 3.70 |
| QA Infotech | 4 | 3.75 |
| Qandle | 1 | 4.00 |
| Quaff Media | 1 | 6.00 |
| Quovantis | 5 | 4.50 |
| Rivigo | 1 | 5.00 |
| Sopra Steria | 6 | 4.00 |
| Studio Graphene | 1 | 4.00 |
| Survey2Connect | 1 | 4.80 |
| TCS | 39 | 3.50 |
| TCS | 5 | 7.00 |
| Thoght2Binary | 8 | 4.20 |
| To The New | 1 | 3.75 |
| Unthinkable Software | 4 | 4.00 |
| Wipro | 15 | 3.50 |
| Xceedence | 6 | 3.17 |
| ZS Associates | 16 | 7.93 |
2019
Rs. 18.00 Lakhs per Annum
| | |
| --- | --- |
| Company | No. of Offers |
| AWS | 3 |
| Avalon Information | 4 |
| Bravura Solutions | 8 |
| Byju's | 4 |
| Cognizant | 9 |
| Compro | 1 |
| ConsultAdd | 1 |
| Context BI India | 1 |
| CSS Corp | 1 |
| Cubical | 1 |
| Cvent | 4 |
| Cyber Group | 8 |
| Cyient | 1 |
| DelveInsight Business Research | 1 |
| Dignitas Digital | 2 |
| Eckovation Solutions | 2 |
| Edfora | 3 |
| Far Eye | 2 |
| Flexiele | 1 |
| Globus Eight | 8 |
| Grey Orange | 1 |
| Hashedin Technologies | 1 |
| Hello Parent | 1 |
| HSBC | 6 |
| Iimjobs | 1 |
| Impetus | 1 |
| Infogain | 4 |
| Infosys | 45 |
| Lakshmikumaran & Sridharan | 1 |
| Libsys | 3 |
| Look Who's Talking | 1 |
| Magicpin | 3 |
| Mavenhive | 1 |
| Mirketa Solutions | 3 |
| Motherson Sumi | 4 |
| Mu Sigma | 1 |
| Nagarro | 4 |
| Newgen Software | 18 |
| Nineleaps | 3 |
| NTT Data | 1 |
| One.com | 1 |
| Optimus | 1 |
| Protiviti Consulting | 1 |
| Quovantis | 4 |
| Samsung R&D | 2 |
| Sapient | 1 |
| Soprasteria | 6 |
| TCS | 48 |
| Tech Mahindra | 1 |
| Thoughts2Binary | 2 |
| To The New | 7 |
| Travelboutique | 10 |
| United Health Group | 2 |
| Vivo Mobile India | 2 |
| Webkul | 1 |
| Wipro | 30 |
| Wunderman | 1 |
| Zia Semiconductor | 4 |
| Zigram | 2 |
| | |
| --- | --- |
| Company | CTC (in LPA) |
| AWS | 18 |
| Avalon Information | 3.6 |
| Bravura Solutions | 4.5 |
| Byju's | 10 |
| Cognizant | 3.38 |
| Compro | 5.3 |
| ConsultAdd | 3.4 |
| Context BI India | 4.2 (+1) |
| CSS Corp | 3.3 |
| Cubical | 4 |
| Cvent | 5.50 – 6.80 |
| Cyber Group | 4.5 |
| Cyient | 3.25 |
| DelveInsight Business Research | 3 |
| Dignitas Digital | 3 |
| Eckovation Solutions | 3.00 – 4.50 |
| Edfora | 4.5 |
| Far Eye | 5 |
| Flexiele | 3 |
| Globus Eight | 3.08 |
| Grey Orange | 5.5 |
| Hashedin Technologies | 7.15 |
| Hello Parent | 3 |
| HSBC | 7.00 – 12.00 |
| Iimjobs | 4.75 |
| Impetus | 3.6 |
| Infogain | 3.00 – 3.50 |
| Infosys | 3.25 |
| Lakshmikumaran & Sridharan | 4.2 |
| Libsys | 4.5 |
| Look Who's Talking | 5 |
| Magicpin | 3.00 – 3.50 |
| Mavenhive | 7 |
| Mirketa Solutions | 3.4 |
| Motherson Sumi | 3.25 |
| Mu Sigma | 21.00 (over 3 jumps) |
| Nagarro | 3.5 |
| Newgen Software | 4.25 |
| Nineleaps | 4.5 |
| NTT Data | 3.5 |
| One.com | 4.50 – 5.00 |
| Optimus | 3 |
| Protiviti Consulting | 4.35 |
| Quovantis | 4.5 |
| Samsung R&D | 6.7 |
| Sapient | 5.53 |
| Soprasteria | 4 |
| TCS | 3.36 |
| Tech Mahindra | 3.25 |
| Thoughts2Binary | 3.6 |
| To The New | 3.75 |
| Travelboutique | 4.5 |
| United Health Group | 3.59 |
| Vivo Mobile India | 3.6 |
| Webkul | 3.2 |
| Wipro | 3.5 |
| Wunderman | 3.5 |
| Zia Semiconductor | 4.00 – 5.00 |
| Zigram | 2.00 – 5.00 |
2018
| | |
| --- | --- |
| Company | No. of Offers |
| Acezd | 4 |
| Amazon | 4 |
| American Express | 1 |
| Appster | 13 |
| Augmatiks | 2 |
| AVL | 3 |
| Bravura | 1 |
| Byju's | 5 |
| Calcom Vision Ltd. | 1 |
| Capital First Limited | 2 |
| Click Labs | 2 |
| Cubical | 6 |
| Cyber Group | 2 |
| Gartner | 1 |
| HSBC | 4 |
| IBM | 11 |
| Iim Jobs | 2 |
| India Mart | 1 |
| Invincible Web Solutions | 1 |
| Iris Software | 1 |
| Josh Technology Group | 1 |
| Libsys | 5 |
| Motherson Sumi Infotech & Design Ltd. | 7 |
| NTT Data | 1 |
| Optimus | 2 |
| Paytm | 1 |
| Pinnaxis | 4 |
| Prolifics | 1 |
| Q A Infotech | 6 |
| Red Carpet | 16 |
| Smartbox | 1 |
| Sopra Steria | 12 |
| Taskstream | 1 |
| Tech Perspect | 2 |
| Techaspect | 1 |
| Themobiadz | 2 |
| Vihaan Network Limited | 1 |
| Virtusa | 5 |
| Zomato | 1 |
| | |
| --- | --- |
| Company | CTC (in LPA) |
| Acezd | 2.50 – 4.50 |
| Amazon | 11.00 |
| American Express | 3.60 |
| Appster | 3.50 |
| Augmatiks | 3.00 |
| AVL | 3.50 |
| Bravura | 4.50 |
| Byju's | 9.00 |
| Calcom Vision Ltd. | 2.16 |
| Capital First Limited | 3.00 |
| Click Labs | 3.00 |
| Cubical | 3.85 |
| Cyber Group | 3.60 |
| Gartner | 2.56 |
| HSBC | 7.00 |
| IBM | 3.60 |
| Iim Jobs | 4.75 |
| India Mart | 4.00 – 5.00 |
| Invincible Web Solutions | 1.80 – 2.40 |
| Iris Software | 3.25 |
| Josh Technology Group | 6.50 |
| Libsys | 3.50 |
| Motherson Sumi Infotech & Design Ltd. | 3.00 – 3.25 |
| NTT Data | 3.00 |
| Optimus | 3.50 |
| Paytm | 8.00 + Bonus (1L) |
| Pinnaxis | 4.50 – 5.50 |
| Prolifics | 3.20 |
| Q A Infotech | 3.00 – 3.25 |
| Red Carpet | 4.56 |
| Smartbox | 3.50 |
| Sopra Steria | 4.00 |
| Taskstream | 3.00 – 3.80 |
| Tech Perspect | 2.80 – 3.30 |
| Techaspect | 4.50 |
| Themobiadz | 2.16 |
| Vihaan Network Limited | 5.00 |
| Virtusa | 3.30 |
| Zomato | 12.00 |
2017
| | |
| --- | --- |
| Company | No. of Offers |
| Amazon | 3 |
| Appster | 6 |
| Asaan Ecommerce Pvt. Ltd | 1 |
| Asahi India Glass | 1 |
| Belzabar | 1 |
| Ben Technology | 1 |
| Bharti Airtel | 1 |
| Bright Lifecare Pvt Ltd | 1 |
| Click Labs | 1 |
| Consultadd | 2 |
| Cubical | 3 |
| Cvent Technologies | 1 |
| Detailingdevils | 1 |
| Ginger Webs Pvt Ltd | 1 |
| HCL | 24 |
| HFCL | 1 |
| Hitachi Consulting | 1 |
| HP | 2 |
| IBM | 46 |
| Ingar Electronics | 2 |
| Legalraasta | 1 |
| Libsys | 3 |
| Merino Services Ltd. | 1 |
| Motherson Sumi | 3 |
| Nagarro | 3 |
| NTT Data | 4 |
| One.com | 3 |
| Peeply Technologies Pvt Ltd | 1 |
| Quovantis | 1 |
| Sapient | 13 |
| Sopra Steria | 3 |
| TCS | 2 |
| Themobiadz | 4 |
| Torrid Networks | 2 |
| Torry Harris Business Solutions | 1 |
| Urbanclap | 1 |
| Veloces | 1 |
| Virtusa Polaris | 1 |
| | |
| --- | --- |
| Company | CTC (in LPA) |
| Amazon | 2.74 – 2.90 |
| Appster | 3.50 |
| Asaan Ecommerce Pvt. Ltd | 2.40 |
| Asahi India Glass | 3.00 |
| Belzabar | 7.20 |
| Ben Technology | 3.00 |
| Bharti Airtel | 2.60 |
| Bright Lifecare Pvt Ltd | 4.00 |
| Click Labs | 3.60 |
| Consultadd | 3.20 |
| Cubical | 3.84 |
| Cvent Technologies | 5.98 |
| Detailingdevils | 2.40 |
| Ginger Webs Pvt Ltd | 2.00 |
| HCL | 2.75 |
| HFCL | 2.75 |
| Hitachi Consulting | 5.50 |
| HP | 5.50 |
| IBM | 3.60 |
| Ingar Electronics | 2.70 |
| Legalraasta | 2.64 |
| Libsys | 3.50 |
| Merino Services Ltd. | 2.50 |
| Motherson Sumi | 3.00 |
| Nagarro | 3.50 |
| NTT Data | 3.00 |
| One.com | 5.00 |
| Peeply Technologies Pvt Ltd | 12.40 |
| Quovantis | 4.00 |
| Sapient | 5.05 |
| Sopra Steria | 3.50 |
| TCS | 3.36 |
| Themobiadz | 2.16 |
| Torrid Networks | 4.00 |
| Torry Harris Business Solutions | 3.50 |
| Urbanclap | 1.8L + 60k (Variable) |
| Veloces | 3.60 |
| Virtusa Polaris | 3.30 |
2016
| | |
| --- | --- |
| Company | No. of Offers |
| Accenture | 2 |
| Amazon | 2 |
| Asahi India Glass | 1 |
| Birla Soft | 13 |
| Blue Gape | 1 |
| Cognizant ISD | 2 |
| Compro Technologies | 3 |
| CRS Technologies | 8 |
| CSC | 19 |
| Daffodil Software | 1 |
| Drishti Soft Solutions | 2 |
| Futuronix | 4 |
| Hcl | 12 |
| Hcl Technologies | 5 |
| Hitachi Consulting | 3 |
| HP Enterprise India Sales Pvt. Ltd. | 7 |
| India Mart | 8 |
| Indus Tower | 6 |
| Intelligrape | 1 |
| Iris Software | 3 |
| Josh Technology | 3 |
| Koenig | 24 |
| LafaLafa.com | 1 |
| Leeway Hertz Pvt. Ltd. | 1 |
| Libsys | 3 |
| Mindfire Solutions | 1 |
| Moguls Online Pvt. | 1 |
| Motherson Sumi | 2 |
| Nagarro | 4 |
| NEC Technologies | 2 |
| Newsinshorts | 1 |
| Nokia | 2 |
| OSS Cube | 5 |
| Panasonic | 1 |
| Pattern Web | 1 |
| Retail On | 1 |
| ROF India | 2 |
| Sapient | 8 |
| Scientific Security Management | 2 |
| Skilrock | 5 |
| Sopra Steria | 4 |
| St Softech India Pvt Ltd | 1 |
| Suncore Microsystem | 17 |
| Tau Technologies | 2 |
| TCS | 13 |
| Think & Learn | 5 |
| Trigent | 1 |
| Vinsol | 1 |
| Virtusa Corporations | 16 |
| Vserve | 2 |
| Westin Electromech Pvt. Ltd. | 2 |
| Yodlee | 6 |
| Zomato | 1 |
| | |
| --- | --- |
| Company | CTC (in LPA) |
| Accenture | 3.17 |
| Amazon | 10 |
| Asahi India Glass | 3 |
| Birla Soft | 3.1 |
| Blue Gape | 4.25 |
| Cognizant ISD | 3.5 |
| Compro Technologies | 5.3 |
| CRS Technologies | 3 |
| CSC | 3.4 |
| Daffodil Software | 3 |
| Drishti Soft Solutions | 6.6 |
| Futuronix | 2.16 |
| Hcl | 2.75 |
| Hcl Technologies | 2.75 |
| Hitachi Consulting | 4.25 |
| HP Enterprise India Sales Pvt. Ltd. | 4.1 |
| India Mart | 4.5 |
| Indus Tower | 2.5 |
| Intelligrape | 4.25 |
| Iris Software | 3.27 |
| Josh Technology | 6.5 |
| Koenig | 5 |
| LafaLafa.com | 3 |
| Leeway Hertz Pvt. Ltd. | 4.2 |
| Libsys | 4 |
| Mindfire Solutions | 4.5 |
| Moguls Online Pvt. | 1.86 |
| Motherson Sumi | 3 |
| Nagarro | 3.5 |
| NEC Technologies | 3.5 |
| Newsinshorts | 24 |
| Nokia | 3 |
| OSS Cube | 3.6 |
| Panasonic | 3 |
| Pattern Web | 3.6 |
| Retail On | 5 |
| ROF India | 5.5 |
| Sapient | 4.5 |
| Scientific Security Management | 1.2 |
| Skilrock | 2.8 |
| Sopra Steria | 3.5 |
| St Softech India Pvt Ltd | 3.25 |
| Suncore Microsystem | 3 |
| Tau Technologies | 4 |
| TCS | 3.34 |
| Think & Learn | 6 |
| Trigent | 2.5 |
| Vinsol | 5 |
| Virtusa Corporations | 3.3 |
| Vserve | 3 |
| Westin Electromech Pvt. Ltd. | 2.4 |
| Yodlee | 5.75 |
| Zomato | 12 |