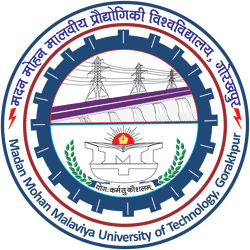 MADAN MOHAN MALAVIYA UNIVERSITY OF TECHNOLOGY, GORAKHPUR
Madan Mohan Malaviya University of Technology, Deoria Road, Singhariya, Kunraghat, Gorakhpur, Uttar Pradesh – 273010
Also known as Madan Mohan Malaviya Engineering College Gorakhpur, MMMEC Gorakhpur, Madan Mohan Malaviya University of Technology and MMMUT Gorakhpur.
CONNECTIVITY (How To Reach)
Gorakhpur Junction Railway Station
7 km
Body
Category
Rank (Year)
Latest
Previous
National Ranking

NIRF Engineering Rankings
251-300 (2022)
201-250 (2021)
One needs to take the JEE (Main) exam and separately apply for MMMUT Gorakhpur counselling.
One must have secured at least 55% marks (50% for SC/ST) in Class XII and at least 60% marks (55% for SC/ST) in PCM aggregate in Class XII.
Admissions are done on the basis of rank in JEE (Main).
CUTOFF RANKS (OPENING & CLOSING RANKS)
| | |
| --- | --- |
| Particulars | Amount |
| Caution Money (One Time, Refundable) | ₹5,000 |
| One Time Fees | ₹3,400 |
| University Fees (per Year) | ₹56,200 |
| Other Fees (per Year) | ₹26,700 |
| Total | ₹91,300 |
| | |
| --- | --- |
| Particulars | Amount |
| Hostel Caution Money (One Time, Refundable) | ₹5,000 |
| Hostel Seat Rent (per Year) | ₹7,200 |
| Electricity & Water charges (per Year) | ₹7,500 |
| Other Fees (per Year) | ₹4,600 |
| Mess Advance (per Semester) | ₹15,000 |
| Total | ₹39,300 |
Rs. 52.00 Lakhs per Annum offered to 1 student by Google
Rs. 42.00 Lakhs per Annum offered to 1 student by Expedia
Rs. 36.50 Lakhs per Annum offered to 1 student by Trilogy Innovation
Rs. 34.50 Lakhs per Annum offered to 1 student by Servicenow
Rs. 27.00 Lakhs per Annum offered to 3 students by Juspay
Rs. 19.20 Lakhs per Annum offered to 1 student by Zscaler
Rs. 17.40 Lakhs per Annum offered to 1 student by Josh Technology Group (SDE)
Rs. 52.00 Lakhs per Annum
| | | |
| --- | --- | --- |
| Company | No. of Offers | CTC Offered (in LPA) |
| ACEIS Gorakhpur | 8 | 5.00 |
| Addverrb Technologies | 2 | 6.33 |
| Aditya Birla Group | 19 | 7.00 |
| Akash Byju's | 9 | 7.00 |
| Alletec | 2 | 5.00 |
| Amazon | 9 | 2.40 |
| Appventurez Mobitech | 28 | 6.00 |
| Bonami Software | 5 | 5.10 |
| Brillio | 7 | 6.00 |
| Byju's | 1 | 7.25 |
| Capace Software | 1 | 6.00 |
| Codeyoung | 5 | 7.36 |
| Compalin | 19 | 4.00 – 6.00 |
| Convegenius Digital | 1 | 15.00 |
| Crio.do | 25 | 6.00 |
| DBG | 43 | 3.50 |
| Deloitte | 1 | 4.50 |
| DeltaX | 1 | 7.00 |
| Eduversity | 8 | 6.00 |
| Ericsson | 10 | 4.50 |
| Expedia | 1 | 42.00 |
| Extern Labs | 2 | 4.00 |
| GoDigit | 8 | 4.50 |
| Google | 1 | 52.00 |
| Growupp | 29 | 6.00 |
| HCL | 34 | 4.25 |
| Hexaware Technologies (Profile A) | 5 | 4.00 |
| Hexaware Technologies (Profile B) | 1 | 6.00 |
| Hike Education | 5 | 6.42 – 5.82 |
| Hummingwave | 35 | 8.00 – 15.00 |
| IBM | 1 | 4.50 |
| IDEMIA | 8 | 5.00 |
| IFFCO | 33 | 4.20 |
| IGL | 6 | 4.00 |
| Impledge Technologies | 3 | 5.50 |
| Infosys | 50 | 3.60 – 9.50 |
| Intellipat (Profile A) | 6 | 9.00 |
| Intellipat (Profile B) | 1 | 7.25 |
| Jaro | 2 | 6.25 |
| Josh Technology Group (Profile FD) | 1 | 14.75 |
| Josh Technology Group (Profile SDE) | 1 | 17.40 |
| JSW (Profile A) | 32 | 6.50 |
| JSW (Profile B) | 4 | 4.50 |
| Juspay | 3 | 27.00 |
| Keerti Technologies | 1 | 6.30 |
| L&T | 71 | 6.00 |
| Learning Routes | 2 | 5.70 |
| Linear Amptech | 2 | 4.00 |
| Manikaran Group | 1 | 6.00 |
| MG Motor | 3 | 6.00 |
| Mobiloitte | 6 | 3.00 |
| Momentum | 3 | 5.00 – 9.00 |
| NeosAlpha | 3 | 3.50 |
| Newgen | 6 | 4.25 |
| Plan Realty | 31 | 7.20 |
| PlanetSpark | 3 | 6.50 |
| Pregrad | 25 | 6.00 |
| Pregrad | 20 | 5.50 |
| Qbit Labs | 3 | 9.33 |
| QSS Technosoft | 2 | 4.50 |
| Ravity.io | 1 | 4.20 |
| RecruitCRM | 6 | 7.00 |
| Servicenow | 1 | 34.50 |
| Skill Vertex | 87 | 6.00 |
| TCS | 47 | 3.36 – 7.00 |
| TCS Ninja | 19 | 3.36 |
| Tech Mahindra | 5 | 5.10 |
| Tejas Network | 6 | 8.00 |
| Tensech | 1 | 6.00 |
| Torrent Gas | 8 | 4.30 |
| Trilogy Innovation | 1 | 36.50 |
| Zscaler | 1 | 19.20 |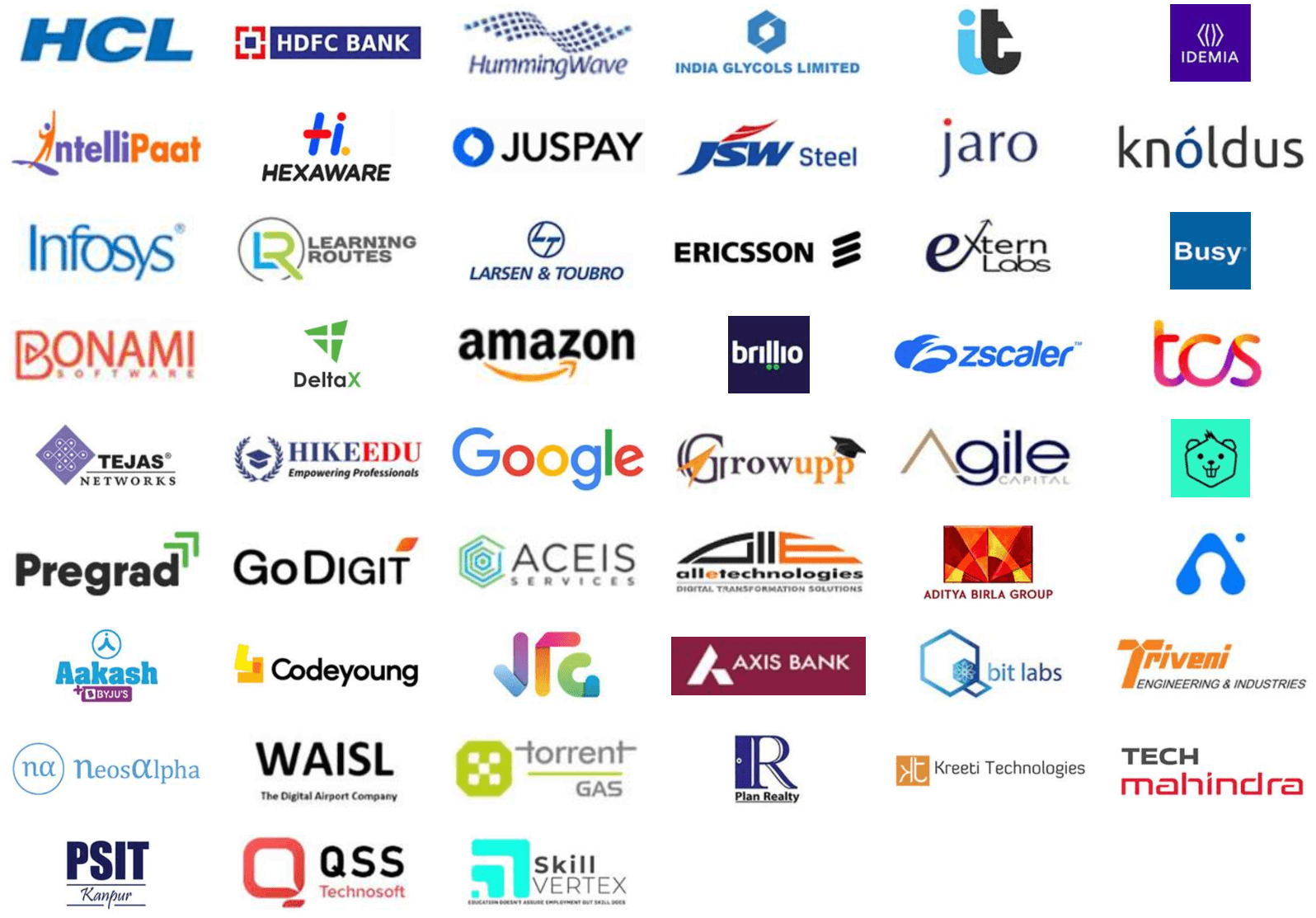 Past Recruiters
Aakash Byju's
ACEIS
Addverb Technologies
Aditya Birla Group
Alletech
Amazon
Anvyea
Appventurez Mobitech
Axis Bank
Bharat Electronics
BNY Mellon
Bonami Software
Brillio
Capace Software
Capegemini
Codeyoung
Coforge
Cognisant
Convegenius
Crio Do
Delhivery
Deloitte
DeltaX
Digital India
DRDO
Eduversity
Eitmus
Ericsson
Expedia
Extern Labs
GoDigit
Google
Grapecity
Growupp
HCL
HDFC
Hexaview Technologies
Hexaware
Humming Wave
IDEMIA
IFFCO
IGL
Impledge Technologies
India Glycols
Infosys
Intellipat
Jaro Education
Josh Technology Group (JTG)
JSW
JusPay
Knoldus
Kotak Mahindra Bank
Kreeti Technologies
L&T Construction
L&T Technologies Services
Learning Routes
Linear Amptech
Lowe's India
Manikaran Power
Maruti Suzuki
MG Motors
MindTree
Momentum
Navarro
NCR Corporation
Neophyte
NeosAlpha
NewGen Software
OakTree Global
Paytm
Plan Reality Consulting
PlanetSpark
Pregard
PromptCloud Technologies
PSIT Kanpur
Pulsus Health Group
Qbit Labs
QSS Technosoft
Ravity
Recruit CRM
Samsung SDS
Scaler Academy
ServiceNow
Siyarams
SkillVertex
SmartBrains
SOTI
Tata Consultancy Services
Tata Electronics
Tech Mahindra
TechTammina
Tejas Networks
Tensech Solutions
Torrent Gas
Triology Innovations
Triveni Group
UltraTech
Verifone
VM Coder Technology
Vodafone Idea
WAISIL
Walmart
Wipro
ZScaler
2022
Rs. 50.00 Lakhs per Annum offered to 2 students by Microsoft
Rs. 45.00 Lakhs per Annum offered to 5 students by Amazon
Rs. 34.00 Lakhs per Annum offered to 1 student by ServiceNow
Rs. 23.70 Lakhs per Annum offered to 1 student by Jupiter Money
Rs. 23.40 Lakhs per Annum offered to 3 students by Walmart
Rs. 19.34 Lakhs per Annum offered to 1 student by Lowe's India
Rs. 17.00 Lakhs per Annum offered to 2 students by BNY Mellon
Rs. 16.00 Lakhs per Annum offered to 2 students by Nuclei
Rs. 50.00 Lakhs per Annum
| | | |
| --- | --- | --- |
| Company | No. of Offers | CTC Offered (in LPA) |
| Accenture | 36 | 4.50 – 6.50 |
| Accolite Digital | 2 | 8.00 |
| Adani Airports | 3 | 6.00 |
| Addverb Technologies | 3 | 6.37 |
| Aditya Birla | 31 | 6.00 |
| Amazon | 5 | 45.00 |
| BEL | 7 | 11.00 |
| BigOh Notation | 1 | 4.50 |
| BioPetroClean India | 1 | 4.00 |
| Bitwise | 2 | 4.00 |
| BNY Mellon | 2 | 17.00 |
| BYJUs (Profile A) | 2 | 10.00 |
| BYJUs (Profile B) | 13 | 3.60 |
| Campalin Innovations | 4 | 6.00 |
| Capgemini | 4 | 4.50 – 7.50 |
| ChaiPoint | 4 | 7.50 |
| Clearwater Analytics | 4 | 8.00 |
| ClicksCampus | 1 | 5.00 |
| CMR | 4 | 3.50 |
| CodeYoung | 1 | 4.00 |
| Coforge | 6 | 3.65 |
| Cognizant (GenC Elevate) | 35 | 4.25 |
| Cognizant (Genc Next) | 9 | 6.75 |
| Cognizant (GenC) | 87 | 4.00 |
| CoreCard | 3 | 3.50 |
| Dentsu | 4 | 3.60 |
| Digicomm Semiconductor | 2 | 4.00 |
| eLitmus | 2 | 7.00 |
| EPAM | 1 | 6.00 |
| Ericsson Global Services | 74 | 4.50 |
| Finoit Technologies | 1 | 5.00 |
| Geetanjali Homestate | 1 | 4.00 – 5.00 |
| Gemini Solution | 2 | 5.42 |
| Gogo Bus | 1 | 9.00 |
| Hansa Solution | 2 | 5.00 |
| Harman International | 1 | 5.00 |
| HCL Technologies | 24 | 3.65 |
| Hexaview Technologies | 3 | 5.00 |
| Hexaware | 3 | 3.50 |
| HummingWave Technologies | 23 | 6.50 – 9.00 |
| IBM | 31 | 4.50 |
| India Glycols Limited | 11 | 4.00 |
| IndiaMart | 14 | 8.00 |
| IndiaMart (Off-Campus) | 12 | 8.00 |
| Infosys (Role A) | 23 | 3.60 – 9.50 |
| Infosys (Role B) | 2 | 9.50 |
| Intellipat | 14 | 9.00 |
| Jaro | 6 | 4.80 – 6.06 |
| Jupiter Money | 1 | 23.70 |
| Keyideas | 2 | 6.00 |
| L&T | 3 | 6.00 |
| Learning Routes | 4 | 5.20 |
| Learningshala | 1 | 5.64 |
| Lowe's India | 1 | 19.34 |
| Lumiq | 19 | 8.00 |
| Maersk | 1 | 4.80 |
| MakeMyTrip | 1 | 12.00 |
| Medly | 2 | 11.00 |
| MG Motors | 4 | 6.00 |
| Microsoft | 2 | 50.00 |
| Nagarro | 15 | 5.00 |
| Newgen Software | 5 | 4.50 |
| Nuclei | 2 | 16.00 |
| Pepcoding | 3 | 4.00 |
| PinClick | 14 | 5.16 |
| Planetspark | 3 | 6.50 |
| Practo | 3 | 6.82 |
| Prism Johnson | 3 | 5.75 |
| Pyramid IT Consulting | 1 | 4.67 |
| Railtech Infraventure | 2 | 4.00 |
| Revature | 4 | 4.00 |
| RxLogix | 6 | 5.50 |
| ServiceNow | 1 | 34.00 |
| Shiprocket | 4 | 15.00 |
| Skolar | 26 | 7.00 |
| Step2gen | 1 | 3.60 |
| TCS Digital | 3 | 7.00 |
| TCS Ninja | 44 | 3.36 |
| Tech Mahindra | 4 | 4.80 |
| Tejas Networks | 1 | 10.00 |
| Thinksys | 9 | 5.00 |
| Torrent Gas | 10 | 3.20 |
| Ultratech Cement | 4 | 6.50 |
| Unthinkable Solution | 5 | 5.00 |
| Verifone | 15 | 8.50 |
| Walmart | 3 | 23.40 |
| Wipro | 135 | 3.50 – 6.50 |
| Zensar Technologies | 5 | 6.50 |
2021
Rs. 37.00 Lakhs per Annum offered to 1 student by DE Shaw
Rs. 28.35 Lakhs per Annum offered to 1 student by Flipkart
Rs. 25.00 Lakhs per Annum offered to 1 student by Tact AI
Rs. 20.67 Lakhs per Annum offered to 2 students by Walmart
Rs. 16.00 Lakhs per Annum offered to 4 students by Nuclei
Rs. 37.00 Lakhs per Annum
| | | |
| --- | --- | --- |
| Company | No. of Offers | CTC Offered (in LPA) |
| Accenture | 3 | 4.50 |
| Address Advisors | 1 | 4.28 |
| Adecco | 5 | 3.47 |
| Agilite | 3 | 5.00 |
| ANR Software | 1 | 2.52 |
| Bayer | 5 | 3.50 |
| BNY Mellon | 1 | 11.40 |
| Cedcoss | 1 | 2.50 |
| Century Metal Recycling | 4 | 3.50 |
| Chryso India | 3 | 3.00 |
| Code Young | 1 | 7.00 |
| Coforge | 8 | 3.70 |
| Cognizant | 53 | 4.50 |
| Congruex | 8 | 3.20 |
| Corecard Software India | 3 | 3.01 |
| Crimson Healthcare | 1 | 4.00 |
| Daffodil Software | 8 | 4.00 |
| DE Shaw | 1 | 37.00 |
| Delhivery | 4 | 8.00 |
| DLT Labs | 7 | 5.50 – 6.50 |
| Effectual Services | 1 | 3.00 |
| Flipkart | 1 | 28.35 |
| Function App | 1 | 3.50 |
| HCL | 11 | 3.50 |
| Hexaware | 3 | 3.50 |
| Humming Wave | 19 | 6.65 – 8.00 |
| IGL Gorakhpur | 4 | 3.00 |
| IndiaMart Intermesh | 2 | 6.50 |
| Indus Towers | 3 | 3.50 |
| Infosys | 21 | 3.36 – 8.00 |
| Jaro Group | 2 | 6.60 – 8.46 |
| Jio | 2 | 3.50 |
| K12 Techno Services | 6 | 3.00 |
| Knocial India | 14 | 4.00 |
| LaNET Team | 2 | 3.60 |
| Lohia Group | 1 | 5.29 |
| LTTS | 24 | 4.00 |
| Nagarro | 2 | 3.50 |
| Nuclei | 4 | 16.00 |
| Optum Global Solutions (India) | 1 | 7.00 |
| Pakka Profile | 1 | 3.60 – 4.80 |
| People Strong | 2 | 3.50 |
| Pie Infocomm | 3 | 3.50 |
| Planet Spark | 2 | 7.10 |
| Prism Johnson | 3 | 5.00 |
| Qualitest India Banglore | 4 | 3.80 |
| Raja Software Labs | 1 | 5.00 |
| Revature | 7 | 5.00 |
| SmartBrain | 4 | 2.20 |
| Syscom Softech | 2 | 2.50 |
| Tact AI | 1 | 25.00 |
| Tata Electronics | 1 | 5.25 |
| TCS Digital | 5 | 7.00 |
| TCS Ninja | 55 | 3.36 |
| Tech Mahindra | 3 | 3.50 |
| Tycho Technologies | 3 | 2.50 |
| Tyfone | 1 | 6.50 |
| Walmart | 2 | 20.67 |
| Wipro | 6 | 3.50 |
| YHills Edutech | 2 | 5.50 |