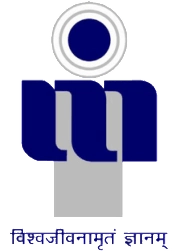 INDIAN INSTITUTE OF INFORMATION TECHNOLOGY & MANAGEMENT, GWALIOR
ABV – Indian Institute of Information Technology and Management Gwalior, Morena Link Road, Gwalior, Madhya Pradesh – 474015
Also known as ABV-IIITM Gwalior, IIIT Gwalior and IIITM Gwalior.
CONNECTIVITY (How To Reach)
Nearest Airport : Rajmata Vijayaraje Scindia City Airport, Gwalior
Distance from Airport : 13km
Nearest Railway Station : Gwalior Railway Station
Distance from Station : 5km
By NIRF in 2018 : 101-150
By NIRF in 2017 : 101-150
By India Today in 2017 : 21
One needs to take the JEE (MAIN) exam and secure at least 75% marks (65% for SC/ST) in Class 12th exam or be in the top 20 percentile in Class 12th exam conducted by the respective board. Admissions are on the basis of rank in JEE (Main).
| | |
| --- | --- |
| Particulars | Amount |
| One Time Fees | ₹12,000 |
| Tuition Fee (per Semester) | ₹48,400 |
| Other Fees (per Semester) | ₹5,000 |
| Total | ₹65,400 |
| | |
| --- | --- |
| Particulars | Amount |
| Mess Caution Money (One Time, Refundable) | ₹2,500 |
| Hostel Room Charges (per Semester) | ₹10,000 |
| Hostel Mess Fee (per Semester) | ₹9,000 |
| Total | ₹21,500 |
SC/ST Students are exempted from payment of Tuition Fees. All other fees are payable by them.
Amazon
Belzabar
EazyDiner
HackerRank
HCL
HinKhoj
Ignite Solutions
Infosys
Karmacircles
Mettl
Nagarro
Paytm
Quetzel
SabPaisa
Smartprix
Sutra Analytics
TCS
The Smart Cube
Vassar Labs
Worksapp
Past recruiters
Past recruiters
3i Infotech
Abhijeet Group
Airport Authority
Amazon
Amdocs
Aptech
Aricent
Aujas
Beecem
Belzabar
Bharti Telenet
Bharti Telesoft
BSNL
Cadence (Noida)
Capital IQ
CatalyseR
CMC
Cognizant
Compare Infobase
Conexant
Crimson Logic
CSC
Cypres Semiconductors
Datamatics
Deloitte
Direct-i
Dr. Reddys
DRDO Hyderabad
DSCL
Edcil
Ernst & Young
Evalueserve
Fiserv
Google
Grail Research
Gurukul Online
HCL comnet
HCL Infosystem
HCL Technologies
HDFC
HDFC Standard Life Insurance
Honda Motorcycles
HP
IBM Global Services
ICICI Prudential
IDBI Bank
Idea Cellular
IFFCO
Iflex
Impetus
IndiaBulls
Indian Overseas Bank
ITC Infotech
Kennametal
KIIT
KPIT Cummin
KPMG
L & T Infotech
LPU
Mahindra British Telecom
Mahindra Satyam
Manavrachna
Microsoft
Mu Sigma
NIC
NIIT
NTRO
Oracle
Patni Computers
Perennial Systems
Persistent
Pfizer
Price Waterhouse Coopers
PWC
Red Bricks Media
Reliance
RGUKT
SAIL
Samsung
Satyam Computer Services
SDG Software
SGI
Siemens
SISA
ST Microelectronics
STPI
Sun Microsystems
SunLife Financial
Synopsis
TCS
Uniken
Wipro Bpo
Wipro Infotech
WNS
Yahoo!
2016
2016
Highest Package Offered (Branchwise)
| | |
| --- | --- |
| Stream | Max Package (in LPA) |
| Integrated Post Graduate – M.Tech | 25 |
| Integrated Post Graduate – MBA | 6.5 |
Average Package Offered (Branchwise)
| | |
| --- | --- |
| Stream | Avg Package (in LPA) |
| Integrated Post Graduate – M.Tech | 6.87 |
| Integrated Post Graduate – MBA | 5.5 |
Lowest Package Offered (Branchwise)
| | |
| --- | --- |
| Stream | Min Package (in LPA) |
| Integrated Post Graduate – M.Tech | 3.35 |
| Integrated Post Graduate – MBA | 4.5 |
Amazon
Belzabar
Click Labs
Curo Healthcare
Delloite
Direct-I
Evalueserve
Gopigeon
HCL
Infoedge
Infrastalk Labs
Jaro
Kent RO
Lazylad
Mech-Mocha
MuSigma
Newgen
Paytm
Practo
Pune
Quetzel
Real Image Media Tech
Religare
Starapps
Tazzobikes
TCS
Thoughtworks
Treebo Hotels
Vkulp
2014
2014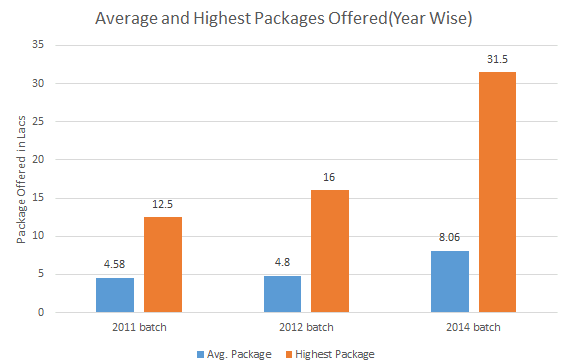 Flipkart
Amazon
Works Application
Samsung
Microsoft
Oracle
Google
Directi
2013
2013
| | |
| --- | --- |
| Course | Placed (%) |
| IPG-M.Tech | 94.36 |
| IPG-MBA | 51.72 |