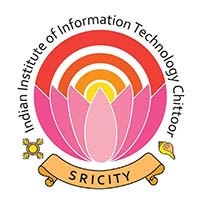 INDIAN INSTITUTE OF INFORMATION TECHNOLOGY, SRI CITY
| | |
| --- | --- |
| Institute Name | Indian Institute of Information Technology, Sri City |
| Also Known As | IIITS |
| Institute Type | Public–Private Partnership |
| Established | 2013 |
| Location | Sri City, Andhra Pradesh |
IIIT Sri City: Admission | Ranking | Fees
NEW: NIIT University B.Tech. Admissions 2021 have started, click here to apply.
NOTE: You can Subscribe to exam updates to receive all updates on your mobile for free.
Indian Institute of Information Technology, 630 Gnan Marg, Sri City, Satyavedu Mandal, Chittoor District, Andhra Pradesh – 517646
Also known as IIIT Chittoor, IIIT Sri City, IIIT Andhra and IIITS.
CONNECTIVITY (How To Reach)
Tirupati International Airport
80.5 km
Chennai International Airport
85 km
Sullurpeta Railway Station
20.5 km
Chennai Central Railway Station
68 km
Information currently unavailable.
| | |
| --- | --- |
| Particulars | Amount |
| Caution Money (One Time, Refundable) | ₹15,000 |
| One Time Fees | ₹15,000 |
| Tuition Fee (per Semester) | ₹1,15,000 |
| Hostel Charges (per Semester) | ₹15,000 |
| Annual Fees | ₹1,000 |
| Mess Advance (per Semester) | ₹17,000 |
| Total | ₹1,78,000 |
Past Recruiters
ABC Play Store
Adept Chips
Aganitha
All Go Vision
Amazon
APA Engineering
Arka
Blueberry Digital
Broadridge
BYJU's
CA Technologies
CEWiT
Cisco
Clappio
CoutureAI
Development Bank of Singapore
Dvara
E & Y
Efftronics
Entrayn
Finsol
Flipkart
Flutura
FluxAuto
Geeky Bee
Glocal Healthcare
Grey Orange
Handzap
Honeywell
Host Analytics
HSBC
Hyper Verge
Hyundai Mobis
IDEAS2IT
Infosys
Innoplexuses
Innovacer
Jeeva
Knowdis
L&T
Legato Systems
Loktra
Machine.ai
Michelin Tyres
Microchip
Mojo Nws
Newsway
Ninjacart
Onevisage
PayPal
Perceptive Analytics
Pramati
Ritwik Software
Sensara technology
Shortlist Professionals
Sigmoid
Smart Pix
Soccer
Societe Generale
Sorocco
Suspect Technologies
Takvaviya
TCS
Teamware
Tiger Analytics
Triad square
Value Momentum
Vehant
Velankanni Software
Vernalis
Via.com
Zipper
Zoho
ZS Associates
ZTT
2018
ABC Play Store
Adeptchip Services
APA Engineering
Arka Insurance
AVI Networks
Blueberry Technologies
Broadridge Solutions
BYJU's
CA Technologies
Comcast Technologies
DVARA Solutions
E&Y
Flipkart
Glocal Health Care
Grey Orange
Handzap
Honeywell Technologies
Host Analytics
HSBC
Hyper Verge
Michelin Tyres
Mojo News
Mu-Sigma
Newsway
NinjaCart
PayPal
Perceptive Analytics
Pramati Technologies
Ritwik Software
Smart Pix
Soccer Labs
Sorroco
Spring ML
TCS
Teamware
Value Momentum
Vernalis
Zipper Technologies
Zoho
ZTT India
2017
Amazon
Amazon Web Services (AWS)
Arka Insurance Broking Pvt Ltd
Darwinbox
Digi Bank Solutions (DBS)
EA Sports
Eunimart
Fabulyst
Finme
Finsol Tech
Golive
HP
Hyundai Mobis
Idea Bytes
Imaginate
IndraKart, Hyderabad
InRhythm
L&T Technology Solutions
Maxim Integrated
Musk Technologies
MyAlly
Pi datacenters
PlaySimple
ProzenTech Solutions, Hyderabad
Tech Mojo, Hyderabad
Value Momentum
Velankani
Via.com