GOVERNMENT COLLEGE OF TECHNOLOGY, COIMBATORE
Government College of Technology, Thadagam Road, Coimbatore, Tamil Nadu – 641013
Also known as Arthur Hope College of Technology, Government College of Technology Coimbatore, and GCT Coimbatore.
CONNECTIVITY (How To Reach)
Coimbatore International Airport
14 km
Coimbatore Junction Railway Station
5.5 km
Body
Category
Rank (Year)
Latest
Previous
National Ranking

NIRF Overall Rankings
151-200 (2020)
151-200 (2019)
NIRF Engineering Rankings
160 (2022)
128 (2021)

ARIIA Public Institution (Govt./ Govt. Aided Colleges) Rankings
6-25 (2020)
--
One needs to score at least 45% marks (40% for reserved) in aggregate of Physics, Chemistry and Mathematics in Class XII.
Admissions are done on the basis of normalised aggregate marks in Class XII PCM through TNEA counselling.
Affiliated to Anna University, Chennai.
CUTOFF RANKS (OPENING & CLOSING RANKS)
| | |
| --- | --- |
| Particulars | Amount |
| Caution Money (One Time, Refundable) | ₹1,000 |
| One Time Fees | ₹200 |
| Tuition Fee (per Year) | ₹2,000 |
| Other Fees (per Year) | ₹5,980 |
| Total | ₹9,180 |
| | |
| --- | --- |
| Particulars | Amount |
| Hostel Fees (per Year) | ₹9,502 |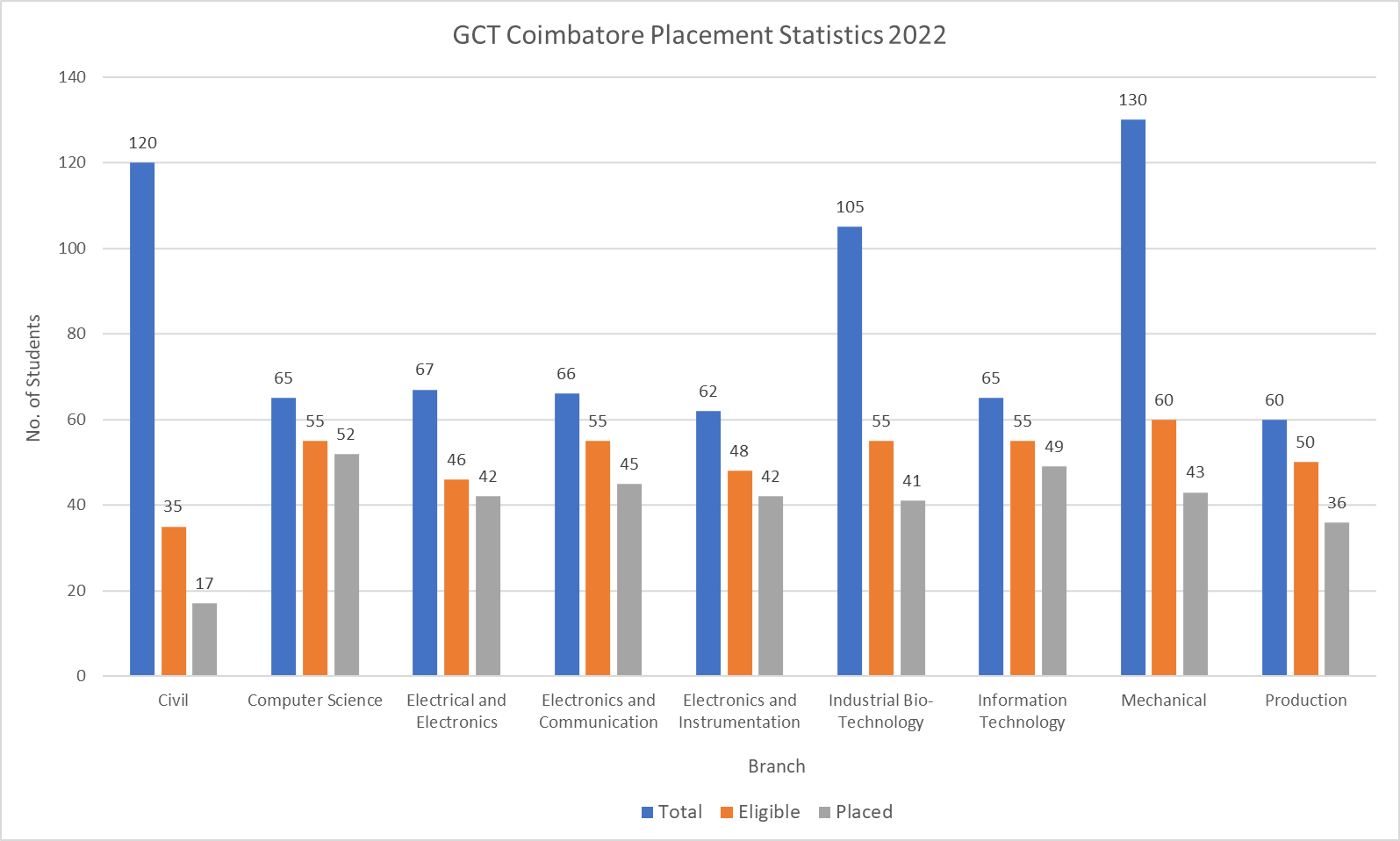 | | |
| --- | --- |
| Branch | Placed (%) |
| Civil Engineering | 48.57% |
| Computer Science and Engineering | 94.55% |
| Electrical and Electronics Engineering | 91.30% |
| Electronics and Communication Engineering | 81.82% |
| Electronics and Instrumentation Engineering | 87.50% |
| Industrial Bio-Technology | 74.55% |
| Information Technology | 89.09% |
| Mechanical Engineering | 71.67% |
| Production Engineering | 72.00% |
| Overall | 79.96% |
Highest Package Offered (Branchwise)
| | |
| --- | --- |
| Branch | Max CTC (in LPA) |
| Civil Engineering | 4.00 |
| Computer Science and Engineering | 10.00 |
| Electrical and Electronics Engineering | 8.40 |
| Electronics and Communication Engineering | 14.15 |
| Electronics and Instrumentation Engineering | 7.50 |
| Industrial Bio-Technology | 5.00 |
| Information Technology | 10.00 |
| Mechanical Engineering | 4.75 |
| Production Engineering | 4.75 |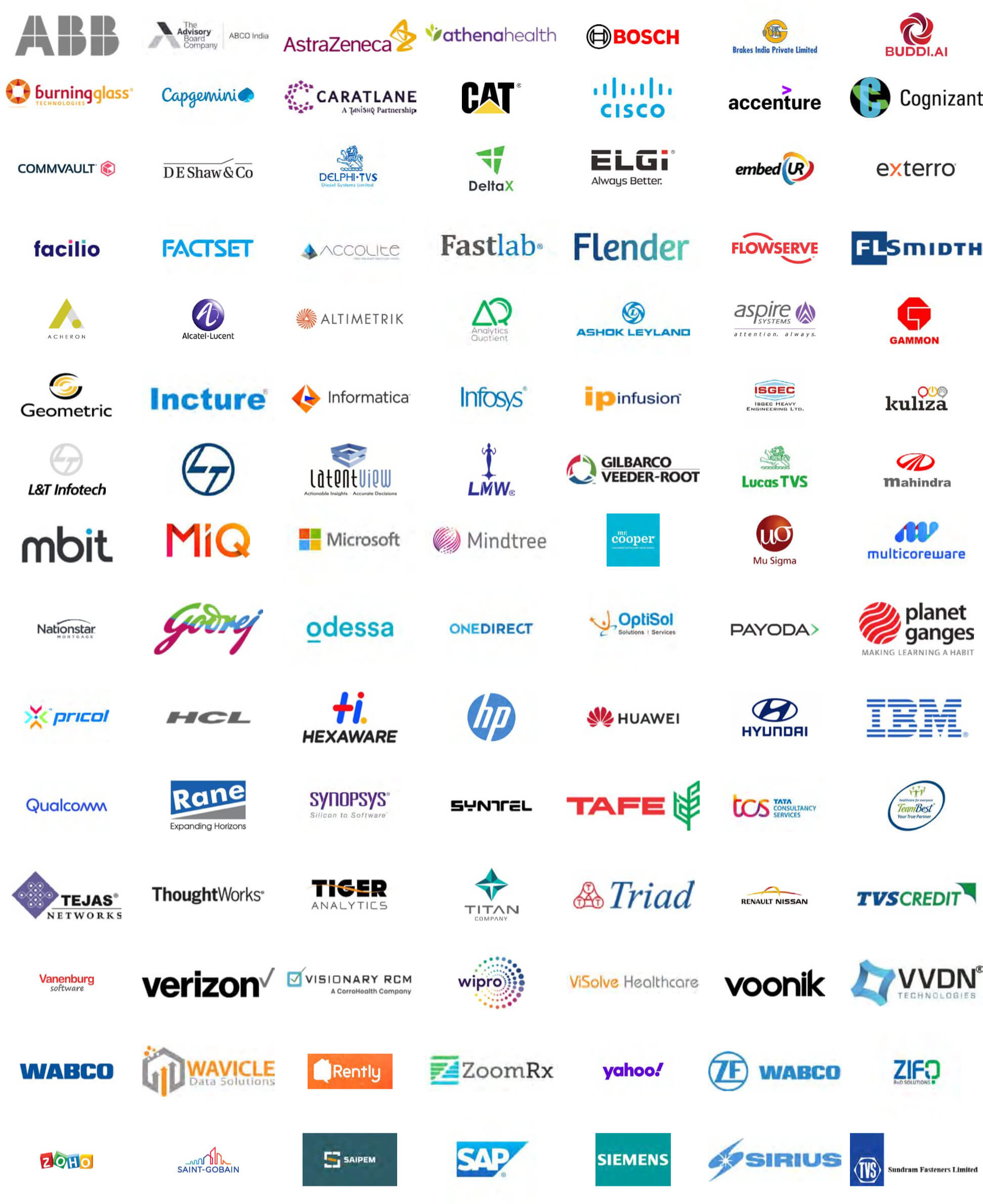 2021
| | |
| --- | --- |
| Branch | Placed (%) |
| Civil Engineering | 40.00% |
| Computer Science and Engineering | 100.00% |
| Electrical and Electronics Engineering | 95.74% |
| Electronics and Communication Engineering | 100.00% |
| Electronics and Instrumentation Engineering | 86.84% |
| Industrial Bio-Technology | 80.00% |
| Information Technology | 100.00% |
| Mechanical Engineering | 78.33% |
| Production Engineering | 40.00% |
| Overall | 83.98% |
Highest Package Offered (Branchwise)
| | |
| --- | --- |
| Branch | Max CTC (in LPA) |
| Civil Engineering | 4.50 |
| Computer Science and Engineering | 20.00 |
| Electrical and Electronics Engineering | 6.00 |
| Electronics and Communication Engineering | 13.00 |
| Electronics and Instrumentation Engineering | 8.00 |
| Industrial Bio-Technology | 4.50 |
| Information Technology | 8.30 |
| Mechanical Engineering | 8.00 |
| Production Engineering | 4.50 |
2020
| | |
| --- | --- |
| Branch | Placed (%) |
| Civil Engineering | 37.50% |
| Computer Science and Engineering | 100.00% |
| Electrical and Electronics Engineering | 78.00% |
| Electronics and Communication Engineering | 100.00% |
| Electronics and Instrumentation Engineering | 77.78% |
| Industrial Bio-Technology | 65.00% |
| Information Technology | 100.00% |
| Mechanical Engineering | 78.57% |
| Production Engineering | 78.00% |
| Overall | 81.51% |
Highest Package Offered (Branchwise)
| | |
| --- | --- |
| Branch | Max CTC (in LPA) |
| Civil Engineering | 3.00 |
| Computer Science and Engineering | 8.30 |
| Electrical and Electronics Engineering | 5.50 |
| Electronics and Communication Engineering | 6.30 |
| Electronics and Instrumentation Engineering | 8.30 |
| Industrial Bio-Technology | 4.50 |
| Information Technology | 20.00 |
| Mechanical Engineering | 6.00 |
| Production Engineering | 6.00 |