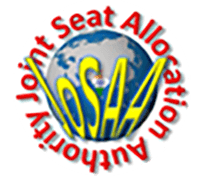 JoSAA 2017: Round 4 Result Declared
Joint Seat Allocation Authority (JoSAA) 2017 has declared the result of fourth round of seat allocation. Candidates can check their result on the JoSAA site.
To check the result, the registered candidates have to visit the JoSAA site, enter their JEE Roll number, password and click on "Login".
Quick Read
Round 4 Result Declared
July 13, 2017
Check Result
Go here
Acceptance/withdrawal of seat by reporting at a Reporting Centre (4th round)
July 14, 2017 – July 15, 2017 (10 AM – 5 PM)
Go to JoSAA website & click on "Round 4 Seat Allotment Result" or directly go here.
Log in using your JEE Roll number & password to view your result.
Students need to pay the seat acceptance fee of ₹45,000 (₹20,000 for SC, ST, GEN-PwD, OBC-NCL-PwD, SC-PwD & ST-PwD candidates) which will be adjusted against the admission fee by the admitting institute. (Only those students who have been allotted a seat for the first time in this round.)
Only those candidates who are allotted seats first time in this round and those who have to do dual reporting must report at the respective reporting centres and accept the seats.
Candidates who had reported for NIT/IIIT/GFTI & have been allotted IIT/ISM in this round (and vice-versa) need to report again.
Candidates who are allocated a seat in an NIT, IIIT or Other GFTI has to report only at a reporting center of NIT, IIIT (Triple-I-T) and Other-GFTI.
Candidates who are allocated a seat in an IIT have to report only at a reporting center of the IITs.
Required documents during reporting: Check Here
List of Reporting centers is available here.
Last date to report is July 15, 2017.
At the time of accepting the seat, a candidate can opt to 'freeze', 'slide' or 'float' the choice of academic program for subsequent round(s), if any, of joint seat allocation. Know more about it here.
To know more about JoSAA 2017, go here.