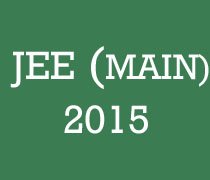 JEE Main 2015 : Confirmation of Class 12th Details
All the candidates who appeared in JEE (Main) – 2015 are informed that as per the information available with the JEE (Main), class 12th/Qualifying examination information details are available on JEE MAIN website.
In some cases, based on data sent by the Boards, the class 12th/Qualifying examination information has been updated.
So, all the students are advised to immediately confirm/update their class 12th/Qualifying Examination information on the JEE (Main) website.
Where & How to Confirm
1. Visit JEE MAIN & click on "Updation/Confirmation of class 12th/Qualifying Examination Details" or directly go here.
2. Select your Board, Year of passing and Roll No & confirm the details.
If a candidate fails to confirm the details, it will be assumed that the details about their class 12th/Qualifying examination shown on the website are correct.
In the absence of such details, or details not matching with the authenticated data provided by the board as mentioned by the candidate in his/her application form, the ranking
will not be given for JEE (Main) – 2015.
The last date of confirming/updating such records is 10th June, 2015.