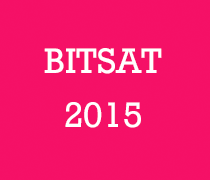 How to Apply for BITSAT 2015
BITSAT is a Computer based online test for Admission to Integrated First Degree Programmes of BITS Pilani Campuses in Pilani, Goa and Hyderabad. The application process begun on 17th of December at 11.30 AM.
To know more about BITSAT, go here.
To apply for BITSAT 2015, simply follow these steps :-
Open bitsadmission.com/bitsatmain.aspx & click on "Click Here to Apply for BITSAT 2015" or directly open this link.
Read the instructions carefully & click on "Allow me Apply Online".
Fill your personal details (Name, Gender, Date Of Birth & Email Address) & click on "Proceed".
On proceeding, you'll be required to fill the complete personal details (Father's Name, Mother's Name, Address, etc.), 12th Examination Details (School Name, Board, Year of Passing & the 3rd subject (Maths/Biology)) followed by your preference for test center.
Finally click on "Submit" & proceed for fee payment.
Note down the Application Number.
After completing the form online, you will be asked to take print outs of the filled form. You should take two copies of the printout and keep with you for future reference.
The last date for applying by completing the online application along with prescribed fee is 20th February 2015.
You are not required to send any document by post.
If you choose test centers within India, Application Fee for male candidates will be Rs.2090/- and for female candidates it will be Rs. 1590/-. If you choose Dubai as a test center, the Application Fee for both male and female candidates will be same and will be US$50 (or Rs.3100/- Indian Rupees).
While applying online, do not use the 'Back' button on the tool bar of your browser. Use the links and buttons available on the page to move from one page to another.
The application fee is non-refundable.
Payment can be made online using credit card, debit card or Net Banking. Cash payment at all ICICI Bank branches in India can be made after generating a Pay-in Slip from the payments page. The bank shall deposit cash and give you a confirmation receipt for the same.