CUSAT CAT 2021 Application Form
Application form for CUSAT CAT 2021 is now closed.
Registrations have started from March 10, 2021. The last date for filling up the Application Form is March 31, 2021 and April 7, 2021 April 15, 2021 with late fee of ₹100. Application Fee can be paid upto April 8, 2021 April 16, 2021. Check other important dates here.
CUSAT CAT 2021: Check Eligibility | Check Syllabus
NOTE: You can Subscribe to exam updates to receive all updates on your mobile for free.
How to Apply (Detailed Steps)
Visit CUSAT CAT website and click on "New Registration" or directly go here.
Enter your Personal details including your Name, Mobile & Email address.
Enter a Password of at least 8 Characters that includes 1 capital letter, 1 number, and 1 special character. Enter Captcha as displayed and click on "Submit".
An Activation Email will be sent on your Email Address. You'll receive the email with subject "CAT – 2021" containing Activation Link.

Copy the Activation Link (as received on Email) and open in any browser. Your Email and Password will be activated.

Visit CUSAT CAT website and Enter your Email Address in User Id & Password as chosen in Step 3.
Enter the captcha as displayed and click on Login.
Dashboard screen will be displayed. Click on "Start Registration" to start filling the Application Form.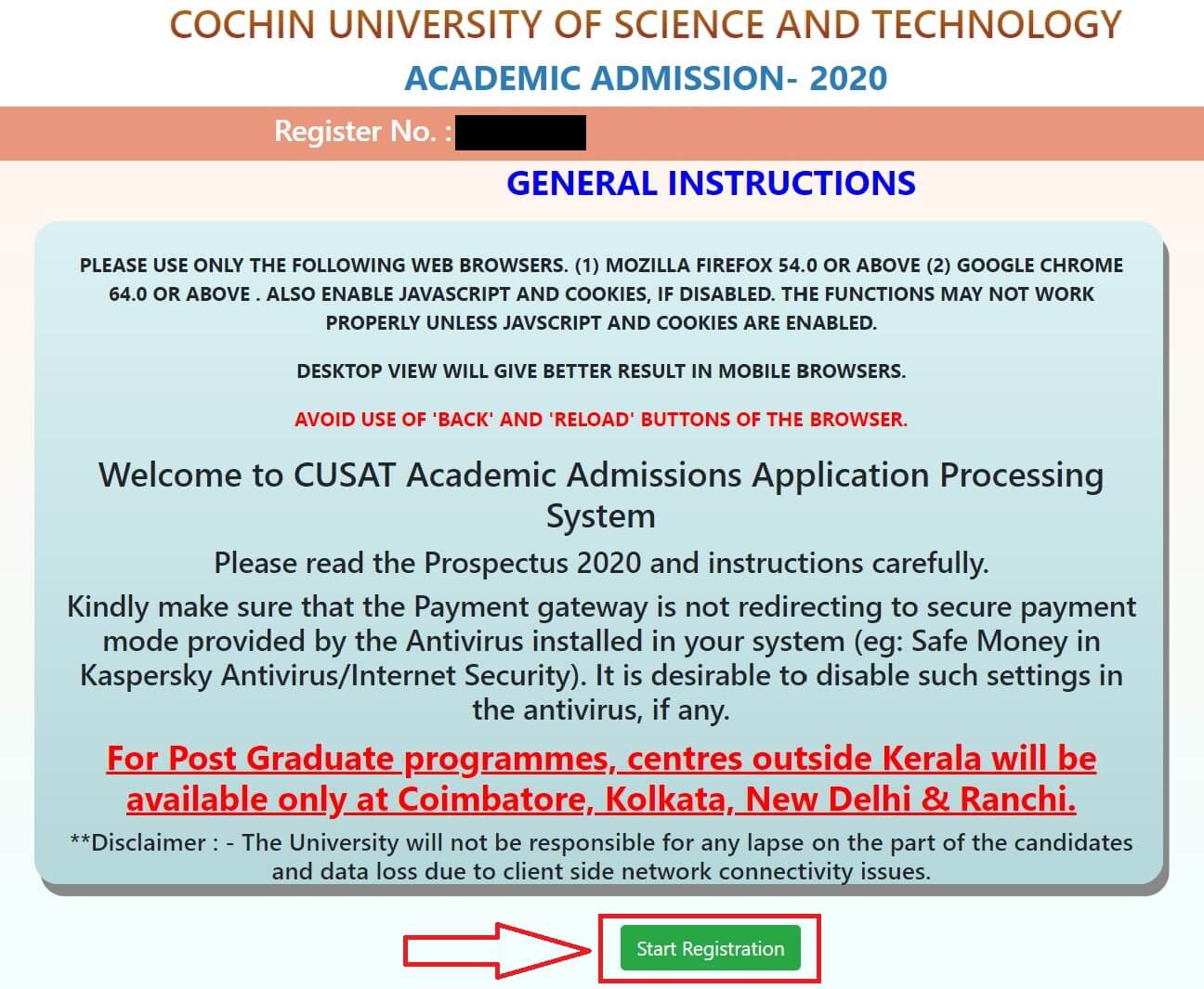 Read the Instructions carefully and Click on "Continue" at the bottom of the page to continue filling the Application Form.
Application Form will be displayed with pre-filled details. Enter the remaining Personal details.

Enter your Permanent and Communication Address details.
Enter your Reservation details and click on "Save and Continue".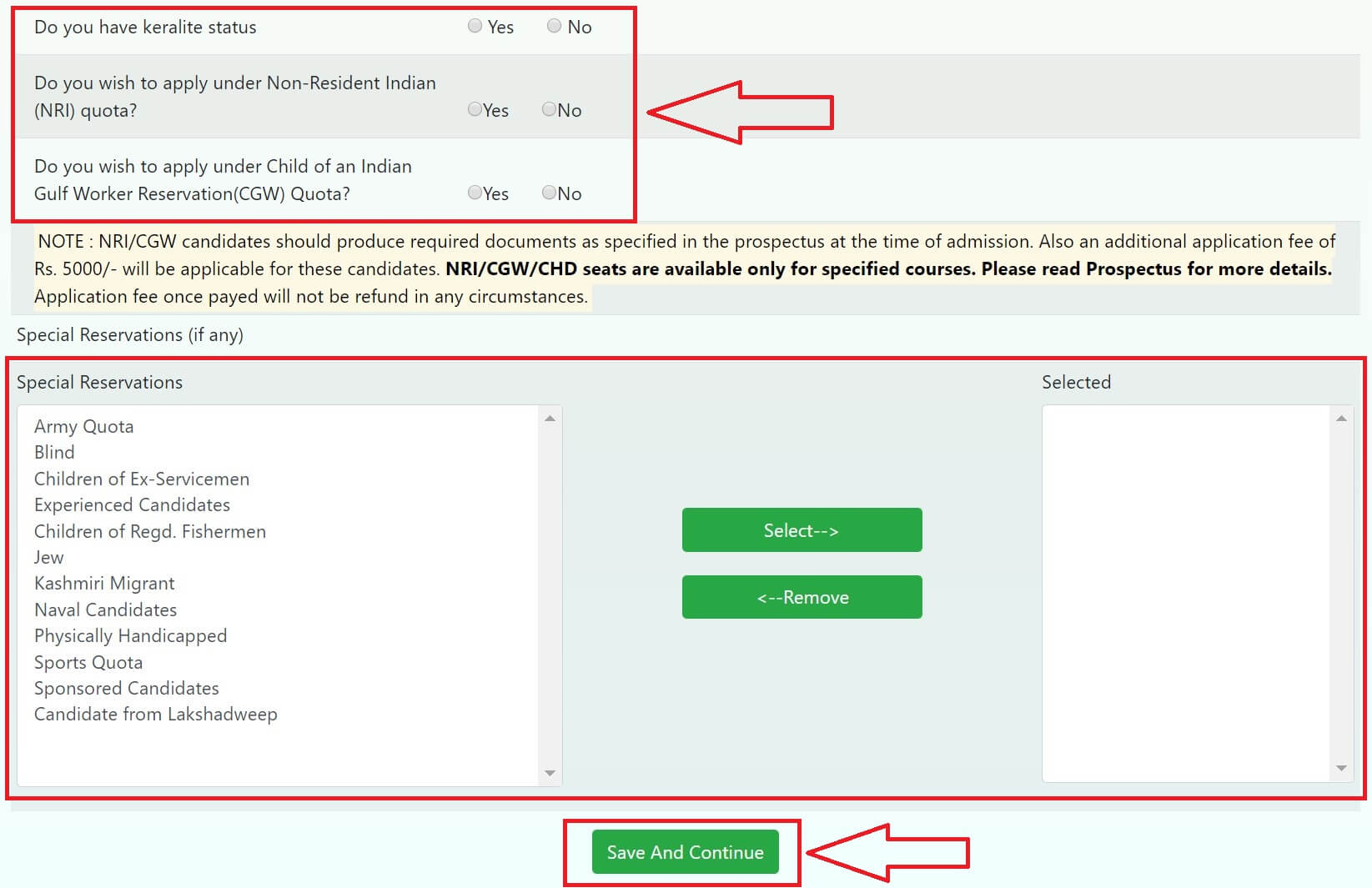 Next step requires the candidate to upload images. Once you're ready with the scanned image of your passport-size photograph and your signature, move to next step.
Upload your scanned Photograph and Signature in JPG or PNG format. The scanned Photograph should have dimensions as 150px X 180px and file size must be less than 500kb. The Signature file should have dimensions as 130px X 57px and file size must be less than 100kbs. Then click on "Save and Continue".
Choose the programmes to Apply for and enter the Qualification details. Confirm the Tests to appear for and click on "Save and Continue".

A short preview will be displayed. Verify the details and click on "Confirm Proceed to Payment".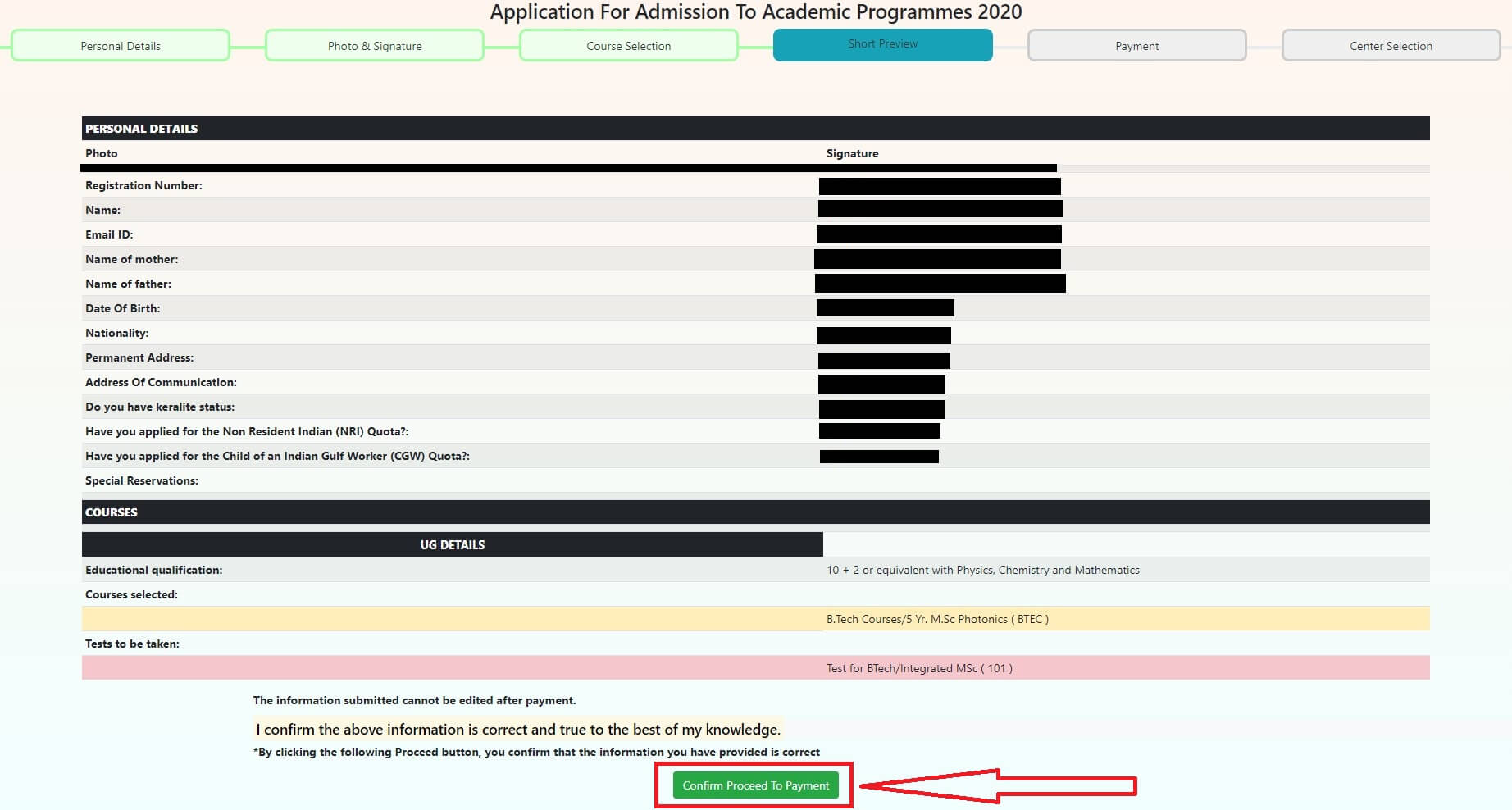 Choose the Test centre location (India or Outside India). Applicable Fee will be shown. Click on "Pay Now".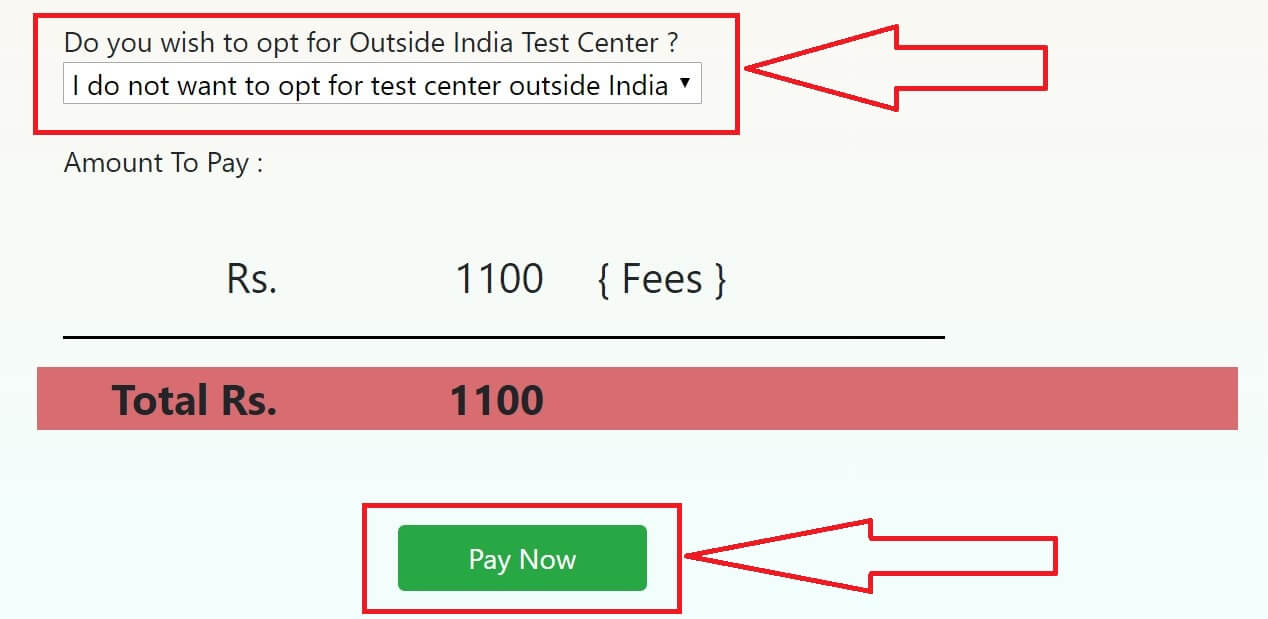 Candidate will be redirected to Payment Gateway. Candidates can pay the Fees online using Debit card/ Credit card/ Net Banking.
After a successful payment, the list of available Test centres will be displayed. The candidate should select one of the test centres where seats are available.
After centre selection, a final preview will be displayed and the candidate can go to his/ her home page. Then wait for confirmation from the University. It may take at least two working days. After the approval, candidate can download the confirmation page from the candidate home page. The Application is not complete until the confirmation page is generated.
The Cochin University of Science and Technology Common Admission Test (CUSAT CAT) is conducted by Cochin University of Science and Technology for admission to its various professional degree courses. B.Tech programmes are offered at SOE CUSAT, CUCEK and KMSME. Test code for all B.Tech programmes is 101.