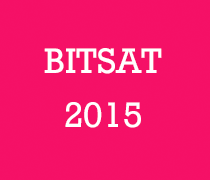 BITSAT 2015: Book your Test date & Slot
Candidates who have registered for BITSAT- 2015 should reserve their Test date and time before 5:00 PM on 20th March 2015 . It will be done on a first-come-first-serve basis.
How to reserve
Go to BITS Official website & click on "BITSAT-2015 Test Date & Slot" or simply go here.
Fill your Application No., Gender & Date of Birth and click on "Proceed".
Choose your Test Date & Slot.
To know more about BITSAT 2015, go here.
After you have reserved the test date and time, the hall ticket with detailed instructions will be available for downloading during 15th April 2015 – 30th April 2015 .