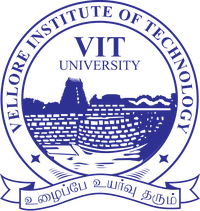 It is a Computer Based Test and candidates should do slot booking for Test.
The exam will be of 2 hours and 30 minutes duration.
All the questions will be Multiple Choice Questions (MCQ).
For each correct answer candidate will be awarded with one mark.
There will be no negative marking for wrong answers.
The no. of questions in each part is as follows:
For PCM Preferred Candidates
| | |
| --- | --- |
| Section | Number of Questions |
| Physics | 40 |
| Chemistry | 40 |
| Mathematics | 40 |
| English | 5 |
For PCB Preferred Candidates
| | |
| --- | --- |
| Section | Number of Questions |
| Physics | 40 |
| Chemistry | 40 |
| Biology | 40 |
| English | 5 |
April 4, 2018 (Wedesday) to April 15, 2018 (Sunday)
Due to JEE (Main) Pen & Paper Test scheduled on April 8, 2018, VITEEE will be conducted as follows:
Date
Centres
April 4, 2018 to April 15, 2018
VIT Vellore
VIT Chennai
VIT Bhopal
VIT AP
April 10, 2018 to April 15, 2018
All Other Centres
Session 1: 9:00 am to 11:30 am
Session 2: 12:30 pm to 3:00 pm
Session 3: 4:00 pm to 6:30 pm
Candidates whose date of birth falls on or after 1st July 1996 are eligible.
Candidates must have either passed or shall be appearing in 2018 in the qualifying examination.
Marks in Qualifying Examination
Candidates must have scored an aggregate of 60% in Physics, Chemistry, Maths/Biology in class 12.
For SC/ST/J&K Candidates/North Eastern Candidates, the average marks obtained in Physics, Chemistry and Maths/Biology in class 12 put together should be 50%.
The official mock test is made available to the candidates appearing for VITEEE.
Candidates can take the Mock Test to understand the pattern of the computer based test and make themselves familiar with the interface.
Mock test is for practice purpose only.
UPDATE: VITEEE 2018 Official mock test is now available, read more

here

.
Cost of Online Application Form : ₹1,150
Cost of Offline Application Form : ₹1,200
The aspiring candidate should furnish all the details and upload scanned image of his/her passport size colour photograph and signature while filling up the Online Application.
The candidate can pay Examination Fee by Debit/Credit card or Net Banking.
The candidate is requested to fill valid email id and mobile number for contact.
The Prospectus and the information brochure for the B.Tech. Degree programme – 2018, along with the Application Form and can be obtained from the designated branches of post offices or VIT campuses against cash payment.
For NRI candidates, it is mandatory to send the hardcopy of the application form along with the NEFT Transfer copy / Demand Draft of 50 USD (write your name and application no. on the reverse side of DD) after the process of completion.
Candidates who have paid fees using Online mode (Net banking/Debit card/Credit card) are NOT required to send the hardcopy of the application form.
Candidates are required to submit scanned copy of Aadhar Card/proof of enrolment ID for Aadhar Card at the time of counselling.
Test Cities
Test Cities
Agartala
Agra
Ahmedabad
Aizwal
Ajmer
Aligarh
Allahabad
Amaravati (AP)
Amravati
Amritsar
Ananthapur
Asansol
Aurangabad
Bangalore
Bareilly
Bathinda
Berhampur
Bhagalpur
Bhilai
Bhopal
Bhubaneswar
Bikaner
Bilaspur
Bokaro
Chandigarh
Chennai
Coimbatore
Dehradun
Delhi
Dhanbad
Dharmasala
Dibrugarh
Dimapur
Durgapur
Eluru
Erode
Faridabad
Gangtok
Gaya
Goa
Gorakhpur
Guntur
Gurgaon
Guwahati
Gwalior
Hissar
Hubli
Hyderabad
Imphal
Indore
Ita Nagar
Jabalpur
Jaipur
Jalandhar City
Jammu
Jamshedpur
Jhansi
Jodhpur
Kanpur
Karim Nagar
Khammam
Kochi
Kolkata
Kota
Kozhikode
Kumbakonam
Kurnool
Kurukshetra
Latur
Lucknow
Ludhiana
Madurai
Mahbubnagar
Mangalore
Mathura
Meerut
Moradabad
Mumbai
Muzaffarpur
Nagpur
Nalgonda
Nashik
Nellore
Noida
Pant Nagar
Patna
Port Blair
Puducherry
Pune
Rae Bareli
Raipur
Rajahmundry
Rajkot
Ranchi
Roorkee
Rourkela
Saharanpur
Salem
Shillong
Shimla
Silchar
Siliguri
Srikakulam
Srinagar
Surat
Tanuku
Thane
Thiruvananthapuram
Thrissur
Tiruchirapalli
Tirunelveli
Tirupati
Udaipur
Ujjain
Vadodara
Varanasi
Vellore
Vijayawada
Vishakapatnam
Warangal
A merit list will be prepared based on the total marks secured in VITEEE-2018.
The examination result and counselling details will be published on the VIT University website.
The admission will be purely on the basis of the marks secured in the VITEEE-2018, conducted by VIT University.
Candidates who have not appeared for the VITEEE are not eligible for admission.
Candidates will be shortlisted based on their rank in VITEEE and will be called for the counselling.
Candidates can select the campus of their choice at the time of counselling based on their rank.
Candidates attempting Physics, Chemistry, Biology & English are eligible for B.Tech. Bio-engineering, B.Tech. Biotechnology, B.Tech. Computer Science and Engineering with specialisation in Bioinformatics and Electronics and Communication with specialisation in Biomedical Engineering programmes only.
The selection of subjects (Physics, Chemistry, Mathematics/Biology & English) has to be mentioned in the application form.
| | |
| --- | --- |
| Details | Date |
| Issue of VITEEE Application Forms | November 9, 2017 |
| Editing the Online Application | Upto February 2018 |
| Last Date for receipt of Application Form | February 28, 2018 |
| Slot Booking and Hall ticket generation | March 2018 |
| Exam Dates | April 4, 2018 – April 15, 2018 |
| Declaration of Results | On or before April 25, 2018 |