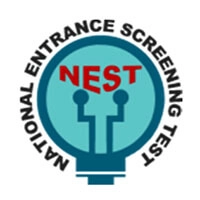 The National Entrance Screening Test (NEST) is a compulsory test for admission to the 5-year Integrated MSc programme in basic sciences – Biology, Chemistry, Mathematics and Physics – at NISER, Bhubaneswar and UM-DAE CEBS, Mumbai.
| | |
| --- | --- |
| Exam Name | National Entrance Screening Test |
| Also Known As | NEST |
| Exam Category | Undergraduate |
| Exam Level | National |
| Exam Mode | Online (Computer based test) |
| Conducted by | UM-DAE CEBS |
It is a Computer Based Test (CBT/online exam).
There will be 5 sections of objective (MCQ) type questions.
Section 1 is the general section and is of 30 marks. There will be no negative marking in the general section.
Sections 2 through 5 are of 50 marks each and will contain subject specific questions from Biology, Chemistry, Mathematics and Physics. Candidates are permitted to attempt as many subject-sections as they wish.
Only the best three subject scores along with the score in the general section will be counted for evaluation and merit list preparation.
In the subject sections, for certain questions there will be negative marking for incorrect answers.
Language of the question paper will be English only.
Session 1: 09:00 am to 12:00 pm
Session 2: 02:00 pm to 05:00 pm
The exam will be conducted in two sessions on the same day (June 2, 2018). The candidates will be allotted the examination session at random and no requests for choice of session would be entertained.
The allotted examination session will be mentioned in the candidate's Admit Card.
There is no restriction on appearing for NEST.
For admission in NISER/CEBS
Basic: Candidates should be from regular science stream only and preferably should have any combination of three subjects among Biology, Chemistry, Mathematics and Physics in classes XI and XII.
Exam: Secures a position in the NEST merit list.
Age: Should be born on or after August 01, 1998. (relaxed by 5 years for SC/ST/PD candidates).
Qualifying Examination: Class XII qualifying examination should be passed in either 2016 or 2017. Candidates appearing in 2018 are also eligible.
Marks in Qualifying Examination: At least 60% marks in aggregate in Class XII (or equivalent) examination from any recognized Board in India (for SC/ST/PD, the minimum requirement is 55%).
Video tutorials / Practice sessions on computer-based test will be available for all applicants on application portal after online registration and complete submission of online application.
Mock test is for practice purpose only.
The prescribed fee for NEST 2018 is ₹1000 (₹500 for SC/ST/PD categories and female candidates).
The registration for NEST 2018 will begin on January 1, 2017.
UPDATE: NEST 2018 Registrations have started, read more

here

.
Candidates must fill-up the online application form through NEST website.
Register and login to fill personal details and educational qualifications.
Upload passport-sized Image and Signature.
Pay the application fee through Online Payment.
Save application summary page for future reference.
Note: Candidates need not send any document to NEST office in the entire application process.
Admit Card can be downloaded from NEST website from April 25, 2018.
Candidates are required to produce the Admit Card along with an Identity Card at the test centre.
Address of the NEST test centre allotted to an applicant will be printed in the admit card.
Admit Card should be kept safely as the successful candidates have to produce it in original during admission.
UPDATE: NEST 2018 Admit Cards have been released, read more

here

.
Test Centres
Test Centres
Agartala
Ahmedabad
Aizawl
Alappuzha
Allahabad
Amritsar
Angul
Asansol
Balasore
Bargarh
Baripada
Bengaluru
Berhampur
Bhatinda
Bhilai Nagar
Bhopal
Bhubaneswar
Bhuj
Bokaro
Burdwan
Chandigarh
Chennai
Chirala
Coimbatore
Cuttack
Dehradun
Dhanbad
Dharwad
Dhenkanal
Durgapur
Ernakulam
Ghaziabad
Greater Noida
Guntur
Guwahati
Gwalior
Haldwani
Hamirpur
Hazaribagh
Hooghly
Hubballi
Hyderabad
Idukki
Imphal
Indore
Jabalpur
Jaipur
Jalandhar
Jammu
Jamshedpur
Jharsuguda
Jodhpur
Kakinada
Kannur
Kanpur
Karimnagar
Kasaragod
Khurda
Kolkata
Kollam
Kottayam
Kozhikode
Kurnool
Lucknow
Ludhiana
Madurai
Malappuram
Mangalore
Meerut
Mohali
Mumbai
Mysuru
Nagpur
Nellore
New Delhi
Noida
Palakkad
Pathanamthitta
Patiala
Patna
Pune
Raipur
Rajahmundry
Ranchi
Rayagada
Roorkee
Rourkela
Salem
Samba
Sambalpur
Shillong
Shimla
Siliguri
Srinagar
Thiruvananthapuram
Thrissur
Tiruchirappalli
Tirunelveli
Tirupathi
Udaipur
Udupi
Varanasi
Vijayawada
Visakhapatnam
Vizianagaram
Warangal
The answer keys of Computer based examination will be made available on NEST website.
If a candidate is unsatisfied with any answer, he/she can challenge the answer keys.
A merit list will be prepared based on the total marks secured in general section along with three best scores from the remaining subject sections.
For each section, 20% of the average of the best 100 scores in that section will be considered as Section–wise Minimum Admissible Score (SMAS).
Additionally, a candidate is required to score equal to or above a total Minimum Admissible Score (MAS), to get a merit rank. MAS for NEST–2018 is 90 which is 50% of the total marks.
SMAS & MAS for OBC students would be 90% of respective SMAS & MAS of general category students. SMAS & MAS for SC/ST/PwD students would be 50% of respective SMAS & MAS of general category students.
Candidates must provide correct e-mail address in the online application as the NEST office communicates with candidates through this e-mail id.
Use of log tables and calculators in the examination hall is not allowed.
| | |
| --- | --- |
| Start of Online application | January 1, 2018 |
| Closing of Online application | March 5, 2018 |
| Download of Admit Card begins | April 25, 2018 |
| NEST examination | June 2, 2018 |
| Announcement of results | June 18, 2018 |