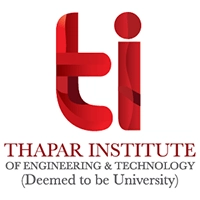 THAPAR INSTITUTE OF ENGINEERING AND TECHNOLOGY, PATIALA
Thapar Institute of Engineering and Technology, P.O Box 32, Patiala, Punjab – 147004
Also known as Thapar University, TIET Patiala, Thapar Institute of Engineering & Technology and TU Patiala.
CONNECTIVITY (How To Reach)
Nearest Airport: Chandigarh Airport
Distance from Airport: 70 km
Nearest Railway Station: Patiala Railway Station
Distance from Railway Station: 5km
In QS BRICS University Rankings of 2018 : 137
By NIRF in 2018 : 20
By NIRF in 2017 : 26
By India Today in 2017 : 10
By Outlook India in 2016 : 23
By India Today in 2016 : 18
By The Week in 2016 : 28
One needs to take the JEE (Main) exam and separately apply for TIET Patiala counselling.
Admissions are done on the basis of score in JEE (Main).
Admission to B.Tech – Biotechnology programme will be done on the basis of NEET-2018.
Read more about TIET Patiala Admissions

here

.
Particulars
Amount
Caution Money (One Time, Refundable)
₹10,000
One Time Fees
₹12,000
Tuition Fee (per Semester)
For ME & CE branch: ₹1,00,200
For ECE & ENC branch: ₹94,100
For other branches: ₹82,000
Other Fees (per Semester)
₹54,900
Total
For ME & CE branch: ₹1,77,100
For ECE & ENC branch: ₹₹1,71,000
For other branches: ₹158,900
Abbreviations:
CE: Computer Engineering
ME: Mechanical Engineering
ECE: Electronics and Communication Engineering
ENC: Electronics and Computer Engineering
The hostel fees varies from ₹26,500 to ₹46,500 per semester based on single/shared, AC/Non-AC, Shared/Attached Washrooms, etc.
International Engineering Fees
| | | |
| --- | --- | --- |
| Year | Campus | Amount |
| Year 1 | Thapar University | 1.5 times the total normal fee |
| Year 2 | Thapar University | 1.5 times the total normal fee |
| Year 3 | Trinity College Dublin | €24,603 |
| Year 4 | Trinity College Dublin | €25,095 |
| | | |
| --- | --- | --- |
| Year | Campus | Amount |
| Year 1 | Thapar University | Same as of Regular Students |
| Year 2 | Thapar University | Same as of Regular Students |
| Year 3 | Trinity College Dublin | €12,000 (accom & living expenses) |
| Year 4 | Trinity College Dublin | €12,300 (accom & living expenses) |
2016
2016
Rs. 38 Lakhs per Annum offered by Works Applications
Amazon India
Black Rock
DE Shaw
Freescale Semiconductors
Gwynniebee
HSBC Software Development
Juniper Networks
Microsoft
PropTiger
Synopsys
Texas Instruments
Walmart Labs India
Works Applications
2015
2015
Rs. 18.6 lakhs per annum offered by DE Shaw India Software
Rs. 18 lakhs per annum offered by Microsoft India Development Centre (IDC)
Rs. 15.25 lakhs per annum offered by Snapdeal
Rs. 15 lakhs per annum offered by Myntra
Rs. 18.60 Lakhs per Annum
Accenture Services
DE Shaw India Software
Free Scale Semiconductors
Hike
IBM
Microsoft India Development Centre (IDC)
Myntra
Sandisk Corporation
Snapdeal
Tata Consultancy Services (TCS)
Zomato
| | |
| --- | --- |
| Company | CTC (in LPA) |
| Aakash Educational Srv. | 6.50 |
| Accenture Services | 3.15 |
| Adventz Group | 5.49 |
| Alstom Projects India Ltd | 5.00 |
| Amadeus Labs. | 7.69 |
| Anand Group | 4.00 |
| Ascentx India | 4.50 |
| Aspiring Minds | 14.00 |
| ATKINS Group | 4.33 |
| Authorgen Technologies | 8.00 |
| Axtria | 6.00 |
| Belzabar Software | 8.64 |
| Bhushan Steel Ltd | 4.50 |
| Black Rock | NA |
| BlacknGreen | 5.50 |
| Cadence Design Systems | NA |
| Century Link | 5.50 |
| Chic Mic | 4.50 |
| Crompton Greaves Ltd. | 4.50 |
| CSC India Ltd | 3.40 |
| Cubastion Consulting | 4.20 |
| Dabur India Ltd | 7.25 |
| DE Shaw India Software | 18.60 |
| Deloitte Consulting India | 6.18 |
| Elegant Marine Services | NA |
| Ericsson India | 3.79 |
| Exicom | 6.50 |
| Exl Service (Inductis India | 5.25 |
| Expedia India | 10.00 |
| Experitest | 4.00 |
| Fidelity India | 6.00 |
| Freescale Semiconductor | 10.14 |
| Futures First Ltd | 9.20 |
| GATI | – |
| Grail Research | 5.50 |
| Grofers | 8.00 |
| GS Engg. & Construction | 4.80 |
| Havells India Ltd | 4.80 |
| Hero Moto Crop | 6.50 |
| Hike | 10.50 |
| Hindustan Unilever | 5.80 |
| Honda Cars | 4.50 |
| Honda M.C & Scooters India | 6.71 |
| IBM | 3.15 |
| Idea Cellular Ltd | 5.00 |
| Indo Swift Laboratories | – |
| Indus Valley Partners | 6.25 |
| Infogain India | 3.50 |
| Informatica Corportion | 9.00 |
| ISGEC | 4.03 |
| JSW Steel | 4.75 |
| KPMG | 4.50 |
| L & T | 5.00 |
| Lenskart | 8.00 |
| Lovely Professional University | – |
| Magic Software | 6.00 |
| Mahindra Comviva | 5.50 |
| Make My Trip | 7.00 |
| MAQ Software | 7.00 |
| Maruti Suzuki India Ltd | 6.35 |
| Microsoft India IDC | 18.00 |
| Microsoft India MSIT | 10.36 |
| MphRx Ltd | 7.00 |
| Myntra | 15.00 |
| Nagarro Software | 5.00 |
| Naukri.com | 6.77 |
| Newgen Technologies | 5.50 |
| Nucleus Software | 4.50 |
| Oracle Financial Services | 5.56 |
| Oracle Health Sciences | 7.50 |
| Paxcel Technologies | 4.20 |
| Reliance Industries | 6.00 |
| Roots Analysis | 3.00 |
| Routofy | NA |
| Royal Bank of Scotland | 8.50 |
| Royal Enfield | 5.50 |
| S.T.Microelectronics | NA |
| Sab Miller | 4.40 |
| Saint Gobain | 4.15 |
| Samsung Engg | 4.80 |
| Sandisk Corporation | 11.39 |
| SAP Lab | 8.25 |
| Sapient Nitro | 4.50 |
| Saviynt | – |
| Schneider Electric Ltd | 5.25 |
| Smart Cube | – |
| SML Isuzu Ltd | – |
| SMS India | 3.80 |
| Snap Deal | 15.25 |
| Software AG | 5.00 |
| Success Factors | 8.00 |
| Tata Consultancy Services | 3.16 |
| Tata Motors | 6.16 |
| Tavant Technologies | 4.50 |
| TT Consultants | 4.10 |
| TT Consultants | 5.00 |
| UOP- Honeywell | 8.00 |
| U-Trade Solutions | 5.50 |
| VE Commercial Vehicles | 5.00 |
| VVF | 3.50 |
| WSP | – |
| Zomato | 12.00 |
| ZS Associates India Pvt | 6.68 |