NATIONAL INSTITUTE OF TECHNOLOGY, JAMSHEDPUR
National Institute of Technology, P.O. RIT Jamshedpur, Jharkhand – 831014
Also known as NIT Jamshedpur and NITJSR.
CONNECTIVITY (How To Reach)
Nearest Airport: Birsa Munda Airport, Ranchi
Distance from Airport: 155km
Nearest Railway Station: Tatanagar Junction Railway Station
Distance from Railway Station: 9km
By NIRF in 2019 : 130
By NIRF in 2018 : 101-150
By NIRF in 2017 : 101-150
By Edu Rand in 2015 : 34
By The Week in 2015 : 36
One needs to take the JEE (Main) exam and either secure at least 75% marks (65% for SC/ST/PwD) in Class XII or be within the category-wise top 20 percentile in his/her respective Class XII board examination.
Admissions are done on the basis of rank in JEE (Main) through JoSAA Counselling and CSAB Special Round.
| | |
| --- | --- |
| Particulars | Amount |
| Caution Money (One Time, Refundable) | ₹10,000 |
| One Time Fees | ₹2,000 |
| Tuition Fee (per Semester) | ₹62,500 |
| Other Institute fees (per Semester) | ₹10,500 |
| Hostel Seat Rent (per Semester) | ₹6,000 |
| Electricity & Water Charges (per Semester) | ₹2,000 |
| Other Hostel fees (per Semester) | ₹7,000 |
| Mess Advance (per Semester) | ₹16,500 |
| Total | ₹1,16,500 |
100% Tuition Fee waiver for SC/ST/PH students.
Full remission of the Tuition Fee for General and OBC students whose family income is less than Rs.1 lakh per annum.
Remission of 2/3rd of the Tuition Fee for General and OBC students whose family income is between Rs.1 lakh to Rs.5 lakh per annum.
Highest Package Offered (Branchwise)
| | |
| --- | --- |
| Branch | Max CTC (in LPA) |
| Civil Engineering | 10.00 |
| Computer Science and Engineering | 27.00 |
| Electrical and Electronics Engineering | 17.50 |
| Electronics and Communication Engineering | 27.00 |
| Mechanical Engineering | 10.11 |
| Metallurgical and Materials Engineering | 10.11 |
| Production and Industrial Engineering | 10.00 |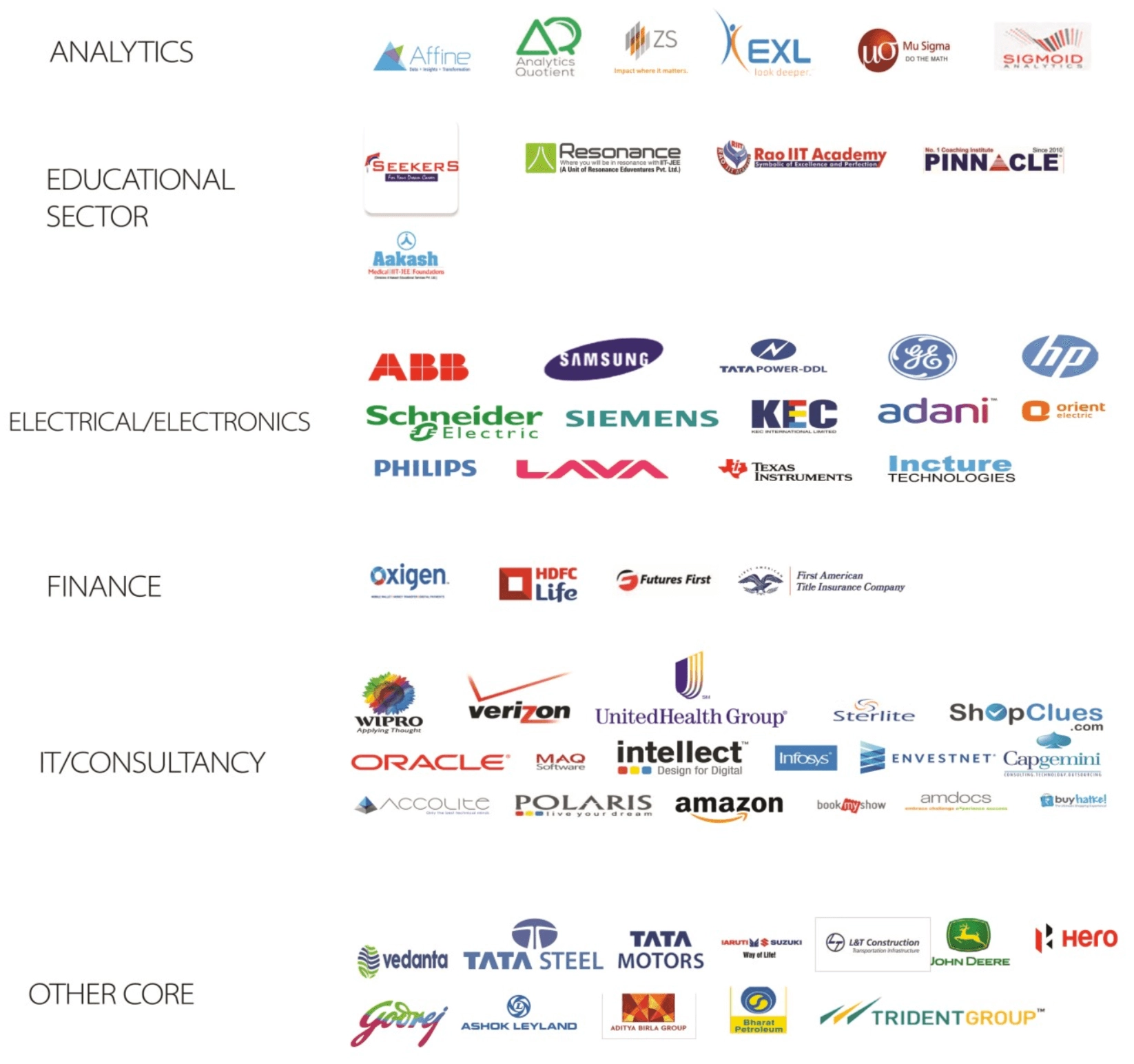 Past recruiters
Past recruiters
ABB
ACC Cements
Accenture
Adage Auto
Adani Group
Ador Welding
Adhunik Steel
AFCONS
Airvana
Allgo Systems
Alstom
Amazon
Amdocs
Apollo Tyre
Applied Materials
Arcelor Mittal
Areva
Aricent
Ashiana Builders
Ashok Leyland
ATOS
Belzabar
Bharti Infratel
Bhushan Steel
Birla Soft
BLK Construction
BOC Inia LTD.
Bollineni Castings & Steel Ltd.
BPCL
Canara Bank
Caritor
CCCL
CIL
Comsat MAX
Crompton Greaves
CSC
CESC
Commvault
Comviva
CTS
Cummins India
Deloitte
DRDO
DVC
Eicher Motors
Electro Steel
ERA Group
Ericsson
ESSAR Group
ESSPL
FleetGuard
Flextronics
FMC Technologies
Gammon India
Gati Infrastructure
Global Logic
HCC
HCL
HCL Infinet
HDIL
Head Strong
Hero Honda
HINDALCO
HPCL
Hughes Software
Hutchinson
IBM
IDBI Bank
Idea
I-Flex
Incture Technologies
India Resources Ltd.
Indian Navy
Indus Logic
Infosys
International Auto
IOCL
ISMT
ISPAT Industries
ISWP
ITC Infotech
ITD Cementation
ITW Signode
J K Tyres
JAL
Jamshedpur CAPCPL
Jaypee Group
Jindal South West
Jindal Stainless Ltd.
Jindal Steel
John Deere
JSPL
JUSCO
Kanbay
Keane India
KEC
KK Builders
Kony Labs
L & T ECC
L & T IES
L & T Heavy Engg.
L & T Ltd.
Lafarge India
LANCO
Mahindra British Telecom
Mahindra (FES)
Mahindra & Mahindra
Maruti
Matix Fertilisers
MECON
Metalsa
Microsoft
Minda
Motorola
Mu Sigma
Murugappa Group
Nagra India
NDPL
NECO Jaiswal
NMDC
Novell Software
NTPC
Nucleus Software
Oracle India Ltd.
One 97
Piaggio
PCS
Perot Systems
Pradeep Phospate
Pradhan (NGO)
Power Grid Corporation
Punj Lloyd
Rancore
Reliance Energy
Reliance Infra
Reliance Power
Reynault-Nissan
RPSG-CESC
Samtel
Samsung Heavy
Sankalp Semiconductors
Sapient
Sasken
SEL
Siemens
Simplex Infrastructure
SISC
SISO
Skytech Solutions
SnP Capital IQ
Soma Enterprise
Sony India
SPCL
SPML
Sterlite
Suzuki Powertrain
Syntel
TACO
Tata Auto Components
Tata Cummins
Tata Motors
Tata Power
Tata Projects
Tata Ryersons
Tata Steel
Tata Steel (GS)
Tata Steel IT Division
Tata Technologies
Tata Tinplate
Tayo Rolls Ltd.
TCE
TCIL
TCS
Tech Mahindra
TEGA Industries
TELCON
Thyssen Krupp Steel
TIME
TIMKEN
TINPLATE
TRF Ltd.
TVS Motors
UBEST
Unisys
Usha Martin
Vardhman Steel
Vedanta
Verizon
Videocon
Virtusa
Visa Steel
Vizag Steel
VSNL
Welspun
WIPRO
Wipro VLSI
2017
2017
Information currently unavailable.
2016
2016
| | |
| --- | --- |
| Branch | Placed (%) |
| Civil | 74.00 |
| CSE | 97.00 |
| ECE | 94.00 |
| EE | 96.00 |
| ME | 96.00 |
| Meta | 84.00 |
| Prod | 83.00 |
Highest Package Offered (Branchwise)
| | |
| --- | --- |
| Branch | Highest Package (in LPA) |
| Civil | 21 |
| CSE | 33 |
| ECE | 10.64 |
| EEE | 21 |
| ME | 21 |
| Meta | 9.38 |
| Prod | 21 |
| | |
| --- | --- |
| Range of Gross Salary (in LPA) | No. of Offers |
| Greater than 30 | 1 |
| Between 30 and 20 | 15 |
| Between 20 and 15 | 1 |
| Between 15 and 10 | 16 |
| Between 10 and 6 | 144 |
| Between 6 and 4 | 210 |
| Others | 317 |
Amazon
Honda
L&T
Oracle
Samsung
Tata
Works Applications
2015
2015
| | |
| --- | --- |
| Branch | Placed (%) |
| CIVIL | 74 |
| CSE | 94 |
| ECE | 90 |
| EE | 86 |
| ME | 92 |
| META | 92 |
| PROD | 68 |
US$ 107,000 offered by Epic Systems, Madison, USA
| | |
| --- | --- |
| Package Offered | No. of Offers |
| Greater than 30 LPA | 4 |
| Between 30 LPA and 20 LPA | 6 |
| Between 20 LPA and 15 LPA | 6 |
| Between 15 LPA and 10 LPA | 7 |
| Between 10 LPA and 6 LPA | 88 |
| Between 6 LPA and 4 LPA | 248 |
| Others | 273 |
Highest Package Offered (Branchwise)
| | |
| --- | --- |
| Branch | Max Package (in LPA) |
| CIVIL | 5.5 |
| CSE | 67 |
| ECE | 7.2 |
| EEE | 31.2 |
| ME | 11 |
| META | 9.2 |
| PROD | 7.2 |
Samsung
Amazon
Snapdeal
Works Applications
Honda
Tata
Oracle
L&T
| | |
| --- | --- |
| Name of the Company | No. of Students |
| AAKASH INSTITUTE | 5 |
| ACCOLITE | 2 |
| ALLGO EMBEDDED SYSTEMS | 5 |
| AMAZON | 6 |
| AMDOCS | 1 |
| ANGLO EASTERN GROUP | 6 |
| ASAHI GLASS | 2 |
| ASHIANA HOUSING | 3 |
| BELZABAR PPO | 2 |
| BHARTI INFRATEL | 4 |
| BPCL | 6 |
| BUROHAPPOLD | 1 |
| ELECTROSTEEL | 2 |
| Epic Systems | 2 |
| ERA GROUP | 3 |
| ERICSSON | 15 |
| EXL SERVICES | 10 |
| FUTURES FIRST | 1 |
| GAIN THEORY | 2 |
| GODREJ AND BOYCE | 4 |
| HAVELLS | 4 |
| HERO MOTOCORP | 3 |
| HINDALCO | 11 |
| HONDA 2 WHEELERS | 4 |
| HONDA CARS INDIA LIMITED | 3 |
| HP | 13 |
| IBIBO | 5 |
| IBM | 48 |
| ISWP | 2 |
| JSW STEEL LIMITED | 15 |
| JSW STEEL LIMITED, DOLVI WORKS | 23 |
| JUSCO | 6 |
| L&T CONSTRUCTION | 39 |
| MAHINDRA COMVIVA | 16 |
| MARUTI SUZUKI | 7 |
| MU SIGMA | 18 |
| NOVELL SOFTWARE | 4 |
| NUCLEUS SOFTWARE | 2 |
| OFSS | 15 |
| OPTUMSOFT | 1 |
| ORACLE CLOUD SERVICES | 1 |
| PAHARPUR | 1 |
| PHILIPS | 7 |
| POLARIS FT | 26 |
| PRADAN NGO | 6 |
| RAMCO SYSTEMS | 9 |
| RANCORE | 10 |
| RESONANCE | 3 |
| RSB | 2 |
| SAMSUNG R&D, NOIDA | 6 |
| SAPIENT | 7 |
| SIEMENS | 5 |
| SNAPDEAL | 6 |
| SONY INDIA | 4 |
| SRIJAN NGO | 2 |
| SSWL | 4 |
| STERLITE TECHNOLOGIES | 3 |
| STERLITE TECHNOLOGIES PPO | 2 |
| TATA MOTORS | 13 |
| TATA STEEL PPO | 4 |
| TCS | 173 |
| TELCON | 1 |
| UTTAM GALVA | 4 |
| VERITY KNOWLEDGE SOLUTIONS | 3 |
| WIPRO | 6 |
| WORKS APPLICATIONS | 2 |
| YODLEE INFOTECH | 7 |
2014
2014
| | |
| --- | --- |
| Name of the Company | No. of Students placed |
| ABB | 3 |
| Absolute Data | 3 |
| ACC Cements | 1 |
| Airvana N/W | 5 |
| Akash Institute | 1 |
| Allgo System | 5 |
| Amazon India | 3 |
| Ambuja Center | 4 |
| Amdocs | 2 |
| Aricent | 24 |
| Ashiyana Housing LTD | 2 |
| Bajaj Auto | 1 |
| Belzabar Pro | 1 |
| Bes Consultants | 1 |
| Bharti Infratel | 4 |
| Ceratizit | 2 |
| Comviva | 15 |
| Electrosteel | 4 |
| Elegant Marine Services | 0 |
| Ericsson | 11 |
| Exl Services | 10 |
| Future First | 2 |
| Godrej N Boyce | 2 |
| Godrej Pro | 2 |
| Hindalco | 6 |
| Honda 2 Wheeler | 4 |
| Honda R&D | 3 |
| I Gate | 6 |
| IBM | 34 |
| Innovaccer | 0 |
| ISWP | 2 |
| JCAPCPL | 3 |
| JCI | 2 |
| JSW | 8 |
| KEC Limited | 1 |
| L&T ECC | 20 |
| L&T InfoteCH | 10 |
| Lafarge | 2 |
| Lic Life Plus | 28 |
| Magnetti Mareli | 2 |
| Mahindra & Mahindra | 3 |
| Maruti Suzuki | 3 |
| Moojc | 1 |
| Mu Sigma | 15 |
| Newgen Software | 0 |
| Nice Software | 0 |
| Novell Software | 0 |
| Nucleus S/W | 7 |
| One 97 | 0 |
| Optum Soft | 1 |
| Orient Electricals | 1 |
| OSS Cubes | 1 |
| Paharpur Cooling Towers | 0 |
| Parkar Henifinn | 1 |
| Pdaris Ft | 8 |
| PGCIL | 2 |
| Pradan NGO | 8 |
| Rancore | 3 |
| Resonance | 4 |
| Saint Gobain | 1 |
| Samsung Heavy | 3 |
| SAP Labs | 0 |
| Sapient Nitro | 1 |
| Sel | 9 |
| Sony India | 4 |
| Sri Bangalore | 29 |
| Sri Delhi | 6 |
| Srijan NGO | 0 |
| Sterlite | 3 |
| Tata Consultancy Services | 110 |
| Tata Motors | 6 |
| Tata Power | 6 |
| Tata Steel Pro | 5 |
| Tata Telcon | 2 |
| Tata Tinplate | 1 |
| Tayo Rolls | 0 |
| Thornton | 0 |
| Tridents | 1 |
| Usha Martin | 5 |
| Usha Martin(Ranchi) | 2 |
| Uttam Galva | 6 |
| Verizon | 5 |
| Webfluenz | 0 |
| Work Application | 1 |
| Work Applications Pro | 1 |
| World Quant | 0 |
| World Quant(Training) | 0 |
| Yodlee Infotech | 0 |
| Total | 504 |