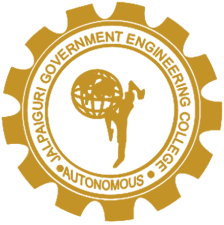 JALPAIGURI GOVERNMENT ENGINEERING COLLEGE, JALPAIGURI
Jalpaiguri Government Engineering College, Jalpaiguri, West Bengal – 735102
Also known as JGEC Jalpaiguri, Jalpaiguri Govt College of Engineering and Jalpaiguri Government Engineering College.
CONNECTIVITY (How To Reach)
Bagdogra International Airport
54 km
Jalpaiguri Road Railway station
2.5 km
Jalpaiguri Railway Station
5 km
New Jalpaiguri Junction Railway Station
40 km
Information currently unavailable.
Affiliated to Maulana Abul Kalam Azad University of Technology, West Bengal.
CUTOFF RANKS (OPENING & CLOSING RANKS)
Particulars
Amount
One Time Fees
₹6,845
Admission Fee
₹1,000 (CSE & ECE),
₹500 (CE, ME & EE),
₹2,000 (IT)
Tuition Fee (per Year)
₹9,000 (CSE & ECE),
₹4,500 (CE, ME & EE),
₹18,000 (IT)
Other Fees
₹4,532 (CSE & ECE),
₹3,032 (CE, ME & EE),
₹7,532 (IT)
Total
₹21,377 (CSE & ECE),
₹14,877 (CE, ME & EE),
₹34,377 (IT)
| | |
| --- | --- |
| Particulars | Amount |
| Hostel Fees | ₹17,250 |
Accolite Digital (Off-Campus)
Blitzllama (Off-Campus)
CloudKaptan
Cognizant
Cognizant GenC
Cognizant GenC Elevate
Cognizant GenC Next
GeeksForGeeks
Goldman Sachs (Off-Campus )
Hexaware
High-TechNext Engineering and Telecom
Infosys Digital Specialist Engineer (Off-Campus)
Infosys Specialist Programmer (Off-Campus)
Infosys System Engineer (Off-Campus)
Josh Technology
Juspay (Off-Campus)
Kreeti Technologies
Larsen & Toubro
Media.net
Microsoft (Off-Campus)
Mitsogo
Netmeds
Sequoia Capital
Shapoorji Pallonji
TCS Digital (Off-Campus)
TCS Ninja (Off-Campus)
Willis Towers Watson
Wipro (Off-Campus)
Yellow Messenger (Off-Campus)
2021
Rs. 36.50 lakhs per annum offered to 1 student by JPMorgan Chase
Rs. 30.00 lakhs per annum offered to 1 student by Media.net
2020
Rs. 30.00 lakhs per annum offered to 1 student by Media.net
Rs. 10.00 lakhs per annum offered to 1 student by Airbus
Rs. 10.00 lakhs per annum offered to 3 students by Geeks for Geeks
Rs. 7.20 lakhs per annum offered to 6 students by TCS Digital
Rs. 7.00 lakhs per annum offered to 3 students by Haldia Petrochemicals