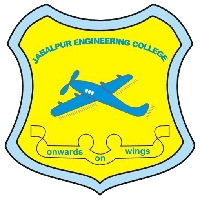 JABALPUR ENGINEERING COLLEGE, JABALPUR
Jabalpur Engineering College, Gokalpur, Jabalpur, Madhya Pradesh – 482011
Also known as Jabalpur Engineering College, Government Engineering College Jabalpur, Government Engineering College Jubbulpore and JEC Jabalpur.
CONNECTIVITY (How To Reach)
Jabalpur Junction Railway Station
6 km
Information currently unavailable.
One needs to take the JEE (Main) exam.
Admissions are done on the basis of rank in JEE Main through DTE MP Counselling.
Affiliated to Rajiv Gandhi Proudyogiki Vishwavidyalaya, Bhopal.
CUTOFF RANKS (OPENING & CLOSING RANKS)
| | |
| --- | --- |
| Particulars | Amount |
| One Time Fees | ₹2,250 |
| Tuition Fee (per Semester) | ₹11,150 |
| Annual Fees | ₹969 |
| Total | ₹14,369 |
Particulars
Amount
Hostel Caution Money (One Time, Refundable)
₹900
Hostel Seat Rent (per Year)
₹1,982 (1-Seater),
₹1,862 (2-Seater)
Past Recruiters
Amdocs
Anglo-Eastern Group
Atkins
Avantha Power
Bharat Aluminium Company
Bharat Oman Refinery
Bharti Enterprises
BSES Rajdhani Power
Capgemini
Coastal Projects
Cummins
Direct-I
Eaton Corporation Ltd
Energy Infratech
Essar Energy
Fluor Daniel India
Globallogic
HCP-CAIRN
Headstrong
HeidelbergCement
Hexaware Technologies
Hindalco
Hindustan Petroleum
Hughes Communication
Hunka Tech
IBM
Indian Army
Indian Navy
Infosys
Ispat Industries Ltd
JK Tyres
JMC Projects
Kalpataru Power Transmission
KEC International
Kragos Technologies
Larsen & Toubro
Mahindra & Mahindra
Mahindra Comviva
Mahindra Satyam
Microsoft
MoserBaer
MphasiS
Mu-Sigma
Nokia Siemens
Paladion Networks
Perot Systems
Persistent Systems
Quick Heal
Samsung Electronics
Sapient Corporation
Schneider Electric
Skore Software
Soma Enterprises
Sterlite
Syntel
Tata Consultancy Services
Tata Power
TCIL
Tech Brivo
Tech Mahindra
Trident Group
Unitech Group
United Bank of India
Vedanta Resources
Vijay Electricals
Visa Inc.
Wipro Tech
Yodlee
Zensar
2021
| | |
| --- | --- |
| Company | No. of Offers |
| Accenture | 5 |
| Byjus | 3 |
| Coriolis | 2 |
| Infosys | 81 |
| L&T | 9 |
| Mindtree | 1 |
| PCS Global | 4 |
| Persistent | 23 |
| Prism | 4 |
| PwC | 3 |
| Reliance Retail | 17 |
| Synoriq | 2 |
| Tata Advanced | 6 |
| TCS | 66 |
| Wipro | 4 |
| Total | 230 |
2020
| | |
| --- | --- |
| Company | No. of Offers |
| Cognizant | 5 |
| Coriolis | 1 |
| CronJ | 1 |
| FSS | 1 |
| Global Logic | 2 |
| IBM | 4 |
| Infosys | 133 |
| Persistent | 14 |
| Reliance Jio | 1 |
| TCS | 73 |
| Walkover | 2 |
| Wipro | 25 |
| Zensar | 16 |
| Total | 278 |
2019
| | |
| --- | --- |
| Company | No. of Offers |
| Advanz 101 | 1 |
| CapitalAim | 12 |
| IBM | 49 |
| Image Infosystems | 4 |
| Infosys | 114 |
| Nineleaps | 1 |
| Persistent | 19 |
| Reliance Construction | 11 |
| Reliance India Limited | 15 |
| TCS | 12 |
| Zensar | 2 |
| Total | 240 |
2018
Byju's
Coriolis
IBM
Infosys
KJS Cement
Larsen and Toubro
MphasiS
Reliance India Limited
Wipro
Yodlee
Zensar