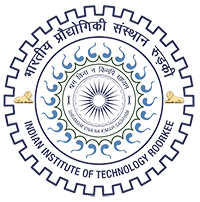 INDIAN INSTITUTE OF TECHNOLOGY, ROORKEE
Indian Institute of Technology Roorkee, Roorkee-Haridwar Highway, Roorkee, Uttarakhand – 247667
Also known as IIT Roorkee and IITR.
CONNECTIVITY (How To Reach)
Jolly Grant Airport, Dehradun
68.5 km
Indira Gandhi International Airport, Delhi
198 km
Roorkee Railway Station
3.5 km
Body
Category
Rank (Year)
Latest
Previous
International Ranking

QS World University Rankings
400 (2022)
383 (2021)
QS Asia University Rankings
103 (2021)
90 (2020)

THE World University Rankings
501–600 (2020)
401–500 (2019)
THE Asia University Rankings
83 (2020)
54 (2019)
National Ranking

NIRF Overall Rankings
7 (2021)
9 (2020)
NIRF Engineering Rankings
6 (2021)
6 (2020)

ARIIA Public Institution Rankings
8 (2019)
--
ARIIA Public Institution (Central Universities, INIs, CFTIs) Rankings
9 (2020)
--

The Week Best Technical Universities India
6 (2021)
6 (2020)
The Week Top Engineering Colleges India
5 (2021)
5 (2020)

Outlook India's Top Technical Universities
7 (2020)
--
Outlook India's Top Govt. Engineering Colleges
6 (2021)
6 (2020)

India Today Top Govt. Engineering Colleges
5 (2021)
5 (2020)
CUTOFF RANKS (OPENING & CLOSING RANKS)
| | |
| --- | --- |
| Particulars | Amount |
| Caution Money (One Time, Refundable) | ₹3,000 |
| One Time Fees | ₹5,000 |
| Tuition Fee (per Semester) | ₹1,00,000 |
| Other fees (per Semester) | ₹5,500 |
| Annual Fees | ₹750 |
| Total | ₹1,14,250 |
Particulars
Amount
Mess Caution Money (One Time, Refundable)
₹2,000
One Time Fees
₹4,000
Hostel Seat Rent (per Semester)
₹5,000
Electricity & Water charges (per Semester)
₹2,500
Other fees (per Semester)
₹9,000
Mess Advance (per Semester)
₹9,000
Total
₹32,000
Note: Due to Covid circumstances, the Mess Advance and a few components of Hostel charges totalling ₹16,500 are waived off for the students who will not be residing in the campus.
Note 2: Only ₹100 will be charged as Other fees if not availing Hostel/Mess facilities.
100% Tuition Fee waiver for SC/ST/PH students.
Full remission of the Tuition Fee for General and OBC students whose family income is less than Rs.1 lakh per annum.
Remission of 2/3rd of the Tuition Fee for General and OBC students whose family income is between Rs.1 lakh to Rs.5 lakh per annum.
Highest Package Offered (Domestic)
Rs. 80.00 Lakhs per Annum
Adloid
Agnikul Cosmos
Amagi Media Labs
Amazon
Auronova Consulting
Axtria
Axxela Advisory Services
bitFlyer
Cleartax
Deskera Systems India
Diverta (Japan)
Effiya Technologies
EXL Services
ExxonMobil
FarEye
Futures First
Gameskraft Technologies
Goldman Sachs
HSBC Technology India
ICICI Bank
Innoplexus Consulting Services
Jaguar Land Rover
Javis Technologies
Jio Platforms
JPMorgan Chase
L&T Technology Services
Merilytics
Microsoft
Navi Technologies
Nference
Oski Technology
Postdot Technologies
Robert Bosch
Squarepoint Capital (London)
SRF
Sterlite Technologies
Swiggy
Tata AIG General Insurance
Topline (Japan)
Udaan
Vedantu
Veritas Technologies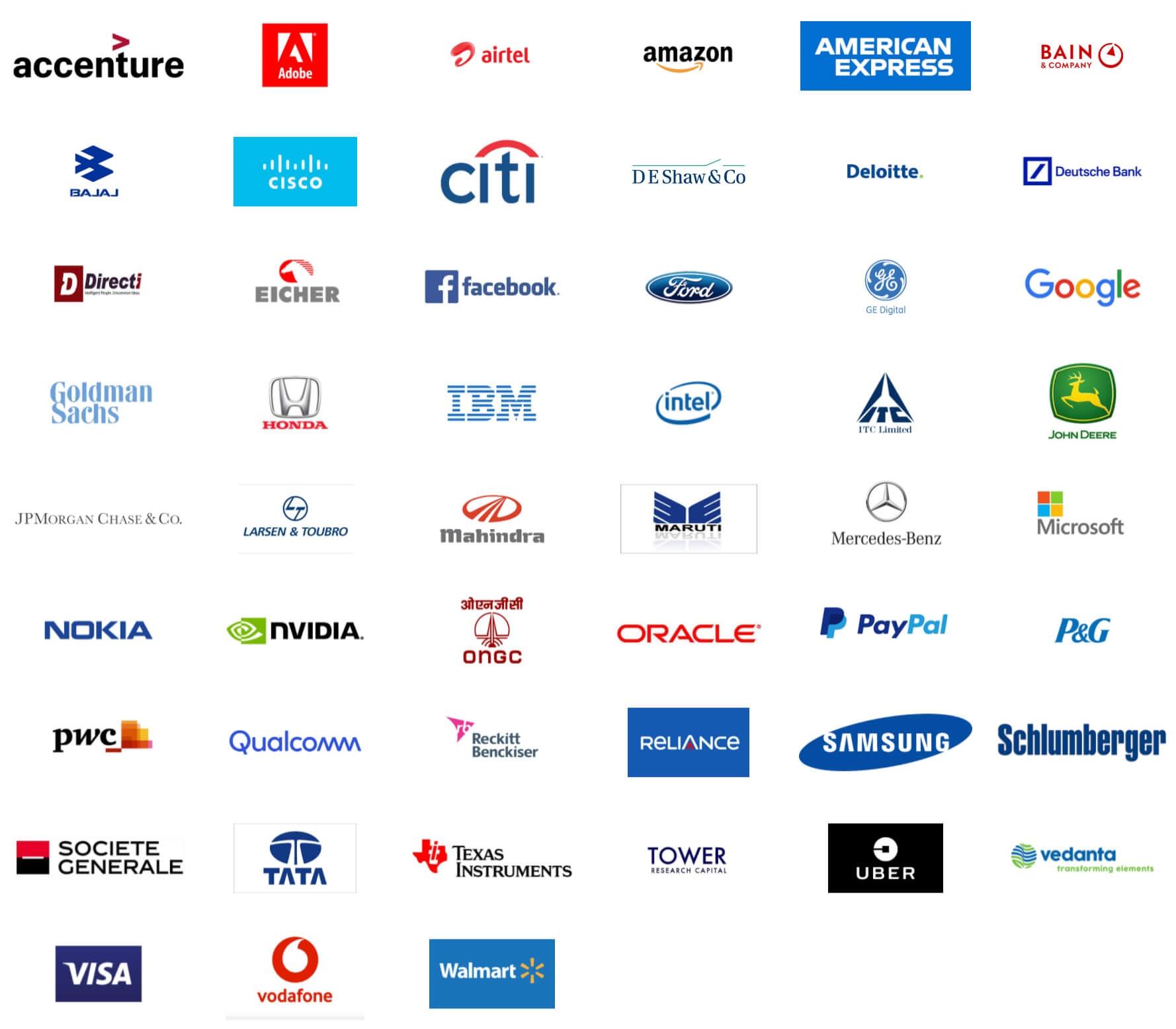 Past Recruiters
Electrical and Electronics
Analog Devices India
Bharti Airtel
Broadcom India
Cadence Design Systems
Calypto Design Systems
Eaton Technologies
Ericsson India Global Services
Finisar Malaysia
General Electric ITC
Freescale Semiconductors
L&T Power
Nvidia
Qualcomm India
Samsung
Texas Instruments India
Usha International
Analytics, Consulting and Finance
Affine Analytics Pvt. Ltd.
Barclays Capital
Construction Chemical and Energy
Boston Analytics
Capital One Services India
Citicorp Services India Limited
Deloitte Consulting India
DE. Shaw & Co.
Evalueserve
EXL Services Pvt. Ltd.
Frost and Sullivan
Futures First Info Services
Global Analytics India
Goldman Sachs
i3 Consulting Pvt. Ltd.
ICICI Bank
Indian School of Business
Indus Insights
Morgan Stanley Advantage Services Pvt. Ltd.
Mu Sigma Business Solutions
RBS Business Services
ZS Associates India Pvt. Ltd.
ASC Infratech
CBRE South Asia
Elegant Marine Services
Era Infra Engineering Limited
Essar Group India Pvt. Ltd.
Kellogg Brown & Root
National Highways Authority of India
NKG Infrastructure
Raheja Developers
Redbee Infrastructure
Risk Management solutions
Shapoorji Pallonji Engineering & Construction Pvt. Ltd.
Solutions India Pvt. Ltd.
SMEC India Pvt. Ltd.
Thornton Tomaseui
Marvel Landmark Pvt. Ltd
Advance Group
Asian Oilfild Services
Caim India
Chambal Fertilisers
Ernami Paper Mills
HPCL
Indian Oil Corporation
J.K. Paper
Mecon
MiniMill Technologies Services International
ONGC
Reliance
Schlumberger Asia Services
Shell Technology Centre
Sterling Energy
Trident Limited
Wockhardt Biotech Park
Commonfloor.com
Flipkart India Pvt. Ltd.
Gimar Software Pvt. Ltd.
CarDekho.com
Infibeam.com
Ixigo.com
Lenskart.com
MySmartPrice
Printvenue.oom
Shopclues.com
Snapdeal.com
Unbxd
Airbus Engineering Centre India
Anand Automotive Ltd.
Caterpillar India Private Limited
Coal India Ltd.
Continental India Ltd.
Eureka Forbes Ltd.
General Motors
Greaves Cotton Ltd.
Hero Motocorp Ltd.
Isgec Heavy Engineering Ltd.
ITC Ltd.
Jindal Steel & Power Limited
JK Tyre
L&T Limited
Mahindra & Mahindra Ltd.
Michelin Tyres Pvt Ltd.
Nestle India Limited
NTPC Ltd.
Relaxo Footwear Ltd.
Rio Tinto
Robert Bosch Engineering and Business Solutions
SRF Limited
Tata Motors Limited
Tata Steel
Thermax India Ltd.
Trident Group
VE Commercial Vehicles Ltd.
Yamaha India Motor Pvt. Ltd.
Accolite Software
Adobe Systems India Pvt. Ltd.
Amazon Development Center
Aspire Systems India Pvt. Ltd.
Choice Solutions Limited
Cisco Systems (India) Pvt. Ltd.
Clues Network Pvt. Ltd.
Directi
Epic
Expicient Software Pvt. Ltd.
Facebook Inc.
Google India Pvt. Ltd.
Groupon India Pvt. Ltd.
HCL Technologies Ltd.
Hewlett Packard
IBM India Pvt. Ltd.
Infosys Limited
InMobi
KLA Tencor
Microsoft Corporation
Monotype
Nagarro Software
NetApp
Oracle
PayPal/ eBay India Pvt. Ltd.
Symantec Software India Pvt. Ltd.
Transbit Global Technologies
Wipro Technologies
Wooqer
Yahoo
Zillious Solutions Pvt. Ltd.
2020
Highest Package Offered (Domestic)
Rs. 62.28 Lakhs per Annum
Highest Package Offered (International)
Rs. 1.54 crores per Annum
Amazon India Development Centre
American Express India
AppDynamics India Pvt. Ltd.
BNY Mellon Technology
Bajaj Auto
Cohesity
Goldman Sachs
Google
JPMorgan Chase & Co.
Jaguar Land Rover India Limited
Microsoft
Nutanix Technologies
Oracle
SAP Labs
Salesforce
Solar Energy Corporation of India Limited (SECI)
Sprinklr
Squarepoint Capital
Texas Instruments
Uber
2019
Highest Package Offered (Domestic)
Highest Package Offered (International)
AQR Capital Management
AppDynamics India
Caterpillar
Cisco
Citi Bank
D. E. Shaw India
Eaton
Fractal Analystics
GE
Goldman Sachs
Google
Headout
Math Works
Mercari
Microsoft
Nutanix Technologies
OYO Rooms
Oxane Partners
Paytm
Razorpay
Roposo
Sapient
Tesco
Tower Research Capital India
Uber India
Udaan
ZS Associates
2016
Highest Package Offered (Domestic)
Average Package Offered (Domestic)
2015
Rs 1.83cr offered by Oracle (Rs 80 lakh and 4,000 company stocks)