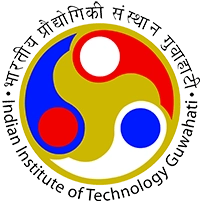 INDIAN INSTITUTE OF TECHNOLOGY, GUWAHATI
Indian Institute of Technology Guwahati, Near Doul Gobinda Road, Amingaon, North Guwahati, Guwahati, Assam – 781039
Also known as IIT Guwahati and IITG.
CONNECTIVITY (How To Reach)
Nearest Airport: Lokpriya Gopinath Bordoloi International Airport, Guwahati
Distance from Airport: 22km
Nearest Railway Station: Guwahati Junction Railway Station
Distance from Railway Station: 19km
In QS World University Rankings of 2018 : 501-550
In QS BRICS University Rankings of 2018 : 52
In QS World University Rankings of 2017 : 481-490
By NIRF in 2019 : 7
By NIRF in 2018 : 7
By India Today under Top Government Universities in 2018 : 4
By NIRF in 2017 : 7
By India Today in 2017 : 7
By India Today in 2016 : 9
By Outlook India in 2016 : 7
It is a two-step process. One needs to qualify the JEE (Main) exam and then take the JEE (Advanced) exam.
One must have secured at least 75% marks (65% for SC/ST/PwD) in Class XII OR One must be within the category-wise top 20 percentile in his/her respective Class XII board examination.
Admissions are done on the basis of rank in JEE (Advanced) through JoSAA Counselling.
| | |
| --- | --- |
| Particulars | Amount |
| Caution Money (One Time, Refundable) | ₹2,000 |
| One Time Fees | ₹5,150 |
| Tuition Fee (per Semester) | ₹1,00,000 |
| Other fees (per Semester) | ₹5,200 |
| Annual Fees | ₹1,800 |
| Total | ₹1,14,150 |
| | |
| --- | --- |
| Particulars | Amount |
| Hostel Caution Money (One Time, Refundable) | ₹4,000 |
| Mess Caution Money (One Time, Refundable) | ₹3,600 |
| One Time Fees | ₹2,900 |
| Hostel Seat Rent (per Semester) | ₹1,000 |
| Electricity & Water charges (per Semester) | ₹2,500 |
| Other fees (per Semester) | ₹3,600 |
| Mess Advance (per Semester) | ₹14,000 |
| Total | ₹31,600 |
100% Tuition Fee waiver for SC/ST/PH students.
Full remission of the Tuition Fee for General and OBC students whose family income is less than Rs.1 lakh per annum.
Remission of 2/3rd of the Tuition Fee for General and OBC students whose family income is between Rs.1 lakh to Rs.5 lakh per annum.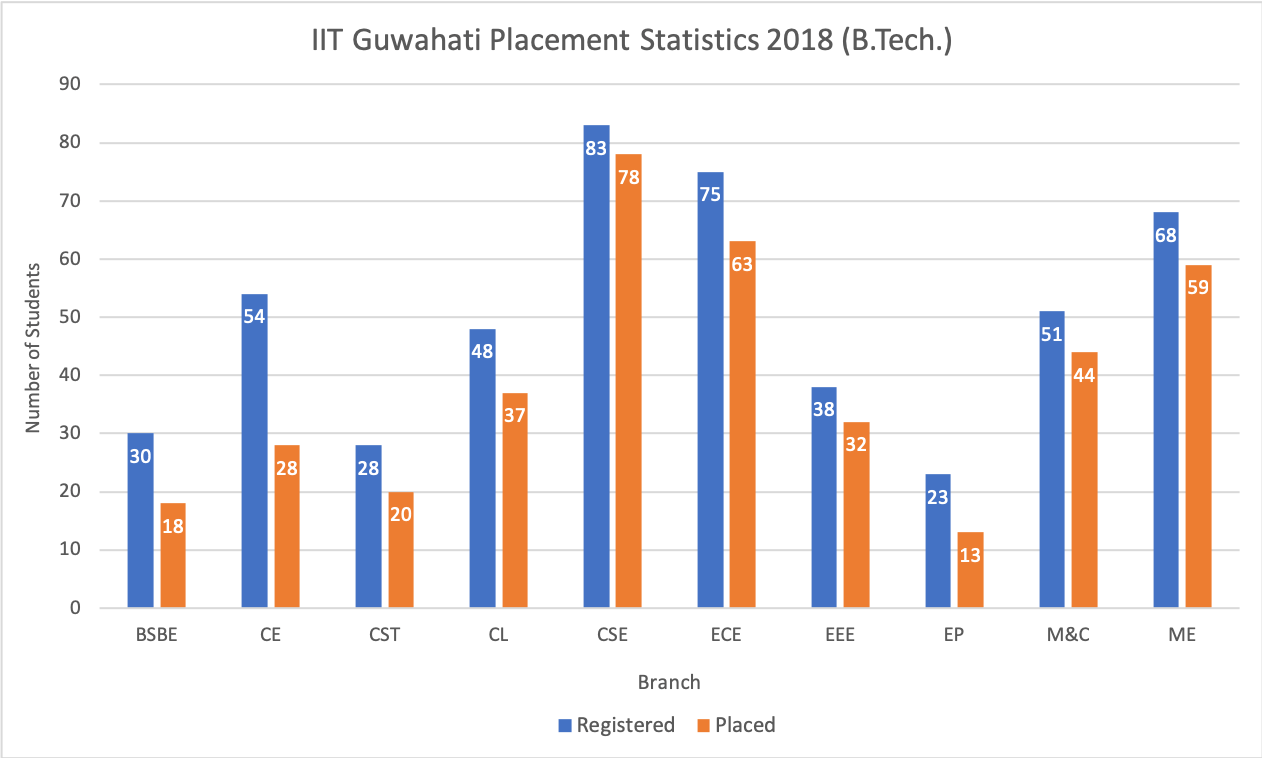 Branch
Placed(%)
B.Tech. Programmes
Biosciences and Bioengineering
60.00%
Chemical Engineering
51.85%
Chemical Science and Technology
71.43%
Civil Engineering
77.08%
Computer Science and Engineering
93.98%
Electronics and Communication Engineering
84.00%
Electronics and Electrical Engineering
84.21%
Engineering Physics
56.52%
Mathematics and Computing
86.27%
Mechanical Engineering
86.76%
B.Des. Programme
Design
92.31%
Rs. 15.59 lakhs per annum
Past Recruiters
Past Recruiters
3D Solid Compression Pvt Ltd
3DPLM Software Solutions
4am Design and Tech. Labs
64Squares
Aarvee Associates
Absolutdata
Abzooba
Accenture
AceThought Technologies
Adobe
Air Bus
Airvana Networks
Alacriti
Allseas India
Altair
Altisource Business Solutions
Amazon
American Express
Analog Devices
Analytics Quotient India Services
Ansys
ARC Document Solutions India
Arcesium
Aricent
Arista Networks
Arkitechno Consultants India
ASC Infratech
Ashok Leyland
Aspiring Minds Assessment
Assam Down Town University
Atkins India
Atomic Labs
AVA Corp
Avanti Learning Centres
Axis Bank
Axtria
Bank of America
Bank of India
Barclays
Beceem
Beehyv Software Solutions
Belzabar Software
Bentley Systems
BGR Energy Systems
BGT
Bharat Dynamics
Bharat Electronics Limited (BEL)
Bharat Heavy Electricals (BHEL)
Bharat Petroleum Corporation Ltd (BPCL)
BILT
BOC India
Bosch
Boss International
British Telecom
Broadcom
BrowserStack
Burning Glass
Busigence Technologies
Business Solutions India
Byte Consulting
C-DOT
CA Technologies
Cactus Communications
Cadila
Capgemini
Capillary Technologies
Capital IQ
CaRPM
Centre for Social Responsibility and Leadership
Centurylink Technologies
CGI group
Checktronix India Pvt Ltd
Chembiotech
Circuits
Cisco Systems
Citi Corp
Citrix R&D
Clarice Technologies
Cleartax
Coal India Ltd
Coca Cola
CodeNation
Cognizant
Comassites Software
Comezo
Conexant
Contata Solutions
Convonix
Cordys
Cosmic Circuits
Covansys
Credit Suisse
Crisil Ltd
Cubastion Consulting
Cummins
Daimler India Commercial Vehicles
Dark Horse
DE Shaw
Defence Research and Development Organization (DRDO)
Degremont
Dell
Dell-EMC
Delmia
Deloitte
Development Institute Delhi
Digital Soft.
Directi
Dolcera
Doodleblue Innovations
Dr. Reddy's Laboratories
Drisht
Ebay
EdGE Networks Pvt Ltd
EezyNaukari
Embibe
Emergent Ventures
Emmeskay
Energo India
Engineers India Ltd (EIL)
Envestnet | Yodlee
Environmental Mgmt Centre
Epaathsala
EricssonESCO Couplings & Transmission
Evalueserve
Evelyn Learning Systems
EXL
EY GDS
Facebook
Fair Isaac
FICO
Fidelity Business Services
Finisar
Firstouch (Mofirst Solutions)
Flextronics Software
Flipkart
Flipshope
Flowmaster
Fluent India
Fluidyn
Fluor Daniel
FMC Technologies
Fortitude Info Services
Fortune Cookie
Frankly.me
Futures First
G E India Technology
GAIL India
GEIPER
General Electric (GE)
Geodesic
Geometric Ltd
GGK Technologies
Global Anaytics
Global Logic
Glocal University
Godrej
Godrej Agrovet
Goldman Sachs
Google
GrabonRent
Grofers
Haldia Petrochemicals
Halftick
HCL Technologies
Headout
Headstrong
Heckyl Technologies
Hero Moto Corp
Hewlett Packard Enterprise (HPE)
Hike
Hindustan Aeronautics Limited (HAL)
Hindustan Petroleum (HPCL)
HiveMinds Innovative
HLL Lifecare
Honda Motor Co Ltd
Honeywell
Hospira Healthcare India
Housing.com (Locon Solutions)
HSBC
Huawei
Hughes Systique
Ibibo Web Pvt Ltd
IBM
Idea
IDEB Projects
IMI Mobile Pvt Ltd
Impetus Technologies
iNautix
Indiamart Intermesh
Indian Oil Corp Ltd (IOCL)
Indus Insights And Analytical Services
Induslogic (Global Logic)
Info Edge India
InfoEdge
Informatica
Infosys
InMobi
Innoplexus
Intergraph
Inzane Labs
Ircon
iRunway
Ispat Industries
ISRO
ITC
ITS Planners & Engineers
Ittiam Systems
Jindal Steel & Power (JSPL)
John Deere
Johnson Matthey
JP Morgan Chase & Co.
Jugnoo
July Systems
K L University
Kanbay
Kaziranga University
KEC International Ltd
KIIT UNIVERSITY
Kivi Capital
Kotak Securities Ltd
KPIT Technologies
L&T
L&T ECC
Leaf Technologies
Lehman Brothers
LG Electronics
Libsys
Linkedin
LNJ Bhilwara Energ
Locodel solutions (Grofers.com)
Lovely Professional University
LSI Logic
LT Construction
M M University
Mahindra & Mahindra
MakeMyTrip
Manhattan
MAQsoftwares
MathWorks
MediaTek
MEDLife
Mercedes Benz
Metlok
Mewar University
Microsoft
MindTickle
MindTree
Misys Software Solutions
MN Dastur & Co.
Moonraft
Morgan Stanley
Mphasis
Mu Sigma
Myntra
Myrefers
Nagarro Software
NALCO
National Highways Authority of India (NHAI)
NetApp
NetCracker Technology
Nevis Networks
Next Education
Nextgen Innovation Labs
nhance Engineering Solutions
Nielsen
Niki.ai
Niksun
NKG Infrastructure
NMDC Ltd
Nomura Services India
Novi Digital (Hotstar)
NowFloats
NTPC Ltd
Numaligarh Refinery Ltd (NRL)
Nutanix
Nvidia
Oceaneering International Services
Oil and Natural Gas Corp (ONGC)
Oil India
Ola ANI
OnMobile
Optiver
Oracle
Pandit Deendayal Petroleum University
Pangea3
Parimal Desai and Associates
PayPal
PayTM
PCS India Pvt Ltd
Persistent Systems
Philips
Pitney Bowes
Polaris
Power Alstom
Power Grid
PricewaterhouseCoopers (PwC)
PTC
PurpleTalk
Qualcomm
Qwest Software Telecom
RapidBizApps
Redpine Signals
Reliance Communications
Reliance Industries
Reliance Jio Infocomm
Reliance Power
RGUKT
Rivigo
Robert Bosch Engineering and Business Solutions
RockON Technologies
S N Bhobe
S S Software Solutions
S S Userworks Technologies
SAI
Samsung
SAP Labs
Sapient Corp
SAS Research & Dev Pvt Ltd
SASKEN
Satyam
SCATech
Schlumberger
Scry Analytics
Sears
Seclore
ServiceNow
SEW Construction
Sharda University
Shell Technology
Shree Cement Ltd
Sigmoid Analytics
Skiify Solutions
Smartprix
Snapdeal
SNC-Lavalin
Societe Generale
Softtech
Sokarati
Solidcore
Sony
Sourcebits Techology
Spalgo
Spectrum World
Sprinklr Solutions Pvt Ltd
ST Microeletronics
St. Joseph's University
Steel Authority of India Limited (SAIL)
Steelwedge Technologies Pvt Ltd
Sterlite Technologies
Strand Life Sciences
Strata Geosystems
Stratbeans Consulting Pvt Ltd
Streamnet
Successfactors
Sum Total Systems
Supana Chemicals
Suresh Gyan Vihar University
Surya Roshni Ltd
Symantec
Synfora
Tata Advanced Systems
Tata Consultancy Services (TCS)
Tata Consulting Engineers Ltd
Tata Motors
Tata Power
Tata Steel
Tata Technologies
Tatras Data
Technotree Converges Pvt Ltd
Techspan
Tejas Networks
Telcon
Telecom Regulatory of India
Tesco
Texas Instruments
Texity
Think 3
Thornton Tomasetti
Timetooth
Toppr.com
Tower Research Capital
TRC
TRF Ltd
Tridiagonal Solutions
Trilogy
TVS Motor Company
Uber
Unitech
United Health Group
Unmetric
Valyoo Technologies
VE Commercial Vehicles
Veritas
Verizon
Veveo
Videocon
Virtusa
Virtusa Polaris
Visa
VIT University
VitaCloud Digital Health
Vizury Interactive Solutions
VJ Coresoft
VMS Consultants
VMWare
Vodafone India
Voxta
W.S. Atkins Global
Walmart Labs
Wapcos Ltd
Wipro
WorksApp
Xerox Research Centre India
Y Media Labs
Yahoo
YASU Technologies
Yodlee
Yodlee Infotech
YUJ Designs
Zemoso
Zeus Numerix
Zostel Hospitality Pvt Ltd
ZS Associates
Zuari Agro Chemicals
2017
2017
Information currently unavailable.
2016
2016
Rs. 14.95 lakhs per annum
| | |
| --- | --- |
| Company | No. of Offers |
| Abzooba | 1 |
| Adobe Systems | 11 |
| Altair | 3 |
| Amazon | 6 |
| Anglo Eastern Ship Mgt. | 1 |
| Axtria | 9 |
| Beehyv Software | 3 |
| Book My Show (Bigtree) | 2 |
| C-DOT | 1 |
| Cadila | 2 |
| Capgemini | 2 |
| Carbon12creative | 1 |
| Cardekho (girnarsoft) | 4 |
| Cisco | 1 |
| CITIgroup | 9 |
| Citrix | 3 |
| Click Labs | 3 |
| Cognizant | 23 |
| Crisil | 1 |
| Cubical Laboratories | 4 |
| DE Shaw | 1 |
| Embibe | 1 |
| Ericsson | 2 |
| EXL Services | 12 |
| Facebook | 1 |
| FICO | 11 |
| Flipkart | 4 |
| ForteEvent Technology | 1 |
| Fractal Analytics | 1 |
| Futures First | 6 |
| General Motors | 1 |
| Goldman Sachs | 12 |
| Google-International | 1 |
| HPCL | 8 |
| HPE | 3 |
| Inautix | 3 |
| Infosys | 8 |
| InMobi | 2 |
| Innoplexus | 5 |
| Innovaccer | 1 |
| ISRO | 5 |
| Libsys | 1 |
| LinkedIN | 1 |
| LnT Construction | 6 |
| Make My Trip | 2 |
| MAQ Software | 2 |
| Microsoft-IDC | 16 |
| Microsoft-IT | 3 |
| Microsoft-Redmond | 2 |
| Mindtree | 1 |
| Myntra Designs | 1 |
| Myntra-Tech | 1 |
| Nagarro Software | 4 |
| Now Floats Technologies | 1 |
| Nutanix | 2 |
| O9 solutions | 1 |
| Oil India Ltd. | 5 |
| OLA Cabs(ANI Technologies) | 18 |
| Oracle-Premium | 2 |
| Paypal | 2 |
| Paytm | 7 |
| Persistent Systems | 1 |
| Power Grid | 1 |
| Practo | 3 |
| PSTakeCare | 3 |
| Qualcomm | 8 |
| Rapid Biz Apps | 1 |
| Reliance | 11 |
| Resultrix | 3 |
| Rivigo | 6 |
| Roadrunnr | 10 |
| Robert Bosch | 3 |
| Rockon | 5 |
| Samsung Delhi | 15 |
| Samsung R&D Bangalore | 11 |
| Samsung-Noida | 3 |
| SAP-Labs | 3 |
| Schlumberger | 1 |
| Shop101 | 2 |
| Snapdeal | 7 |
| Sprinklr | 2 |
| SRJNA | 4 |
| SSN Logistics (Delhivery) | 6 |
| Steelwedge | 5 |
| Symantec | 2 |
| Test Book | 3 |
| Texas Instrument | 4 |
| Times Internet | 4 |
| Treebo (Ruptub Solutions) | 2 |
| VE Commercial Vehicles | 2 |
| Virtusa | 6 |
| Vodafone | 1 |
| Walmart Labs | 1 |
| Wipro | 10 |
| Works Applications | 6 |
| Xerox | 1 |
| Zimply | 7 |
| ZS Associates | 3 |
2015
2015
Dell
Flipkart
Google
HP
LinkedIn
Microsoft
Oracle
ServiceNow
Snapdeal
Thornton Tomasetti
Visa Inc.
Vodafone
Walmart
2014
2014
| | |
| --- | --- |
| Highest (International) | $120,000 per annum |
| Highest (Domestic) | Rs 30 lakh per annum |
| Average | Rs 13 lakh per annum |
Dell
BSB
Capillary Technologies
Cognizant
Dell
Eaton
Flipkart
Google
HCL
Hike
com
ITC
Microsoft
Morgan Stanley
Oracle
Reliance Industries
Samsung
SAP Labs
Tata Motors
UHG
Wipro
Yodlee
ZeMoSo Labs