INDIAN INSTITUTE OF INFORMATION TECHNOLOGY, VADODARA
| | |
| --- | --- |
| Institute Name | Indian Institute of Information Technology, Vadodara |
| Also Known As | IIITV |
| Institute Type | Public–Private Partnership |
| Established | 2013 |
| Location | Vadodara, Gujarat |
IIIT Vadodara: Admission | Ranking | Fees
NEW: NIIT University B.Tech. Admissions 2021 have started, click here to apply.
NOTE: You can Subscribe to exam updates to receive all updates on your mobile for free.
Indian Institute Of Information Technology Vadodara, C/o, Block No.9 (IC Department), Government Engineering College, Sector-28, Gandhinagar, Gujarat – 382028
Also known as IIIT Vadodara and IIITV.
CONNECTIVITY (How To Reach)
Sardar Vallabhbhai Patel International Airport, Ahmedabad
24.5 km
Ahmedabad Junction Railway Station
32 km
Information currently unavailable.
| | |
| --- | --- |
| Particulars | Amount |
| Caution Money (One Time, Refundable) | ₹15,000 |
| One Time Fees | ₹5,100 |
| Tuition Fee (per Semester) | ₹77,000 |
| Hostel Charges (per Semester) | ₹22,000 |
| Other Fees (per Semester) | ₹11,250 |
| Annual Fees | ₹120 |
| Mess Advance (per Semester) | ₹16,600 |
| Total | ₹1,47,070 |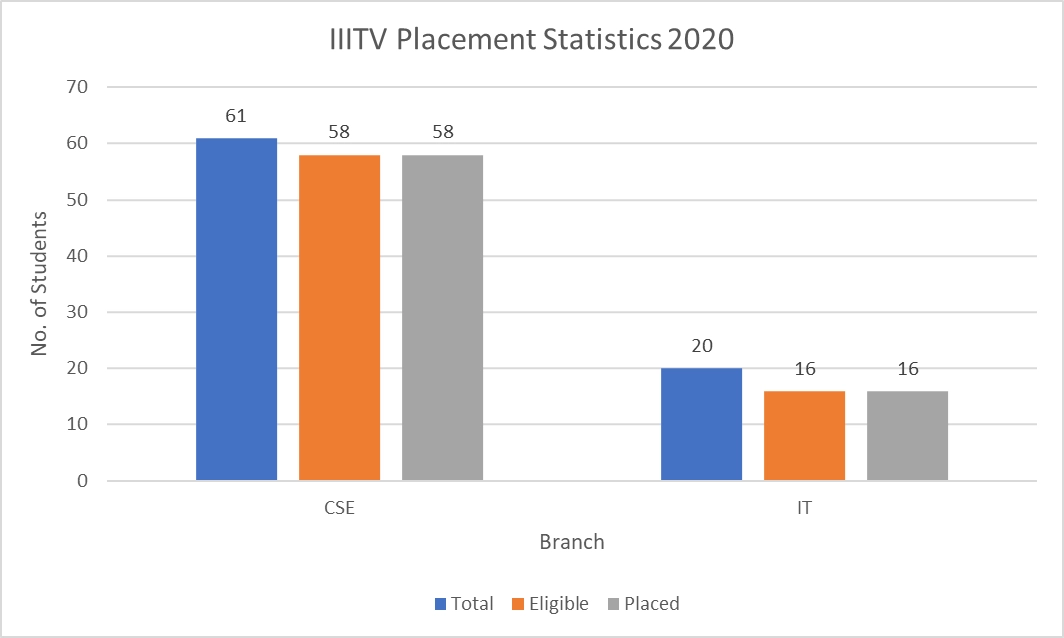 | | |
| --- | --- |
| Branch | Placed (%) |
| Computer Science and Engineering | 100.00% |
| Information Technology | 100.00% |
Rs. 13.00 Lakhs per Annum
Rs. 43.50 Lakhs per Annum
Adobe
Amazon
ICICI Bank
Mathworks
Quikr
Siemens
Sigmoid
2019
| | |
| --- | --- |
| Branch | Placed (%) |
| Computer Science and Engineering | 96.08% |
| Information Technology | 100.00% |
Rs. 15.31 Lakhs per Annum
2018
Rs. 12.64 Lakhs per Annum