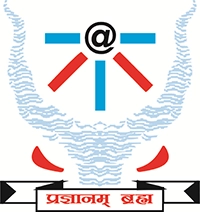 INDIAN INSTITUTE OF INFORMATION TECHNOLOGY, ALLAHABAD
Indian Institute of Information Technology, Devghat, Jhalwa, Allahabad, Uttar Pradesh – 211015
Also known as IIIT Allahabad and IIITA.
CONNECTIVITY (How To Reach)
Nearest Airport: Bamrauli  Airport, Allahabad
Distance from Airport: 6km
Nearest Railway Station: Allahabad Junction Railway Station
Distance from Railway Station: 9km
In QS BRICS University Rankings of 2018 : 125
By NIRF in 2019 : 82
By NIRF in 2018 : 90
By Outlook India in 2017 : 12
By India Today in 2017 : 11
By Outlook India in 2016 : 17
By India Today in 2016 : 19
One needs to take the JEE (Main) exam and either secure at least 75% marks (65% for SC/ST/PwD) in Class XII or be within the category-wise top 20 percentile in his/her respective Class XII board examination.
Admissions are done on the basis of rank in JEE (Main) through JoSAA Counselling and CSAB Special Round.
Particulars
Amount
One Time Fees
₹13,750
Tuition Fee (per Semester)
₹60,000
Hostel Seat Rent (per Semester)
₹6,000 (2-Seater),
₹12,000 (1-Seater)
Other Fees (per Semester)
₹3,600
Annual Fees
₹2,750
Mess Advance (per Semester)
₹12,000
Total
₹98,100
SC/ST/PwD students are exempted from payment of Tuition Fee.
Rs. 15.50 Lakhs per Annum
Rs. 39.00 Lakhs per Annum
Past Recruiters
Aakash
Accenture
Accolite
Adobe
AirTight
Amazon
AMD
Amdocs
American Express
Apigee
Aptech
Aquamarine
ArachnoMesh
Arcesium
Arista Networks
Avanti
Axtria
Barkley
BDL
Belzabar
Bharat Bhasha
Bidgely
BlackRock
BlueJeans
Bluestacks
BTU
Capgemini
Cisco Systems India 
Citi Corp
Click Lab
CMU
Codenation
Corlax
Coupon Dunia
Curofy
CXC
D.E.Shaw
DevFactory
Digital Green
Direct-i
DRDL
Edelweiss
Expedia
FactSet
Flaberry
Flipkart
Fractcal
Freescale
Frrole
Futures First
GE Digital
Geek Shastra
Germin8
Goldman Sachs
Google
Grofers
HackerRank
Hashedin
HCL-CDC
HealthKart
HeroMoto
Hike
Holidify
Housing
HT Media
IBM
Icon Resources
Incture Technology
Info Edge
Infosys
Infurnia Furnishings 
Inmobi
ION Trading
Ittiam
IVP
JDA
Jigserv
Juniper
KPMG
Kritikal
Kronos
Kuliza
LeafAir
Linkedin
Mahindra Comviva
Make My Trip
MAQ Software
Microsoft
MoonFrog
Morgan Stanley
Mu Sigma
Must See India
Myntra
Nagarro Softwares
National Instruments
Naukri.com
NEC Tech
NeoGrowth
Newgen
Niki.ai (Techbins)
Nucleas Software
Nvidia
OFSS
OkuTech
Online Tyari
Oxigen
PagalGuy
Pay U
Paytm
Polaris
Power2SME
Practo
Proptiger
Qualcomm
Quantium
Qubole
RB
RBS
Routofy
Samsung
SAP Labs
Sapient Nitro
Shimply
Shopclues
Smartpix
Snapdeal
SportsWave
Streamoid
Success Factors
Sutra
Sutra Analytics
Swiggy
TCS
Tech Racers
Tesco
Thorogood
Times Internet
Tiny Owl
Toppr
Unbxd
Urbanrestro
Vassar Labs
Verizon
Vitara
VIZ
Walmart Labs
WhistleApp
Wipro
WorksApp
Wrigg
Yodlee
Zendrive
Zomato
Zoomcar
ZopHop
Zopnow
ZS
ZScalar
2018
| | |
| --- | --- |
| Company | No. of Offers |
| Amazon | 13 |
| Arcesium | 1 |
| Arista Networks | 5 |
| Capegemini | 5 |
| Cisco | 5 |
| CitiCorp | 6 |
| Delhivery | 2 |
| Deutsche Bank | 7 |
| Digital Green | 2 |
| Directi (Application) | 3 |
| Edelweiss | 2 |
| Fastfox.com | 2 |
| Fidelity Investments | 7 |
| Flipkart | 2 |
| GE Digital | 1 |
| Goldman Sachs | 7 |
| Google | 1 |
| Happay | 6 |
| Hashedin | 5 |
| Hike | 2 |
| Icon Resources | 1 |
| Infoedge | 5 |
| Infosys | 3 |
| Infosys(R&D) | 3 |
| Infozech | 2 |
| ION | 2 |
| JDA | 3 |
| Kronos | 2 |
| Linkedin | 3 |
| Mahindra | 1 |
| MAQ | 3 |
| Microsoft IDC | 3 |
| Mobikwik | 2 |
| Morgan Stanley | 7 |
| Newgen | 3 |
| Nucleus | 4 |
| OneAssist | 3 |
| Paytm | 5 |
| Qualcomm (Hardware) | 9 |
| RBS | 4 |
| Sabre | 6 |
| Samsung Delhi | 39 |
| SAP Labs | 2 |
| Shopclues | 1 |
| Sumologic | 2 |
| TCS | 3 |
| Telstra | 1 |
| Tesco | 2 |
| Treebo | 3 |
| UBS | 9 |
| Valuefy | 4 |
| Vassar Labs | 1 |
| Vehant | 2 |
| Walmart Labs | 3 |
| Wipro | 3 |
| Yatra | 4 |
| ZS Associates | 3 |
Rs. 13.25 Lakhs per Annum
Rs. 36.00 Lakhs per Annum
2017
| | |
| --- | --- |
| Company | No. of Offers |
| Adobe | 3 |
| Amazon | 3 |
| Arcesium | 1 |
| Arista Networks | 1 |
| Bluestacks | 2 |
| Capgemini | 5 |
| Cisco | 5 |
| CitiCorp | 6 |
| Codenation | 3 |
| Deshaw | 1 |
| Directi | 6 |
| Edelwesis | 5 |
| Expedia | 3 |
| Freescale | 1 |
| GE Digital | 6 |
| Goldman Sachs | 2 |
| Hackerrank | 1 |
| Hike | 4 |
| IBM | 7 |
| Icon Resources | 1 |
| Incture | 3 |
| Infosys | 13 |
| Infurnia | 5 |
| ION Trading | 2 |
| JDA | 2 |
| Jigsery | 1 |
| Juniper | 4 |
| Kronos | 3 |
| Linkedin | 2 |
| Mahindra | 3 |
| MakemyTrip | 3 |
| MAQ | 2 |
| Microsoft | 5 |
| Moonfrog | 3 |
| Morgan Stanley | 10 |
| Nagarro | 2 |
| NeoGrowth | 2 |
| Newgen | 1 |
| OFSS | 4 |
| Okutech | 4 |
| Proptiger | 2 |
| Qualcomm | 8 |
| RBS | 5 |
| Samsung | 18 |
| Samsung Delhi | 13 |
| Samsung Noida | 17 |
| SAP Labs | 3 |
| Sapient | 4 |
| Shopclues | 3 |
| Smartprix | 1 |
| Streamoid | 2 |
| Sutra | 4 |
| Swiggy | 7 |
| TCS | 8 |
| TCS CTO | 1 |
| TechRacers | 1 |
| Times Internet | 2 |
| VassarLabs | 2 |
| Verizon | 1 |
| Walmart | 8 |
| Wipro | 7 |
| Worksapp | 1 |
| Wrig | 1 |
| Yoddle | 1 |
| Zendrive | 1 |
| Zomato | 3 |
| ZS | 5 |
2016
| | |
| --- | --- |
| Company | No. of Offers |
| Accenture | 61 |
| Accolite | 3 |
| Adobe | 2 |
| Amazon | 6 |
| American Express | 1 |
| Arista | 6 |
| Axtria | 4 |
| Barkley | 1 |
| Cisco Systems India Pvt. Ltd. | 2 |
| Citi Corp | 9 |
| Click Lab | 2 |
| Coupon Dunia | 1 |
| D.E.Shaw | 3 |
| Digital Green | 1 |
| DirectI | 9 |
| EXL | 4 |
| Expedia | 4 |
| Flipkart | 5 |
| Freescale | 2 |
| Goldman Sachs | 4 |
| Google | 2 |
| Grey Orange | 3 |
| Grofers | 7 |
| Hashedin | 3 |
| Hike | 5 |
| Housing | 2 |
| HT Media | 5 |
| IBM | 7 |
| Icon Resources | 1 |
| Incture Technology | 5 |
| Infosys | 15 |
| Infurnia Furnishings Pvt. Ltd. | 6 |
| Inmobi | 2 |
| KMPG | 4 |
| Kritikal | 2 |
| Kronos | 5 |
| Kuliza | 3 |
| Linkedin | 1 |
| Mahindra Comviva | 8 |
| Microsoft | 10 |
| Morgan Stanley | 6 |
| Nagaro | 3 |
| Naukri.com | 7 |
| Niki.ai (Techbins) | 1 |
| OFSS | 7 |
| OkuTech | 1 |
| Online Tyari | 4 |
| Pay U | 5 |
| Paytm | 1 |
| Polaris | 4 |
| Power2SME | 3 |
| Practo | 9 |
| Qualcom | 2 |
| RBS | 2 |
| Routofy | 5 |
| Samsung | 13 |
| SAP Labs | 6 |
| Sapient Nitro | 5 |
| Sigmoid | 2 |
| TCS | 7 |
| Tiny Owl | 2 |
| Urbanrestro | 1 |
| Verizon | 3 |
| Walmart | 15 |
| Zopnow | 8 |
| ZS | 4 |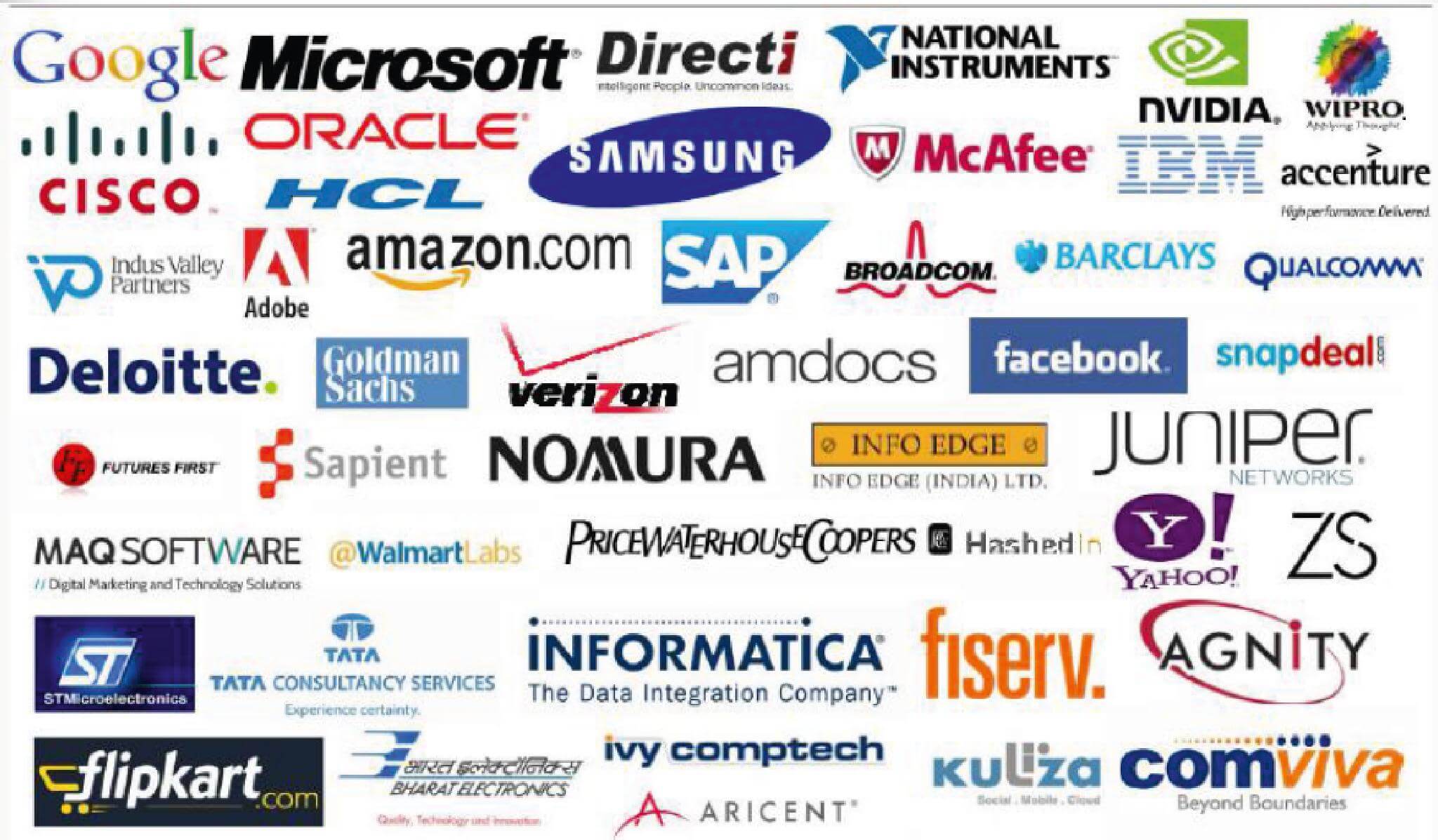 2015
Accenture
Accolite
Adobe
Amazon
Apigee
Arista
Avanti
Belzabar
Blackrock
Bluejeans
Btu
Cisco
Citi
CMU
CXC
D. E. Shaw
DevFactory
Directi
EXL
Factset
Flipkart
Fractal
Freescale
Futures First
Germany
Google
Hashedin
Healthkart
Heromoto
Hidden Reflex
Hike
HT Media
IBM
Infoedge
Infosys
Infurnia
Jigserv
Jobtessio
Juniper
Kritikal
Kuliza
Leafair
MAQ
Morgan Stanley
Mu Sigma
Mydeals 24X7
Myntra
Nagarro
NEC Tech
Nucleus Software
OFSS
Pagalguy
Payu
Qualcomm
RB
RBS
SAP labs
Sapient Nitro
Sigmoid
Success Factors
TCS
Tesco
Thorogood
Valuefy
Verizon
Viz
Walmart
Whistleapp
Xpedia
Zophop
ZS