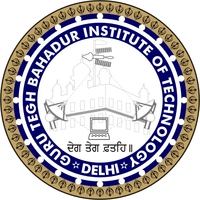 GURU TEGH BAHADUR INSTITUTE OF TECHNOLOGY, DELHI
Guru Tegh Bahadur Institute of Technology, G-8 Area, Rajouri Garden, New Delhi – 110064
Also known as GTBIT Delhi.
CONNECTIVITY (How To Reach)
Airport
Railway Station
Metro
Nearest Airport: Indira Gandhi International Airport, Delhi
Distance from Airport: 11km
Nearest Railway Station: New Delhi Railway Station
Distance from Railway Station: 18km
Nearest Metro Station : Tagore Garden
Take a rickshaw from Tagore Garden station to 'Swarg Ashram'.
One needs to take the IPU-CET exam.
One also needs to secure at least 55% marks in Physics, Chemistry and Mathematics in Class XII provided the candidate has passed in each subject separately. Candidate must additionally have passed English as a subject of study in the qualifying examination.
Admissions are done on the basis of rank in IPU-CET through GGSIPU Counselling.
Affiliated to Guru Gobind Singh Indraprastha University (GGSIPU), Delhi.
| | |
| --- | --- |
| Particulars | Amount |
| Caution Money (One Time, Refundable) | ₹5,000 |
| Tuition Fee (per Year) | ₹88,500 |
| University Fees (per Year) | ₹12,000 |
| Student Activity Fees (per Year) | ₹1,000 |
| Total | ₹1,06,500 |
2017
2017
Information currently unavailable.
2016
2016
| | |
| --- | --- |
| Company | No. of Offers |
| Amazon | 5 |
| BookMyShow | 1 |
| Bulls-Eye | 3 |
| Capgemini | 22 |
| Code brew | 5 |
| Compare infobase | 1 |
| Compro | 1 |
| Consultadd | 3 |
| CSC | 32 |
| Emicon | 4 |
| Ericsson | 70 |
| Finoit | 4 |
| Focus academy | 4 |
| Futuronix | 4 |
| HCL | 31 |
| Healthian | 3 |
| Hewelett packard | 1 |
| Hitachi | 5 |
| Humara Labs | 3 |
| India Mart | 1 |
| Indus Tower | 1 |
| Infosys | 43 |
| Just dial | 5 |
| Lakshya | 1 |
| Nagarro | 1 |
| NIIT | 2 |
| Nucleus software | 17 |
| Posist | 3 |
| Samsung | 3 |
| Samsung R&D | 4 |
| Sapient | 9 |
| SAP Labs | 8 |
| Sopra | 4 |
| Taulabs | 2 |
| TCS | 7 |
| Think&learn | 2 |
| Trigent | 1 |
| Virtusa | 5 |
| Wemitted | 2 |
| | |
| --- | --- |
| Company | CTC (in LPA) |
| Amazon | 3.65 |
| BookMyShow | 6 |
| Bulls-Eye | 3.0 – 4.0 |
| Capgemini | 3.15 |
| Code brew | 2.5 – 4.5 |
| Compare infobase | 2.6 |
| Compro | 5.3 |
| Consultadd | 3.25 |
| CSC | 3.45 |
| Emicon | 2.5 |
| Ericsson | 3.75 |
| Finoit | 2.4 |
| Focus academy | 2.64 |
| Futuronix | 2.24 |
| HCL | 2.75 |
| Healthian | 3 |
| Hewelett packard | 4.6 |
| Hitachi | 4.25 |
| Humara Labs | 3 |
| India Mart | 3.36 |
| Indus Tower | 2.5 |
| Infosys | 3.25 |
| Just dial | 3.6 – 6 |
| Lakshya | 2.4 |
| Nagarro | 3.5 |
| NIIT | 3.2 |
| Nucleus software | 4 |
| Posist | 3 |
| Samsung | 2.78 |
| Samsung R&D | 4 |
| Sapient | 4.5 |
| SAP Labs | 3 |
| Sopra | 3.5 |
| Taulabs | 3.4 |
| TCS | 3.2 |
| Think&learn | 6 |
| Trigent | 2.5 |
| Virtusa | 3 |
| Wemitted | 2 |
2015
2015
| | |
| --- | --- |
| Company | No. of Offers |
| Acura | 2 |
| Aricent | 72 |
| Compro | 2 |
| CSC | 42 |
| Genpact | 12 |
| HCL | 37 |
| Hexawere Tech. | 1 |
| Hitachi | 2 |
| Industry Buying | 2 |
| Infosys | 191 |
| L & T | 2 |
| Mphasis | 4 |
| Nagarro | 2 |
| Optimus | 2 |
| Sap Labs | 3 |
| Sapient | 7 |
| Standard Chartered | 25 |
| Techblue | 9 |
| UNISYS | 4 |
| Virtusa | 11 |
| XL Dynamics | 1 |
| Total | 433 |