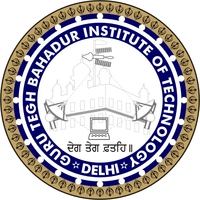 GURU TEGH BAHADUR INSTITUTE OF TECHNOLOGY, DELHI
| | |
| --- | --- |
| Institute Name | Guru Tegh Bahadur Institute of Technology, Delhi |
| Also Known As | GTBIT Delhi |
| Institute Type | Private |
| Established | 1999 |
| Location | New Delhi, Delhi |
GTBIT Delhi: Admission | Ranking | Fees
NEW: Applications for Phase I of B.Tech Admissions at Amrita Vishwa Vidyapeetham close on April 15. Ranked 4th best University by NIRF 2020. Click here to apply.
NEW: Last Date for Shiv Nadar University B.Tech. Admissions 2021 extended to April 25. Click here to apply.
NOTE: You can Subscribe to exam updates to receive all updates on your mobile for free.
Guru Tegh Bahadur Institute of Technology, G-8 Area, Rajouri Garden, New Delhi – 110064
Also known as GTBIT Delhi.
CONNECTIVITY (How To Reach)
Indira Gandhi International Airport, Delhi
18 km
New Delhi Railway Station
13.5 km
Hazrat Nizamuddin Railway Station
23 km
Anand Vihar Terminal Railway Station
34.5 km
Information currently unavailable.
One needs to take the JEE (Main) exam and secure at least 55% marks in Physics, Chemistry and Mathematics in Class XII provided the candidate has passed in each subject separately.
Candidate must additionally have passed English as a subject of study in the qualifying examination.
Admissions are done on the basis of rank in JEE (Main) through GGSIPU Counselling.
Affiliated to Guru Gobind Singh Indraprastha University (GGSIPU), Delhi.
| | |
| --- | --- |
| Particulars | Amount |
| Caution Money (One Time, Refundable) | ₹5,000 |
| One Time Fees | ₹6,100 |
| Tuition Fee (per Year) | ₹97,800 |
| University Fees | ₹12,000 |
| Student Activity Fees (per Year) | ₹1,000 |
| Total | ₹1,21,900 |
2019
Rs. 28.50 lakhs per annum offered to 3 students by Amazon
Rs. 22.00 lakhs per annum offered to 3 students by GeekyAnts
Rs. 12.00 lakhs per annum offered to 1 student by Zomato
Rs. 10.50 lakhs per annum offered to 1 student by Addverb
Rs. 10.00 lakhs per annum offered to 1 student by Traveloka
Rs. 10.00 lakhs per annum offered to 2 students by Paytm
Rs. 10.00 lakhs per annum offered to 1 student by Byju's
| | | |
| --- | --- | --- |
| Company Name | No. of Offers | CTC Offered (in LPA) |
| 3i Consulting | 1 | 5.50 |
| Accenture | 4 | 3.50 |
| Addverb | 1 | 10.50 |
| Altran | 2 | 3.50 |
| Amazon | 3 | 28.50 |
| Amdocs | 2 | 3.85 |
| American Express | 2 | 8.10 |
| Aptean | 1 | 5.94 |
| Aspiring Minds | 1 | 4.00 – 5.00 |
| Authbridge | 2 | 2.20 |
| Avissol | 1 | 3.00 – 5.00 |
| AVL | 1 | 3.00 |
| Babel Media | 1 | 2.16 |
| Bharti Airtel | 1 | 2.60 |
| Birchstreet | 1 | 2.75 |
| Bravura | 9 | 4.00 – 5.00 |
| Byju's | 1 | 10.00 |
| Capital Trust | 1 | 3.60 |
| Cashkaro | 1 | 3.50 |
| Centilytics | 1 | 3.12 |
| Chai Point | 1 | 6.00 |
| Cheggs | 32 | 3.60 – 9.60 |
| Claritus Consulting | 1 | 2.80 – 3.00 |
| Cognixia | 1 | 1.89 |
| Cognizant | 17 | 3.80 |
| Collegedunia | 1 | 3.14 |
| Compro | 2 | 5.30 |
| Daffodil | 2 | 3.00 |
| Devkraft Technologies | 1 | 4.20 |
| Digilicious | 1 | 3.00 |
| Dignitas Digital | 1 | 3.00 |
| E2E | 2 | 2.50 – 3.00 |
| Edwisor | 2 | 3.50 |
| Effectual | 1 | 3.00 |
| Emerson | 1 | 4.00 |
| Ericsson | 57 | 3.50 |
| E-Solz | 1 | 2.52 |
| Extramarks | 7 | 3.00 |
| EY | 1 | 3.33 |
| Fareye | 1 | 3.60 |
| FIS | 1 | 3.30 |
| G-Cube | 14 | 3.50 |
| GeekyAnts | 3 | 22.00 |
| Gemini Solutions | 1 | 5.70 |
| Genesis Ray Energy | 1 | 6.20 |
| Hello Parent | 5 | 4.00 |
| Hexaware | 8 | 3.00 |
| HPE | 3 | 5.00 |
| HSBC | 2 | 7.00 |
| IHS Markit | 6 | 5.95 |
| Indian Railways | 1 | 5.14 |
| Indus Valley | 1 | 3.80 |
| Infosys | 85 | 3.76 |
| Juspay | 1 | 8.00 |
| Keywest Networks | 2 | 4.25 |
| KPMG | 1 | 3.50 |
| Magic Software | 1 | 2.40 |
| Merino Services | 1 | 2.20 |
| Mount Blue | 2 | 3.62 |
| Moveinsync | 1 | 7.00 |
| Multiverse Solutions | 1 | 2.60 |
| Newgen Software | 25 | 4.25 |
| NTT Data | 5 | 3.50 |
| Nurtr | 1 | 3.60 |
| NW Overseas | 1 | 2.50 |
| Ongraph Technologies | 1 | 2.20 |
| Onkar Impex | 1 | 9.50 |
| OpenText | 3 | 6.80 |
| Optiohoenix Xperts | 1 | 3.75 |
| Paytm | 2 | 10.00 |
| Polestar | 2 | 3.47 |
| Posist | 1 | 8.50 |
| Progressive Infotech | 2 | 5.50 |
| Publicis Media | 1 | 3.50 |
| Publicis Sapient | 1 | 5.00 |
| Quovantis | 5 | 4.00 |
| Retranz Infolabs | 1 | 5.15 |
| Rooter Technologies | 1 | 7.00 |
| RTDS Technologies | 1 | 3.50 |
| Rusk Media | 1 | 4.00 |
| Savantis | 1 | 2.20 |
| Sendinblue | 1 | 8.00 |
| SIEC | 5 | 3.00 – 4.00 |
| Socially Flipped | 1 | 3.60 |
| Sopra | 14 | 4.00 |
| Squareboat Solutions | 1 | 4.20 |
| Successive Technologies | 1 | 3.00 |
| Survey2Connect | 1 | 4.20 |
| TCS | 41 | 3.36 |
| Tech Mahindra | 3 | 2.34 |
| Ten Times | 1 | 3.00 |
| Thinksys Software | 1 | 2.64 |
| To The New | 16 | 3.00 – 6.00 |
| Traveloka | 1 | 10.00 |
| Treco Technologies | 1 | 2.56 |
| TT Consultants | 1 | 3.00 |
| Uber India | 1 | 2.16 |
| UHG | 4 | 6.50 |
| Unilodgers | 1 | 8.00 |
| Untrodden Lab | 2 | 4.00 |
| Velocity | 2 | 2.50 – 2.80 |
| Vivo Collaboration | 5 | 2.40 |
| Vivo Mobile India | 1 | 3.60 |
| Vserv Business Solutions | 1 | 3.50 |
| Webkul | 10 | 3.20 |
| Webmobrill | 1 | 3.00 |
| Wipro | 61 | 3.25 |
| WNS Global Services | 1 | 3.50 |
| Xuark Technologies | 1 | 2.50 |
| Z1 Media | 1 | 4.50 |
| Zomato | 1 | 12.00 |
| ZS Associates | 1 | 7.65 |
| Zvky Design Studio | 1 | 4.00 |
2018
| | | |
| --- | --- | --- |
| Company Name | No. of Offers | CTC Offered (in LPA) |
| Aczed | 2 | 3.50 |
| Appcino | 2 | 2.40 |
| Bravura | 4 | 4.50 |
| Clearpath Technology | 2 | 1.80 |
| Click Labs | 1 | 3.00 |
| Club Resorto | 1 | 2.00 |
| Cognixia | 1 | 3.00 |
| Compro | 1 | 3.50 |
| Cvent | 2 | 4.00 |
| Drishti Soft | 1 | 6.60 |
| DWAO | 4 | 2.40 |
| DXC | 20 | 3.50 |
| Ericsson | 21 | 3.50 |
| Fiserv | 10 | 3.00 |
| GDI | 1 | 2.55 |
| Grid Infocom | 1 | 2.40 |
| HCL | 46 | 3.50 |
| Hewlett Packard | 1 | 5.00 |
| HSBC | 2 | 12.00 |
| IndiaMart | 5 | 3.00 |
| Infosys | 57 | 3.25 |
| Just Dial | 5 | 3.00 |
| MAQ Software | 2 | 5.00 |
| Meyer Houseware | 1 | 3.50 |
| Nagarro | 2 | 5.30 |
| Newgen Software | 12 | 4.25 |
| Posist | 1 | 6.00 |
| Prolific | 6 | 3.20 |
| Rivigo | 2 | 3.00 |
| SAP Labs | 1 | 3.00 |
| SM Creative | 1 | 1.92 |
| Sopra | 8 | 4.00 |
| TechAspect | 9 | 4.50 |
| Think & Learn | 3 | 9.00 |
| Times Internet | 5 | 3.00 |
| Urban Clap | 8 | 4.00 |
| Value Prospect | 3 | 2.80 |
| Zopper | 5 | 8.00 |
2016
| | |
| --- | --- |
| Company | No. of Offers |
| Amazon | 5 |
| BookMyShow | 1 |
| Bulls-Eye | 3 |
| Capgemini | 22 |
| Code brew | 5 |
| Compare infobase | 1 |
| Compro | 1 |
| Consultadd | 3 |
| CSC | 32 |
| Emicon | 4 |
| Ericsson | 70 |
| Finoit | 4 |
| Focus academy | 4 |
| Futuronix | 4 |
| HCL | 31 |
| Healthian | 3 |
| Hewelett packard | 1 |
| Hitachi | 5 |
| Humara Labs | 3 |
| India Mart | 1 |
| Indus Tower | 1 |
| Infosys | 43 |
| Just dial | 5 |
| Lakshya | 1 |
| Nagarro | 1 |
| NIIT | 2 |
| Nucleus software | 17 |
| Posist | 3 |
| Samsung | 3 |
| Samsung R&D | 4 |
| Sapient | 9 |
| SAP Labs | 8 |
| Sopra | 4 |
| Taulabs | 2 |
| TCS | 7 |
| Think&learn | 2 |
| Trigent | 1 |
| Virtusa | 5 |
| Wemitted | 2 |
| | |
| --- | --- |
| Company | CTC (in LPA) |
| Amazon | 3.65 |
| BookMyShow | 6 |
| Bulls-Eye | 3.0 – 4.0 |
| Capgemini | 3.15 |
| Code brew | 2.5 – 4.5 |
| Compare infobase | 2.6 |
| Compro | 5.3 |
| Consultadd | 3.25 |
| CSC | 3.45 |
| Emicon | 2.5 |
| Ericsson | 3.75 |
| Finoit | 2.4 |
| Focus academy | 2.64 |
| Futuronix | 2.24 |
| HCL | 2.75 |
| Healthian | 3 |
| Hewelett packard | 4.6 |
| Hitachi | 4.25 |
| Humara Labs | 3 |
| India Mart | 3.36 |
| Indus Tower | 2.5 |
| Infosys | 3.25 |
| Just dial | 3.6 – 6 |
| Lakshya | 2.4 |
| Nagarro | 3.5 |
| NIIT | 3.2 |
| Nucleus software | 4 |
| Posist | 3 |
| Samsung | 2.78 |
| Samsung R&D | 4 |
| Sapient | 4.5 |
| SAP Labs | 3 |
| Sopra | 3.5 |
| Taulabs | 3.4 |
| TCS | 3.2 |
| Think&learn | 6 |
| Trigent | 2.5 |
| Virtusa | 3 |
| Wemitted | 2 |
2015
| | |
| --- | --- |
| Company | No. of Offers |
| Acura | 2 |
| Aricent | 72 |
| Compro | 2 |
| CSC | 42 |
| Genpact | 12 |
| HCL | 37 |
| Hexawere Tech. | 1 |
| Hitachi | 2 |
| Industry Buying | 2 |
| Infosys | 191 |
| L & T | 2 |
| Mphasis | 4 |
| Nagarro | 2 |
| Optimus | 2 |
| Sap Labs | 3 |
| Sapient | 7 |
| Standard Chartered | 25 |
| Techblue | 9 |
| UNISYS | 4 |
| Virtusa | 11 |
| XL Dynamics | 1 |
| Total | 433 |