GOVERNMENT ENGINEERING COLLEGE, THRISSUR
Government Engineering College Thrissur (formerly Government Engineering College Trichur), Thrissur, Kerala – 680009
Also known as Government Engineering College Thrissur, Government Engineering College Trichur, GEC Trichur and GEC Thrissur.
CONNECTIVITY (How To Reach)
Nearest Airport: Cochin International Airport
Distance from Airport: 56.5km
Nearest Railway Station: Thrissur Railway Station
Distance from Railway Station: 7km
Information currently unavailable.
Admissions are done on the basis of rank in KEAM through KEAM Counselling.
Affiliated to APJ Abdul Kalam Technological University (formerly Kerala Technological University).
CUTOFF RANKS (OPENING & CLOSING RANKS)
| | |
| --- | --- |
| Particulars | Amount |
| Course Fee (per Year) | ₹8,225 |
Information currently unavailable.
Rs. 17.00 Lakhs per Annum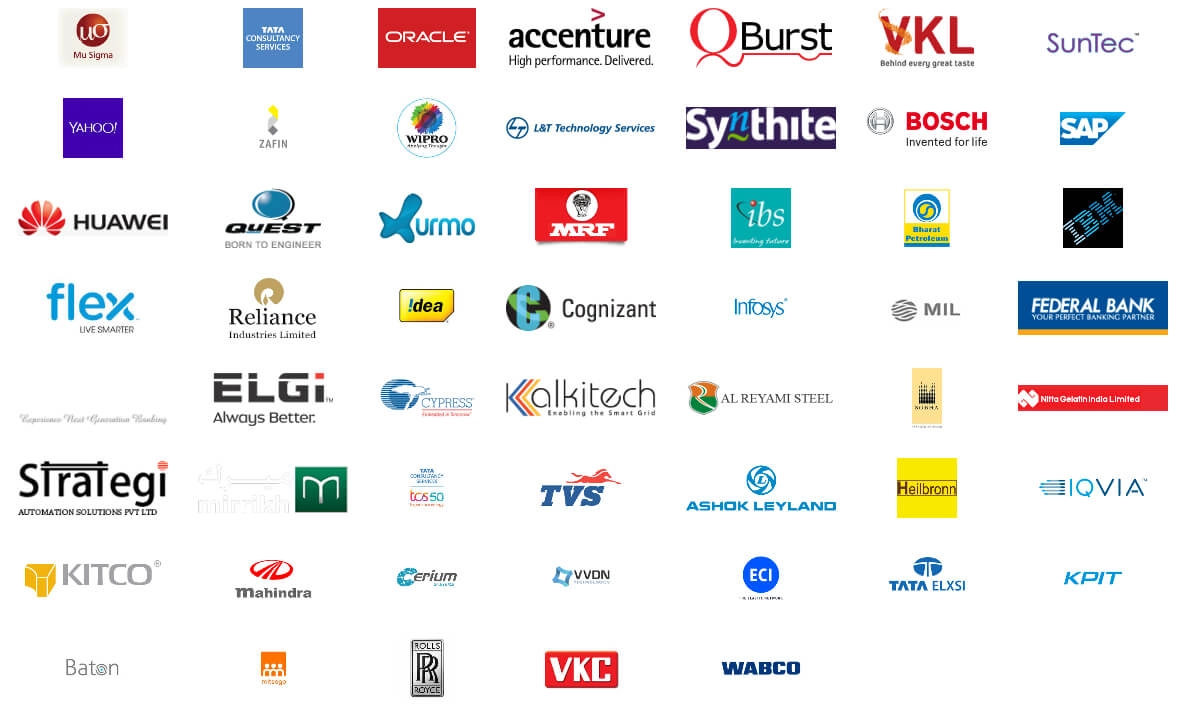 2018
| | |
| --- | --- |
| Company | No. of Offers |
| BPCL | 3 |
| Cerium Systems | 5 |
| ECI Telecom | 1 |
| Envestnet | 1 |
| EY | 5 |
| Federal Bank | 4 |
| Fleet Management | 6 |
| GES Infotek | 1 |
| Infosys | 2 |
| Kitco | 3 |
| MRF | 9 |
| Nissan Digital | 1 |
| Nitta Gelatin | 5 |
| OFSS | 11 |
| Oracle Apps | 4 |
| Petrocil | 3 |
| Petronet LNG | 4 |
| Predmac | 1 |
| Qburst | 6 |
| Quest Global | 6 |
| Reliance | 5 |
| South Indian Bank | 5 |
| SpellSecurity | 4 |
| Sundaram Clayton | 2 |
| Tata Elxsi | 10 |
| TCS | 100 |
| TVS Fasteners | 1 |
| VKC | 6 |
| Wipro | 7 |
2017
| | |
| --- | --- |
| Company | No. of Offers |
| Accenture | 110 |
| Apollo Tyres | 2 |
| BLP | 3 |
| BPCL | 12 |
| Envestnet | 5 |
| Federal Bank | 4 |
| Fleet Management | 3 |
| Huawei | 1 |
| L&T Infotech | 2 |
| MRF | 6 |
| OFSS | 23 |
| Oracle Apps | 3 |
| Quest Global | 12 |
| RCKR | 3 |
| Reliance | 5 |
| RMC | 1 |
| Rolls Royce | 2 |
| Suntec | 1 |
| Sutherland | 18 |
| TCS | 116 |
| TCS DESS | 1 |
| Teknowmics | 2 |
| VKL | 1 |
| Wipro | 14 |
| Zafin | 3 |
2016
| | |
| --- | --- |
| Company | No. of Offers |
| Accenture | 153 |
| Bosch | 13 |
| Huawei | 4 |
| Kitco | 5 |
| L&T Technology Services | 2 |
| MIL | 3 |
| MRF | 1 |
| Mu-Sigma | 11 |
| OFSS | 6 |
| Oracle Apps | 5 |
| QBurst | 11 |
| Quest Global | 2 |
| RCKR | 1 |
| Reliance Industries | 8 |
| SAP Labs | 1 |
| SunTec | 3 |
| Sutherland | 38 |
| Syngene | 5 |
| Synthite | 1 |
| Tata Elxsi | 19 |
| TCS | 202 |
| UST Global | 25 |
| VKL | 2 |
| Wipro | 7 |
| Xurmo | 5 |
| Yahoo | 4 |
| Zafin | 8 |