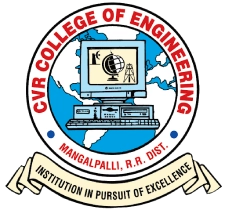 CVR COLLEGE OF ENGINEERING, IBRAHIMPATNAM
CVR College Of Engineering, Vastunagar, Mangalpalli (V), Ibrahimpatnam (M), Rangareddy (D), Telangana – 501510
Also known as CVR College of Engineering Ibrahimpatnam, CVR College of Engineering Hyderabad, CVR CE Rangareddy and CVRCE Ibrahimpatnam.
CONNECTIVITY (How To Reach)
Rajiv Gandhi International Airport, Hyderabad
25 km
Kacheguda Railway Station
30 km
Hyderabad Deccan Railway Station
33 km
Secunderabad Junction Railway Station
37 km
Body
Category
Rank (Year)
Latest
Previous
National Ranking

NIRF Engineering Rankings
170 (2022)
155 (2021)

The Week Top Engineering Colleges India
71 (2022)
71 (2021)

India Today Top Pvt. Engineering Colleges
135 (2021)
145 (2020)
One needs to take the TS-EAMCET examination.
Admissions for EAMCET seats (70% seats) are done on the basis of rank in TS-EAMCET through TS-EAMCET Counselling.
Affiliated to Jawaharlal Nehru Technological University, Hyderabad (JNTUH).
CUTOFF RANKS (OPENING & CLOSING RANKS)
| | |
| --- | --- |
| Particulars | Amount |
| Tuition Fee (per Year) | ₹1,15,000 |
| Other Fees (per Year) | ₹5,500 |
| Total | ₹1,20,500 |
| | |
| --- | --- |
| Particulars | Amount |
| Hostel Fee (per Year) | ₹80,000 (Boys), ₹73,000 (Girls) |
Rs. 30.50 Lakhs per Annum offered by Amazon
| | | |
| --- | --- | --- |
| Company | No. of Offers | CTC Offered (in LPA) |
| Accenture (ASE) | 157 | 4.50 |
| Accenture (FSE) | 22 | 6.50 |
| Accolite | 11 | 8.00 |
| Adobe | 2 | 22.00 |
| ADP | 12 | 5.00 |
| Amazon (SDE) | 8 | 30.50 |
| Capgemini | 72 | 3.80 |
| Cleartrip | 7 | 8.50 |
| Cognizant | 144 | 4.02 |
| Cognizant Next | 4 | 6.76 |
| Commvault | 1 | 16.00 |
| Credit Suisse | 1 | 11.92 |
| Ctrls Data Centers | 3 | 3.75 |
| Deloitte | 6 | 6.60 |
| Deltax | 1 | 5.00 |
| DXC Technology | 117 | 3.60 |
| EPAM | 1 | 6.00 |
| Eximius | 3 | 5.00 |
| Gnana Analytics | 1 | 7.00 |
| Infogain | 1 | 3.50 |
| Infor India | 2 | 4.50 |
| Infosys (PPI) | 2 | 8.00 |
| Infosys (SE) | 47 | 3.60 |
| Infosys (SES) | 28 | 5.00 |
| Maq Software | 3 | 6.00 |
| Migrocer | 2 | 6.00 |
| Mindtree | 72 | 4.00 |
| Modak Analytics | 4 | 4.00 |
| Mphasis | 2 | 3.25 |
| MTX | 4 | 6.50 |
| NCR Corporation | 2 | 8.00 |
| NTT Data | 3 | 3.50 |
| Opentext | 37 | 7.25 |
| SAP | 1 | 7.00 |
| Sureify | 1 | 8.78 |
| TA Digital | 2 | 3.60 |
| TCS | 105 | 3.37 |
| TCS Digital | 10 | 7.00 |
| Tech Mahindra | 4 | 3.25 |
| Thomson Reuters | 21 | 4.50 |
| Veripark | 3 | 3.00 |
| Virtusa Neuralhack | 1 | 4.50 |
| Virtusa-Codelite (PPO) | 26 | 5.00 |
| Wipro | 25 | 3.50 |
2020
Rs. 30.50 Lakhs per Annum offered by Amazon
| | | |
| --- | --- | --- |
| Company | No. of Offers | CTC Offered (in LPA) |
| ACC | 1 | 4.00 |
| Accenture (ASE) | 260 | 4.50 |
| Accenture (FSE) | 25 | 6.50 |
| Aliens Group | 9 | 3.00 |
| Amazon (DE) | 1 | 11.00 |
| Amazon (SE) | 4 | 17.00 |
| Amazon (WOW-SDE) | 1 | 30.50 |
| Amazon (SDE) | 6 | 30.50 |
| Axiscades | 2 | 3.00 |
| Birlasoft | 16 | 3.25 |
| Capgemini (ServiceNow) | 12 | 3.80 |
| CGI | 1 | 3.39 |
| Cleartrip | 6 | 10.00 |
| Cognizant | 17 | 4.00 |
| Commvault | 3 | 16.00 |
| Core Compete | 5 | 4.20 |
| Ctrls Data Centers | 2 | 3.75 |
| Cybage | 9 | 3.50 |
| DXC Technology | 46 | 3.60 |
| Epam | 1 | 6.50 |
| Eximus | 1 | 5.50 |
| Extramarks | 1 | 4.20 |
| GGK Technologies | 14 | 5.00 |
| Gnana Analytics | 1 | 7.00 |
| Hexaware | 6 | 3.00 |
| HPE | 3 | 5.00 |
| Hyundai Mobis | 1 | 4.50 |
| IBM | 3 | 4.00 |
| IBM (ServiceNow) | 5 | 4.86 |
| Infosys (PPI) | 6 | 8.00 |
| Infosys (SE) | 34 | 3.60 |
| Infosys (ServiceNow) | 15 | 3.60 |
| Infosys (SES) | 29 | 5.50 |
| Kony Labs | 7 | 7.50 |
| KPMG (ServiceNow) | 3 | 5.00 |
| L&T Technologies | 26 | 4.00 |
| MAQ Software | 6 | 6.50 |
| Migrocer | 2 | 6.00 |
| Mindtree | 7 | 3.50 |
| Modak Analytics | 8 | 4.00 |
| Mphasis | 6 | 3.25 |
| MTX Group | 3 | 6.00 |
| NCR | 2 | 7.00 |
| NTT Data | 1 | 3.00 |
| Opentext | 24 | 6.80 |
| Quikr | 3 | 8.80 |
| Redpine | 4 | 6.00 |
| S&P Global | 4 | 7.50 |
| ServiceNow | 10 | 21.00 |
| SiFive | 5 | 6.50 |
| Subex (PE) | 5 | 4.00 |
| Subex (RSET) | 1 | 5.00 |
| Synchrony Financial | 2 | 7.00 |
| TCS | 131 | 3.37 |
| TCS Digital | 4 | 7.00 |
| Tech Aspect | 6 | 4.70 |
| Tech Mahindra | 2 | 3.25 |
| Value Labs | 6 | 4.50 |
| Verizon | 4 | 5.00 |
| Virtusa | 37 | 4.50 |
| Wipro | 44 | 3.50 |
2019
Rs. 30.25 Lakhs per Annum offered by Amazon
2018
Rs. 24.00 Lakhs per Annum