BNM INSTITUTE OF TECHNOLOGY, BANGALORE
B.N.M. Institute of Technology, 12th Main Road, 27th Cross, Banashankari Stage II, Bengaluru, Karnataka – 560070
Also known as BNMIT Bengaluru, BNMIT Bangalore, B.N.M. Institute of Technology, B N M Institute of Technology and BNM IT Bangalore.
CONNECTIVITY (How To Reach)
Kempegowda International Airport, Bengaluru
42.5 km
Bangalore City Railway Station
8.5 km
Body
Category
Rank (Year)
Latest
Previous
National Ranking

NIRF Engineering Rankings
201-250 (2021)
186 (2020)

ARIIA Private Institution (Private Colleges) Rankings
26-50 (2020)
--

Outlook India's Top Pvt. Engineering Colleges
37 (2021)
40 (2020)

India Today Top Pvt. Engineering Colleges
100 (2021)
--
Affiliated to Visvesvaraya Technological University, Belagavi.
CUTOFF RANKS (OPENING & CLOSING RANKS)
Particulars
Amount
Tuition Fee (per Year)
₹83,526 (KCET seat)
₹2,21,960 (COMEDK seat – AIML, CSE, ECE, ISE)
₹95,000 (COMEDK seat – EEE, ME)
Particulars
Amount
Hostel Seat Rent (per Month)
₹4,500 (Girls 4-seater)
₹5,000 (Girls 2-seater)
₹4,500 (Boys 4-seater)
₹5,000 (Boys 3-seater)
₹6,000 (Boys 2-seater)
Mess Charges (per Month)
₹4,500
Rs. 41.06 Lakhs per Annum
| | | |
| --- | --- | --- |
| Company | No. of Offers | CTC Offered (in LPA) |
| 314e Corporation | 1 | 8.00 – 12.00 |
| 42 Gears | 2 | 8.00 |
| ABB | 5 | 7.50 |
| Accenture (Advanced Associate Software Engineer) | 8 | 6.50 |
| Accenture (Associate Software Engineer) | 63 | 4.50 |
| Accolite | 6 | 8.00 |
| Adobe | 1 | 40.92 |
| AllGo Vision | 4 | 5.40 |
| Amadeus Software Labs | 4 | 9.32 |
| Betsol | 14 | 5.00 – 6.00 |
| Brillio | 14 | 4.50 |
| Byju's | 1 | 4.00 |
| Capgemini (Analyst Role) | 65 | 4.00 |
| Capgemini (Senior Analyst Role) | 10 | 7.50 |
| Check Point Software Technologies | 7 | 6.50 |
| CitiusTech | 3 | 5.50 |
| Class Method | 2 | 22.00 |
| Codeyoung | 18 | 4.00 |
| Cognizant (GenC Elevate Profile) | 19 | 4.00 |
| Cognizant (GenC Next Profile) | 4 | 6.75 |
| Cognizant (GenC Pro Profile) | 3 | 5.40 |
| Cognizant (GenC Profile) | 103 | 4.00 |
| Commscope | 2 | 10.00 |
| CyRAACS | 2 | 5.50 |
| DeltaX | 1 | 3.30 |
| Diabsolut | 1 | 6.50 |
| EYGDS | 3 | 4.50 |
| Google | 1 | 41.06 |
| Graphene Health Tech | 3 | 5.00 – 6.00 |
| Harman Kordan | 7 | 5.00 |
| Hashedin Technologies | 5 | 8.00 |
| HCL | 5 | 4.75 |
| Health Asyst | 4 | 4.50 |
| Hourglass Research | 1 | 5.50 |
| HummingWave Technologies | 7 | 7.00 – 7.50 |
| IBM (CIO Profile) | 4 | 7.25 |
| IBM GBS | 13 | 4.25 |
| i-Exceed | 1 | 4.00 |
| Incture | 5 | 6.00 |
| Infogain | 10 | 4.00 |
| Infosys (Digital Specialist Engineer) | 1 | 6.25 |
| Infosys (System Engineer) | 3 | 3.60 |
| Infrrd | 1 | 9.00 |
| Insta V Technologies | 6 | 4.32 |
| Kyndryl | 7 | 4.25 |
| Legato Health Technologies | 22 | 4.25 |
| LTI | 4 | 5.00 – 6.50 |
| NEC | 30 | 5.00 |
| Netcracker | 1 | 6.50 |
| Numocity | 4 | 6.50 |
| Oracle | 2 | 5.81 |
| Perfios | 9 | 8.00 |
| Phonepe | 3 | 14.00 |
| Pluto7 | 2 | 3.50 – 4.50 |
| Prodapt | 2 | 5.50 |
| PwC | 16 | 6.00 |
| Quest Global | 3 | 3.00 |
| Sapient | 3 | 6.50 |
| Sasken Technologies | 4 | 3.70 |
| Societe Generale | 24 | 5.30 |
| Talerang | 5 | 3.00 – 3.60 |
| Target | 5 | 12.30 |
| TCS | 32 | 3.36 |
| The Math Company | 2 | 4.50 |
| Thomson Reuters | 4 | 5.50 |
| Thoughtclan Technologies | 15 | 4.80 |
| Winwire Technologies | 3 | 3.00 |
| Wipro | 47 | 3.50 |
| Zensar | 5 | 4.00 |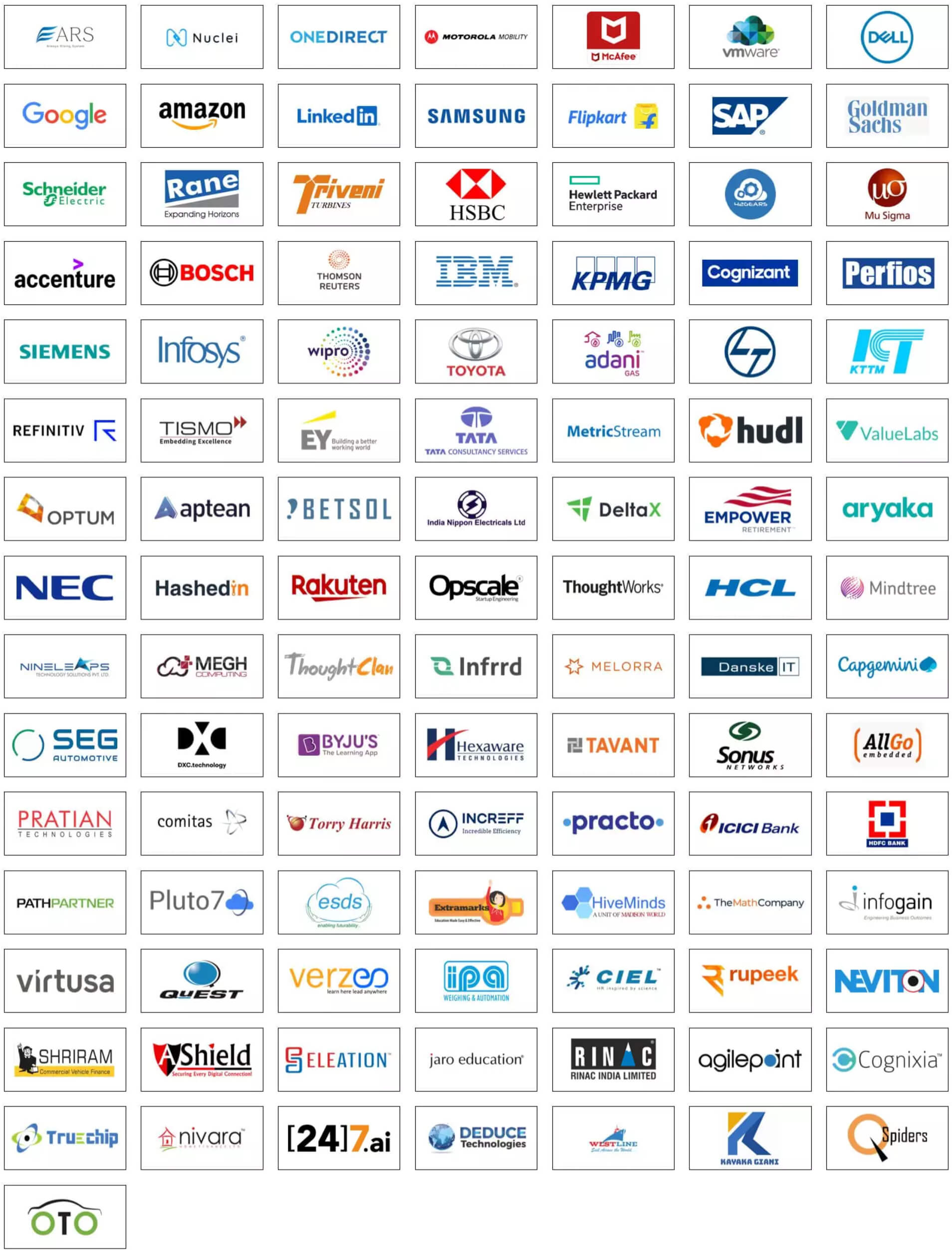 2021
Rs. 19.84 Lakhs per Annum
| | | |
| --- | --- | --- |
| Company | No. of Offers | CTC Offered (in LPA) |
| 42 Gears (Member Technical Staff) | 3 | 11.00 |
| 42 Gears (Software Test Engineer & Technology Service Engineer) | 3 | 4.00 |
| Accenture (Associate Software Engineer) | 103 | 4.50 |
| Accenture (Software Engineer) | 8 | 6.50 |
| Accolite | 1 | 8.00 |
| AllGo Vision | 1 | 5.40 |
| Amazon | 1 | 4.50 |
| Analytical Wizards | 4 | 6.00 |
| Applied Materials | 1 | 5.36 |
| AR System | 1 | 19.84 |
| Aryaka Networks | 5 | 8.30 |
| Ashield | 2 | 2.16 |
| Betsol | 4 | 5.25 |
| Buhler India | 1 | 2.22 |
| Canfinhomes | 3 | 4.15 |
| Capgemini | 69 | 3.80 |
| Codeyoung | 1 | 4.00 |
| Cognizant (Cyber Security role) | 18 | 5.40 |
| Cognizant (GenC Next role) | 1 | 6.75 |
| Cognizant (GenC role) | 88 | 4.00 |
| Crysalisgold | 1 | 3.50 |
| Deduce Technologies | 3 | 1.56 |
| Empower Retirement | 10 | 5.00 |
| Enstoa | 1 | 5.00 |
| FACE | 3 | 3.06 |
| GTV Power | 6 | 3.00 |
| Harman Kardon | 3 | 5.00 |
| Hashedin Technologies | 2 | 6.15 – 8.00 |
| HCL Technologies | 3 | 4.75 |
| HCL Technologies (Hardware Profile) | 11 | 4.75 |
| Hexaware | 1 | 3.50 |
| Hourglass Research | 2 | 5.50 |
| IBM GTS | 2 | 3.21 |
| Infoblox | 6 | 8.00 |
| Infogain | 2 | 3.50 |
| Infosys (Specialist Programmer) | 1 | 8.00 |
| Infosys (System Engineer Specialist) | 9 | 5.00 |
| Infosys (System Engineer) | 47 | 3.60 |
| Infrrd | 3 | 4.20 |
| Innovatia | 1 | 3.50 |
| iOPEX | 3 | 3.00 |
| ITC Infotech | 2 | 4.25 |
| Ivy Software Development Services | 1 | 8.00 |
| Legato | 6 | 4.25 |
| Maini Precision Products | 4 | 1.68 |
| Manhattan Associates | 11 | 5.50 |
| Maq Software | 1 | 6.00 |
| McAfee | 6 | 9.38 |
| Megh Computing | 4 | 6.00 |
| Mindtree | 25 | 2.97 |
| NEC | 4 | 5.00 |
| Netcracker (Junior Software Engineer) | 3 | 4.00 – 5.50 |
| NIIT Limited | 1 | 6.00 |
| NTTDATA | 6 | 3.50 |
| Nuclei | 1 | 16.00 |
| Numocity | 1 | 6.50 |
| NXP Semiconductors | 1 | 12.42 |
| PCS Creators Solutions | 19 | 2.97 |
| Perfios (Associate Software Engineer) | 2 | 3.00 |
| Perfios (Member of technical staff) | 4 | 7.00 |
| PhableCare | 1 | 3.00 |
| PlanetSpark | 1 | 5.90 |
| Pluto7 | 2 | 3.00 |
| Societe Generale | 2 | 4.95 |
| Square Yards | 7 | 4.00 |
| TCS (Digital Profile) | 4 | 7.00 |
| TCS (Ninja Profile) | 47 | 3.36 |
| Terex India Pvt Ltd | 1 | 4.50 |
| The Math Company | 2 | 4.50 |
| Thoughtclan Technologies | 1 | 6.00 |
| Thoughtclan Technologies | 8 | 4.50 |
| Tiger Analytics | 1 | 6.50 |
| upGrad | 1 | 4.00 |
| WinWire Technologies India | 1 | 4.00 |
| Wipro | 1 | 3.50 |
| Zymr | 2 | 2.65 |
2020
Rs. 16.00 Lakhs per Annum
| | | |
| --- | --- | --- |
| Company | No. of Offers | CTC Offered (in LPA) |
| 42 Gears (Member Technical Staff) | 1 | 8.00 |
| 42 Gears (Software Test Engineer) | 1 | 4.50 |
| Accenture (Associate Software Engineer) | 126 | 4.50 |
| Accenture (Full Stack Engineer) | 7 | 6.50 |
| Accenture (ICI hiring) | 21 | 4.25 |
| AgilePoint | 3 | 2.25 |
| Airprax Pneumatics | 1 | 1.44 |
| AllGo Embedded Systems | 1 | 5.50 |
| Aryaka Networks | 3 | 8.24 |
| Ashield | 4 | 2.40 |
| Betsol | 3 | 4.20 – 4.50 |
| Bosch Automotive Electronics (RBAI) | 3 | 3.24 |
| Byju's | 4 | 8.00 – 10.00 |
| Ciel HR Services | 2 | 2.88 |
| Cognizant | 10 | 4.01 |
| Cognizant (Cyber Security Hiring) | 6 | 5.40 |
| Deduce Technologies | 2 | 1.44 |
| Dell | 5 | 9.00 |
| DeltaX | 2 | 5.00 |
| DXC Technology | 1 | 3.60 |
| Empower Retirement | 6 | 5.00 |
| Extramarks Education | 10 | 3.00 |
| EY GDS | 3 | 3.61 |
| HCL Technologies | 1 | 4.75 |
| HiveMinds | 2 | 3.00 |
| Hudl | 17 | 3.00 |
| IBM | 4 | 4.25 |
| IBM India Private Limited | 1 | 7.25 |
| Infogain | 3 | 3.00 |
| Infosys | 1 | 3.60 |
| Infosys (Systems Engineer Specialist) | 1 | 5.00 |
| Infrrd | 11 | 4.20 |
| Jaro Education | 1 | 5.16 |
| Kirloskar Toyota Textile Machinery | 1 | 3.22 |
| KPMG | 10 | 5.00 |
| McAfee | 4 | 9.38 |
| Megh Computing | 1 | 6.00 |
| Mindtree | 2 | 3.50 |
| Morling Global | 1 | 2.20 |
| NEC Technologies | 18 | 5.00 |
| NextSCM – Increff | 2 | 6.00 |
| Nivara Housing | 1 | 4.00 |
| Nuclei | 4 | 16.00 |
| Opscale | 2 | 3.00 – 5.00 |
| Path Partner | 2 | 6.00 |
| Perfios | 4 | 7.00 |
| Pluto7 | 5 | 3.05 |
| Practo | 1 | 2.40 |
| Qspiders | 2 | 2.80 |
| Refinitiv | 5 | 5.55 |
| TCS | 25 | 3.36 |
| Tessolve | 1 | 3.19 |
| Thomson Reuters | 2 | 5.50 |
| Thoughtclan Technologies | 9 | 4.50 |
| Thoughtworks Technologies | 1 | 8.03 |
| Tismo Technologies | 2 | 6.00 |
| Truechip | 1 | 2.16 |
| ValueLabs | 2 | 5.50 |
| Verzeo | 2 | 3.00 |
| VMWare | 1 | 9.03 |
| Wipro | 3 | 3.50 |