BMS INSTITUTE OF TECHNOLOGY AND MANAGEMENT, BANGALORE
BMS Institute of Technology and Management, Doddaballapur Main Road, Avalahalli, Yelahanka, Bengaluru, Karnataka – 560064
Also known as BMSIT&M Bangalore, BMSIT&M Bengaluru, BMSIT Bangalore, BMSIT Bengaluru, B.M.S. Institute of Technology and BMS Institute of Technology and Management Bangalore.
CONNECTIVITY (How To Reach)
Kempegowda International Airport, Bengaluru
24 km
Bangalore City Railway Station
20 km
Body
Category
Rank (Year)
Latest
Previous
National Ranking

NIRF Engineering Rankings
152 (2021)
169 (2020)

Outlook India's Best Engineering Colleges
51 (2019)
--
Affiliated to Visvesvaraya Technological University, Belagavi.
CUTOFF RANKS (OPENING & CLOSING RANKS)
Particulars
Amount
Fee (per Year)
₹83,526 (KCET seat)
₹2,21,960 (COMEDK seat)
Particulars
Amount
Hostel Fee (per Year)
₹1,29,500 (Regular Rooms)
₹1,53,300 (Attached Washroom)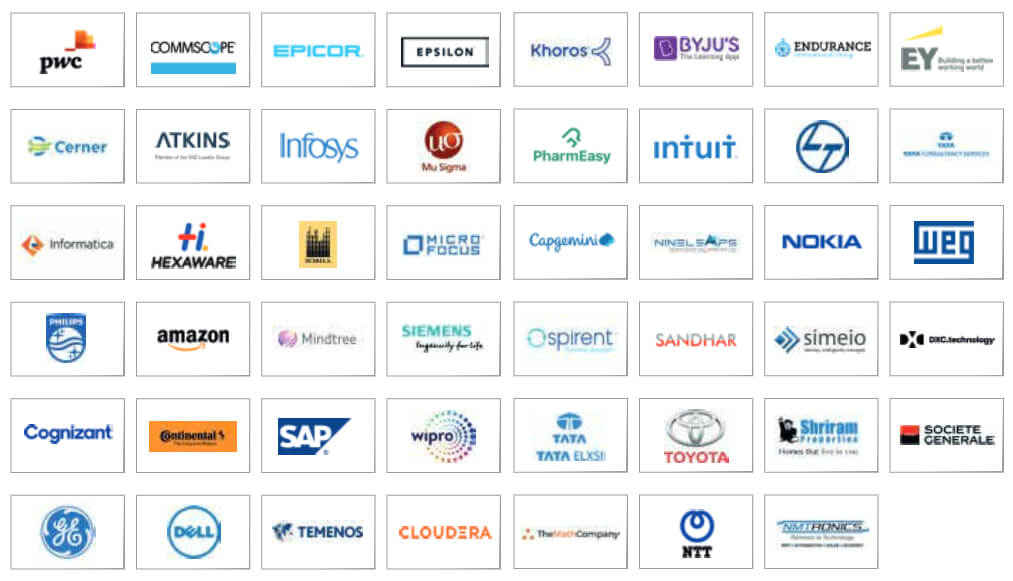 Past Recruiters
3X3 Connect
Aayuja Technologies
ABB
Abyeti Technologies
Accenture
Accord Software
Ace Designers
Aditya Autoparts
Adobe Systems
Ajax Fiori
Ajmeera
Alcatel Lucent Enterprises
Allstate
Alshaya
Altaire
Amada India
Amazon
Aquaseal Tech
Aricent
Aris Global
Aruna Constructions
Atos
B L Kashyap
BCV Developers
BEL
Betsol
Bosch
BPI Tech
Brigade Group
Byjus
Capacite
Capgemini
Cash Positive
Cerner
Cisco
Civil RMC
Cleartax
Cloudthat
Cme Group
Cognizant
Collabera Tech
CSM Software
Cuemath
Cybage
Cypress
Dell
Delloitte
Directi
DSR Infra Ltd
DXC
E&Y
Endurance
Epicor
Ericsson
Fico
Fidelity
Fractal Analytics
Futures First
Games24/7.com
GE Digital
GE India
Gramener
Great West Global
Grindwell Norton
Guitar Club
Harman Connected
Hashedin
HCL Technologies
Health Asyst
Honneywell
Hortonworks
HP – Tech Support
HP R&D
HPE
HSBC
Hycom Engineering
IBM Global
IBM ISL
Idea Cellular
IMS Health
Incture Technologies
Indian Navy
Informatica
Infosys
Infoview Tec
Ingersol Rand
Inmobi
INSZoom
Intel
Intuit
ITC Infotech
JSW Cement
Juspay
KPIT
L&T
Lam Research
Lowes
LSI Engg & Constructions
Mahindra Comviva
Manhattan Associates
Maple Constructions
Mercedes-Diamler
Metricstream
Micro Genesis
Micro Land
Micro Soft Gts
Microsoft
Millenium Building Tech
Mindteck
Mindtree
Mobelian
Molex
Moolya Software
Musigma
National Instruments-Intern
NCCCL
Nec Technologies
Net Connect
Netapps
Netpositive
Neudesic
Nine Leaps
Nmtronics
Nokia
Nttdata
Numerify
Obopay Mobiles
Odessa
OFSS
Oracle
Paladion Networks
Persistent Sysems
Philips India
Photon Infotech
Planet Asia
PRDC
Prime Focus
PwC
Quest Global
Quinnox
Rajashree Cements/ Ultratech
Reliance
Ripple Group
Rittal India
Robert Bosch
Saffran Engineering
Saint Gobain
Samsung R&D
Sandhar Technologies
SAP Labs
Sasken
Schineder Electric
Siemens
Sigmoid
Simeio Solutions
Smartprix
Sobha Developers
Societe Generale
Software Ag
Sonata Software
Sriram Properties
Subex
Syntel
Tally Solutions
Target Corporation
Tata Elxsi
TCS
Tech Mahindra
Techzone
Tekinfosystems
Temenos
The Math Company
TIF Labs
Titan
Torry Harris
Toyota Kirloskar
Triveni Turbines
Unisys
WEG
Weir Group
Wipro
Wipro GE Healthcare
Wipro Vlsi
Wishbook
Wissen Technologies
Yodlee
Zeta
ZTE Telecom
2021
| | |
| --- | --- |
| Branch | Placed (%) |
| Civil Engineering | 35.48% |
| Computer Science and Engineering | 90.75% |
| Electrical and Electronics Engineering | 80.95% |
| Electronics and Communication Engineering | 84.11% |
| Information Science and Engineering | 92.86% |
| Mechanical Engineering | 25.00% |
| Telecommunication Engineering | 81.48% |
| Overall | 80.71% |
Rs. 26.50 Lakhs per Annum
2020
| | |
| --- | --- |
| Branch | Placed (%) |
| Civil Engineering | 15.00% |
| Computer Science and Engineering | 96.47% |
| Electrical and Electronics Engineering | 86.49% |
| Electronics and Communication Engineering | 91.94% |
| Information Science and Engineering | 96.08% |
| Mechanical Engineering | 68.42% |
| Telecommunication Engineering | 95.24% |
Rs. 20.60 Lakhs per Annum
2019
| | |
| --- | --- |
| Branch | Placed (%) |
| Civil Engineering | 44.12% |
| Computer Science and Engineering | 100.00% |
| Electrical and Electronics Engineering | 94.29% |
| Electronics and Communication Engineering | 94.44% |
| Information Science and Engineering | 100.00% |
| Mechanical Engineering | 69.44% |
| Telecommunication Engineering | 94.59% |
Rs. 18.00 Lakhs per Annum
2018
| | |
| --- | --- |
| Branch | Placed (%) |
| Civil Engineering | 82.76% |
| Computer Science and Engineering | 90.67% |
| Electrical and Electronics Engineering | 96.88% |
| Electronics and Communication Engineering | 87.50% |
| Information Science and Engineering | 89.36% |
| Mechanical Engineering | 59.09% |
| Telecommunication Engineering | 85.71% |
Rs. 26.00 Lakhs per Annum
| | |
| --- | --- |
| Company | No. of Offers |
| Ajax Fiori | 3 |
| Alcatel-Lucent Enterprise | 2 |
| Amada | 2 |
| Amazon | 5 |
| Aqua Seal Tech | 4 |
| Aricent | 27 |
| Aruna Constructions | 1 |
| Atos | 18 |
| B L Kashyap | 8 |
| BPI Technologies | 2 |
| Brigade Group | 2 |
| Capacite | 2 |
| Capgemini | 25 |
| Cleartax | 15 |
| Cognizant | 11 |
| Collabera Technologies | 3 |
| Dell | 15 |
| Dell EMC | 1 |
| DXC Technology | 1 |
| Endurance | 1 |
| Epicor | 5 |
| GE India | 1 |
| Go Speedy Go | 4 |
| Guitar Club | 3 |
| Harman | 2 |
| HP Tech Support | 16 |
| Infosys | 4 |
| KPIT | 5 |
| L&T Electrical & Automation | 3 |
| L&W Building Solutions | 4 |
| LSI Engineering | 2 |
| Mindtree | 3 |
| Moolya Software | 7 |
| Mu Sigma | 3 |
| Neudesic | 2 |
| Nokia | 11 |
| Odessa | 1 |
| OFSS | 15 |
| PwC | 24 |
| Ripple Group | 1 |
| Robert Bosch | 7 |
| Sandhar Technologies | 10 |
| Siemens | 9 |
| Simeio | 8 |
| Sonata Software | 5 |
| Tally Solutions | 3 |
| Target Corporation | 1 |
| Tata Elxsi | 11 |
| Tek Info System | 1 |
| Temenos | 6 |
| Torry Harris | 5 |
| Toyota Kirloskar | 1 |
| WEG Industries | 4 |
| Wipro | 9 |
| Wipro GE Healthcare | 2 |
| Wishbook | 1 |