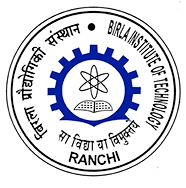 BIRLA INSTITUTE OF TECHNOLOGY, MESRA
Birla Institute of Technology, Mesra, Ranchi, Jharkhand – 835215
CONNECTIVITY (How To Reach)
Nearest Airport : Birsa Munda Airport, Ranchi
Distance from Airport : 25km
Nearest International Airport : Netaji Subhas Chandra Bose International Airport, Kolkata
Distance from Airport (Estimate) : 450 km
Nearest Railway Station : Ranchi Junction Railway Station
Distance from Railway Station : 17km
Next Nearest Railway Station : Hatia Railway Station
Distance from Railway Station : 21km
By NIRF in 2018 : 26
By NIRF in 2017 : 31
By Outlook India in 2017: 21
By India Today in 2017: 9
By Outlook India in 2016: 20
By India Today in 2016: 12
By The Week in 2016 : 18
One needs to take the JEE (Main) exam and either secure at least 75% marks (65% for SC/ST/PwD) in Class XII or be within the category-wise top 20 percentile in his/her respective Class XII board examination.
Admissions for all categories except OBC/BC seats are done on the basis of rank in JEE (Main) through JoSAA Counselling and CSAB Special Round.
Admissions for OBC/BC seats are done through institutional counselling. Candidates must belong to the BC-I / BC-II category of Jharkhand and should have passed their Class 12 examination from Jharkhand.
| | |
| --- | --- |
| Particulars | Amount |
| Caution Money (One Time, Refundable) | ₹10,000 |
| One Time Fees | ₹15,000 |
| Tuition Fee (per Semester) | ₹88,000 |
| Other Fees (per Semester) | ₹11,500 |
| Total | ₹1,24,500 |
| | |
| --- | --- |
| Particulars | Amount |
| Hostel Caution Money (One Time, Refundable) | ₹5,000 |
| Hostel Charges (per Semester) | ₹13,500 |
| Mess Advance (per Semester) | ₹20,000 |
| Total | ₹38,500 |
General Category Candidates
| | |
| --- | --- |
| %age of Tuition Fee Waiver | AIR range of JEE-Main |
| 100% | 1 – 1000 |
| 75% | 1001 – 2500 |
| 50% | 2501 – 4000 |
SC/ST Category Candidates
| | |
| --- | --- |
| %age of Tuition Fee Waiver | AIR range of JEE-Main |
| 100% | 1 – 5,000 |
| 75% | 5,001 – 15,000 |
| 50% | 15,001 – 25,000 |
Rs. 26.97 lakhs per annum
Adobe System
Amadeus
Amazon
Amdocs
Avtec
Axis Bank
Capegmini
CGI
Cognizant
DIC
Directi
Dr. Reddys Lab
Exide
EXL Services
Fastenal
Freescale
GMMCO
Goldman Sachs
Hindalco
Hyderabad Industries Ltd.
Hyundai
IBM
IFB
Infoedge
Infosys
Instarem
JS Global
KPMG
Kronos
Kuliza
L&T Constructions
M.G. Contractors
Mahindra and Mahindra Ltd
Mahindra Comviva
MakeMyTrip
Maq Software
Maruti Suzuki
Microsoft
Musigma
NBC Bearing
Open Door
Oracle App Dev
Oracle OFFS
PWC
Qualcomm
Reliance Industries
Samsung Bangalore
Samsung Delhi
Samsung Noida
Sapient
Societe Generale
Stellium
Tata Communication
Tata Motors
Tata Steel
Techture
Tejas Network
Think And Learn
UHG
Vedanta
Visa Steel Ltd
VMware
Vodafone
Walmart Labs
Wipro Turbo
Your Own Rooms
ZS Accociates
Past Recruiters
Past Recruiters
Information Technology (Products)
Amazon
Directi
Facebook
Flipkart
Google
Microsoft (IDC)
Microsoft (Redmond)
Oracle Corporation
SAP Labs
Yahoo!
Information Technology (Services)
3DPLM Software Solutions
AFPRO
Amdocs Development Centre
Aricent Technologies
Atos Origin
Birlasoft India Ltd.
Blue Star Infotech Ltd
CA Technologies
Caparo Corporate Services
CMC Limited
Cognizant
Cybage Software(P) Ltd.
Fiserv
HCL Comnet
HCL Infosystems
HCL Technologies
Headstrong
Hewlett Packard
IBM
Igate
Impetus
Induslogic
Infosys Technologies
ITC Infotech
Keane
L & T Infotech
Hella India
Mindtree Consulting
Misys
NIIT Technologies
Patni Computer Systems
Philips Software Ltd
Samsung India Software Centre
Samsung India Software Operations
Samtel Group
Sapient
Sasken
Satyam Computer Services Limited
Siemens Information System Ltd
Sony India
Syntel
Tata Technologies
Tavant Technologies Ltd
TCG Software Services
TCS
Tech Mahindra Ltd.
Unisys
Wipro Technologies
Caterpillar
Eicher Motors Ltd.
Hero Motocorp
Hindustan Motors
Hyundai Motors
John Deere India (P) Ltd.
Mahindra & Mahindra Ltd.
Mahindra Nevistar
Maruti Suzuki Ltd.
Metalsa
Suzuki Powertrain Ltd.
Tata Auto Comp
Tata Motors
TVS Motor Co.
Deloitte
EXL
Goldman Sachs
Mu Sigma
Nomura Services India (P) Ltd.
PWC
ZS Associates
Electronics/Telecom/Energy
Adani Power
Airtel
Airvana Networks
Avaya Global Connect Ltd.
CESC
Ericsson India
Freescale
GMR Energy
Idea Cellular
National Engineering Industries Ltd
LG Electronics
Motorola
Nagra Vision
Reliance Communications
Reliance Industries
Reliance Infocomm
Reliance Power
S T Microelectronics
Tata Power Co. Ltd.
Tejas Networks
Texas Instruments
Verizon Data Services India Ltd
VSNL
Brittannia Industries
Hindustan Unilever
Nestle
Rickett Benkeiser
Cipla
Dr. Reddy's
Ranbaxy Laboratories Ltd
Torrent Pharmaceuticals
Sun Pharma Industries Limited
Lupin Laboratories Ltd
Mylan Lab
Indegene
Core / Infrastructure/ PSU
ACC Ltd.
Adani Enterprises Ltd.
Adhunik Group
Areva T&D
Avery Dennison
Avtec
Bharti Infratel
Blue Star
BPCL
Crompton Greaves Ltd.
Cummins India
DVC
Electrosteel Castings Ltd
Essar Ltd
Exide Industries
Fluor Daniel
Frost & Sullivan
Gammon India
GMR Airport
Goodyear India
Gmmco Ltd.
Haldia Petrochemicals
Hindalco Industries Ltd
IFB Industries
Indian Airlines
IOCL
Ispat Industries Ltd.
ISRO
ITC Tribeni Tissues Division
Jaypee Rewa Cement Ltd
JUSCO Ltd.
Larsen & Toubro ECC Division
Larsen & Toubro Ltd.
McNally Bharat Engg. Co. Ltd.
NRB Bearing
NTPC
Soma Enterprises
Simplex Infrastructures
Tata Consulting Engineers Ltd.
Tata Elxsi
Tata Honeywell
Tata Power
Tata Ryerson Ltd
Tata Steel
Tayo Rolls Ltd.
Telcon
Timken India Ltd.
Tinplate Compay Of India
TRF Ltd.
Usha Martin Industries
Vedanta Group
Visa Steel
Voltas Ltd
Banking / BFSC And others
Allahabad Bank
Axis Bank
Bank Of India
Capital IQ
HDFC Bank
ICICI Bank
IDBI Bank
Kotak Mahindra Securities
Naukri.com
ICICI Securities
2016
2016
Rs. 26.83 lakhs per annum offered by Directi.
2015
2015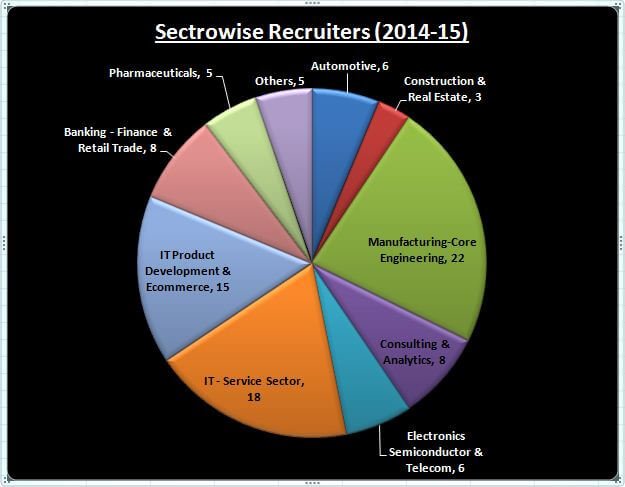 | | |
| --- | --- |
| Company | Package (in LPA) |
| Amazon | 22 |
| Amazon (Profile- Area Manager) | 9 + bonus |
| Amdocs | 4.8 |
| Blueocean Market Intelligence | 3.5 |
| Bluestar Ltd. | 4.7 |
| Cognizant | 3.015 |
| CouponDunia | 10 |
| DE Shaw | Info not available |
| Directi | 20 |
| Electrosteel | 3.6 |
| Ericsson | 3.75 |
| Exide | 5 |
| EXL Services | 11lakhs in 2years |
| Fastenal | 6.5 |
| Flipkart | Info not available |
| Freescale | 10.14 |
| Goldman Sachs | 11 + bonus |
| HIL | 4.5 |
| IBM | 3.15 |
| IDEA Cellular | 5 |
| Infosys | 3.15 |
| JSW Steel Ltd. | 4.58 |
| L&T | 5 |
| Lindstorm | 5 |
| Mahindra Comviva | 5.5 |
| Maruti Suzuki | 6.5 |
| Microsoft | Info not available |
| Mu Sigma | 18lakhs in 3years |
| NBC Bearing | 5.5 |
| Nomura RI | 4.25 |
| Nucleus Software | 4.5 |
| Oracle Applications | 7.5 |
| Oracle OFSS | 5.56 |
| Practo | 15 |
| PwC | 5 |
| Reliance Industries Limited | 5.5 |
| Saint Gobain | Info not available |
| Samsung R&D (SRI Noida) | 7.75 + benefits |
| Sankalp Semiconductors | 4 |
| SAP Labs | 7 |
| Sapient | 4.5 |
| Siegwerk | Info not available |
| Snapdeal | 15.25 |
| Stellium | 5.7 |
| TATA Hitachi | Info not available |
| TATA motors | Info not available |
| TATA Steel | Info not available |
| Think and Learn Pvt. Ltd. | 7 |
| Timken | Info not available |
| Vodafone | 3.65 |
2014
2014