ARMY INSTITUTE OF TECHNOLOGY, PUNE
Army Institute of Technology, Alandi Road, Dighi Hills, Pune, Maharashtra – 411015
Also known as Army Institute of Technology Pune and AIT Pune.
CONNECTIVITY (How To Reach)
Pune International Airport
7.5 km
Pune Junction Railway Station
11 km
Body
Category
Rank (Year)
Latest
Previous
National Ranking

NIRF Engineering Rankings
151-200 (2023)
172 (2022)

The Week Top Engineering Colleges India
39 (2023)
38 (2022)

Outlook India's Top Pvt. Engineering Colleges
101-125 (2022)
23 (2020)

India Today Top Engineering Colleges
55 (2023)
--
India Today Top Pvt. Engineering Colleges
28 (2022)
29 (2021)
One needs to take JEE (Main) exam and separately apply for AIT Pune counselling.
Admissions are done on the basis of rank in JEE (Main) after including bonus weightage for Gallantry Award/ War Widow.
Only the children of serving Army personnel, ex-Army personnel and war widows of the Army are eligible for admission.
Read more about AIT Pune Admissions

here

.
UPDATE: Notification for AIT Pune Admissions 2023-24 is available now, read

AIT Pune Admissions 2023

.
Affiliated to Savitribai Phule Pune University (SPPU).
CUTOFF RANKS (OPENING & CLOSING RANKS)
| | |
| --- | --- |
| Particulars | Amount |
| Caution Money (One Time, Refundable) | ₹1,000 |
| One Time Fees | ₹14,350 |
| Tuition Fee (per Year) | ₹1,77,450 |
| Other Fees (per Year) | ₹33,570 |
| Total | ₹2,26,370 |
| | |
| --- | --- |
| Particulars | Amount |
| Hostel Caution Money (One Time, Refundable) | ₹21,000 |
| One Time Fees | ₹3,150 |
| Hostel Fees (per Year) | ₹51,280 |
| Other Fees (per Year) | ₹5,220 |
| Mess Charges (per Year) | ₹41,930 |
| Total | ₹1,22,580 |
| | |
| --- | --- |
| Branch | Placed (%) |
| Computer Engineering | 94.83% |
| Electronics and Telecommunication Engineering | 94.44% |
| Information Technology | 91.23% |
| Mechanical Engineering | 87.50% |
| Overall | 92.58% |
Rs. 12.50 Lakhs per Annum
Highest Package Offered (Branchwise)
| | |
| --- | --- |
| Branch | Max CTC (in LPA) |
| Computer Engineering | 52.00 |
| Electronics and Telecommunication Engineering | 24.00 |
| Information Technology | 52.00 |
| Mechanical Engineering | 13.66 |
| Overall | 52.00 |
Average Package Offered (Branchwise)
| | |
| --- | --- |
| Branch | Avg CTC (in LPA) |
| Computer Engineering | 16.50 |
| Electronics and Telecommunication Engineering | 12.70 |
| Information Technology | 16.00 |
| Mechanical Engineering | 10.70 |
| Overall | 14.55 |
Amazon
Avalara Technologies
Commvault
Google
Microsoft
Mtatva
Netapp
BNY Mellon
Credit Suisse
Crowdstrike
Deutsche Bank
FIGmd
GRAB
HSBC (Premium)
ION Trading
Jaro Education
Miniorange
Nasdaq
Societe Generale
UBS
Upcurve Software
Veritas
ZS Associates (Data Science)
Accops Systems
Amadeus
Barclays
Blue Bricks
Continental
Dassault Systemes
Deloitte
Deltax
FIGmd
Forbes Marshall
Godrej
HFCL
HSBC (Standard)
Hashmap
KPIT
Mahindra
Medcords
MiniOrange
Mu Sigma
Oracle Financial Services Software
Oracle GBU
Persistent Systems
Quantiphi
Renishaw
Robert Bosch Engineering
Saint Gobain
Samsung R&D
TCS Digital
TIAA
Tavisca
TechnipFMC
Techracers
Value Labs
Wabco
Winjit Technologies
ZS Associates
Zycus Infotech
Alfa Laval
Amdocs
Atos India
Capgemini
Coffee Day
Eleation
FLSmidth
Ignite Solutions
Infosys
L&T Infotech
Merkle Sokrati
MyGate
Nineleaps
Persistent Systems
Praj Industries
Sci-com Engineering
Screen Magic
Sids Farms
TCS Ninja
Tata Technologies
Varroc
Vodafone
2022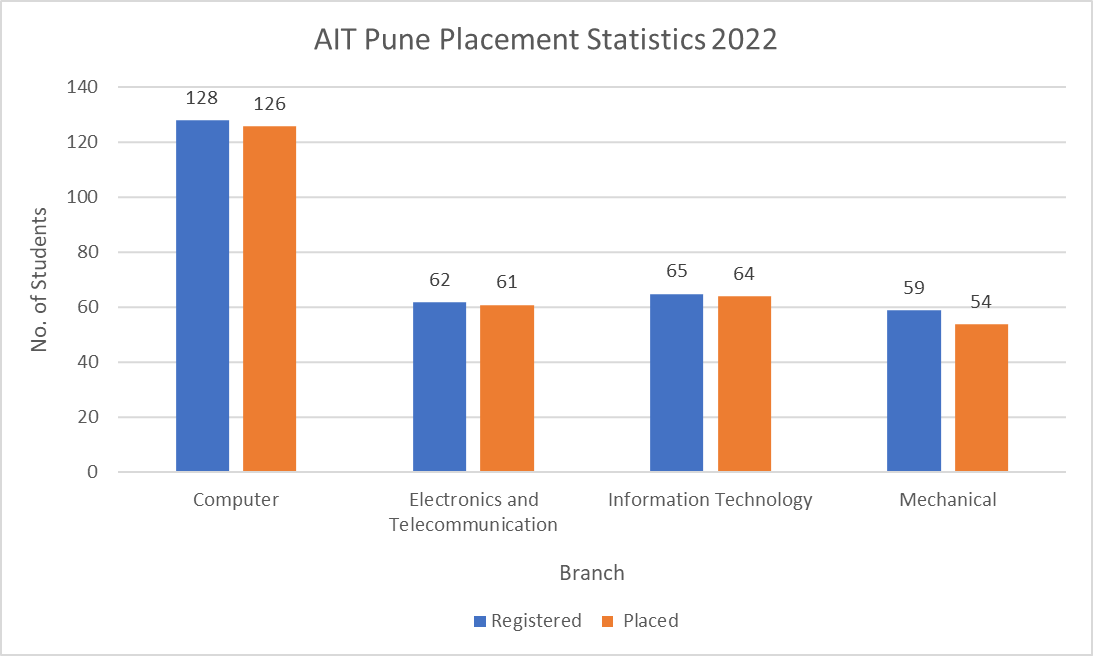 | | |
| --- | --- |
| Branch | Placed (%) |
| Computer Engineering | 98.44% |
| Electronics and Telecommunication Engineering | 98.39% |
| Information Technology | 98.46% |
| Mechanical Engineering | 91.53% |
| Overall | 97.13% |
Rs. 1.12 crores per annum offered by Amazon Dublin
Rs. 60.00 lakhs per annum offered by Uber
Rs. 45.03 lakhs per annum offered by Microsoft
Rs. 44.15 lakhs per annum offered by Amazon India
Rs. 39.28 lakhs per annum offered by Cohesity
Rs. 39.00 lakhs per annum offered by Voltron Data
Rs. 32.65 lakhs per annum offered by Gojek
Rs. 32.00 lakhs per annum offered by Bharat Pe
Rs. 12.00 Lakhs per Annum
Highest Package Offered (Branchwise)
| | |
| --- | --- |
| Branch | Max CTC (in LPA) |
| Computer Engineering | 112.14 |
| Electronics and Telecommunication Engineering | 45.03 |
| Information Technology | 45.03 |
| Mechanical Engineering | 12.85 |
| Overall | 112.14 |
Average Package Offered (Branchwise)
| | |
| --- | --- |
| Branch | Avg CTC (in LPA) |
| Computer Engineering | 18.70 |
| Electronics and Telecommunication Engineering | 12.44 |
| Information Technology | 15.62 |
| Mechanical Engineering | 7.23 |
| Overall | 14.70 |
2021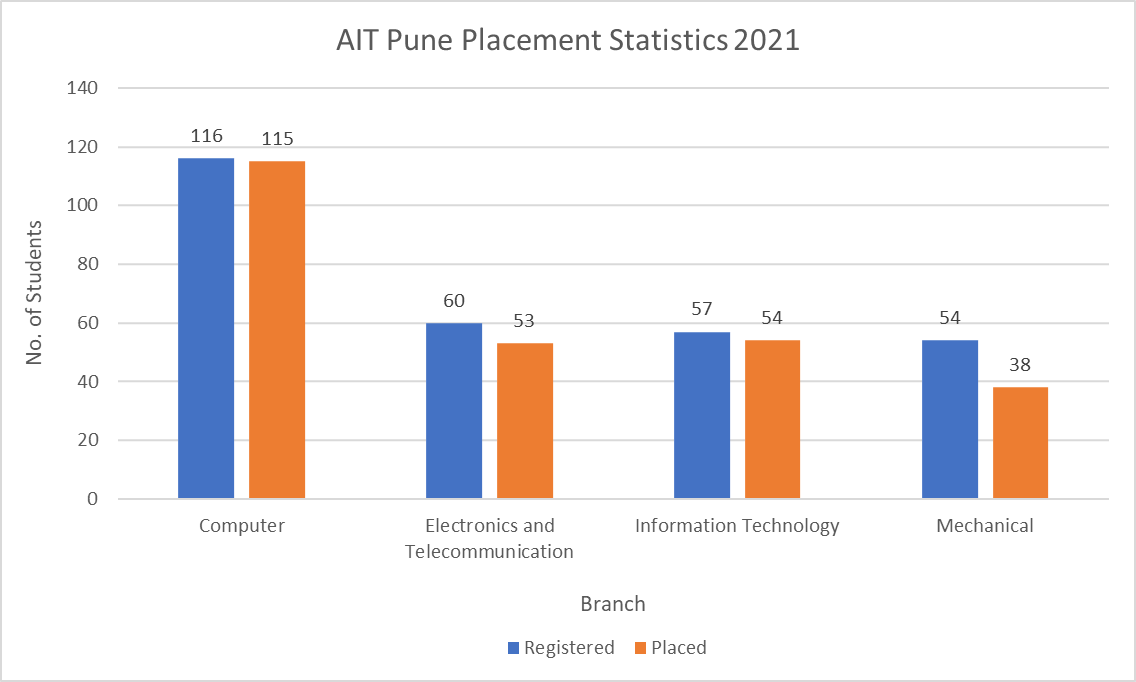 | | |
| --- | --- |
| Branch | Placed (%) |
| Computer Engineering | 99.14% |
| Electronics and Telecommunication Engineering | 88.33% |
| Information Technology | 94.74% |
| Mechanical Engineering | 70.37% |
| Overall | 90.59% |
Average Package Offered (Branchwise)
| | |
| --- | --- |
| Branch | Avg CTC (in LPA) |
| Computer Engineering | 11.45 |
| Electronics and Telecommunication Engineering | 6.85 |
| Information Technology | 10.85 |
| Mechanical Engineering | 4.70 |
| Overall | 9.45 |
Highest Package Offered (Branchwise)
| | |
| --- | --- |
| Branch | Max CTC (in LPA) |
| Computer Engineering | 39.00 |
| Electronics and Telecommunication Engineering | 19.60 |
| Information Technology | 39.00 |
| Mechanical Engineering | 8.93 |
| Overall | 39.00 |
| | | |
| --- | --- | --- |
| Company | No. of Offers | CTC Offered (in LPA) |
| Accenture | 17 | 4.50 |
| Accolite | 5 | 10.00 |
| Accops | 1 | 9.00 |
| Amazon | 2 | 28.00 |
| Amdocs | 0 | 4.00 |
| Apisero | 2 | 5.10 |
| Avalara Technologies | 4 | 22.00 |
| Betsol | 1 | 4.50 |
| BNY Mellon (Profile A) | 3 | 14.15 |
| BNY Mellon (Profile B) | 1 | 17.34 |
| Byju's | 2 | 5.00 |
| Capgemini (Profile A) | 41 | 3.80 |
| Capgemini (Profile B) | 2 | 6.80 |
| Chegg India (Part Time) | 14 | 3.60 |
| Coditas Solutions | 1 | 3.60 |
| Cognizant | 4 | 4.00 |
| Commvault | 6 | 24.00 |
| Continuum | 2 | 5.00 |
| Credit Suisse | 6 | 12.00 |
| Crowdstrike | 0 | 12.66 |
| Deloitte | 7 | 7.60 |
| Deutsche Bank | 10 | 19.60 |
| Endurance | 0 | 4.00 |
| eQ Technologic | 4 | 8.50 |
| FIGmd (Profile A) | 8 | 8.00 |
| FIGmd (Profile B) | 2 | 10.00 |
| FIGmd (Profile C) | 2 | 12.00 |
| Focus Academy (FACE) | 4 | 7.00 |
| GOMO Group | 2 | 4.00 |
| Google | 1 | 20.45 |
| GRAB | 1 | 15.00 |
| Hashmap | 2 | 4.50 |
| HCL | 1 | 3.50 |
| Helpshift | 2 | 8.00 |
| Hitachi | 1 | 6.50 |
| HSBC | 7 | 7.00 |
| Icertis | 6 | 8.00 |
| Infosys | 7 | 3.60 |
| Intellipaat Software | 1 | 5.54 |
| Intelliswift | 0 | 4.50 |
| Kaar Technologies | 0 | 6.50 |
| L&T Infotech (Profile A) | 7 | 5.00 |
| L&T Infotech (Profile B) | 2 | 6.50 |
| L&T Infotech (Profile C) | 2 | 10.00 |
| L&T Technology Services | 9 | 4.00 |
| Lenze | 2 | 6.18 |
| MAQ Software | 1 | 6.00 |
| Microsoft | 6 | 39.00 |
| Mindbody India | 4 | 7.75 |
| Mindstix | 4 | 8.00 |
| Mindtree | 25 | 4.00 |
| Miniorange | 8 | 12.00 |
| mTatva | 3 | 18.00 |
| Mu Sigma | 1 | 7.00 |
| Nasdaq | 3 | 13.44 |
| Netapp | 1 | 20.00 |
| NPCI | 3 | 6.20 |
| NTT Data | 0 | 5.00 |
| Oracle Financial Services | 19 | 6.41 |
| Osmosys | 4 | 5.00 |
| Persistent Systems (Profile A) | 10 | 4.51 |
| Persistent Systems (Profile B) | 3 | 6.51 |
| Persistent Systems (Profile C) | 1 | 8.51 |
| Pubmatic (Profile A) | 2 | 6.91 |
| Pubmatic (Profile B) | 1 | 9.52 |
| Quantiphi | 15 | 8.50 |
| Raja Software Labs | 3 | 5.00 |
| Renata Precision | 4 | 4.00 |
| Sahaj Software | 2 | 9.39 |
| Schlumberger | 1 | 8.80 |
| Seclore | 1 | 7.20 |
| Solytics Partners | 4 | 9.05 |
| Talentio | 1 | 3.00 |
| Tata Technologies | 1 | 4.00 |
| TCS Digital | 8 | 7.00 |
| TCS Ninja | 27 | 3.40 |
| Technip FMC | 1 | 6.00 |
| TheMathCompany | 1 | 4.50 |
| Tracelink | 5 | 9.57 |
| Ubisoft | 4 | 7.00 |
| UBS | 6 | 10.50 |
| Veritas | 1 | 10.75 |
| Vmware | 0 | 10.00 |
| Vodafone | 1 | 4.25 |
| Xpanxion | 7 | 7.00 |
| ZS Associates | 17 | 8.93 |
2020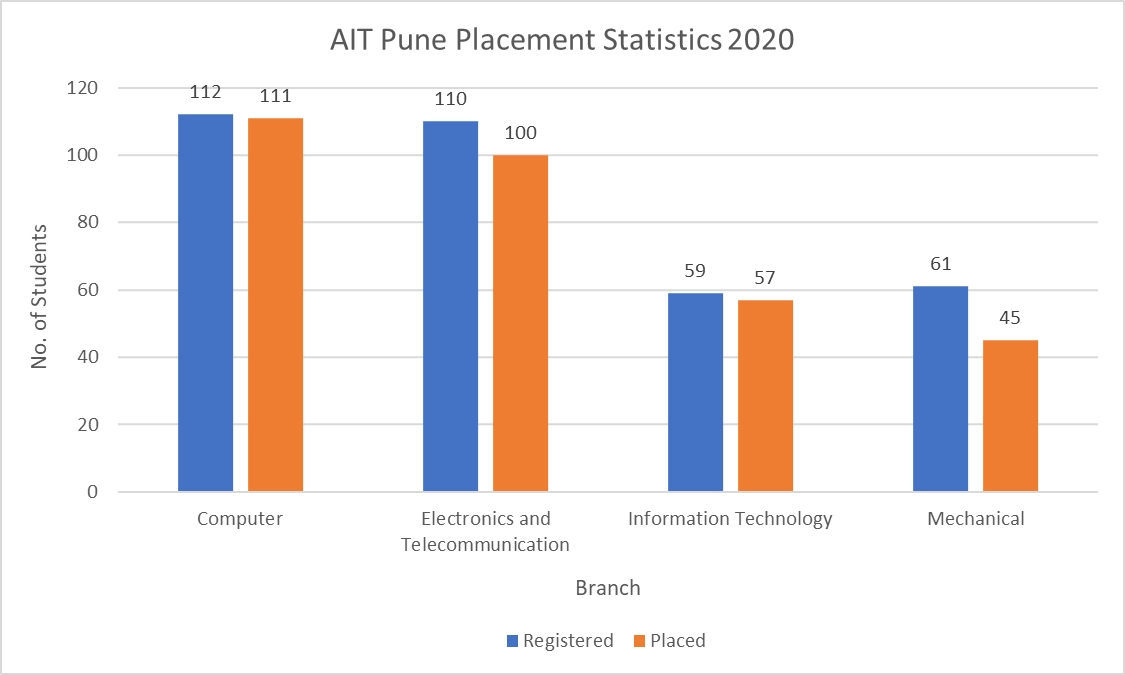 | | |
| --- | --- |
| Branch | Placed (%) |
| Computer Engineering | 99.11% |
| Electronics and Telecommunication Engineering | 90.91% |
| Information Technology | 96.61% |
| Mechanical Engineering | 73.77% |
| Overall | 91.52% |
Average Package Offered (Branchwise)
| | |
| --- | --- |
| Branch | Avg CTC (in LPA) |
| Computer Engineering | 8.66 |
| Electronics and Telecommunication Engineering | 5.69 |
| Information Technology | 9.30 |
| Mechanical Engineering | 4.84 |
| Overall | 7.28 |
Highest Package Offered (Branchwise)
| | |
| --- | --- |
| Branch | Max CTC (in LPA) |
| Computer Engineering | 39.00 |
| Electronics and Telecommunication Engineering | 13.00 |
| Information Technology | 28.00 |
| Mechanical Engineering | 10.50 |
| Overall | 39.00 |
2019
| | |
| --- | --- |
| Branch | Placed (%) |
| Computer Engineering | 97.00% |
| Electronics and Telecommunication Engineering | 88.00% |
| Information Technology | 98.00% |
| Mechanical Engineering | 77.00% |
| Overall | 90.00% |
Rs. 39.00 Lakhs per Annum